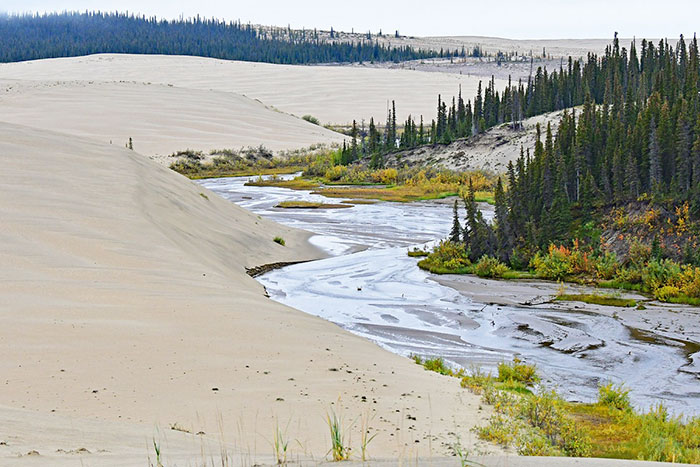 Kobuk Valley National Park is definitely a one-of-a-kind experience; with no roads, highways, trails, or campgrounds for hundreds of miles around, you're in for a truly non-traditional backcountry trip. 
In addition to endangered wildlife and sights that not many travelers have had the privilege of seeing, Kobuk Valley's attractions and activities are 100% worth visiting. Keep reading to find out why!
Facts and History 
Kobuk Valley National Park is located in Kotzebue, Alaska, approximately 550 miles northwest from Anchorage. Kobuk Valley is considered extremely backcountry due to how far it is from the nearest major city. 
Kobuk Valley has been home to the indigenous peoples since the Ice Age. There were more settlers in this northwestern part of Alaska than just the first inhabitants; wooly mammoth and caribou freely roamed this portion of the continent. Over the years, archeologists have uncovered priceless artifacts from Kobuk Valley and Onion Portage, a wide bend in Kobuk River, including canoes, spears, and fish traps, creating solid evidence that the first people settled here. Since this primal time, centuries have passed, and Onion Portage is still one of the most dated places in North America. 
While Kobuk Valley has a 10,000-year history, the local Inupiaq Eskimos still call this place home and still carry on the Arctic traditions of their ancestors. They hunt for caribou and spear fish at the banks of the Kobuk River, and pick berries in the late summer. 
It's easy to see why so many travelers have expressed an interest in Kobuk Valley. It's not every day you get to see the Arctic civilizations still alive and well right before your eyes. Unlike history museums and documentaries, visitors really get to see history come to life in Kobuk Valley. 
After years of documenting and digging, Kobuk Valley was officially deemed a National Park in the year 1980 to guarantee its preservation. With an acreage of nearly 1.8 million, Kobuk Valley needs all the care and attention it deserves. Since its founding, around 10,000 people visit and contribute to the upkeep of this very important piece of world history. 
What is Kobuk Valley National Park Known For?
Besides it's deep roots in history and Arctic culture, Kobuk Valley is known for its unique backcountry experience, the up-close-and-personal experience with migrating caribou, and the effort it takes for people to travel there. 
Many national parks offer a backcountry experience, like Voyageurs in Minnesota or Auyuittuq in Canada, but Kobuk Valley is probably one of the most off-the-grid parks because the only way for people to get there is by air. There are no major roads or trails leading to the park limits, so many visitors opt to hire out licensed pilots or boaters to bring them to Kobuk Valley. 
Commercial airlines can bring you as far as Kotzebue; from there, you will need to hire out local air taxis to bring you to Kobuk Valley. Arriving by boat is available during the summer months only. 
Keep in mind that there is nothing in Kobuk Valley but nature; you'll need to bring absolutely everything you need with you including skis, winter apparel, food, and safety gear. 
Once you arrive in Kobuk Valley, get ready to see some pretty spectacular sights. At the right time, you can see migrating caribou, grazing bears, and moose. 
What Can You Do at Kobuk Valley National Park?
The amount of activities you can do at Kobuk Valley National Park include backpacking/hiking, camping, boating and fishing, visiting the famous Great Kobuk Sand Dunes, or even fly-overs. 
For every activity besides a fly-over, great preparation is required; you'll need to reserve your transportation method to the park and secure your pick-up. Contact the Northwest Arctic Heritage Center for specific advice regarding your trip preparations. 
What is the Best Time to Visit?
Kobuk Valley National Park is open year-round, so you can visit during any season. The activities you can do aren't affected by season; you can always hike, backpack, boat, or fish regardless of whether it's winter or summer. The only factor of your visit that's affected by the season is your method of arrival. 
During the summer, arriving by foot or snowmobile is a viable option. You can rent some snowshoes or skis and travel from Kotzebue to Kobuk Valley across the tundra. Arriving by foot is a little trickier during the winter due to the extreme level of snow and ice, so consider hiring a pilot to fly you to a location with low elevation. Planes or helicopters can't land the mountainous regions due to high winds, so plan to land low and hike up to your destination. 
The best time for you to visit depends on your resources and how you'd like to arrive at the park. 
How Many Days Do You Need in Kobuk Valley National Park?
The length of your stay at Kobuk Valley National Park is completely up to you! To make your trip even better, your main focus should be on safety and planning. 
If you're planning a backpacking, hiking, and camping trip, plan to bring absolutely every piece of equipment you may need for your length of stay. A solid trip like this one in Kobuk Valley that will give you plenty of time to see as much as you can will be anywhere from 1-2 weeks. Just make sure you have your departure method secured before you get there! Plan to have your pilot come get you at a certain location and time to ensure that you don't get stuck there. 
For smaller-scale trips like boating, fishing, or sightseeing, plan for just a day or two. Lastly, you can create a memorable experience by simply flying from Kotzebue to Kobuk Valley and viewing the beauty of this land from the sky! A day trip is just as good as full-length stay. 
Tips for Visiting Kobuk Valley
There are some very important things to keep in mind as you're planning your trip. Don't underestimate how remote Kobuk Valley is; in the event of an emergency, there are no rangers readily available and sometimes, cell phone service is scarce. Along with gaining solitude in this remote location comes a big responsibility for your own safety. Bring safety gear, a first aid kit, and a satellite phone. Make sure your closest relatives or roommates know where you are and the dates you're planning on returning. 
Prepare to share your space with wild animals. Kobuk Valley is filled with caribou, grizzly bears, bald eagles, and moose; the wildlife is beautiful but also extremely dangerous if you get too close. If you run into any animals on your trip, keep your distance and try not to bother them. Bring bear spray and food containers, and stay true to the National Park Service's Leave No Trace policy. In a worst case scenario, the use of firearms is permitted for personal defense. 
Plan Your Visit
No entrance fees or check-ins are required upon arrival to Kobuk Valley. Many visitors choose to be flown in, and there are no designated landing locations. There are no lodging options within the park, so if you're planning on staying overnight, bring all the camping gear you'll need. Kobuk Valley is dog friendly, but you are responsible for your pet and it's care. For every aspect of your trip to Kobuk Valley, personal responsibility is key. Make sure that you or your travel buddies are seasoned in backcountry experiences; you're responsible for your safety, belongings, and the outcome of your trip as a whole. 
Why is Kobuk Valley National Park Worth Visiting?
Kobuk Valley National Park is worth visiting for its remote location, wildlife, and activities. Regardless of season, you're in for a memorable experience at Kobuk. 
This portion of Alaska is rich in history and culture, and offers visitors a one-of-a-kind backcountry experience. Participate in this very important piece of history by seeing it for yourself! Camp in the mountains, hike through the tundra, see wild caribou and bears, and witness nature at it's finest.