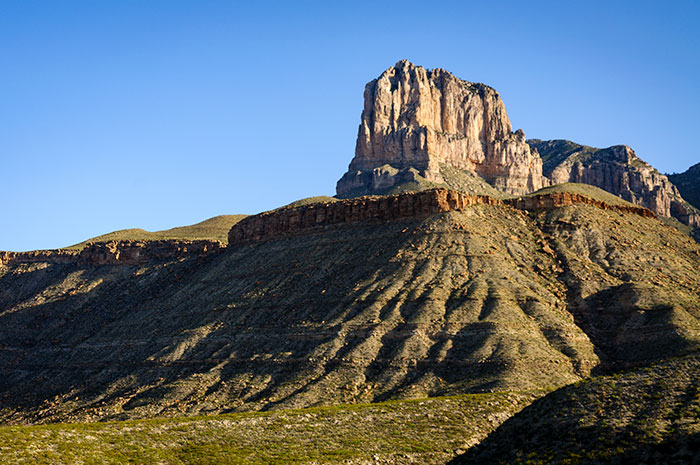 Guadalupe Mountains National Park is known worldwide for its breathtaking sights and Texas' highest summit, Guadalupe Peak. Hikers and campers travel from all over the world to see this beautiful national park in western Texas. Whether you're planning a trip to Guadalupe to rest or take part in high-energy activities, a little bit of planning can go a long way. Keep reading to learn about the best ways to prepare for your upcoming trip to Guadalupe Mountains National Park.
Facts/History
Guadalupe Mountains National Park is located in Salt Flat, Texas, about two hours east of El Paso.
The history of Salt Flat spans back about 10,000 years, and covers all kinds of historical turning points involving the first cattle ranchers, expeditioners, U.S. soldiers, and of course, the long-time tension between cowboys and Native Americans.
Guadalupe Mountains' history has close ties to the progression of freedom for African-Americans in the U.S. After the Civil War, soldiers were sent to west Texas to fight against the Apache tribes who were protecting their lands. Recently freed African-American soldiers were given the least desirable tasks under the supervision of white soldiers, including controlling the Native Americans. This plan, for the most part, backfired because the Apache began referring to these soldiers as "Buffalo Soldiers" due to their dark skin and strong-willed spirit. In the midst of opposition, these two groups found a silent alliance against injustice.
Expeditioners and cattle ranchers successfully drove the Apache into the Guadalupe Mountains by the late 1800s. The plains belonged to these new settlers until the early 1940s when the National Park Service acquired the 86,000-acre mountainous region of Salt Flat.
Since its founding as a national park, yearly visitors have steadily grown, and over 170,000 visitors enjoyed Guadalupe Mountains National Park in 2018 alone.
What Is Guadalupe Mountains National Park Known For?
Besides its rich history, Guadalupe Mountains is known for many geological wonders; this national park is home to the four highest peaks in Texas, the world's largest fossil reef, vibrant fall colors, and a countless list of activities to do.
They're known for Guadalupe Peak, Texas' highest peak at 3,000 feet, and a deep connection to the history of the U.S. Western Expansion. Whether you want to visit Guadalupe for their activities or to get a taste of history, you'll be visiting one of the most important landmarks in the U.S.
What Can You Do At Guadalupe Mountains National Park?
As you're planning your trip to Guadalupe Mountains National Park, don't get overwhelmed by the amount of activities you can choose from. The most notable activities include hiking, backpacking, camping, climbing for experienced climbers, horseback riding, stargazing, and studying endangered flora and fauna.
There are over 80 miles of trails in Guadalupe Mountains National Park, so whether you simply want to do a day hike or a longer, more intense trek, you'll have options here. There are four main trails with varying distances: the Devil's Hall Trail (3.8 miles), Smith Spring Loop (2.3 miles), McKittrick Canyon Trail, and Guadalupe Peak Trail.
McKittrick Canyon and Guadalupe Peak are around 8 miles long and lead to areas where you can begin your ascent to the mountain's peaks. If you're planning on hiking these trails, make preparations to be on the trail all day.
Visitors are free to camp in any of the designated individual or group campsites throughout the park. Group campsites must be reserved 60 days in advance due to the high volume of reservations the National Parks Service receives for this location. Guadalupe also has two campgrounds for RVs and campers.
Guadalupe Mountains National Park also offers backcountry experiences for visitors who'd like to go off the grid for a few days. Backpackers interested in trekking in Guadalupe's backcountry must obtain a permit beforehand and choose designated backcountry campsites for safety purposes.
Lastly, for visitors who are looking for a more relaxing experience at Guadalupe, stargazing, birdwatching, and wildlife viewing are all free and viable options.
When Is the Best Time to Visit?
Guadalupe Mountains National Park is known for being especially beautiful in autumn; vibrant fall colors take over every aspect of the park, so the best time to visit is in October or November.
If you're not interested in seeing the fall colors, visiting Guadalupe in the summer is a wonderful option; keep in mind the Texas heat and decide if enduring the intense Southwest summer weather is worth it. For cooler options, fall or spring is the best time to go.
How Many Days Do You Need in Guadalupe Mountains National Park?
The amount of time you'll need in Guadalupe Mountains National Park depends on the activities you're interested in. For certain trails, you'll need a few days and others only require a few hours.
If you're camping in the park, aim to stay for anywhere from two days to a week. There's so much to do; you'll want to make sure you have plenty of time to do it all!
Backpackers and climbers who are planning on more of an intense expedition over a leisure trip, plan ahead to obtain all necessary permits and reservations. Block out a week to two weeks for these trips to get the full experience.
Tips For Visiting Guadalupe Mountains
Depending on your level of experience with backcountry expeditions, be sure that you'll be travelling with other people. If you have very little experience with climbing or hiking in the backcountry, go with a group or with a more experienced guide.
The key to having the best possible experience in the Guadalupe Mountains is to prepare, prepare, prepare. Know exactly what you're going to do once you get there, how you'll be staying overnight, and how long you'll be staying. This preparation will help you get any permits or pay any fees without any surprises.
Where Should I Stay When Visiting Guadalupe Mountains National Park?
There are plenty of options for lodging at Guadalupe Mountains National Park. You can tent camp, bring your RV or camper, or stay in a hotel outside of the park and drive in for your activities.
Keep in mind that there are fees in place for visitors planning on staying overnight.
Is Guadalupe Mountains National Park Safe?
Guadalupe Mountains National Park is extremely safe! The National Parks Service works hard to keep this park clean and conditioned to welcome thousands of visitors every year. Of course, it is a wild reservation filled with endangered wildlife, so the unexpected is always possible. Take precautions and be ready for any surprises that may pop up along the way.
If you're visiting Guadalupe Mountains in the summer, your focus should be on protecting yourself from heat exhaustion. Bring a lot of water and sunscreen, and wear breathable fabrics; there are no water sources in the backcountry so bring at least a gallon for each member of your party. Plan out your hiking trips in a smart way; start your hikes early in the morning and try to be done for the day by the early afternoon.
Be aware of any wild animals you may come across, too; keep your distance, don't instigate an interaction, and stick to the main trails.
Plan Your Visit
The entrance fee for Guadalupe Mountains National Park is $10 per person, and this gives you a 7-day pass. Depending on your lodging plans, parking is available at the Visitor's Center.
You don't have to leave behind your pets, either! Guadalupe Mountains National Park is very dog-friendly; the Parks staff simply asks that you clean up after your pet, keep them on a leash, and leave your campsite better than you found it. Pets are allowed on the main trail between the Visitor's Center and Pine Springs, but they aren't allowed on any other trail for their own safety and the safety of endangered wildlife.
If you're planning on camping in the park, prepare to pay some fees. For individual tent and RV camping, the fee is $15 per night, and $7.50 for seniors and annual passholders. If you're camping with an organized group and are making reservations in advance, the fee is $3.00 per person and $1.50 for Seniors and annual passholders.
Why is Guadalupe Mountains National Park Worth Visiting?
Guadalupe Mountains National Park is worth visiting because of its important place in history, unique back-country experience, and vast range of activities. Depending on your preferences, Guadalupe Mountains is a great national park to visit at any time during the year, and you'll never be bored! Whether you want to take it easy one day and stargaze and walk the trails or opt for something a little more difficult and hike an 8-mile trail, it's up to you. Any park with this versatility is definitely worth the visit.