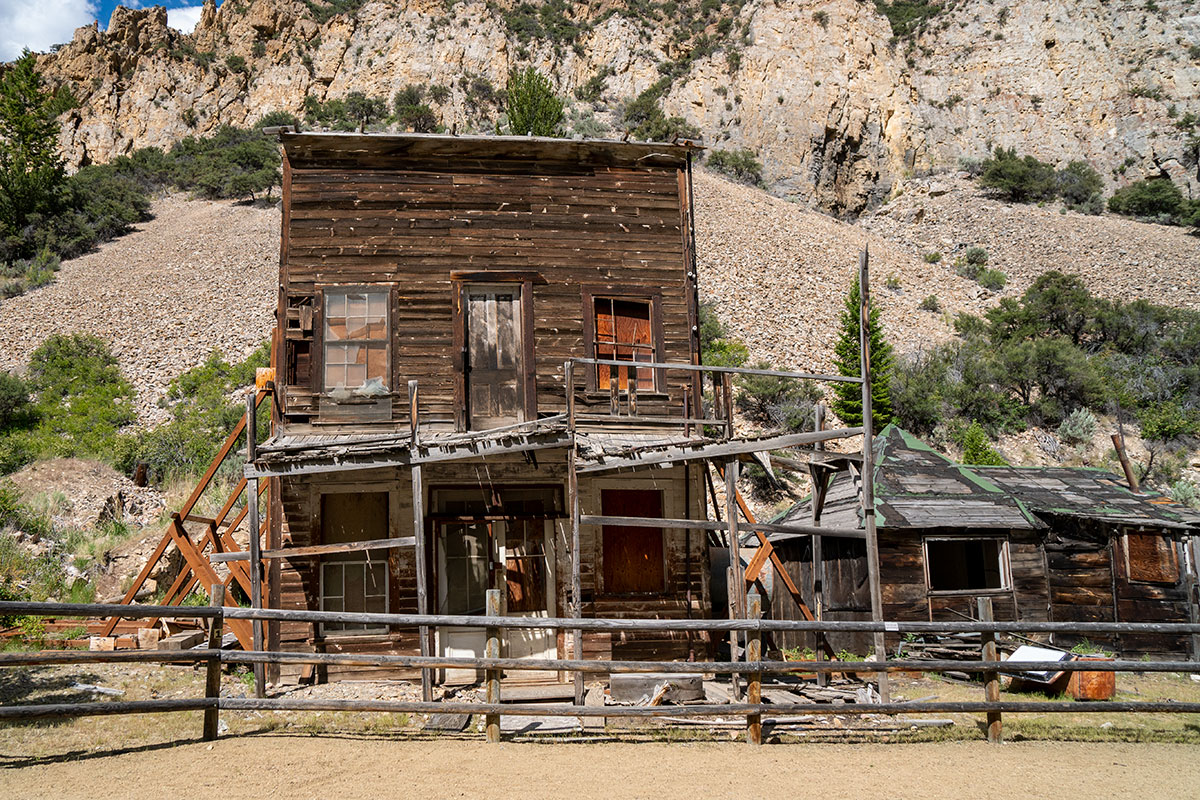 Gemstones, potatoes, appaloosas – these are just a few things Idaho is known for. However, some might be surprised to learn that the Gem State is packed with ghost towns. These abandoned areas were predominantly founded by miners who hoped to strike big. Below you'll discover some of the best ghost towns to visit while in Idaho.
1. Bayhorse Ghost Town
Background
Situated near Idaho's Salmon River, the Bayhorse Ghost Town was lived in by miners as they collected gold and silver. At its founding in 1877, there were a few residents, but once locals started to find these precious minerals, there was a population boom.
As the town grew, so did its needs. Residents built an aerial tramway to help transport minerals to wagons. Unfortunately, tragedy struck a few years later when part of the town was burned down. Soon after, there was a shortage of water. The Bayhorse Ghost Town was never the same and its population slowly dwindled until it was deserted in the 1920s.
Why It's Notable
The Bayhorse Ghost Town is one of the best-preserved ghost towns in the state and is considered to be the first of its kind near the Salmon River. Visitors will still find many intriguing sites here, including charcoal kilns, cabins, the Bayhorse cemetery, and a saloon.
Where to Find It
This ghost town can be found by following Route 75 to the eastern edge of the Salmon-Challis National Forest. After passing by Bald Mountain, drive down Bayhorse Creek Road where it will quickly come into view.
Tips to Keep in Mind
Visitors will need to be prepared to hike up hills as most of the structures are located on higher ground. Despite this, it's easy to access and is filled with wildlife.
2. Bonanza and Custer Ghost Town
(photo: jarbatross)
Background
Constructed in 1878, the Bonanza and Custer Ghost Town was originally two separate towns but are so close together that they are considered to be one. The towns were quickly built after the discovery of the nearby General Custer Mine which was packed with tetrahedrite, sphalerite, and chalcopyrite. It had steady growth until the early 1900s when miners agreed to move on to a different area.
Why It's Notable
Most of the remaining buildings are in good condition allowing visitors to fully experience what the town was once like. There are plenty of maps and historical markers that can help you better understand the historical significance of it.
Besides buildings, there's also the Yankee Fork Gold Dredge. Situated a short walk up from the ghost town, this old dredge is one of the top maintained devices of its kind in the United States.
Where to Find It
The Bonanza and Custer Ghost Town is situated on the western edge of the Salmon-Challis National Forest. To reach it, you'll need to travel down Route 75 until you reach the small town of Sunbeam. When here, turn onto Yankee Fork Road and drive down it for about 20 minutes. You'll soon see the ghost town on your left.
Tips to Keep in Mind
For most of the year, the ghost town is boarded up. However, there are guided tours during the summer. If you prefer to have a ranger show you around, you'll need to schedule your trip for this season.
3. Silver City Ghost Town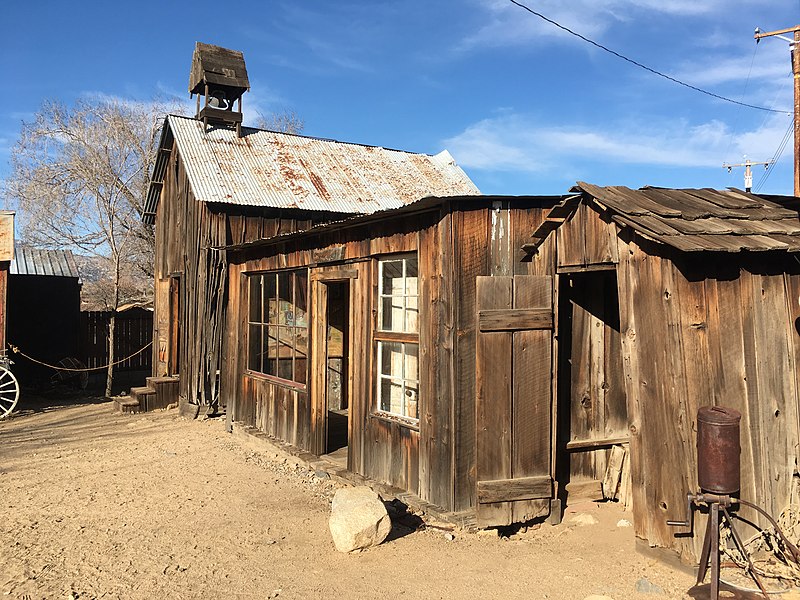 (photo by Gillfoto)
Background
Situated beside the Jordan Creek, Silver City reached its peak in the 1880s when thousands of pounds of gold, silver, and quartz were excavated from War Eagle Mountain. Because it was so populated, the town was given the honor of being one of the first to have a telegraph and newspaper office in the area. Silver City continued to grow, but slowly declined after World War II.
Why It's Notable
Silver City is a sought-after destination for many reasons. It has historical significance due to it being one of the first in the county to not only have a telegraph and newspaper service, but electric.
It's also known for being home to the Battle for Poorman Mine. This battle started after a non-resident claimed an abundant mining vein wasn't part of Silver City, but the town's founder disagreed. Legal action was taken, but miners rushed into the mine to collect as much as they could before it was settled. Eventually, the mine was forced to close.
Where to Find It
To reach this ghost town, start in Boise and travel down Interstate 95. Follow this road until you reach Telegraph Hill which lies next to Silver City.
Tips to Keep in Mind
Temperatures can be scorching during the summer. The elevated hike can also be a bit daunting for some. Because of this, make sure to pack enough water for your journey.
4. Wickahoney Ghost Town
(photo: brinaharrison)
Background
Wickahoney is situated in Idaho's Owyhee County and was once a bustling center equipped with a post office and stagecoach store. In fact, this small town had a stop on a stagecoach route to Nevada, something quite impressive at the time.
Why It's Notable
While it's mainly in ruins, the Wickahoney Post Office and Stage Station is listed on the National Register of Historic Places. The structure has slightly crumbled, but you can still see part of its lava rock walls.
Where to Find It
This ghost town is about two hours away from Twin Falls. You can drive Route 51 until you reach Battle Creek Road. You'll need to travel down this dirt road for about half-an-hour until the ghost town becomes visible.
Tips to Keep in Mind
If you're looking for preserved structures, you won't find many here. Most of the buildings are in ruins. Despite this, the town still provides an interesting history lesson for visitors.
5. Burke Ghost Town
(photo: Kyle Kersey)
Background
Burke, founded in 1887, is located in Shoshone County and was home to the iconic Hercules Mine which was known for its large silver deposits. As the town grew, it also saw many violent events, including the Coeur d'Alene Labor Strike. As the years passed, residents started to move away and a fire destroyed many notable buildings, like the Tiger Hotel.
Why It's Notable
The town is of importance because of the numerous historical events that happened here. It's also situated in a unique spot – the middle of a canyon. Because of this, the town was squeezed together to provide room for trains and carriages. Unlike many other ghost towns, you won't find cabins here. Instead, you'll notice large openings in the hillside which is where residents made their home.
Where to Find It
You can reach Burke by traveling down Interstate 90. Once you reach the town of Wallace, turn on Burke Road and follow it until you come across this abandoned area.
Tips to Keep in Mind
The drive can be a little long so you'll need to time out your visit to ensure you're able to see everything. Also, while some of the cave homes aren't blocked off, it's important to not venture into them.
6. Gilmore Ghost Town
Background
Gilmore was a favorite silver mining location in the late 1800s. While it only had about 600 residents, most of the town was well-built and featured extravagant homes. In 1929, a nearby power plant exploded damaging many parts of the town. Gilmore never recovered and became a ghost town after the Great Depression.
Why It's Notable
The town doesn't have many structures left, but it offers beautiful views of the Lemhi Valley.
Where to Find It
To get to Gilmore, follow Route 28 to Gilmore Road. Once you turn on this pathway, continue down it for a few minutes. You should see the town on your right.
Tips to Keep in Mind
You'll need to make sure to have plenty of food and water on hand as the walk can take a lot of energy.
7. Chesterfield Ghost Town
(photo: http://chesterfieldfoundation.org)
Background
Built on the top of Gem Valley, Chesterfield was established by Mormons who thought the area was a good place to settle thanks to its convenient location near a few rivers. The town soon caught the eye of Mormon leaders who asked to create a ward there. While the people tried to enjoy their new town, the chilly winters and growing agricultural problems proved to be too much. By the 1970s, the town was pretty much deserted.
Why It's Notable
Chesterfield is notable because of its Mormon heritage. While many structures are in ruins, you can still see a meeting house, amusement hall, and various cabins.
Where to Find It
This ghost town can be reached through Bancroft and by traveling down the adjacent Chesterfield Road.
Tips to Keep in Mind
There will be a lot of walking so wear comfortable shoes.
8. Rocky Bar – Ghost Town
(photo: Gillfoto)
Background
Founded in 1863, Rocky Bar once had a population of 2,500. Most of its residents flocked to the area after gold was discovered in the Feather River. The town built itself up and features hundreds of cabins and stamp mills. During the 1890s, a fire roared through the town destroying many parts of it.
Why It's Notable
At its peak, Rocky Bar was in the running to be the Idaho Territory's capital making it an important part of the state's history.
Where to Find It
To find Rocky Bar, travel to Featherville. When here, find North Pine Featherville Road. Drive straight down this street for about 30 minutes and you'll soon see the ghost town.
Tips to Keep in Mind
While you can stop by during any season, it's usually recommended that you do so during the fall. The temperatures are significantly cooler and the colorful leaves provide a beautiful background.
9. De Lamar Ghost Town
(photo: g.n.t.off.road.las.vegas)
Background
Built in the late 1880s, De Lamar is named after its founder, Joseph DeLamar, who was once a sea captain. DeLamar quickly built up the town to encourage others to join. The town soon grew thanks to DeLamar's ingenuity and became somewhat rich due to the massive amounts of silver found in the nearby Owyhee Mountains.
As with most ghost towns, residents began to move away to search for new adventures. While some structures still survive, many have been obliterated by fires.
Why It's Notable
De Lamar is notable because it was one of Idaho's most prosperous mining towns despite its secluded location. Today, it's listed on the National Register of Historic Places and covers about 1,600 acres.
Where to Find It
This ghost town is nestled along the edge of the southern Idaho and Oregon border. To get to it, you'll need to travel by Silver City which will take you directly into the town.
Tips to Keep in Mind
De Lamar is in a somewhat rugged landscape, so you'll need to be prepared for a strenuous journey. Many of the buildings have also collapsed or are hidden in overgrowth so you'll need to keep a sharp eye out for them.
If you're on the search for an intriguing way to spend some time in Idaho, consider stopping by these ghost towns. They'll not only give you the unique chance to time travel, but feature stunning landscapes to trek through.