Though its name may lead you to picture another Grand Canyon, the Great Basin National Park is actually a conglomerate of many different natural features. A mix of mountains and deep caves, rivers and deserts allow for beautiful adventures among some of America's oldest natural features. Human interaction with the land has shaped certain areas, creating archaeological sites of interest.
Facts and History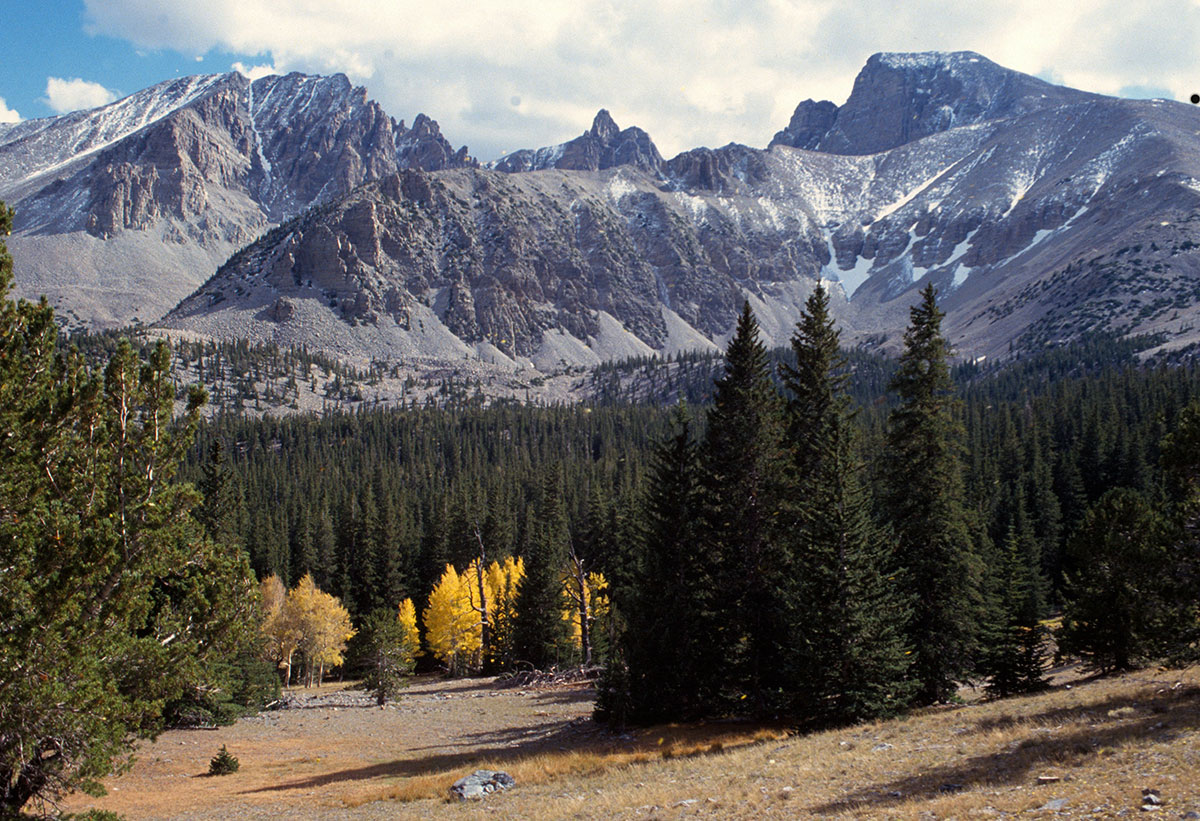 Great Basin National Park is located in eastern Nevada, almost on its border with Utah. The park is broken down into six smaller sections for easy reference. They are Windy Peak, Lehman's Cave, Wheeler Peak, Kious Springs, Minerva Canyon, and Arch Canyon. The Visitor's Center is in the Lehman Caves section.
First explored by American frontiersmen in the early 19th century, the inhabitancy of the Basin's lands goes back 10,000 years.
The Great Basin itself is an unofficially designated region that is considered by some standards to cover up to 200,000 square miles. It stretches across most of Nevada, plus parts of California, Idaho, Oregon, Utah, and Wyoming. The Great Basin National Park is only 120 square miles in Nevada.
The Park receives about 90,000 visitors every year. More than half that amount of people tour the 8,000 feet of the Lehman Caves.
The first Native Americans settled in the lands of Great Basin National Park thousands of years ago. At a time when Genghis Khan ruled Kievan Russia, the Europeans were waging crusades, and the Pueblos were building the famous Mesa Verde, a culture of native peoples made their home in present-day Nevada. Though lots of archaeological evidence has been left behind by these people — still to be viewed in the park today — no tribal name is known for them, so they are called the Fremont, after a nearby river. The Fremont disappeared between the 14th and 16th centuries, but many different tribes have called this land home since then. The Goshut, the Paiute, the Shoshone, the Ute, and the Washoe all have modern-day descendants and roots in the Great Basin.
(Lehman Caves)
It wasn't until 1826 that pioneer Jedediah Smith first traversed the Sacramento Pass at the very north of the Park. At the end of the 19th century, gold was discovered at Osceola and the land was mined for years. In 1909 the Nevada Forest Service was established and in 1922 the Lehman Caves were proclaimed a National Monument by President Warren G. Harding. It wasn't until 1986 that Great Basin National Park as we know it was established.
The reason it took so long for the National Park to be established was not for lack of interest. The first campaign to establish a national park at Great Basin was in 1924. At the time, the bill was struck down by an opposition who wanted to protect grazing rights: ranchers were not allowed to graze their livestock on national park lands; establishing Great Basin would severely limit their freedom in the area. The same went for mining. In the '50s a movement was revived, but once again opposition to the National Park didn't want to give up grazing and mining lands, despite the argument that a national park in the area would boost the economy through tourism. Finally, with a devastation of the mining industry in the '80s, lobbyist won out and pushed through a bill to establish Great Basin National Park.
(Wheeler Peak)
What Is Great Basin National Park Known For?
Some of Great Basin's most popular features are Lehman's Caves and Wheeler's Peak. The Lehman Caves are a complex, natural feature of limestone and marble that it took decades to fully uncover. Vast caverns boasting impressive stalactites and stalagmites support their own subterranean ecosystem. Wheeler's Peak is the tallest mountain in the basin. Another iconic element of the park are the bristlecone pine trees, a species said to be the oldest living individual organisms on the planet. Scientists date these hardy trees to over 5,000 years old!
Things To Do
The question is not what to do at Great Basin National Park, but what can't you do? There seems to be a limitless number of activities for people of all ages. Outdoor activities like hiking, camping, and fishing are all possible. For a more structured visit, go to the landmark sites that preserve the history behind the development of Great Basin, from native settlements to 20th century mining towns.
It's a year-round park. There are limited holidays on which the Visitor's Centers are closed (Thanksgiving, Christmas, New Year's Day, etc.), but the Park itself is open year round, with direct access to the hiking trails and campgrounds. Don't let the off season deter you, though, as there's still plenty to do. The fall allows for stunning views of autumnal leaves and in winter you can ski or snowshoe your way across the trails.
The Park is undoubtably busiest in summertime. From Memorial Day through to Labor Day, visitors bask in the warm weather of the Great Basin.
Great Basin National Park presents many options. You could have a couple hours of fun, plan a whole day's trip, or even spend several days there. Camping facilities allow you to have plenty of time for hiking, fishing, and viewing the ancient rock art in the Basin. If you only have time for a short break, you can do the Wheeler Peak Scenic Drive to get a good glimpse of the valleys and get excited for a longer stay in the future.
(Bristlecone on Mt. Washington)
Tips For Visiting Great Basin
The usual tips for visiting any national park apply to Great Basin: be respectful of the land, check in with the Visitor's Center before doing any activity you're unsure about, clean up after yourself, and have fun! The National Park's website is extremely informative and covers all the necessary information about visiting. There are some activities for which permits are required, but cost nothing. It's best to follow the rule and regulations of the Park so your visit is fun and safe.
Safety is very important when going into remote areas. In the Great Basin, you can't always rely on cellphone service! If you have some, great — 911 is there for you in emergencies. However, if you're deep into a hike, be aware of altitude sickness, dehydration, lightening, and sun exposure. In winter you should be wary of avalanches and hypothermia. Common sense will keep you safe and prepared for emergency. Don't forget to be wary of the native inhabitants of the park: both rattlesnakes and mountain lions live in the Basin. Neither are likely to come out looking for you, but if you do get to see one of these majestic creatures do not approach them.
There is no fee to enter the Park. Great Basin is open to the air around it, but some of its special features will cost you. Tours of the Lehman Caves cost anywhere from $6 to $15, but you can also take a virtual tour online. Anyone who wants to camp can do so for $15 a night per site, or $30 for a group per night.
Dogs are allowed but restricted. Always to be kept on a lead, they can't be brought on many of the natural trails and especially not down into the caves. Dogs are limited to the campgrounds for the protection of the local wildlife. If you want to do a day of exploring, there are dog kennels in the town of Baker where you can house your hound hourly or per day.
There is parking right in front of the Visitor's Center as well as at the campsites.
One thing to keep in mind is that, although a tourist industry has been built up in the local town, it is a full 5 miles from the Park's entrance. If you're making a trip to Great Basin, be sure to be prepared. Whether it's a day outing or you're staying for longer, always make sure you pack plenty of water and maybe a few snacks to tide you over until you can go indulge at one of the many cafés or restaurants in Baker. Don't forget about your car, either — the nearest gas station could be miles away!
(Lehman Creek Trail)
Is Great Basin Worth Visiting?
There's no reason to be uninterested in Great Basin. The National Park has so much to offer. A variety of activities and sites to see make it the perfect trip for anyone. As long as you enjoy the great outdoors, Great Basin is definitely worth a visit.