When you think National Park, you think somewhere in the lower 48. Hopefully it's a day's drive away and fun for the whole family. If you look ever so slightly north – okay, a couple hours – into Alaska, you'll find an incredible experience in Katmai National Park and Nature Reserve. And just because it's in Alaska doesn't mean it's all about the winter sports! It makes for a wonderful year-round vacation.
Facts and History
Katmai is a wilderness park. Despite being larger than Connecticut, it has only five miles of maintained trails. All the rest is pure nature! Mountains, valleys, lakes, rivers, and lava beds make up this vast National Park.
Katmai is situated at the base of the peninsula that shoots off the bottom of Alaska. It stretches down a significant length of coastline: 400 miles of beach run along the Pacific and face Kodiak Island. The nearest town is called King Salmon, close to 300 miles southwest of Anchorage. Pretty much the only ways to get there are by boat or by plane – King Salmon has its own airport right in the center of town serviced by Alaska Airlines.
If you're wondering how old Katmai is as a natural feature, we could go back hundreds of thousands of years and talk glaciers. If you're wondering how old the National Park is, that's a much easier answer. A fraction of the present-day park was first declared a National Monument in 1918.
While the lands protected under the National Monument grew over the decades, it wasn't until 1980 that Katmai was officially designated a National Park and Nature Reserve.
The present day lands of Katmai National Park and Nature Reserve span over 4 million acres of land – that's over 3x the size of the Grand Canyon or the same size as the entire country of Belize.
Visitation numbers have gone up considerably in the past few years. A National Park survey of recreational visits to its parks estimated just under 49,000 visitors to Katmai in 2011. That number rocketed to almost twice as much in 2019 when 84,167 visitors were recorded.
Katmai offers stunning nature in its Reserve, a rich history of different cultures, a plethora of northern wildlife, and plenty of outdoors fun for the whole family.
The park's human history goes back more than 9,000 years. It has been home several different groups of people, many of Alutiiq descent. Some of the first traces of humans found in the Katmai region were estimated to date to the same time period during which people crossed the Beringia land bridge from modern-day Russia into Alaska. That's 3,000 years before the Pyramid of Giza was built! From that time on, the area has been regularly inhabited by diverse peoples.
Katmai was officially recognized as a National Monument in 1918 in order to protect Novarupta and the Valley of Ten Thousand Smokes. It was further added to in 1931, 1942, 1969, 1978 and finally in 1980, since which time its boundaries have remained the same.
What Is Katmai National Park Known For?
One of the most awe-inspiring locations for explorers only first appeared in the early 20th century. From underneath the Ukak River valley, a volcano erupted out of the ground and created the Novarupta in 1912. The settling ash formed heat pockets that exited the earth through vents as steam. This gave rise to the name the Valley of Ten Thousand Smokes. Though it's the newest formation, Novarupta is only one of 18 volcanoes in the park.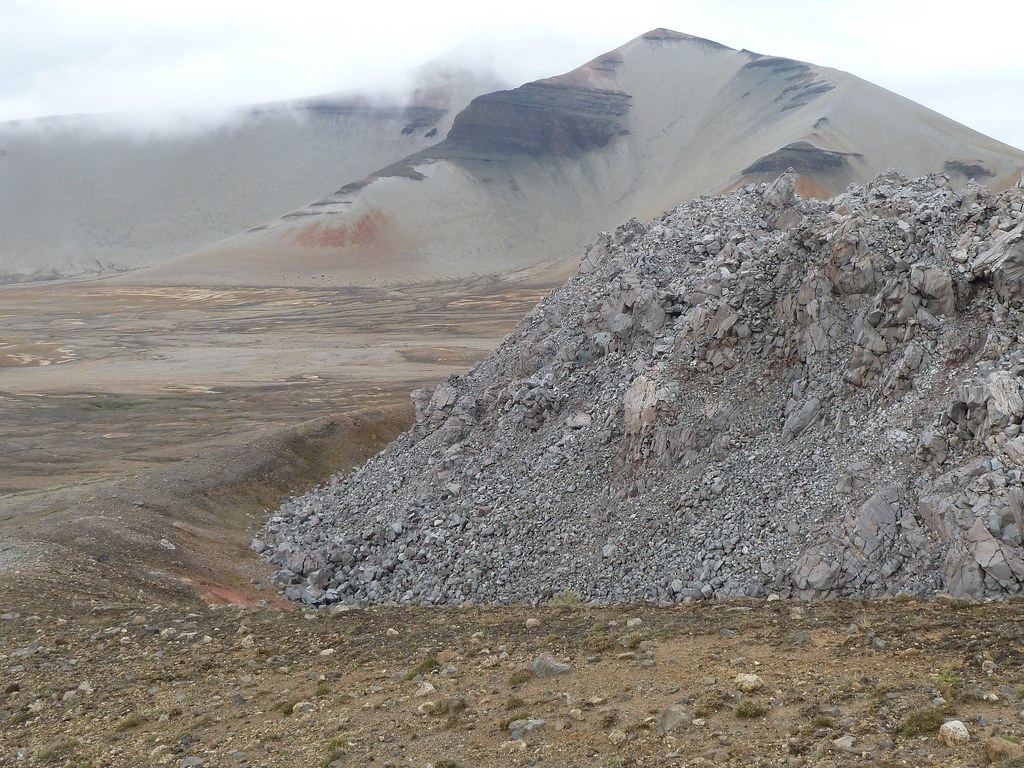 (The lava dome named Novarupta marks the vent of the 1912 eruption. NPS photo by M. Fitz.)

Along with Novarupta, some of Katmai's impressive physical features include Mount Griggs, Mounts Mageik and Martin and their lake, the Buttress Range, the Southwest Trident Lava Flows, and the Knife Creek Glaciers. The eponymous mount (Mount Katmai) of the park no longer has its peak – it collapsed as a side effect of the eruption of Novarupta. Today, what's left at the summit is called a caldera. It's a large depression formed by the depression of the magma pocket below. Hikers can explore the circumference of the caldera and take in some remarkable views.
There are several sites of interest at Katmai. Many are trophy fishing waters, including American, Funnel, Moraine Creek. Katmai is also the National Park with the largest lake within its borders. Naknek Lake covers more than 150,000 acres.
Things To Do
While hiking or boating around these wonders, there's plenty of wildlife to see. Bears are a big attraction, as well as salmon and brown trout which lure (pun intended) fishermen to the spot.
Katmai's Brooks Camp is a specific destination for more than just pitching a tent. Camping is great there in the summertime, with access to lots of backcountry hikes and fishing. They also have specially designated bear-viewing platforms, from which you can gather to view Alaskan brown bears in their natural habitat. The only way to get to the site is by boat or plane, though, so plan accordingly.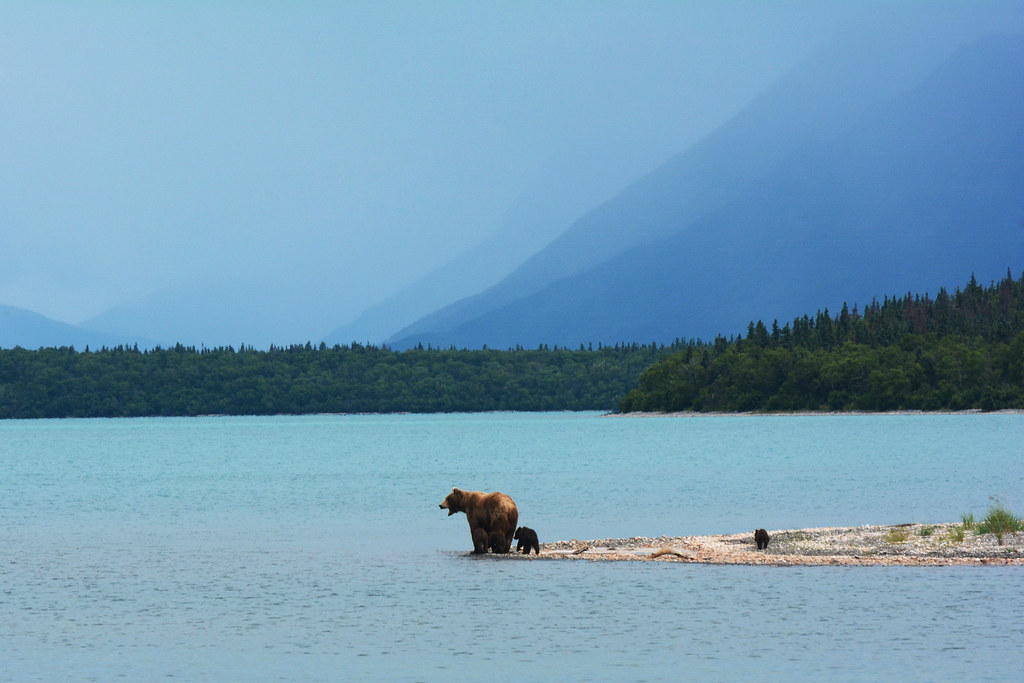 (photo by Paxson Woelber)
Bear watching is a very popular activity for animal lovers visiting Katmai. While the views of the National Park are stunning, some people can spending hours watching these great mammals in their natural habitat. The park is home to over 2,000 bears. There are certain locations where visitors can mount viewing platforms to safely observe these majestic creatures. Otherwise, its possible to see them in many other locations throughout the Park and Nature Reserve – when hiking across the wild backwoods of Katmai, you never know if you'll cross paths with a bear. With this incredible sight comes incredible caution: it it very important upon visiting Katmai to be aware of how to act if you come across one in close quarters.
The National Parks website has some great resources on what to do if you come face-to-face with an aggressive animal. They also require that visitors use Bear resistant food containers to keep those curious climbers out of your supplies.
There are more than one way to enjoy the wonders of Katmai. Aside from hiking, visitors can travel the waterways by boat, canoe, kayak, or raft. There's even the possibility of flying! You can charter a flightseeing tour of Katmai. Fly in a small air taxi for a breathtaking bird's eye view of the park.
The Savonoski Loops is an 80 mile water trail. Visitors can spend four to ten days canoeing or kayaking a circle that goes through Nanek Lake, the Iliuk Arm, the Savonoski River, and Lake Grosvenor. This route gives views of Dumpling Mountain, Mount Katolinat, Mount La Gorce, and the abandoned village
Tips For Visiting Katmai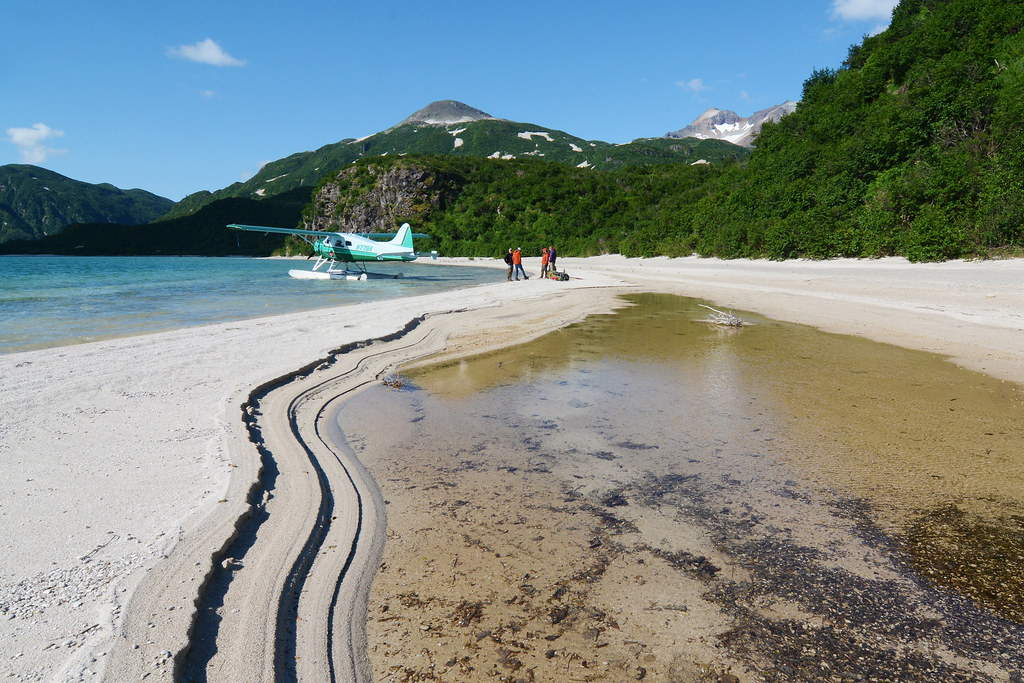 (photo by Paxson Woelber)
Katmai is a year-round park. Though it's open to visitors every single month, like most outdoor recreational areas, June through October tend to be the most popular ones.
Being in Alaska, it's no surprise that the busiest time at the National Park is in summer. Visitors flock to see the gorgeous Katmai while enjoying reasonable summer temperatures. The King Salmon area averages in the low 60s during summer months, keeping you safe from heat stroke during your adventures.
How many days you spend at Katmai depends on how many you want to spend there. While it is technically possible to do a day trip there, that's a difficult undertaking for your average American. Many plan week-long adventures, hiking their way to each night's wild camping spot. You don't need a permit to camp, but you do have to reserve a spot if you plan on staying at Brooks Camp as space is limited for the sake of the bears. Even locally it'd be difficult to only do a day. We think it's best to commit a few days if not a week to your stay so that you can get the most out of this national treasure.
Both hiking and camping – for even one day – are recommended for experienced outdoorsmen. You don't have to be a professional, but Katmai shouldn't be your first wild experience. It's good to be familiar with the dos and don'ts of camping and hiking, especially since it's not the easiest to decide to pack up and go home early.
The best advice for staying safe on your adventures in Katmai is to be prepared. Before you go your trip, it's good to leave itinerary with friends or family. You may only get delayed on your adventure, but if someone knows what day and time to expect you back they can alert park rangers who can come help you. It's also important to prepare for any weather. Even if it's the summer and the forecast is sunny that week, be prepared for rain and cold weather. You could get delayed or the forecast could change and you don't want to get caught out. The best tool to carry is a satellite phone and USGS maps so you don't get lost.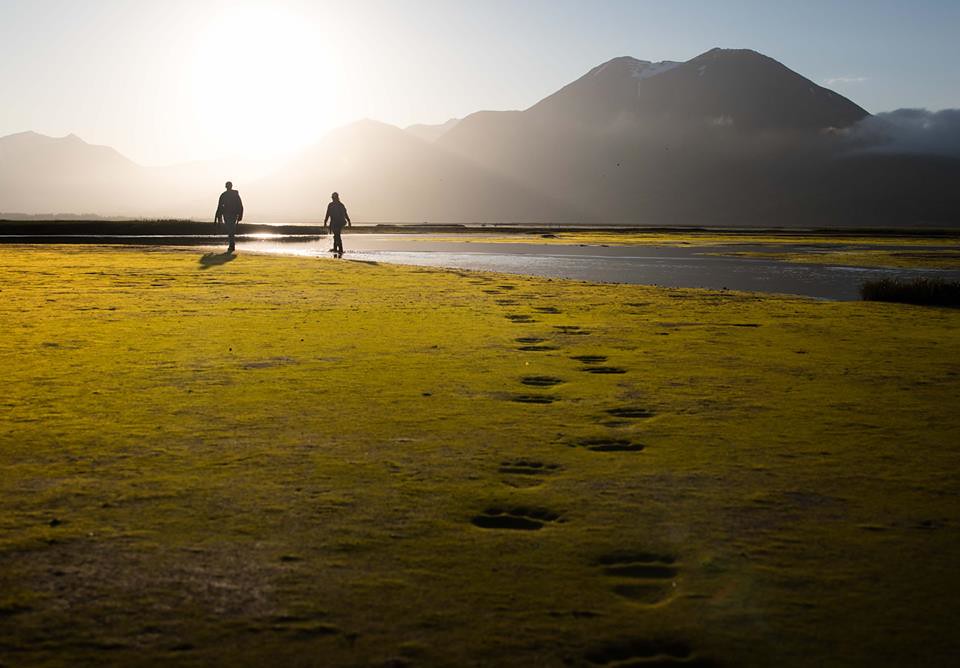 If staying at Brooks Camp, there is a mandatory safety talk upon arrival so that all campers are comfortably aware of the best way to enjoy their stay.
Katmai's Visitor Center is found in King Salmon, Alaska. The Center also has information on other nearby parks (such as Becharof National Wildlife Refuge and Bristol Bay) and the surrounding area.
There are plenty of online resources for planning your stay at Katmai. It's good to start with a USGS map at home and sketch out your route before you go so you're familiar with it.
It's free to enter and explore Katmai National Park and Nature Preserve. Once there, wild camping is also free. If you want to stay in one of the rough-and-ready accommodations, you will have to book in advance and pay per night.
Brooks Camp books fast in the summer, so plan ahead. During the high season, it costs $12/person per night. In the month of May and then September through October 31st, it's $6/person per night. We don't think you'll want to be camping the remaining months of the year … To stay at Fure's Cabin, the historic home of an early 20th century fur trapper, it costs $45/night from June through September and $22.50/night in the off season.
While animals are allowed in the park, they must be kept on leads and under watch at all times. The amount of free-roaming wildlife in Katmai makes it important not to let your dog loose in the wilderness.
The last real parking site is at the Visitor's Center and Park Headquarters in King Salmon. From there, guests enter the park via boat or plane as there are no paved roads. Seeing as there aren't any paved roads to King Salmon from elsewhere, though, we doubt you're driving in.
The one easy part about getting to Katmai is that the airport you arrive in is right next to the Visitor's Center – no need to coordinate taxis or airport shuttles!
If you have the time and the money, planning a trip to Katmai National Park and Nature Reserve can be a life-changing experience. There are so many wonderful sites to see, from flora to fauna to mountains and lakes. The Park is both serene, calming, and majestic and exciting, adventurous, and active. Katmai showcases some of the best things Alaska has to offer.
Sources:
https://www.nps.gov/katm/index.htm
https://en.wikipedia.org/wiki/Katmai_National_Park_and_Preserve