Nashville is a city known to be alive with culture. Its famous honkytonks and venues are common attractions for locals and tourists alike.
This state capital and music mecca is a popular destination for a reason and we think it's worth a visit. You shouldn't dive in blindly, though. Especially for first-time visitors, it's important to do a bit of a research into your trip before you arrive.
Is Nashville Safe?
Nashville has an elevated crime rate and is not the safest place to visit. In 2021, Nashville had a violent crime rate of 1,186.86 per 100,000 people. Nashville's violent crime rate is nearly 3 times greater than the national average.
You can have a relatively safe visit as long as you stay in the learn the layout of the city, stay in the touristy areas and follow safety precautions.
Here's a couple graphs to give you some perspective on Nashville's violent crime rate:
Here's a graph showing you how Nashville's crime rate compares to other cities in Tennessee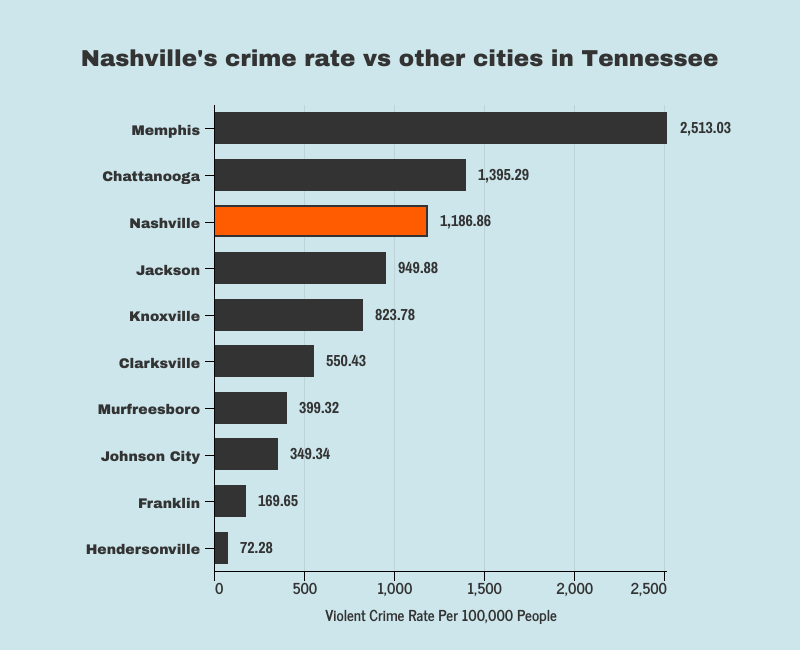 Nashville Crime Stats
| | | | |
| --- | --- | --- | --- |
| | 2020 | 2021 | Percent Change |
| Murder | 113 | 99 | -12% |
| Rape | 385 | 404 | 5% |
| Robbery | 1,742 | 1,591 | -9% |
| Aggravated Assault | 5,711 | 5,963 | 4% |
| Burglary | 3,745 | 3,429 | -8% |
| Larceny – Theft | 21,238 | 18,657 | -12% |
| Motor Vehicle Theft | 3,040 | 2,857 | -6% |
| Total Crime Index Offenses Reported | 35,974 | 33,000 | -8% |
| Violent Crimes Total | 7,951 | 8,057 | 1% |
(via Nashville.gov)
Nashville's Crime Rate (2020)
Nashville's Violent Crime Rate
In 2021 Nashville reported 8,057 violent crimes and had a violent crime rate of 1,186.86 per 100,000 people. Year over year violent crime has increased by 1%.
Here's a graph showing you how violent crime has trended over the last 11 years in Nashville:
Nashville's Murder Rate
In 2021 Nashville reported 99 murders and had a murder rate of 14.58 per 100,000 people.
Year over year murders has decreased by 12%.
Here's a graph showing you how murders has trended over the last 11 years in Nashville:
Nashville's Proerpty Crime Rate
In 2021 Nashville reported 24,943 violent crimes and had a property crime rate of 3,674.30 per 100,000 people.
Year over year violent crime has increased by 11%.
Nashville vs Most Dangerous Cities In The U.S.
Here's a list of the most dangerous cities in the United States ranked by violent crime rates.
Neighborhoods to avoid
What's the best way to avoid being a victim of wanton crime? Don't go where it's more likely to happen. As with all cities, there are certain neighborhoods in Nashville that would be best to avoid. They are:
Bordeaux
Talbot's Corner/Capitol View
Elizabeth Park
McKissack Park
Cleveland Park
College Heights/Clifton
Buena Vista and Osage-North Fisk
Shepherd Hills is arguably one of the most dangerous neighborhoods in Nashville. It's on the further outskirts of the city, so it's unlikely that a tourist would come across it, though. That's the good thing about all these neighborhoods: if you're going for the full tourist experience, it's highly unlikely you'd end up in one of these places as most attractions are in other neighborhoods. These are places to keep in mind if you're booking accommodation – or even if your small vacation inspires you to move to Nashville!
While the dangerous neighborhoods are mostly west of the city center, the safest neighborhoods seem to be more central and towards the south. Within the center itself,
The "best" neighborhoods in Nashville include:
Downtown and Sobro
Germantown
The Gulch
Midtown
Berry Hill
Hillsboro Village
Melrose
Many of the top-rated neighborhoods tend to be a bit further out. Places like Poplar Creek Estates, Edmondson-Cloverland, Hermitage Hills, and West Mease Park are all highly rated, safe neighborhoods. Mostly for Nashville residents, though. Within the city center, central is safest as you're around the most activity; the hustle and bustle of urbanites and tourists keep things open late and well-lit. If in doubt, resources like crimemapping.com can give you insight into where crimes have recently happened. Double check it before booking a hotel to know you'll be staying in a peaceful area.
Is Nashville safe at night?
It's recommended to avoid walking alone at night in the inner city. Always keep your wits about you. Don't let the handful of Bushwackers you had convince you to take a shortcut. If you're unfamiliar with the area, take well-lit, busy routes back to your accommodation. Another option is to plan ahead to be off the streets before it gets too late, but we do realize that cuts out half the fun Nashville has to offer. If you're indulging in its late night scene, just be aware of your surroundings!
Is it safe for a solo traveler?
It's always best, when exploring a new city, to do so with a friend. In any scenario you should be wary of strangers approaching you with questionable motives. Be sure to be smart about alcohol consumption so it doesn't lead you astray at night. While making new friends is fun, be wary about people you meet in bars who want to take you somewhere else or try to come back to your place.
Because Nashville is so spread out, it's likely you'll rely on taxis or public transportation to get you around. While modern-day ride-hailing services record your trips through the app, allowing for a modicum of safety, taking a bus on a route you're not familiar with can be dicey if you end up riding it into the wrong neighborhood. There's safety in numbers and it also helps to have more than one person double checking directions to get you where you need to go.
Is it safe for women?
The unfortunate truth of being a woman is taking extra care in planning ahead, especially if you're travelling alone and/or at night. The best bet is to travel along popular and well-lit areas; generally, the more touristy areas tend to be lively at all hours of the day. The more people around, the less likely it is that something alarming will happen.
While it's true that the one steadily rising crime in Nashville is rape, one explanation for this rise is increased awareness and decreased stigmatization. The amount of offenses isn't necessarily going up, but the amount of reports certainly are. Its possible that in the past, victims didn't report such a crime, so the statistics don't accurately reflect actual crimes committed. In Tennessee, mace is legal to carry. If you have to be travelling alone, it could provide that extra added protection that puts you at ease.
Nashville safety tips
Don't be stupid! Warnings from the Nashville Police Department's Safety Information highlight the usual common sense advice for travellers:\
Stay with friends and travel in well-lit areas after dark;
Try not to carry valuables on your person;
Always lock your accommodation and car doors;
If you find yourself in an unsafe situation, try to get to the nearest police station, fire station, hospital, or 24h business where other people can help.
If anything, the biggest advice others give to tourists coming to Nashville is about the sun! Heatstroke and sun poisoning is serious. If you're travelling, especially from colder climates, check the weather in advance to dress appropriately and bring lots of suntan lotion, remembering to reapply throughout the day. Plus, be sure to hydrated! Safety is about self-care, too.
Facts about Nashville, TN
The population of Nashville in 2021 was 689,447 and is the 23rd most populous city in the United States.
The city covers a land area of 526 square miles.
The racial makeup of the city: 10.5% Hispanic or Latino, 55.4% White, 27.6% African American, 0.2% Native American, 3.7% Asian, and 2.6% from two or more races.
The median age in the city is 34.2 years old.
The median income for a household in the city was $59,828. The per capita income for the city was $35,243.
15.1% of the population live below the poverty line.
The median home value in Nashville is $395,000 in 2022.
In 2022, the average rent for a Nashville 2-bedroom apartment is $2,183.
88.8% of residents 25 and older is a high school graduate. 41.1% of residents 25 and older has a bachelors degree or higher.
Historically, Nashville voters have tended to elect Democrats in elections.
The dominant religion in Nashville, TN is Christianity, comprising 57% of the population.
Final thoughts
While it's not ruled by anarchy and debauchery, Nashville can have a naughty reputation. Being known for good music and good bars can lead some visitors astray. As long as you remember that it isn't Disney World, you can still have fun while staying safe. For the most part, statistics suggest that crime in Nashville is linked to residents. As a tourist you should have less to worry about over your short stay as long as you follow the basic safety tips of visiting a new city.
No one should have to travel with fear, and we're not here to talk you out of making a trip. Any city in the world will have its ups and downs. If you're travelling to Nashville and are unfamiliar with it, that's okay! The beauty of travel is exploring new places. We just recommend caution before doing so. We only want to hear good things about your travels!