Death Valley is the 5th largest National Park in America and the largest one in the lower 48. An already imposing name, it's also home to an equally nerve-wracking road: Titus Canyon.
Despite being a one-way, unpaved route, it's "the most popular back-country road in Death Valley National Park," according to the National Park Services.
Titus Canyon Info
Titus Canyon is a road that winds for 27 miles across state lines. Starting in Nevada, you turn off State Rte 374, just below the town of Beatty.
It's actually an unmarked dirt road which hardly looks like a place you'd drive off to if you don't know what you're looking for.
Titus Canyon is one-way, meaning that once you start there's no turning back.
If there happens to be someone behind you, there is space along the way to pull over and let them pass if you want to move at a slower rate. Just don't turn around.
The entire canyon road takes between two and three hours to drive, depending on the rate at which you take the path and how many times you stop.
There is no posted speed limit (as there are no road signs!), but many who have done the drive say they average 10 mph, sometimes slowing down even more to appreciate the canyon pass.
Is Titus Canyon Dangerous?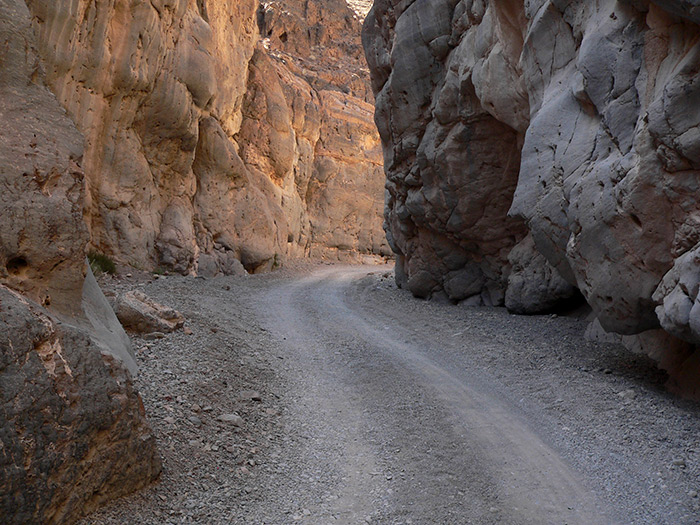 (photo: Stan Shebs)
Once you've crossed the California border, the road begins to twist and turn around 10 miles in.
These tight curves lead into the Red Pass which has some slim roads that are only one car wide and bordered by steep drops off to one side while the rocky cliffs raise on the other.
It's safe if you go very slowly and pay close attention to the road.
Being distracted by the view can prove very dangerous if it accidentally leads you off the road and down a ditch.
A YouTube video by Franklin Clay Films shows you just how dodgy the drive can be.
Safe is relative on Titus Canyon Road, though.
Inclement weather can seriously hinder if not ruin your adventure.
A great danger in the summer months is flash flooding.
The road is not regularly patrolled and so you're essentially travelling at your own risk.
You can be prepared, but as their names suggest, floods are quick and unexpected.
Try to avoid travelling Titus Canyon in June, July, and August.
If you're intent on going then, be sure to check the weather report and the road conditions.
Is Titus Canyon Scary?
Titus Canyon is frighteningly beautiful. A rich tapestry of millions of years old rock deposits, it's hard to imagine being scared while driving the route.
The last section, however, can be nerve-wracking. The end of Titus Canyon road narrows down through the deepest part of the canyon, making you drive through sections that are sometimes no more than 20 ft wide.
That is plenty of room for a car to fit through, but can be scary all the same with the large limestone walls rising up around you. Plus, the echo can make for some eerie sound effects.
Is Titus Canyon Difficult To Drive?
The times the canyon road is most difficult to drive is after bad weather. Already steep and narrow at points, the dirt path can be washed out from rain and snow. After heavy rainfall, mud is expected.
All of these conditions will make it very difficult to navigate down the one-way road, especially if you don't have a car with high clearance and all-wheel-drive.
It's best to skip the trip if the weather's been bad lately.
What Do Reviewers Say About Titus Canyon
Titus Canyon ranks very high on Trip Advisor with very positive, upbeat reviews (and some bad puns, such as the reviews "Titus Canyon Rocks" …), all of which highly recommend the experience.
Many people list the types of car they drove to assure you it's accessible to any (you don't need an SUV), though they do recommend all-wheel- or 4-wheel-drive.
Many people report bringing a picnic along to stop off and enjoy lunch in nature, and other lament seeing people doing this and not thinking to do the same.
Vehicles
According to the National Park website, it is possible to drive the route with only two-wheel-drive if your car has high clearance, meaning it doesn't sit too low to the ground.
They do highly recommend four-wheel-drive, especially after bad weather.
There's no mention of RVs doing the trip, but based on the facts we believe it would not be a good idea to bring any large vehicles down this path. Keep in mind the narrow route, rocky path, and ever-changing gradient.
Tips For Driving Titus Canyon
Have a full tank of gas. There's no turning back and the nearest gas station once you've entered the canyon road is in Stovepipe Wells, a 20 minute drive south. Before going, it's best to fill up in Beatty.
Have a spare tire. While Titus Canyon is a highly popular route, you can't be sure there will be other drivers on the road that day. You can't be sure they'll have a spare tire. We doubt cell service is great and highly doubt a tow truck will want to make its way to you. Be well equipped – and make sure you know how to change a tire!
Bring water and snacks. It's not a whole day's visit, but it can be. There are many sites to stop at and trailheads spiking off of the road for hikes. You could spend hours exploring the area. We most definitely recommend bringing water. Even if you don't want to have a picnic there, we also recommend having snacks in the car just in case. It's important to keep your blood sugar up when hiking in arid climates.
Scout ahead. Alright, you're on a one-way road so it's hardly like you can decide you don't want to keep going forward. If you start to get nervous about the drive, though, the best thing to do is get some fresh air. Park the car in a safe area – out of the way of others – and have a walk up the road to see what's coming up. Knowing what you're about to drive through should help put your mind at ease rather than continuing through unfamiliar territory.
Is Driving Titus Canyon Worth A Drive?
With all this risky business to consider, you must be wonder if the drive is worth it. Did we not say the Trip Advisor views are overwhelmingly "YES!"??? So many people say it is the best trip they've ever had.
The route is rich in breath-taking views of Death Valley's iconic, rugged rock formations.
There's also the ghost town of Leadfield, abandoned in the late 1920s, and prehistoric petrogylphs carved by the Timbisha near Klare Springs.
It's an ideal visit for people who don't like guided trips but want to be able to appreciate the history and nature of the area at their own pace.
A valley where dinosaur bones have been unearthed, native peoples have called home for millennia, and more recent mining ventures have crumbled, Death Valley is home to a unique history that spans the years.
Driving Titus Canyon is a great adventure that peaks a variety of interests.