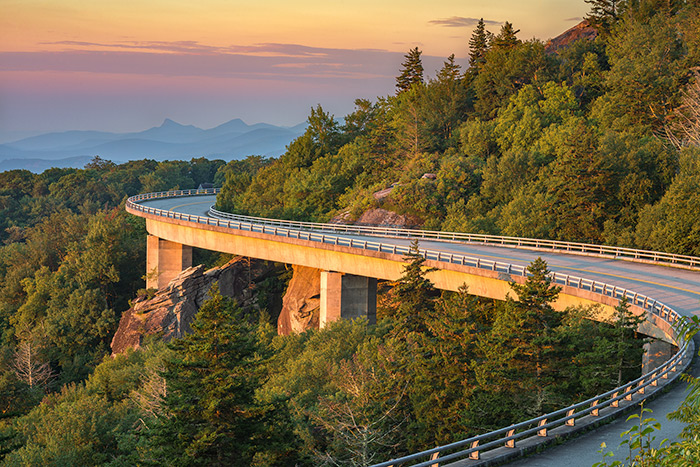 Built during the Great Depression in order to create jobs, the Blue Ridge Parkway is a tourist attraction that connects visitors to the surrounding area across Virginia and North Carolina.
Since that desperate period in history has thankfully ended, the Parkway has continued to bolster local communities and connect them with travellers. Driving Blue Ridge is a great experience you shouldn't miss out on.
Blue Ridge Parkway Info
The Blue Ridge Parkway is a road that spans the length of two states: beginning in (the Parkway officially starts mile 0 here) Afton, Virginia near Shenandoah National Park and travelling south to Cherokee, North Carolina in the Great Smoky Mountains National Park.
It hugs the length of the south-central Appalachian Mountains as they span the east coast for an amazing 469 miles.
Each mile is marked by an iconic and easily identifiable stone pillar that allows you to keep track of your journey.
These hundreds of miles bring you through beautiful nature and quaint villages with lots of attractions along the way.
The Blue Ridge Parkway has its own website entirely dedicated to the sites along the road to help you plan the perfect trip.
Is Blue Ridge Parkway Safe?
The Blue Ridge Parkway is a safe road.
While it may seem like a detractor, the road is regularly closed in sections for repairs. There are also closures in inclement weather, so you'll never get caught out in the snow or floods. You can check the Parkway's current conditions here. Otherwise, the Blue Ridge Parkway is perfectly safe!
This may be a bummer if it interferes with your trip, but it's good to know that they keep the roadway safe and easy to drive.
For the whole length of the Parkway, the maximum speed limit is 45 mph so there's no rush to speed down the road.
There's no reason to fret about anything except the perfect photo to memorialize an amazing trip. And maybe bears …
Is Blue Ridge Parkway Scary?
The Blue Ridge Parkway isn't a scary drive. It's meant to be scenic and relaxing and, while there are some curves, there are no tight switchbacks or mountainside drop-offs.
The dangers that could exist (bad road conditions) are rarely to never a problem, as the park rangers would close any road deemed unsafe.
The one other potential danger would be an animal in the road.
We don't know how often bears would venture out of the woods, but don't be surprised to see squirrels or even deer crossing the road.
Is Blue Ridge Parkway Difficult To Drive?
This is not a difficult drive. The overall elevation change while driving the road is not worth mentioning (you're travelling along the side of mountains, not up them!) and there are plenty of places to park if you want to stop.
As long as you're fully off the road, you can park anywhere along its shoulder or in a designated parking lot.
Is It Safe To Drive At Night?
The road is open 24 hours so there's no limit to the time you spend driving it.
However, there are certain wilderness areas along the Parkway that are closed at night.
A list of times when certain sections are closed can be found here, but park rangers will also post signs on the road itself.
Just keep in mind that as there aren't streetlights, you'll be relying on your brights and headlights to keep you safe on the road.
Drive carefully and remember to be wary of wildlife running into the road.
What Do Drivers Say About Blue Ridge Parkway?
The Blue Ridge Parkway has over 5,800 five star reviews on Tripadvisor. Travellers gush over the views and scenic drive, insisting it's a must-do experience.
Many do not do the whole thing in one go, but fall in love with the first leg of their journey and say they mean to go back and finish the Parkway soon.
Lots of people recommend taking your time, insisting it's worth the 45 mph (at times even lower) speed limit.
One contributor even points out that, as the road is interstate, speeding becomes a federal offense so don't break the limit or you'd have to appear in court!
They also warn about weather changes, reminding you to pack layers and be mindful of fog on the road.
What Types Of Vehicles Aren't Allowed On The Parkway?
There are no commercial vehicles allowed on the road, meaning you shouldn't see any trucks.
This limitation adds to the relaxing vibe of the road.
Motorcycle are allowed, but keep in mind that it's the law in North Carolina to always have your headlight on when the bike is in motion.
A similar safety recommendation is given to bicyclists. It's good to wear reflective gear on yourself as well as your bike.
Both RVs and tour busses are allowed without even needing special permits. As there are a number of tunnels along the route, it's important to keep in mind the height of your vehicle.
The lowest tunnel allows for cars 10'6" in height. There is a list here of every tunnel along the Parkway's height and its milepost so that you can plan your route accordingly.
Tips For Driving Blue Ridge Parkway
Share the road. And not just with other cars! There's plenty of wildlife that live along the Blue Ridge. Be sure to keep an eye out for animals like deer or turkey that may wander into the road. Not to mention pedestrians and bicyclists.
Bring some good footwear. Even if you're not planning a big hike, even some pull-off locations can be dodgy in sandals or open-toed shoes. You're driving, so you should have plenty of room in the trunk for a pair of sneakers in case you want to have a little wander.
Bring layers! In mountainside regions, weather can change rapidly. You may be safe in the car, but you don't want the cold or the rain to prevent you from stopping to enjoy the view.
Cell service is not guaranteed. But, there is a free Travel Planner app for the Blue Ridge Parkway that works without internet or 4G connection to help keep you en route.
There are no gas stations along the parkway. Luckily, you're never too far from civilization! You just need to simply pop off onto another road to find the nearest gas station. The Blue Ridge Parkway keeps an up-to-date list of gas stations close to mile markers on which roads, a handy resource to have saved in case you can't get a signal on your GPS!
Is It Worth A Drive?
The route that the Blue Ridge Parkway follows features the east coast's highest mountain, deepest gorge, and highest waterfall.
Even without these big three, the drive is so worth it. There is such variety in everything you'll see, both natural and man-made, that there is something for everyone.
Aptly subtitled America's Favorite Drive, the Blue Ridge Parkway is a wonderful route to take when you want to see the local beauty. Its long miles allow for a variety of in town and in the wilderness that will make for a memorable vacation.