Winding through the San Gabriel Mountains is a pathway that is technically boring ole CA Route 2, but actually a drive with incredible views.
Known by its more poetic name, the Angeles Crest Highway is only minutes away from Los Angeles. Pasadena, Glendale, and Burbank are all very close to the beginning of the road.
What would lure you away from the bright lights and busy tourist attractions of L.A.? The beautiful views from the winding Angeles Crest Highway.
Angeles Crest Highway Information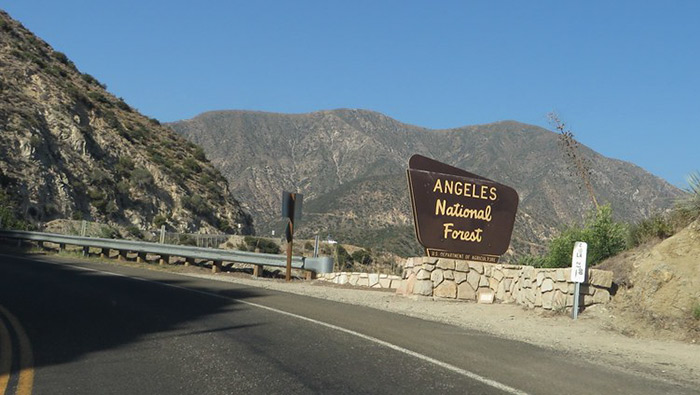 (photo by Ken Lund)
Starting in La Canada Flintridge, the Angeles Crest Highway stretches 66 miles north east to Mountain Top Junction with Rte 138.
This highway is worth mentioning because the route ascends and descends over 13,000 feet in height along its route.
La Canada Flintridge is the lowest point around 1,500 mi above sea level.
The highest elevation is at Dawson Saddle, in between Mt Lewis and Throop Peak, which almost reaches 8,000 ft!
It was first developed in 1912 but construction didn't start until 1929.
Construction wasn't finished until 1956 (as it was halted during WWII).
Famous for its stunning views and wild ride, the road has been used as a film location for several movies, including some iconic scenes from the cult classic Donnie Darko.
A National Forest Adventure Pass is all that's stopping you from filling up the gas tank and hitting the road.
Is Angeles Crest Highway dangerous?
The Angeles Crest Highway is a common topic on the news, but not always painted in the best light.
CBS Los Angeles has done reports on the route and, as of 2017, claimed that there were 1,800 accidents on the highway – 33 of which were fatal – in only 5 years.
These numbers may seem paltry compared to the number of people who regularly drive the highway, but remain something to be considered. The road is undoubtably dangerous.
(photo by mark sebastian)
Why is Angeles Crest Highway dangerous?
Like many dangerous roads, Angeles Crest Highway features a fair few dangerous spots.
Aside from being a twisting road with many sharp turns, it is bordered by sheer drops along most of its route.
There are car and motorcycle enthusiasts who flock to the highway to test fancy cars and sometimes the need for speed gets the better of them.
Confident drivers can ruin the route by not playing safe.
Accidents/Deaths on Angeles Crest Highway
The latest available data for crashes on Rte 2 is from 2018.
An interactive map shows are mere 10 accidents that year on the Angeles Crest Highway, whereas there are considerably more down Rte 2 as it goes through central L.A.
Except for an incident with a bicycle, all but one logged collisions are either due to improper turning or unsafe speed. The remaining one's cause is unclear.
Of these 10 collisions, there were two which caused vehicles to overturn and two which resulted in fatalities.
The first fatal accident was in April of that year when a motorcycle caused an accident in which the driver of another car died.
Later that year, there was a fatal hit-and-run accident in November.
In addition to motor vehicle accidents, since 2000 there have been eight homicides on the Angeles Crest Highway.
All are murders or suspicious deaths, several of which are presumed to be drop-off points rather than actual scenes of the crime.
The most recently reported accident happened barely a month before this article was written.
At the end of July 2021, a sedan hit a tree near mile marker 50 on the Angeles Crest Highway. The crash killed both the driver and passenger of the car, with a third passenger being taken to the hospital in critical condition.
Earlier that same month, two teenagers had gone missing along the highway. Five days after they were first reported missing, their overturned vehicle was found along with the bodies of 19-year-olds Sophia Rayanne Edwards and Ethan Manzano.
Back in March of 2021, two died in a fatal crash when their car overturned and caught fire, trapping the two inside. This crash occurred late at night, when visibility could have easily been a factor in what caused the accident.
All three of these deadly accidents were single car crashes.
Often, further information isn't provided as police investigate the reasons behind the crash, so we are left with assuming it must be due to a lack of speed control, poor visibility, or distraction.
WildCAD provides the most recent, though basic, information on traffic collisions based on road. Searching for "Angeles Crest" will provide the most recent accidents on the highway.
Is Angeles Crest Highway safe to drive at night?
Though the highway is "open" 24/7, there are no streetlights along it. From a tourist point of view, there's not much of a reason to drive the road at night as it'll be hard to see the views and the stop-off points are merely hard shoulders along the road, and not too many at that. You'd have to park up and turn off your car lights, but then you would be a potential danger to any other drivers on the road that wouldn't see you. Unless you really have to use the route to get from point A to point B, we'd recommend giving the highway a miss at night and saving the views for a daytime drive.
Is Angeles Crest Highway Scary To Drive?
The Angeles Crest Highway can definitely be scary if you are not used to driving such a road.
Unlike other highrise pavements, this highway actually has quite a big speed limit at 55 mph.
Just remember that you do not need to do the speed limit – it's the limit, you can go slower! If you do get scared while driving Angeles Crest, take it easy and be mindful of blind turns when other motorists may pass you.
It can be also scary for people afraid of heights as the road ascends into the mountain. A glance over into the sheer facing cliffs can induce anxiety if you have trouble with heights. However there are guard rails for most of the road to help mitigate that anxiety.
Another scary element of the road is the focus needed to drive it.
If you're the driver, you may have a hard time enjoying the views. Even if you see a pretty sight, remember that you are operating a vehicle and shouldn't allow yourself to get too distracted.
It may not be a scary drive for you, but your passengers may prefer you keep your eyes on the road to avoid going over the edge.
Reviews From Drivers
Reviews for Angeles Crest Highway total up to a pretty nice average of 4.5 out of 5 on Trip Advisor.
The overall consensus is that it's a beautiful drive, a must-do, a no-regrets trip … you get the picture.
Some people mention stopping in the town of Wrightwood which is small but quaint.
One reviewer claimed it is an 'unforgiving road with a lot of bad behavior going on by thrill seekers in vehicles.'
Another reviewer reminds drivers that you are meant to have a National Forest Adventure Pass if you plan on stopping at any of the facilities (picnic areas, toilets, etc.) along the route.
Though they might not always be checked at the remoter rest stops, we do recommend complying with the rules and making sure you've got the pass.
You can buy one for the day ($5) or for the year ($30).
One place worth visiting where the pass must be displayed is the Haramokngna American Indian Cultural Center.
One reviewer recommends the Shell gas station on 210 at the start of the Angeles Crest Highway as a convenient spot to get a pass.
While the road hasn't gotten a full 5 stars, it's important to note that it hasn't gotten any lowly 1 star reviews, either!
The lowest review was 3 stars and still recommends the drive, only complaining about speeding motorcycles.
Certain commercial vehicles are not allowed on the Angeles Crest Highway.
Any vehicle with three or more axels or weighing over 9,000 lbs are prohibited.
This obviously doesn't apply to emergency or governmental vehicles, so it is possible to see larger trucks on the road.
As a visitor, however, you are allowed RVs, cars, motorcycles, and bicycles.
Tips For Driving Angeles Crest Highway
The road is often closed in the winter due to inclement weather, so it's best to plan your visit for the milder months.
If you're able to, go on a weekday. The weekends are obviously busier, with daytrippers and local tourists filling up the road.
Be aware! It's possible there can be fallen rocks along the road, so drive with caution. Piles left from landslides could force you to go around, crossing into the lane for oncoming traffic, in order to pass the obstruction.
There is no or little cell service, so be prepared. Make sure your car's gas tank is full and there's a spare tire in the trunk – you never know!
Fill your gas tank! Though you're just outside of L.A., the nearest gas stations are at the beginning and end of the 66 mile long route. We doubt you want to hike your way there if you run out of fuel half-way.
Plan your route. The Angeles Crest website has a list of parking spots (and which have restrooms!) based on mile marker (since cell service is spotty). If you look up in advance which ones you'd like to stop at, you won't be distracted by finding the next one by chance.
There are pullouts scattered throughout the highway that enables you to enjoy the view, pull over for an emergency or let the car behind you pass.
Is It Worth The Drive?
Angeles Crest Highway is definitely a drive worth your time. You don't have to go miles outside of a city to arrive there, let alone a major city.
L.A. is minutes away and if you own a car or can rent one, it's worth the trip.
Spend less than a day driving through gorgeous nature scenes before taking in all the exciting city sights downtown.
Final Thoughts
Rather than setting aside one or more days to trek to a National Park or Forest where scenic drives allow you to take in the beauty of our country from the comfort of your own car, the Angeles Crest Highway allows you to do so just minutes from L.A.
A common pilgrimage for bikers (both motorized and manual), sports car enthusiasts, bicyclist and keen hikers, this zigzagging highway shows the beauty of California from thousands of feet above sea level.