Thinking of visiting Los Angeles, people immediately picture the Hollywood sign, Grauman's Chinese Theater, or Rodeo Drive. But what do you *do* there?
For people who want to more than just see sights, there are a lot of cool event spaces, museums, and experiences that are a little off the beaten track (both in popularity and normalcy).
Los Angeles is known for producing world-famous actors, writers, artists, and musicians. It's a huge metropolitan hub of culture that has something for everyone.
While we can't deny the Hollywood Walk of Fame is a must-see tourist attract, there are many others dating back older than you'd expect that are just as ready to welcome you, without half the crowds.
(Related: The Worst Tourist Traps In Los Angeles)
We've found 10 unusual things to do and see around L.A. for the alternative tourist – even the local ones!
1. Museum of Death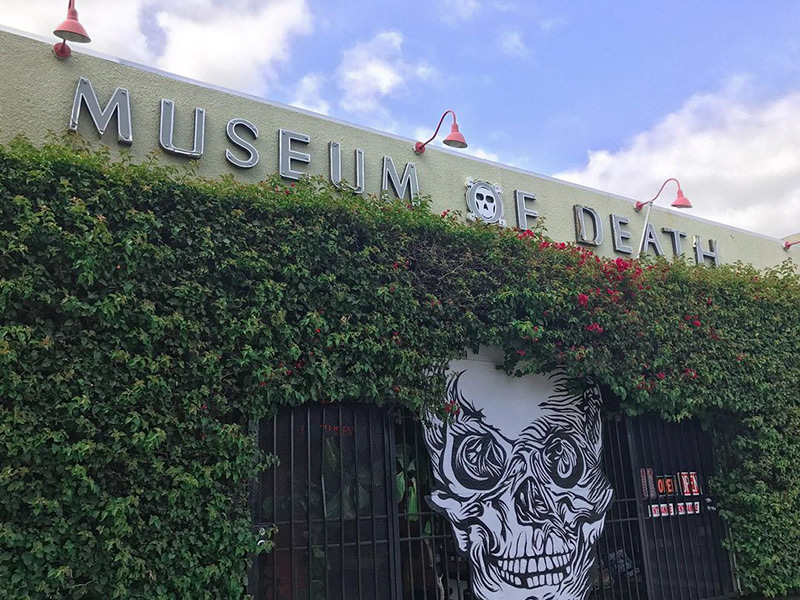 It's weird to consider someone making death their life's work, but that's exactly what J.D. Healy and Cathee Shultz do.
The Museum of Death is tribute to morbidity. $17 gets you access to hundreds of items that have been collected for both education and art, featuring antique objects used in autopsies and funerals to artwork made by serial killers.
As the museum is a self-guided experience, the time you spend inside is up to you. It's recommended that you'll need at least 45 minutes, but some people spend longer. Others are not so sturdy and give what the museum calls a "falling down ovation" – they faint.
A word to the weary: only go if you're sure you can stomach it. All objects and photos are genuine and certainly graphic.
*Note: as of Fall 2021, the Hollywood location is under relocation and closed until further notice.
6616 Sunset Blvd, Los Angeles, CA 90028
2. Cinespia Screenings, Hollywood Forever Cemetery
No car? No problem. Skip the Drive In and still be able to watch a film under the stars. If you're not scared, that is. Cinespia hosts outdoor showings of movies in the Hollywood Forever Cemetery!
The Fairbanks Lawn is a big field inside the cemetery where Cinespia projects the movie. The comfiest experience includes bringing a picnic blanket and pillows (don't forget a ground tarp to keep your blanket from getting dewy!) and a picnic dinner of course.
In fact, they encourage you to bring your own drinks – beer and wine included! That's a better set-up than most movie theaters these days. It will cost you, though. Most movies cost around $30 plus a $3.50 booking fee.
If you want to bring the car and park, it'll cost you almost just as much.
While they don't have previews, most shows start and end with a DJ set to set the ambiance. Sometimes showings are even accompanied by a fireworks display afterwards.
Cinespia screenings are rain or shine, so don't think you'll get your money back even if it's raining cats and dogs. The only time they'll reconsider is if conditions are truly deemed unsafe.
6000 Santa Monica Blvd, Los Angeles, CA 90038
3. The Magic Castle
The Magic Castle is a member's only club, so if you're only visiting L.A. it's unlikely you'll get a chance to go, although members can invite guests.
If you're an avid fan or are friends with them, there are multiple ways to enjoy the evening there.
A bit of a living museum, rooms are filled with magical memorabilia as well as live performances scattered throughout the Castle.
There are several stages throughout the Castle, the smallest sitting only 26 guests and the largest being accompanied by dinner reservations.
Both dinner and brunch are served in the dining room, though under-21s are only welcome to brunch.
The club enforces a strict dress code, too.
The history of the Magic Castle dates back to 1909, when it was by a couple who invested in and volunteered for the well being of the surrounding area, Holly Chateau was a well known address in Old Hollywood.
After the couple's passing in the '40s, the mansion went through some uncertain changes until a great admirer of the building, Milt Larsen, bought the house with his brother and sister-in-law in 1961 and established the Academy of Magical Arts, Inc. and its home, which it has been since.
While the Castle itself doesn't list their membership prices (you have to call or e-mail them), one 2014 source put it at $1,500 for initiation plus $750 for the yearly fee.
Who knows if those prices have gone up. Membership includes (on top of the dining and showtime experiences) access to a magical library, lectures, and AMA classes.
7001 Franklin Ave, Los Angeles, CA 90028
4. Visit The Stay on Main Hotel (Formerly Cecil Hotel)
Another great construction designed for high society before the Great Depression hit, the hotel on S. Main Street in Los Angeles was first christened the Cecil Hotel back in 1924.
Its 700 rooms over 15 floors quickly developed a ghastly reputation, though, as violent acts – even deaths – began to mount up at the infamous hotel.
The first suicide that was documented at the hotel was in 1927. Since then, an unofficial estimate tallies 13 suicides total over the past 90 years the hotel has been open.
Two serial killers, Richard Ramirez, "the Night Stalker," and Jack Unterweger, stayed at the hotel during their periods of activity.
There have also been brutal murders linked to the hotel. Most recently, the curious death of Elisa Lam in 2013.
In an attempt to distance itself from its disastrous past, the hotel attempted to rebrand itself in 2011 to the Stay on Main Hotel.
In 2017 the hotel was marked as a Los Angeles Historic-Cultural Monument due to its significant architecture.
In the same year it temporarily closed for repairs, but has not opened since.
Thrill seekers who believe in ghosts may be holding their breaths a while yet before the Stay on Main reopens its bookings.
640 S Main St, Los Angeles, CA 90014
5. Cliftons Cafeteria
Where to begin with The Neverlands? An experience as whimsical and immersive as their own website, Clifton's Republic is an immersive night out.
The original restaurant, Clifton's Cafeteria, began operating in 1931. It was opened by Clifford Clinton in the hopes of raising the country's spirits after the Great Depression.
Opulence and adventure were the inspiration for this theatrical hospitality experience.
Over time, Clifton's has changed hands and, as of 2018, became Clifton's Republic.
In its current state, there are different themes across three floors. The Tree Tops, located on the highest floor, is an elegant cocktail experience.
Lower down, the Pacific Seas takes place in the Art Deco Map Room, celebrating the Golden Age of Travel with a Caribbean atmosphere that pays homage to tiki bars.
There's also the Brookdale Ballroom for a glimpse back to 20th century nightlife; The Monarch, with a less-refined, more outdoorsy feel; and, coming soon, The Marketplace will give you the ability to bring such curios and amusements home for a souvenir.
While those familiar with Clifton's lament the loss of dining there (the cafeteria shut down for renovation in 2018 without any opening update since), they still admire the one-of-a-kind experince you can have over drinks there.
Like the Magic Castle, though, the dress code is strict! Be sure to dress your best before heading out that night.
48 S Broadway, Los Angeles, CA 90014
6. Bob Baker Marionette Theatre
Another niche hobby that has taken off into an iconic business, the Bob Baker Marionette Theater is a wonderful experience for children and adults alike.
The eponymous founder was fascinated by puppets from an early age and was making and selling his own puppets by high school.
He first opened the theater in 1963. His success was proven when the theater was made a Los Angeles Historical-Cultural monument in 2009.
Though the theater has relocated since, it continues to host shows, puppeteer lessons, and private parties.
The main stage is surrounded by red carpet where guests are encouraged to grab a seat (without blocking a toddler's view, of course)!
Shows can be interactive and guests are encouraged to feel involved. Arguably the best part after the show is the free ice cream guests get, a tribute to the tradition Bob started decades ago.
Tickets tend to be around $20, which isn't bad at all when you consider the fact that it includes dessert!
4949 York Blvd, Los Angeles, CA 90042
7. Bearded Lady's Mystic Museum
The Mystic Museum harkens back to the macabre start to this list. It's a museum dedicated to the occult, the paranormal, mysticism – just horror in general!
Owned by Kiko And Erick, it's in business with Bearded Lady Vintage & Oddities shop, further purveyors of ghoulish clothing, memorabilia, and more.
Aside from interactive exhibits and art shows, the Mystic Museum also offers tarot card readings and regularly hosts charity drives.
It's an ideal stop for horror movie fans and admirers of alternative subculture.
3204 W Magnolia Blvd, Burbank, CA 91505
8. Soap Plant, Wacko
Since 1971, Soap Plant (home to WACKO) has been a Mecca for anything offbeat.
A shop (WACKO) and an exhibition space (La Luz de Jesus Gallery), Soap Plant started as exactly that: a store for Barbara Shire to sell her homemade soap.
As her son took over the business, it expanded to include WACKO and go beyond soap. Today, bars of soap may be hard to find on the shelves, but so is anything: there are over 10,000 different products for sale at Soap Plant/WACKO.
Want to get lost among a variety of tchotchkes, clothing, toys, and books? Soap Plant/WACKO has it all.
Starting in the 1980s, it also got its own art gallery. The La Luz de Jesus Gallery moved in above Soap Plant/WACKO and is a home to modern artists, many of whom have ties to or were inspired by punk rock.
Famous guests in past include Andy Warhol, Axl Rose, and Elvis.
The iconic shop made a home for burgeoning artists and musicians alike.
You can shop its range of cute toys and gifts online, but part of the experience is visiting Soap Plant/WACKO in person!
4633 Hollywood Blvd, Los Angeles, CA 90027
9. Old Zoo, Griffith Park
Famously known to be home of the iconic Hollywood sign, Griffith Park is also home to the Los Angeles Zoo.
The current zoo was built in 1965, but before that, the Old Zoo was located a mere 4 minute drive away, still on the grounds of Griffith Park.
What's more, the ruins of the Old Zoo are still there! The reason they shut down the Old Zoo was due to criticism over how small the animal enclosures were.
Over half a century later, you can wander freely through Griffith Park and walk past the abandoned animal cages – even picnic in them!
A Google search of the Old Zoo ruins may look familiar. They've been used several times as a film set.
The famous bear scene from Anchorman was filmed here, as well as scenes from the Pawnee Zoo for the TV show Parks and Recreation.
It's allegedly off the tourist radar, so a relaxing place to bring a picnic for the whole family – including dogs!
4801 Griffith Park Dr, Los Angeles, CA 90027
10. Jumbo's Clown Room
People with phobias rest easy, for Jumbo's is indeed not a clown theater. Though there are some eye-popping shows, they tend to be more adult themed.
Founded in 1970, Jumbo's went from your neighborhood local to cabaret to prominent bikini bar.
It's known for rock 'n roll, dancing, acrobatics, and of course its dive bar.
Jumbo's subtly claims to have started the tradition of the beer and shot combo.
Over the years the bar was known for pillow parties, discos, Halloween parties, a pizza oven, and pole dancing.
It currently focuses more on the latter, having nightly live musical acts and physical performances.
If you're on the fence about visiting this seductive night club, know that it's been highly recommended by many a famous connoisseur.
It was known to be frequented by Bukowski, David Lynch, and Anthony Bourdain, proving it's not just a sleezy stop-off, but a home for high-quality entertainment.
5153 Hollywood Blvd, Los Angeles, CA 90027
Final Thoughts
As you can see, Los Angeles can offer a variety of visits for the young and old alike.
While some places are certainly more family friendly than others, these 10 unsual things to do can suit almost anybody's visit.
Californians shouldn't be ashamed of just learning about one of these places, either, as L.A. is a huge city constantly offering brand new and exciting things to do and see every day.
It may take a local to be able to cross each of these places off the to-do list!