Orange County in southern California is known for numerous attractions like Anaheim's Disneyland Resort and Knott's Berry Farm, among others.
Its high-end arts and culture scene is not just limited to well-known museums but also antique fairs and flea markets.
With the abundance of flea markets in the county, you will not find yourself very far away from one.
Here, we talk about some of the best flea markets that Orange County has to offer.
Related:
The 8 Best Swap Meets in San Diego
The 11 Best Swap Meets And Flea Markets In Los Angeles In 2022
1. Orange Coast College Swap Meet
(photo: spicebitesfood)
Located in Costa Mesa, the Orange Coast College Swap Meet is one of the most well-known flea markets in the area. If you are a fan of swap meets, then this market is a must-visit.
It hosts vendors from various areas and stocks the best inventories.
You will find an array of new items, used items, clothes, collectibles, toys, knick knacks, fresh produce, and other miscellaneous items.
You can find some nice hidden treasures but you will need to come early for the best selections.
Think of it like a huge garage sale with items of all kinds spread amongst many vendors.
The prices are extremely reasonable and they aren't fixed in stone if you are the negotiating type.
Annd If you get hungry, there are plenty of food stalls serving up a nice assortment of foods, drinks and desserts.
There is also a lottery event that takes place through the months of July, August, and September.
You can visit the flea market on Saturdays and Sundays between the hours of 8 am and 3 pm. You can also enter and park for free. Some people have complained that the parking is difficult, so keep that in mind.
2701 Fairview Rd, Costa Mesa, CA 92626
2. Open Market OC
(photo: Jen C)
The Open Market OC features the best boutique shopping experience. It lets hundreds of local and small businesses showcase their products for purchase to the local community.
You can find a wide variety of items here including new, used, up-cycled, recycled, vintage, clothes, crafts plants, cards, jewelry, candles, home décor and the list truly goes on.
Everything is beautifully displayed, organized and tastefully done. If you like craft fairs or harvest festivals, it is a similar vibe
The Open Market in Laguna Hills also features a pinball room that has a nice selection of games, so don't forget to bring some quarters.
The Open Market OC currently has two different locations in the county and one coming soon.
Laguna Hills: Monday to Saturday 10:00 am to 6:00 pm, Sundays 11:00 am to 5:00 pm.
Mainplace Mall: Sunday to Thursday 11:00 am to 7:00 pm, Fridays and Saturdays 11:00 am to 8:00 pm.
24100 Laguna Hills Mall, Laguna Hills, CA 92653
2820 N Main Street, CA 92705
3. Golden West College Swap Meet
(photo: Ajay H)
The Golden West College Swap Meet is located in Huntington Beach, CA.
You can find a ton of gems in terms of clothing, shoes, bedding, and everything in between.
The vendors and employees there are very helpful and friendly.
There is a handful of regular vendors with stalls, while others come and go.
You will find overstock items, clothes, treasures, collectibles, handcrafted gifts, and practically everything else in between.
You will find numerous useful and high-quality items at affordable prices.
The place is open for shopping on Saturdays and Sundays from 8:00 am to 3:00 pm. Parking and admission are free of charge.
15744 Goldenwest St, Huntington Beach, CA 92647
4. Anaheim Marketplace
(photo: Richard L)
The Anaheim Marketplace is situated on 1440 S Anaheim Boulevard. It is an indoor marketplace with vendors of all kinds.
You will find over 200 shops offering a huge variety of merchandise at affordable rates.
You can find all sorts of items like clothes, makeup, toys, phone accessories, electronics and items off all sorts.
The indoor marketplace is open every day from 10:00 am to 7:00 pm except Tuesdays.
1440 S Anaheim Blvd, Anaheim, CA 92805
5. Santa Fe Springs Swap Meet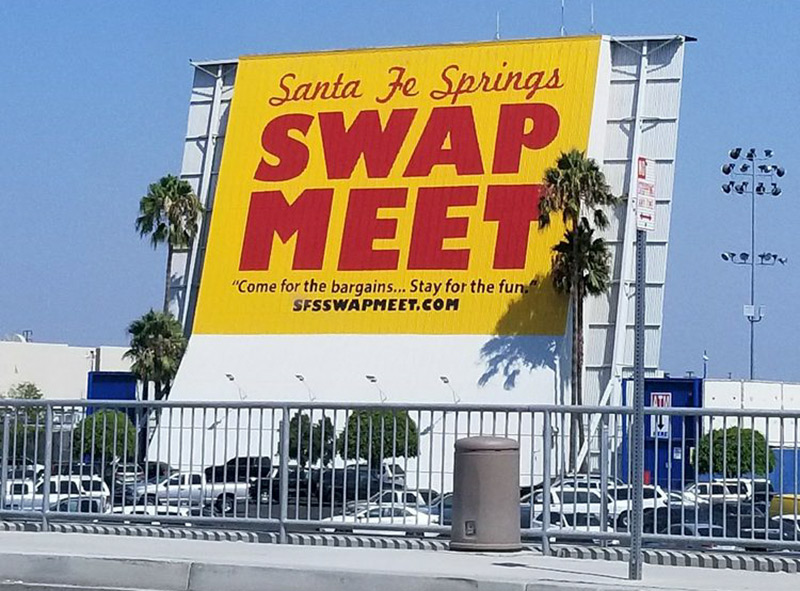 (photo: Angel G)
While technically not in Orange County, The Santa Fe Springs Swap Meet is a huge flea market that sits right outside the border of Northern Orange County.
The swap meet takes place over the weekend on Alondra Boulevard in Santa Fe, at the drive-in theater, right off the 5-freeway.
There is something for everyone here. There is a huge variety of items including clothing, furniture, collectibles, art, tools, jewlery, and sports equipment just to name a few.
The area is fairly clean, and you can find various deals, enjoy good food, music, and drinks.
On top of the wide arrary of things to shop for, there is also live entertainment on the weekends.
Shopping hours for Parking Lot Swap Meet include Tuesdays, Wednesdays, and Thursdays from 7:00 am to 2:30 pm.
On the other hand, inside swap meet hours are Fridays (4:00 pm to 11:00 pm), Saturdays (7:00 am to 5:00 pm), and Sundays (7:00 am to 5:00 pm).
Parking is free, but at times, spots can feel pretty cramped.
13963 Alondra Blvd, Santa Fe Springs, CA 90670
6. Long Beach Antique Market
(photo: Abby C)
The Long Beach Antique Market is the ideal stop for collectibles. The expansive market has been an important part of Long Beach since 1982 and is held at Veterans Stadium.
The event takes place on every third Sunday of each month, sprawling over 20 acres and featuring more than 800 vendors.
It has a huge and diverse range of unique products. From home décor items to collectibles and even furniture, art, electronics, antiques, jewelry, and clothing- you can find it all here.
You will need to allocate a few hours to properly explore the entire marketplace. Fortunately, there are plenty of food and drink options available to help you stay energized.
4901 E Conant St, Long Beach, CA 90808
7. Cypress Swap Meet
(photo: Victor G)
The Cypress Swap Meet is situated at 9200 Valley View Street in Cypress, California.
From thrift clothes to furniture pieces all the way to electronics and groceries, the Cypress flea market has it all.
You can also grab a bite to eat while there and get some exercise as you explore all the aisles.
There are plenty of stalls, food trucks, and shopping items present, making the market a great place to hang out with friends or family.
The Swap Meet is open on Saturdays and Sundays from 6:00 am to 4:00 pm.
9200 Valley View St, Cypress, CA 90630
What happened to the OC Marketplace Swap Meet?
When the pandemic hit in 2020, the OC Market Place closed down due to pandemic regulations.
Along with a contract dispute between the fairgrounds officials and the operator, the swap meet had a hard time re-opening in 2021
However, a new operator, David Sesena temporarily revived the OC Market Place, though on a much smaller and limited scale.
The first swap meet was held in May of 2021 and welcomed around 3,500 visitors and approximately 88 vendors. The next event was held on June 19 with 125 booths and 110 vendors.
While they were aiming to reopen the swap meet regularly in the fall, due to property issues, the swap meet is no longer operational at the OC Fair & Event Center.
Hopefully the operators of the swap meet can find a proper replacement venue, as this swap meet was a staple of the Orange County community.