If you look at the statistics and crime rate, Milwaukee is not a safe place to visit. The violent crime rate is high. The property crime rate is high. It consistently appears on the list of most dangerous cities in the United States and there are countless stories in the media of murder and violence in Milwaukee.
But do the statistics and news report tell the full story?
Let dig a little deeper and check out the stats, the maps, and hear from the actual residents of the city as to whether or not Milwaukee is safe to visit.
How much crime is there in Milwaukee?
There's no skirting around it, Milwaukee has a lot of crime. It consistently tops the list of most dangerous cities in the United States. In 2020 it was listed #10 of most dangerous cities in America, coming behind cities like St. Louis, Memphis, Nashville, Albuquerque, Baltimore, Stockton, San Bernardino and Detroit.
According to statistics recently released by the FBI, Milwaukee had the 7th highest violent crime rate in the country in 2020, 1,629.70 incidents per 100,000 residents.
*Crime rate is calculated by dividing the number of reported crimes by the total population; the result is multiplied by 100,000. For example, in 2020 there were 9,407 violent crimes in Milwaukee and the population was 577,222. This equals a violent crime rate of 1629.70 per 100,000 general population.
| | | | |
| --- | --- | --- | --- |
| City | Population | Number of violent crimes in 2020 | Rate per 100,000 people |
| 1. Memphis | 633,104 | 15,310 | 2,418.24 |
| 2. Detroit | 639,111 | 14,370 | 2,248.44 |
| 3. St. Louis | 301,578 | 6,017 | 1,995.17 |
| 4. Little Rock | 202,591 | 3,657 | 1,805.11 |
| 5. South Bend | 103,453 | 1,765 | 1,706.09 |
| 6. Cleveland | 372,624 | 6,281 | 1,685.61 |
| 7. Milwaukee | 577,222 | 9,407 | 1,629.70 |
| 8. Kansas City | 508,090 | 7,919 | 1,558.58 |
| 9. Lansing | 112,644 | 1,699 | 1,508.29 |
| 10. Springfield | 169,176 | 2,545 | 1,504.35 |
In 2020, Milwaukee reported 190 murders, which is a staggering 95% increase from 2019. Milwaukee also register 7,235 aggravated assaults (26% increase), 491 rapes (5% increase) and 2,085 robberies (5% increase).
Milwaukee Mayor Tom Barrett placed the blame of rising crime on the pandemic, citing, "economic pressures and the tension that comes from not being able to circulate in the community led some to domestic and gun violence."
Here's a breakdown of all the crimes in the city for 2020:
| | | | |
| --- | --- | --- | --- |
| | 2019 | 2020 | Percent Change |
| Homicide | 97 | 190 | +95% |
| Rape | 468 | 491 | +5% |
| Robbery | 1,981 | 2,085 | +5% |
| Aggravated Assault | 5,746 | 7,235 | +26% |
| Burglary | 3,691 | 3,460 | -6% |
| Theft-Larceny | 7,986 | 8,546 | +7% |
| Motor Vehicle Theft | 3,487 | 4,510 | +29% |
| Arson | 200 | 288 | +44% |
| Grand Total | 23,492 | 26,5892 | +13% |
**All data is from the 2020 Milwaukee Police Crime Stats Report**
As of October 2021, there have been 148 homicides reported in the city, which is an increase of 8 more homicides at the same period last year. Here is a map showing you where all the homicides have taken place during the course of the year: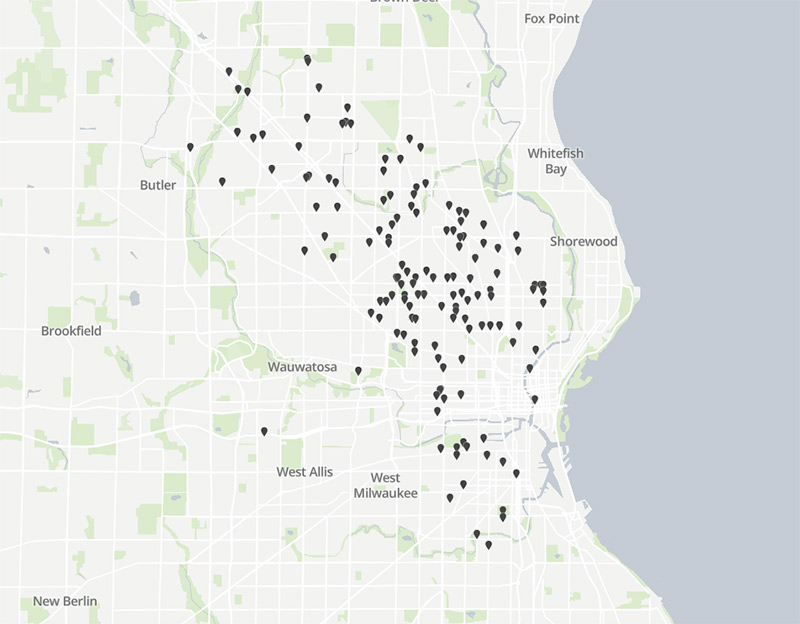 Neighborhood Scout gives Milwaukee a crime index rating of 8, meaning Milwaukee is only safer than 8% of all U.S. cities. You have a 1 in 74 chance of becoming a victim of violent crime and 1 in 23 chance of becoming a victim of property crime in Milwaukee.
Compared that to a 1 in 341 chance of becoming a victim of violent crime and 1 in 68 chance of becoming a victim of property crime in the entire state of Wisconsin.
Milwaukee's Worst Neighborhoods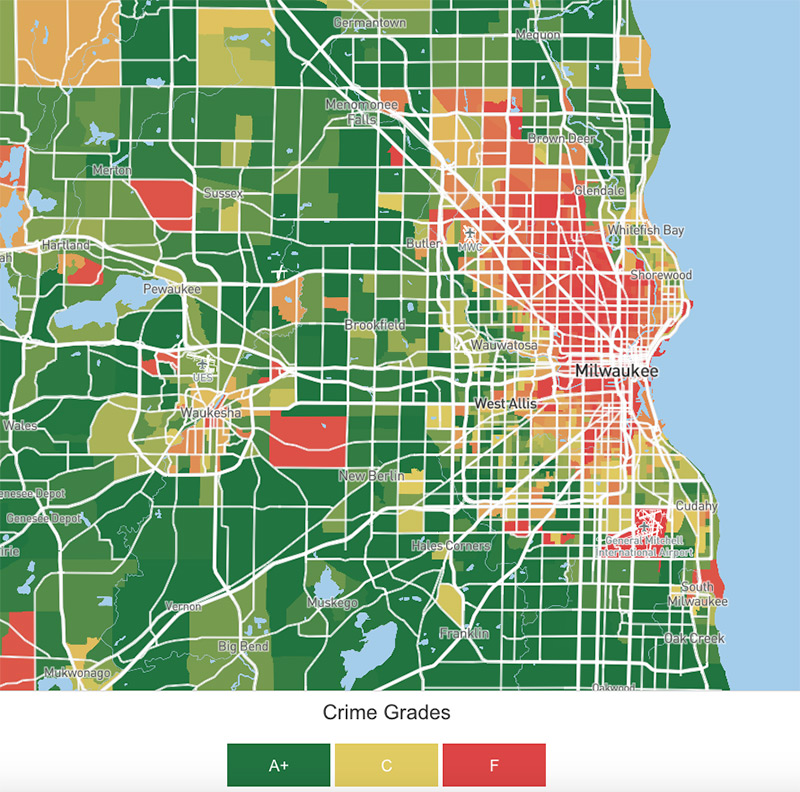 As you can see from this map of Milwaukee, the heaviest concentration of crime is centered around the north side of the city.
| | | | |
| --- | --- | --- | --- |
| Rank | Name | Violent Crime (Per 100,000) | The difference from Nat. Avg. |
| 1 | Metcalfe Park | 5,726 | 191% |
| 2 | North Division | 5,461 | 178% |
| 3 | Franklin Heights | 5,105 | 160% |
| 4 | Park West | 5,081 | 159% |
| 5 | Washington Park | 4,993 | 154% |
| 6 | Garden Homes | 4,940 | 151% |
| 7 | Borchert Field | 4,713 | 140% |
| 8 | Sherman Park | 4,567 | 132% |
Safest Neighborhoods In Milwaukee
Brookfield
Whitefish Bay
Elm Groove
Shorewood
Fox Point
Cedarburg
Bayside
Mequon
Murray Hill
Is Downtown Milwaukee safe to visit?
Downtown Milwaukee, like the rest of the city is a patchwork of safe and not so safe areas.
There was a recent new story on CBS58 which called to the attention of the safety of Downtown Milwaukee, where residents complained about "reckless driving, people openly drinking, firing off guns, fighting and breaking glass."
One woman who lived in Downtown for two year said she feared for her safety, "I mean after 8 'o clock, as a woman, I won't really go outside by myself. The streets are just packed and it's just not a safe place where you feel at night anymore. The other weekend I probably heard like 10 rounds. I was told that somebody opened fire inside one of the bars on the block as well, so yeah, it's pretty scary."
Other long term residents of downtown have a different assessment, "I've, lived downtown for ten years and have never felt unsafe. Panhandlers, yes. Protesters, yes."
One resident said downtown is fine except, the northwest side town is where you might run into trouble. Burleigh and 20th to 60th street, also around Capital and Cherry are where you might run into problems.
Another resident advised "don't go west of Marquette, south of Clybourn, North of Juneau Ave, and East is fine, so long as its not west of Holton."
Driving Tour of Downtown Milwaukee
What do residents of Milwaukee say about it's safety?
I don't really worry about violent crime and certainly not about shootings and things like that. Most of the shootings happen in the ghetto and the victims are usually gang members and frequently shady themselves. Milwaukee deserves its reputation based on the stats but it is also overblown because there plenty of parts of the city that are safe. Much of the problem stems from media portraying it as a "war zone," which is nowhere close to the truth.
If you're not engaging in criminal activity, then your car being broken into and something stolen is the most likely thing to happen to you.
I've been living in Milwaukee for more than 10 years, and I can verify that rural towns over exaggerate how crime-ridden Milwaukee is. They only parrot what they see on the news which is often crime and big accidents. There are bad neighborhoods that I never visit, but even after ten years I've explored so much of this amazing city and haven't encountered anything terrible.
If you solely get your information about Milwaukee through the nightly news, you're only going to hear about crime and shootings. You are not going to get all the positives of the city. The many wonderful places to eat and things to do.
Milwaukee is terribly segregated and bad for poor people, but the more affluent areas are mostly safe.
Avoid the Northside and some Southside unless you have to go there, and if you have to go there, do it in the morning before all the troublemakers wake up.
Milwaukee is great city unless you are poor. The nice areas are very safe, the not so nice areas aren't, just like any city.
White Fish bay, Downtown (near east side), East Side, , Menomonee Falls, Third Ward, Wauwatosa are all areas that are pretty safe. They are mostly white areas. Avoid West Allis, as it can be pretty rough even for a white neighborhood.
Lower east side, Brady Street area, Murray, North Point, Yankee Hill, the upper east side, and all the way up to Shorewood and Whitefish Bay are the nice areas.
Avoid Center Street between 1st and around 60th and the North side.
Most crime is isolated to high poverty areas. Generally, you'll only get into trouble if you're looking for trouble. Most of the violence in Milwaukee is due to gangs or altercations between two people.
It's pretty obvious which parts are sketchy, the neighbor hood just looks crappy! Graffiti, broken windows, boarded up windows, etc.
Downtown Milwaukee, The East Side: Upper and Lower are pretty safe areas for the most part. Shorewood and Whitefishbay are also areas where you should be concerned too much. The Southside: Bayview and Walkers point, 3rd Ward are pretty safe. The Westside, it can start to get a little sketchy. The Riverwest areas is ok, but with caution. The Northside – I do not like at all. It's very poor and poverty-stricken, and very much considered the ghetto.
It's a rare occurrence for anyone to get shot or assaulted who isn't involved in gangs or drugs. The crime statistics are high, but that's because it tends to affect the same communities over and over.
It really depends on what part of the city you are in. North/west side is bad but Eastside is fine. The suburbs are fine. It's not really any more dangerous then the average city like Los Angeles or New York.
Tips to stay safe while visiting Milwaukee
Try not to walk alone at night. Don't look vulnerable or oblivious to your surroundings, and don't call attention to yourself or your valuables.
Always know where you are going.
Don't stare at people in the eye, but always be considerate of their presence.
Never let yourself be stopped by a stranger – unless they obviously need your help.
Lock your car doors, always. Even at gas stations. Car jacking has been a slight problem as of late.
Don't look at the sidewalk when you are walking. Always be actively scanning to your right and left when you walk. You'll will be amazed by how much more of a challenge you seem with your head observing and scanning.
Don't walk while distracted. Don't walk and talk on the phone or listen to music or podcasts. It prevents you from hearing people coming up behind you and it kills your situational awareness.
Carry a charged cell phone at all times.
Police Chief's Ed Flynn's Tips For Not Getting Shot
In 2016, Milwaukee's then police chief Ed Flynn, released his four simple rules for not getting shot during a press conference about violence in the city,
Don't be part of a crime gang
Don't be a drug dealer
Don't illegally carry a gun
If you are in an argument, with a stranger, ask them how often they've been arrested. And if they've been arrested more often than you've been arrested, concede the point.
After public backlash and ridicule, Flynn retired his list, but not before defending it, saying he was trying to explain to law-abiding people that they shouldn't be afraid in Milwaukee.
Is it safe to drive/walk around at night?
Milwaukee can be a safe place to drive or walk around at night as long as you avoid the sketchy neighborhoods. You should be familiar with the layout of the city. You should have a sense of which neighborhoods are good and which ones are bad.
Know where you are going. Driving or walking around aimlessly can land you in a bad neighborhood.
Another thing to consider is your most likely to be a victim of crime if you are by yourself. It's not recommended that you walk late at night by yourself, especially in a city that you are unfamiliar with.
Common sense dictates that you stay in well-lit areas, avoid alleys, and stay aware of your surroundings.
Driving Around Milwaukee's Worst Neighborhood At Night:
Segregation In Milwaukee
It should be noted that Milwaukee is highly segregated. It is consistently ranked on list of most segregated cities in the country.
Even Milwaukee Bucks president said it is one of the "most segregated, racist place I've ever experienced in my life."
Milwaukee is a city that has within its borders, another city. That other city is called the "North Side", surrounded by an unseen wall of segregation.
Within the borders of the "North Side", many people live their lives, generation after generation, on the brink of poverty if not in poverty.
Possibilities of decent education and employment are close to zero.
Cultural events, art exhibits, modern and sustainable urbanization, a little bit of nature – these are all unheard of in this "North Side" city.
The lack of employment opportunities and quality education acts as a giant void filled by hopelessness, anger, street gangs and violence toward those on the other side of the segregation walls.
Here is a much showing you how segregated the city is:
So, is Milwaukee safe?
There are no guarantees in life but you can definitely mitigate the chances of something bad happening if you take time to learn the layout of the city, stay out of the dangerous neighborhoods and be attentive to your safety with the tips above.
There are still some very dangerous parts of Milwaukee, most notably the Northside. However, for the average visitor who is likely to place themselves in Downtown or outside of the Northside, Milwaukee can be a safe place to visit.
Other Cities You Might Be Interested In: