Austin is one of the fastest-growing and most beloved cities in the country. It is a vibrant city full of musicians, artists, entrepreneurs, cowboys, and everything in between.
If you are thinking about visiting the city and have some questions regarding its safety, we have you covered. We deep dived into the statistics, crime reports and talked to the residents of the city to give you a better understanding of how safe the safe the city really is.
Is Austin Safe?
Statistically speaking, Austin is a moderately safe place to visit. In 2021 Austin had a violent crime rate of 518.16 incidents per 100,000 residents. It's crime rate is 30% higher than the national average.
Here's a graph showing you how Austin's crime rate compares to other major U.S. cities.
Here's a graph showing you how Austin's crime rate compares to the most dangerous cities in the United States:
Austin Crime Rates
Violent Crime Rate
In 2021 Austin reported 4,996 violent crimes and had a violent crime rate of 518.16 per 100,000 people.
Year over year violent crime has increased by 7%.
You have a 1 in 193 chance of becoming a victim of violent crime in Austin.
Here's a graph showing you how violent crime has trended in Austin over a 12 year period. Violent crime in Austin has been steadily increasing.
Murder Rate
In 2021, Austin reported 79 murders and had a murder rate of 8.19 per 100,000 people. 79 murders is the highest amount ever recorded in Austin. Austin's murder rate is 26% higher than the national average.
Year over year murder has increased by 80%.
You have a 1 in 12,205 chance of becoming a victim of murder in Austin.
Here's a graph showing you how murders has trended in Austin over a 12 year period.
Property Crime Rate
In 2021 Austin reported 33,989 property crimes and had a property crime rate of 3,525.18 per 100,000 people.
Year over year property crime in Austin has decreased by 6%.
You have a 1 in 28 chance of becoming a victim of property crime in Austin.
Here's a graph showing you how property crime has trended in Austin over a 12 year period.
Austin Crime Stats
Here's a breakdown of all the crimes in the city for 2020 compared with 2019:
| | | | |
| --- | --- | --- | --- |
| | 2020 | 2021 | Percent Change |
| Homicide | 44 | 79 | 80% |
| Rape | 478 | 557 | 17% |
| Robbery | 1,101 | 991 | -10% |
| Aggravated Assault | 3,048 | 3,369 | 11% |
| Violent Crimes TOTAL | 4,671 | 4,996 | 7% |
| Burglary | 4,774 | 4,758 | -0% |
| Larceny / Theft | 27,481 | 24,662 | -10% |
| Motor Vehicle Theft | 4,067 | 4,569 | 12% |
| Property Crimes TOTAL | 36,322 | 33,989 | -6% |
| TOTAL CRIMES | 40,993 | 38,985 | -5% |
Austin's Crime Rate vs The Rest Of Texas
Here's a graph showing you how Austin's crime rate compares other cities in Texas. Austin has a similar crime rate to Fort Worth and Arlington.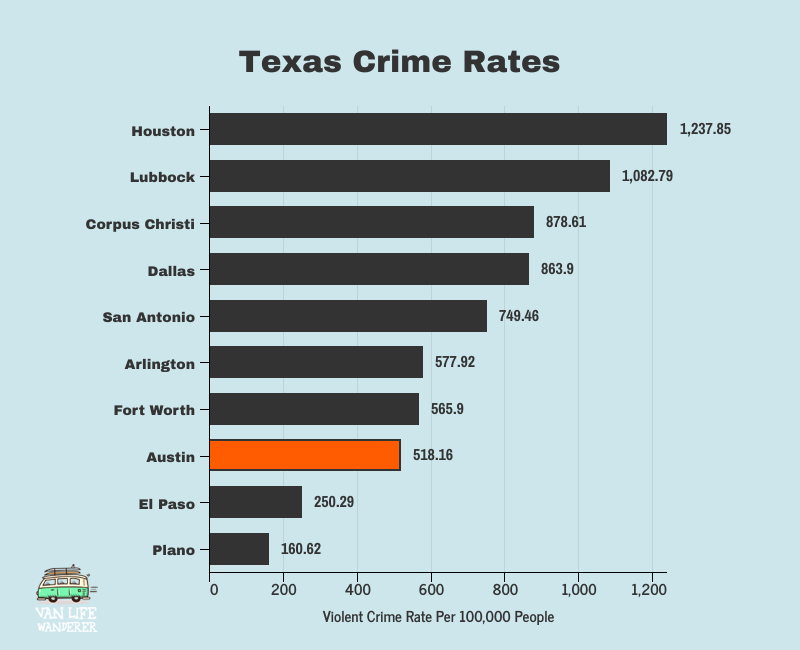 (Related: The Safest Cities In Texas)
Catalytic Converter Thefts In Austin
During the pandemic there has been a meteoric rise in the theft of catalytic converters from cars. Catalytic converters contain precious metals such as rhodium, platinum, and palladium, which thieves can offload for a nice sum at scrap yards.
Austin Police data shows that 1400 vehicles have had their catalytic converters stolen in the months from January to August of 2021 – which is a staggering 704% increase from the previous year.
Repair and replacement of catalytic converters average between $1000-$4000.
The Austin Police Department offer a few tips for keeping your car safe from catalytic converter thieves:
Park in garages or well lit areas with cameras
Welded a cover over your catalytic converter.
Engrave a VIN number on the converter.
Activate and use a car alarm
Is Downtown Austin safe?
Downtown Austin is a generally safe area to visit. There is a small problem area in downtown known as ARCH, which is a resource center for the homeless. It is located on 7th and Neches and if you ever been to Skid Row in Los Angeles, the ARCH is very similar but on a much smaller scale. The area around ARCH can be sketchy, so you might want to make note of it and avoid it.
Many of the residents of Austin only complain about the homeless as being the biggest problem to downtown.
While visiting downtown you might encounter panhandlers and homeless people with mental illnesses that blurt out random things, but if you don't acknowledge them and keeping moving forward, you shouldn't have any problems.
What do Residents of Austin say about its safety
I've lived all over Texas and of all the big cities in the state, Austin feels the safest. Corpus Christi and Houston can get sketchy as hell. Dallas is slowly getting better.
There's a certain peace of mind when you are in Austin. Houston… not so much.
I grew up in Austin and it is ridiculously safe for a city of its size.
I live in a not very nice area of Austin, but I still feel safer here than I did in the less nice parts of Sugar Land. When I was living in Sugar Land, a whole family was murdered on my street. In Austin, the worst thing that's happen is maybe a broken car window or bike theft every once in a while.
East Austin isn't the safest area in Austin but it's comical to compare it to the rough areas you see in other major cities like St Louis or Detroit.
Avoid Neches and 7th late night. It's near a homeless encampment, where sketchy things often happen.
Does Austin actually have any bad areas? I've never seen any. And by bad areas I mean where gangs are shooting each other, street fights are common and where drug dealers are openly selling drugs?
There aren't too many dangerous parts of Austin. Some areas of Austin maybe worse than others. East of I-35 can be a bit sketchy. Stay out of that area or don't go there at night.
If there is a check cashing store, a liquor store, a pawn shop or pain management clinic, you might be in a bad area.
Rundberg, Dove Springs, East Riverside, some parts of the east side are all the areas I wouldn't walk alone at night in.
The "bad areas" of East Austin I would say is anything north of airport. Some spots south of the airport like east of pleasant valley or rosewood.
The worst urban areas are in the low-income government subsidized apartment building with a lot of working poor. They are located in a few small pockets and the southeast side.
Unlike Dallas and Houston, Austin doesn't really have any super rough neighborhoods. Austin has like two intersections that would give me concern if I were walking around late at night whereas Dallas and Houston have whole sections of the city
5 years ago on the east side at 12th and Chicon, it was dubbed "the most dangerous corner in Austin", not anymore though. Things have really turned around.
Anyone who says they are "terrified" of any area of Austin is an idiot that needs to get out of their protective bubble more.
I've lived in Dallas and nothing in Austin comes remotely close to a bad neighborhood compared to a Dallas' bad neighborhood
The east side is not scary. It may be rough around the edges and that roughness can intersect with daily life but it is gentrifying.
The farther away you are from Pleasant Valley and Riverside drive, the better.
Is Austin safe at night?
Even though Austin is very safe city, we don't recommend you walk alone in unfamiliar areas at night.
If you are out and about at night, stay in well lit areas, avoid alleys and turn around if you find yourself in an unsavory area and always be aware of you surroundings.
Is it safe to visit alone?
Austin is a great place for solo travelers and a safe one too. There are very few unsafe parts and the parts that are unsafe are relatively mild compared to unsafe areas of cities like Oakland, Albuquerque, Milwaukee, Memphis, and Nashville.
We do not recommend you visit the eastside of Austin and areas around the ARCH of downtown at night as they tend to be the sketchiest parts of town.
Austin Safety Tips
ALWAYS be aware of your surroundings.
Make sure you store the belongings in your car away from view. Nothing is more tempting to a criminal than seeing valuables (such as purses, luggage, laptops, cell phones, cameras, etc.) in a parked car.
Avoid taking shortcuts that take you through alleys, and other unlit, isolated areas.
Always trust your gut. If an an area doesn't seem "right," then leave it and find a safe place where there are many people, or police, or security officers around.
When possible, walk in groups, especially at night
Park your car in a well-lit area and always lock your doors.
Completely close all your windows when you park the car.
Always keep plenty of gas in your vehicle so you do not have to stop at an unsafe or unknown location.
Walk with a purpose and know where you are going ahead of time.
Take an Uber or call a taxi instead of using public transportation late at night.
Be knowledgeable about the layout of the city and figure out where the good and bad parts are.
Final Thoughts
Combing through the crime statistics and taking into account testimonies from residents, Austin is a pretty safe city to visit.
For a city of its size, the crime rate is low and the main thing you would need to worry about is someone stealing your car or the valuables in your car.
Austin is one of those cities where you are going to be generally safe wherever you go. Even the 'problem area' of the eastside is turning around and making great strides in the opinions of residents of the city.
If you have ever visited a major metropolitan like Los Angeles, Chicago, or Atlanta, then Austin is a walk in the park compared to those cities.
However, this should not mean that you throw all caution to the wind. Always be aware of your surroundings and use common street smarts.
Austin is a beautiful city, with a great mix of culture and diversity and we hope you enjoy your visit!
Sources