Houston is the 4th largest city in the United States and is one of its most culturally diverse. It's a vibrant city that has sports teams galore, museums, rodeos, and a multitude of things to do. No wonder millions of visitor flock to the city every year.
If you are thinking about visiting Houston and have qualms about the safety of the city, we got you covered. We deep dived into the statistics, crime reports and talked to the residents of the city to give you a better understanding of how safe the safe the city really is.
Is Houston Safe?
Statistically speaking, Houston is a not the safest city and has an eleveated violent crime rate, property crime rate and murder rate.
In 2021 Houston reported 26,313 violent crimes and had a crime rate of 1,237.85 per 100,000 residents. Houston' crime rate is nearly 3 times greater than the national average.
Here's a graph that gives you a better perspective on Houston's crime rate.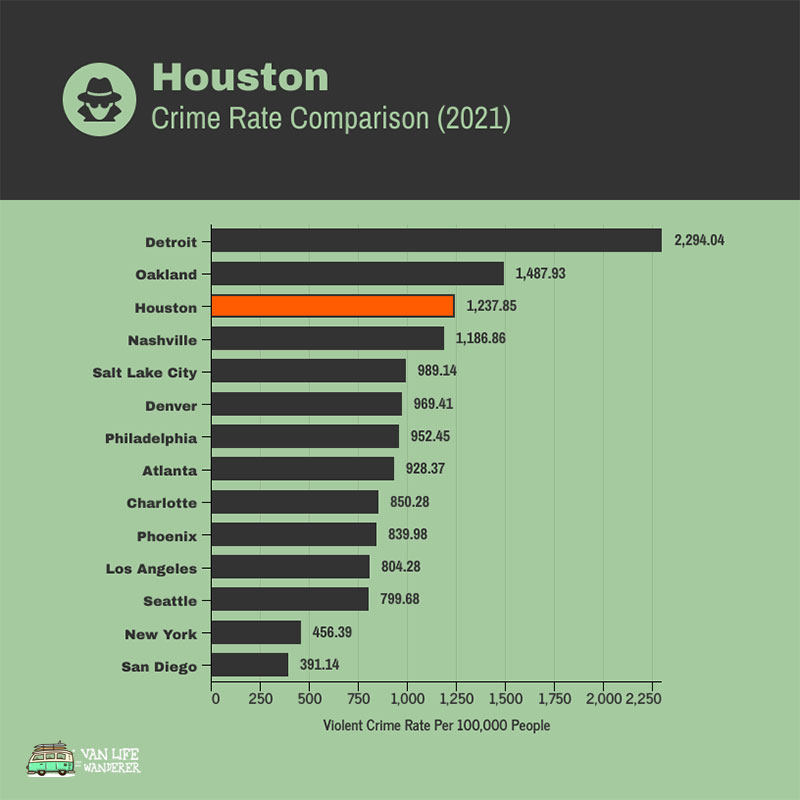 Here's a table showing you Houston's crime rate over the last 4 years:
| | | | |
| --- | --- | --- | --- |
| | Population | Violent Crimes | Crime Rate |
| 2018 | 2,325,502 | 24,217 | 1,041.37 |
| 2019 | 2,320,268 | 25,249 | 1,088.19 |
| 2020 | 2,304,580 | 29,465 | 1,278.54 |
| 2021 | 2,302,506 | 28,325 | 1,237.85 |
Houston' Crime Rate Breakdown
Violent Crime Rate
In 2021, Houston reported 28,325 violent crimes. Year over year violent crime has decreased by 3.9%.
Houston has a similar violent crime rate to cities like New Orleans, Houston and Nashville
You have a 1 in 88 chance of becoming a victim of violent crime in Houston.
Here's a graph showing you how violent crime has trended in Houston over a 12 year period.
Houston's Murder Rate
In 2021, Houston reported 464 murders and had a murder rate of 20.20 per 100,000 residents. Murders in the city have increased 69% since 2019.
464 murders is the most amount of murders in Houston in the last 30 years. The record was set in 1991 when 608 murders were reported.
Houston' murder rate is 3 times greater the national average.
Houston has a similar homicide rate to cities like Cincinnati, Milwaukee and Indianapolis.
You have a 1 in 4,952 chance of becoming a victim of murder in Houston.
Here's a map showing you how murders have trended over the last 12 years in Houston. Murder in the city has dramtically increased since 2020.
Houston Murder Map (2021)
Here's a map showing you the locations of all the murders in Houston in 2021.
(via Community Crime Map)
Houston Property Crime Rate
In 2021 Houston reported 96,061 property crimes: 13,910 burglaries, 66,724 larcenies and 15,427 motor vehicle thefts. It had a property crime rate of 4,172.02 per 100,000 residents.
Year over year property crime has decreased by 2%.
Houston' property crime rate is 2 times greater the national average.
Houston has a similar property crime rate to Houston, Lousiville, and Fort Lauderdale.
You have a 1 in 24 chance of becoming a victim of property crime in Houston.
Here's a map showing you how property crime has trended in Houston over a 12 year period.
(Related: The Safest Cities In Texas)
Houston Crime Stats (2021)
Here's a breakdown of all the crimes in the city for 2020 compared with 2021:
| | | | | |
| --- | --- | --- | --- | --- |
| | 2019 | 2020 | 2021 | 2020 vs 2021 |
| Homicide | 275 | 400 | 464 | 16% |
| Rape | 1,241 | 1,128 | 1,983 | 76% |
| Robbery | 9,147 | 8,757 | 7,802 | -11% |
| Aggravated Assault | 14,586 | 19,180 | 16,063 | -16% |
| VIOLENT CRIME TOTALS | 25,249 | 29,465 | 26,313 | -11% |
| Burglary | 17,038 | 15,788 | 13,910 | -12% |
| Larceny/Theft | 71,615 | 67,474 | 66,724 | -1% |
| Motor Vehicle Theft | 13,098 | 14,781 | 15,427 | 4% |
| PROPERTY CRIME TOTALS | 101,751 | 98,043 | 96,061 | -2% |
| TOTAL CRIMES | 127,000 | 127,508 | 122,374 | -4% |
**All data is from the Houston Police Department and cross refrenced with the FBI UCR**
How much has crime increased in Houston

?

In 2021, Houston reported 122,374 total crimes, which is a 4% decrease over 2020.

In 2021, Houston reported 26,313 violent crimes, which is a 11% decrease over 2020.

In 2021, Houston reported 465 murders, which is a 16% increase over 2020.

In 2021, Houston reported 96,061 property crimes, which is a 2% decrease over 2020.
Catalytic Converter Thefts In Houston
During the last few years there has been a staggering rise in the theft of catalytic converters from cars. Catalytic converters connect to the exhaust pipe and contain precious metals such as rhodium, platinum, and palladium, which thieves can sell for a tidy sum at car scrap yards.
In 2018 there were only 85 reported catalytic converter thefts. In 2019, 375 incidents were reported. In 2020 there were 1,793 thefts. As of June 2021, Houston Police have recorded over 2,207 incidents. That is an astonishing 2496.47% increase over 2018!
Replacement and repair of catalytic converters average between $3,000 – $10,000.
In order to prevent thefts, the Houston Police Department has suggested etching your license plate number or VIN into the converter, painting it with high temperature and bright paint and or installing a skid plate or large cover.
The Most Dangerous Neighborhoods in Houston
Here's a map showing you the worst neighborhoods in Houston according to residents:
Third Ward – Third ward is type of neighborhood where you "try not to stop at the red lights."
Fifth Ward – A high-crime, low income neighborhood and a place that should be avoided at night.
Westwood – Located on the west side of Houston, Westwood has it share of problems.
Gulfgate – It's really crime ridden and not the safest of neighborhoods
Sharpstown – high crime rates, lots of gang activity, lots of drug activity… just no, don't go here.
Sunnyside – According to some metrics, the sixth-most dangerous neighborhood in America is Sunnyside
Greenspoint – Greenspoint is like the east side of San Antonio on steroids. There is a lot of low income and section-8 housing and the sheriff has poor response times. A combination that allows crime to thrive. Greenspoint is known as GUNSpoint to locals, and for a very good reason.
Alief – Situated in the western part of Houston, Alief has seen better days. Not much going on here except for crime.
Aldine – Located north of Houston. Not the best neighborhood to be in after dark.
Is the Third Ward in Houston Safe?
The 3rd Ward is not safe and one of the most dangerous parts of Houston. It is a low-income, high crime area. Drugs, poverty and lack of mental health services have created a really bad dent in the community
There's a reason it's called the 'Turd Ward.' Avoid the Third Ward.
Is Downtown Houston safe?
Downtown Houston is safe to visit if you stick towards certain sections of downtown. The theater district is nice. It has a wide range of entertainment and has a large number of people attending concerts, musicals, opera, baseball and basketball games, night clubs, restaurants, and Convention Center events throughout the year. The commercial areas such as Market Square and the connecting bars and food halls are nice as well.
East Downtown or 'Eado' doesn't have the best reputation and many residents say there is not much going there anyways.
In regards to Midtown, residents say there is a "good" side of midtown and a "bad" side of midtown. They say it gets more sketchy within a few blocks of 45/69 underpasses.
The northwest side of midtown is a pretty good area. The North side of midtown, along 45, and the east side of midtown, along 59/69, are a no go.
What do Residents of Houston say about its safety
Areas to avoid: Alief, Aldine, Greenspoint, Sharpstown, anywhere near either airports, and any streets with the name 'Scott'.
I was born and raised in Houston and I feel just fine, and I don't even live in a 'nice area.
Avoid the east side. The east side has neighborhoods that are dilapidated and don't have a lot going on for it to be a place of interest.
I think if you're home and inside before midnight, and you keep to yourself and use common sense – be cautious of your surroundings, don't escalate confrontations, don't go around wearing flashy things – you'll be just fine.
Honestly, I never feel safe. I avoid going out alone as much as possible. Coming from a smaller city where there was barely and crime, the difference is stark.
It's location, location, location. There are some areas where you should stay far away from.
I have lived in Houston since the 60's and I've seen the city change a lot- most of it have been bad. Most, if not all the Wards are bad, north east Houston is bad, south west Houston can be bad around Sharpstown and Gulfton areas.
Avoid anything due East of I-45. Most of it is low income neighborhoods and heavy industrial areas.
A generally rule of thumb is to stay away from areas where there's a large number of apartments that look under-maintained.
It really just comes down to which part of town you are in. Learn where not to go and you shouldn't have too many problems.
I generally feel safe from random violent crime but its pretty much accepted that anything not welded in place will get stolen in Houston. We have a property crime issue, that's for sure.
The wealthy areas are West University, River Oaks, the hip areas are Montrose, East End, and the low income areas are Third Ward, Fifth Ward, etc, and then there are the different business districts likke Downtown and Medical Center.
Follow the 4-S rule and you should be pretty safe while visiting. Don't go to STUPID places, with STUPID people, at STUPID times and do STUPID things.
The most dangerous of Houston would probably be the south west side/Gulfton area. There are a lot of shootings, robberies, etc.
Most violent crime in Houston is related to gangs and drugs, so if you aren't gang banging or buying and selling drugs, you should be good.
The Wards (3rd, 5th, etc..) are not a good place to be in after dark. Inside the loop, other than the wards, it is fairly safe.
In my own experience you can and will become a target for crime if you don't 'fit in' certain areas due to racial stereotypes. In certain areas, I can tell when I'm not welcomed or out of place.
The Wards Of Houston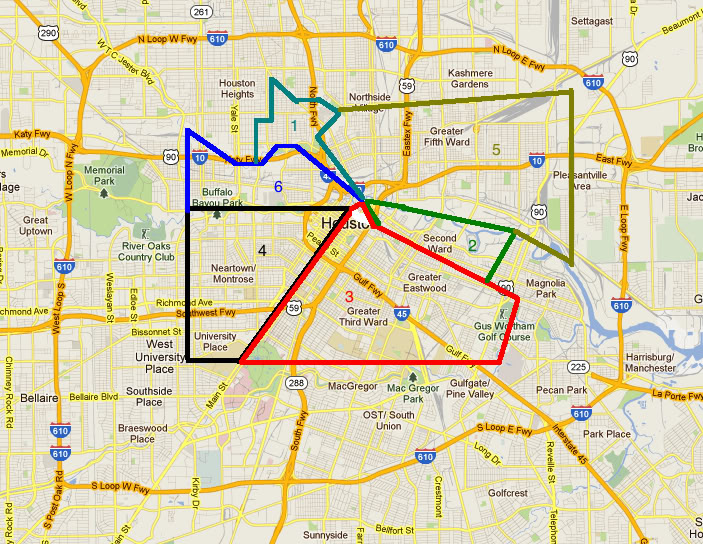 Is Houston safe at night?
Like any large city, there are areas where you shouldn't think of going at night, namely the 3rd or 5th ward. These are the most dangerous areas and even long time residents have qualms about going there.
In some places, Houston can be a completely different place at night than it is in the daytime. Which is why we do not recommend that you walk alone around Houston at night. If you can't find someone to travel with, stay in well lit, crowded areas. Avoid alleys and turn around if you find yourself in an sketchy part of town.
Understanding the layout of the city and knowing which areas to avoid goes far in staying safe in Houston.
Before you go anywhere you should either have experience going there before, or have researched the area.
For example, if you want to check out a new part of town at night, you should already know some of the basic about the area, which parts of town to avoid and where you can find help, if you need it.
Is it safe to visit alone?
Houston can be a safe place to travel alone as long as you know which areas to avoid. Houston is a BIG city, and there are risks involved when you're in a big town by yourself. As well as being more of a target for petty theft.
Research the areas you want to visit thoroughly. Use Google Maps street view to see if the areas you want to visit are in the confines of your comfort zone.
Tips to stay safe in Houston
No matter where you are, you should always be vigilant of your surroundings, especially at night
Don't walk alone at night on side streets anywhere in Houston.
Stay alert and don't be lost in your cell phone.
Save the sight seeing for daytime.
If you think you are being stalked, you probably are. Don't wait around and to see if it happens.
Mind your own business, and avoid eye contact or staring.
Be sure not drink too much, especially if you are out alone.
Take a taxi or Uber at night. This is especially good advice if you are traveling a far distance or are out by yourself.
Travel light. The more things you carry, the more likely you are to be a target.
Final Thoughts
Crime rates in Houston are above the national average in all categories. The city consistently ranks in the top 20 most dangerous cities in the U.S., but it doesn't mean it's unsafe to visit. Like with all major cities, it's important to utilize your street smarts, be vigilant, and get knowledgeable of the safest and most dangerous areas of the city.
The two most dangerous areas in Houston are the third and fifth wards, and these neighborhoods should be avoided both day and night if possible.
Be aware of catalytic converter thieves. Follow the tips mentioned above to help reduce your chances of being a victim.
Above all, enjoy the city of Houston. It is a great city with a lot to offer and to experience!