Pittsburgh is a unique city that has the feel of a small town but has the amenities of a big city. You've got sports, arts, music, food, entertainment, rivers, parks and so much more!
If you are thinking about visiting Pittsburgh and have qualms about the safety of the city, we go you covered. We deep dived into the statistics, crime reports and talked to the residents of the city to give you a better understanding of how safe the city really is.
Pittsburgh Crime Stats
Looking at the statistics, Pittsburgh is a moderately safe place to visit. According to crime statistics released by the FBI, Pittsburgh ranked 47th for highest violent crime rate in the country in 2019, 656.36 incidents per 100,000 residents. It also ranked 62th for property crime rate in the country, 3,114.42 per 100,000 residents.
The national average for violent crime is 366.7 per 100,000 residents and the national average for property crime is 2,109.9 per 100,000 residents.
Pittsburgh' violent crime rate is twice the national average and its property crime rate is 1.4 times more than the national average.
In terms of violent crime rates, Austin, Las Vegas, San Jose, all have lower violent crime rates than Pittsburgh.
Violent crimes include; homicides, rape, robbery and aggravated assaults and the violent crime rate is calculated by dividing the number of reported crimes by the total population; the result is multiplied by 100,000.
Pittsburgh Murder Stats
In 2020 Pittsburgh reported 51 homicides, which was a 37.83% increase from 2019, where 37 homicides were reported.
As of September 25, 2021, there have already been 41 homicides reported in Pittsburgh. The Pittsburgh Fraternal Order of Police believed by the end of the year there will be between 275 and 300 homicides.
In 2020 Pittsburgh had a murder rate of 12.32 per 100,000 residents, which puts it at 58th place for highest murders rates in the country. St. Louis had the highest per capita murder rate in 2020 with 64.54 murders per 100,000 residents. Pittsburgh murder rate is 5.2 times LESS than St. Louis.
*Murder is calculated by dividing the number of reported murders by the total population; the result is multiplied by 100,000.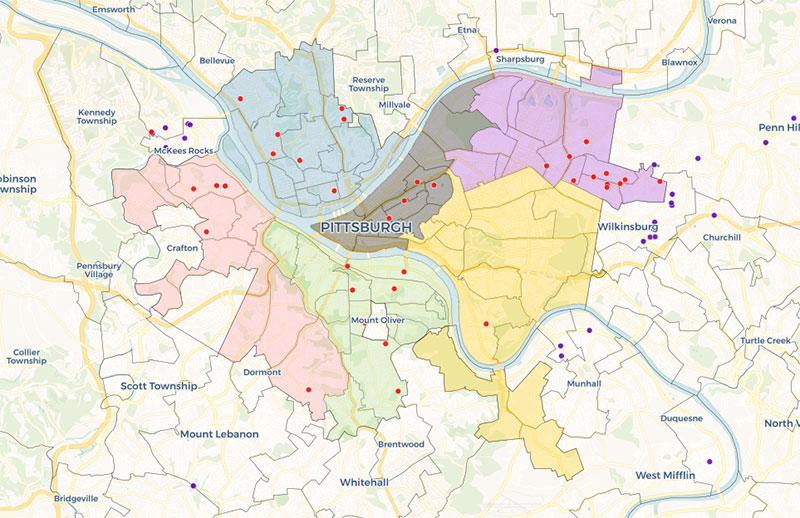 Other Crime Stats
Besides homicides, the only category of crime that increased in 2020 was aggravated assaults and only by a small percentage, 1.87%.
Every other metric in crime decreased in 2020, with the largest decreases seen in rape, burglary, larceny and motor vehicle theft.
Here's a breakdown of all the crimes in the city for 2020 compared with 2019:
| | | | |
| --- | --- | --- | --- |
| | 2019 | 2020 | Percentage Change |
| Homicide | 37 | 58 | +37.8% |
| Rape | 81 | 35 | -56.79% |
| Robbery | 658 | 478 | -27.35% |
| Aggravated Assault | 798 | 813 | +1.87% |
| Burglary | 1,308 | 946 | -27.67% |
| Larceny/Theft | 5,919 | 4,664 | -21.2% |
| Motor Vehicle Theft | 655 | 5,33 | -18.62% |
Pittsburgh vs The Most Dangerous Cities In The United States
Here's a list of the top 10 most dangerous cities in the United States ranked by violent crime rate in 2020. It can give you some perspective on Pittsburgh's violent crime rate, which is 656.36.
Pittsburgh's violent crime rate is 3.6 times LESS than Memphis, the most dangerous city on the list.
| | | | |
| --- | --- | --- | --- |
| City | Population | Number of violent crimes in 2020 | Rate per 100,000 people |
| Memphis | 633,104 | 15,310 | 2,418.24 |
| Detroit | 639,111 | 14,370 | 2,248.44 |
| Baltimore | 2,707,064 | 9,273 | 2,027.01 |
| St. Louis | 301,578 | 6,017 | 1,995.17 |
| Little Rock | 202,591 | 3,657 | 1,805.11 |
| South Bend | 103,453 | 1,765 | 1,706.09 |
| Cleveland | 372,624 | 6,281 | 1,685.61 |
| Milwaukee | 577,222 | 9,407 | 1,629.70 |
| Kansas City | 508,090 | 7,919 | 1,558.58 |
| Lansing | 112,644 | 1,699 | 1,508.29 |
| Springfield | 169,176 | 2,545 | 1,504.35 |
*All data is from the 2019 FBI Crime Stats Report**
The Most Dangerous Neighborhoods in Pittsburgh
Safest neighborhoods in Pittsburgh
Squirrel Hill – A quiet and nice neighborhood that is centrally located to other parts of the city. Probably the best place to live in the city outside of going to the suburbs.
Shadyside – The most expensive neighborhood in the city and pretty safe.
Highland Park – One of the nicest neighborhoods in the city. It is basically a sleepy and secluded suburb inside the city.
Regent Square – Really nice neighborhood of young professionals. Neighboring area of Wilkinsburg can be sketchy though.
Friendship – Residential area and in terms of crime, if you're used to city living, it's pretty safe.
Lawarenceville – The hipster area of Pittsburgh. Gentrification in full effect.
Bloomfield – Quiet and comfortable but not boring. There is also an active night scene.
Strip District – Bustling market area and has many walkable options as far as restaurants and stores go.
Is Downtown Pittsburgh safe?
Downtown Pittsburgh is a relatively safe area to visit during the day and the general consensus among residents is that downtown Pittsburgh is safe. At night there isn't many people around, as businesses close up and people leave work.
When you are in downtown, be careful not to wander into the Hill District. It is just north east of downtown and has a reputation for being a rough area.
Also worth mentioning, the Strip District is a great place to visit during the daytime and much like downtown, it can also get deserted at night. Most shopswill be closed and it will be desolate except for the few bars and restaurants open at night.
If you are looking for a party/bar area, head to the South Side, there is a large bar crawl. However, it has a bad reputation for drunken behavior and fights.
What do residents of Pittsburgh say about its safety
"With a few exceptions, if the name of the neighborhood begins with the letter H, stay the heck away!"
All the "sketchy" parts of Pittsburgh are not even comparable to "ok" parts of Los Angeles. Los Angeles has real gangs. MS-13 has about 30,000 members, 18th street has about 20,000. The Northside has about 50 Crips.
"Pittsburgh has good and bad streets. One street can be a sketchy af while the other is quiet and quaint."
"Violent crime in Pittsburgh is almost entirely concentrated to certain neighborhoods and demographics."
"Pittsburgh has good and bad neighborhoods, but it is definitely not on the level of Detroit or St. Louis."
"Having lived in Newark for 10 years, I can say that Pittsburgh is a night in day difference. Pittsburgh is pretty darn safe."
"I have lived in Pittsburgh for the majority of my life and there is nowhere in or around Pittsburgh where I wouldn't walk or live. But your comfort level may vary depending on your experience in a city environment."
" Anywhere a tourist would want to be walking in Pittsburgh at night is safe. We have relatively few bad neighborhoods and they're primarily residential."
Is Pittsburgh safe at night?
Pittsburgh is relatively safe at night as long as you avoid the areas mentioned above. Night time is not a great time to be a tourist and wandering the streets, so keep the sight seeing for the day time.
Is it safe to visit alone?
Pittsburgh can be a safe place to visit alone if you learn the layout of the city and learn which areas are safer and which areas you should avoid. You should also take special precaution as a solo traveler as you are more vulnerable to becoming a victim of crime.
Tips to stay safe in Pittsburgh
Be mindful of your surroundings. If you wander into a certain area and it looks rough or you feel unsafe, leave.
Beware of the "Pittsburgh Left". It's when a car is turning left at an intersection and steals the right of way from the opposing cars.
Hailing a taxi isn't a thing in Pittsburgh. Use a ride sharing service like Uber or Lyft.
The city is not pedestrian friendly. Be cautious and careful while crossing the street.
In Pittsburgh, driving is almost a necessity. It isn't like NYC or Boston, where everything is accessible via the subway. You could probably get away with it, but it won't be easy and the public transportation system in Pittsburgh is not that great and can be unreliable.
The topography of Pittsburgh is hilly and it is known for having the steepest urban street in the world. Make sure you have your brakes checked and in good working order.
Mind your own business. No need to get involved in random people's affairs.
Make sure you park your car in a guarded lot or on a well lit street.
Carry a purse that zips shut and wraps across your body. These types of purse are harder to pick pocket or steal from.
Don't leave your valuables in plain view in your car. Keep them in the trunk or carry them with you.
Don't stay out too late, especially if you are visiting by yourself.
Walk confidently and with purpose (like you're going somewhere, not taking a walk)
Don't look scared/intimidated. Act like you belong there. Don't stare.
Don't drink to the point where you aren't able to make rational decisions.
Don't advertise. Avoid wearing expensive looking clothes, accessories, or jewelry, and don't flash your electronics either.
Don't put your self in bad situations. Don't go looking for drugs. Don't enter alleys or dead end streets and don't go inside strangers homes.
Is Pittsburgh Safe To Visit?
Statistically speaking, Pittsburgh is a moderately safe place to visit. The violent crime and property crime rate isn't a cause for concern. Most crime metrics have significatly decreased year over year. And most residents agree that the city is pretty safe, minus a few sections of the city and these few sections of the city are places you probably wouldn't want to go anyways.
Other Cities You Might Be Interested In: