Memphis is a city that is full of heart and soul and is rich in culture and history. It's a great city that has tons of attractions and a thriving music, art and food scene. However the city can't seem to distance itself from it's other reputation of being dangerous.
If you are thinking about visiting Memphis and have qualms about the safety of the city, we go you covered. We deep dived into the statistics, crime reports and talked to the residents of the city to give you a better understanding of how safe the city really is.
Memphis Crime Stats
Memphis is not a safe place to visit. It consistently ranks in the top positions for most dangerous cities in the United States. According to crime statistics released by the FBI, Memphis ranked 4th for highest violent crime rate in the country in 2019, 2,003.32 incidents per 100,000 residents. It also ranked 3rd for highest property crime rate in the country, 6,297.83 per 100,000 residents.
The national average for violent crime is 366.7 per 100,000 residents and the national average for property crime is 2,109.9 per 100,000 residents.
Memphis' violent crime rate and property crime rate is more than 3x the national average!
St. Louis, Nashville, Detroit, Baltimore, and Milwaukee all have similar violent crime rates as Memphis.
Violent crimes include; homicides, rape, robbery and aggravated assaults and the violent crime rate is calculated by dividing the number of reported crimes by the total population; the result is multiplied by 100,000.
Memphis Murder Stats
In 2020 Memphis reported 334 homicides, which was a staggering 74.8% increase from 2019, where 191 homicides were reported. 332 homicides is the most number of homicides ever recorded in Memphis and shatters the 2016 record of 228 homicides.
In 2020 Memphis had a murder rate of 52.44 per 100,000 residents, which is one of the highest in the nation. It problematically shares this honor with cities like St. Louis and Baltimore.
*Murder is calculated by dividing the number of reported murders by the total population; the result is multiplied by 100,000.
Here's a map showing you where all the homicides were committed in Memphis in 2020: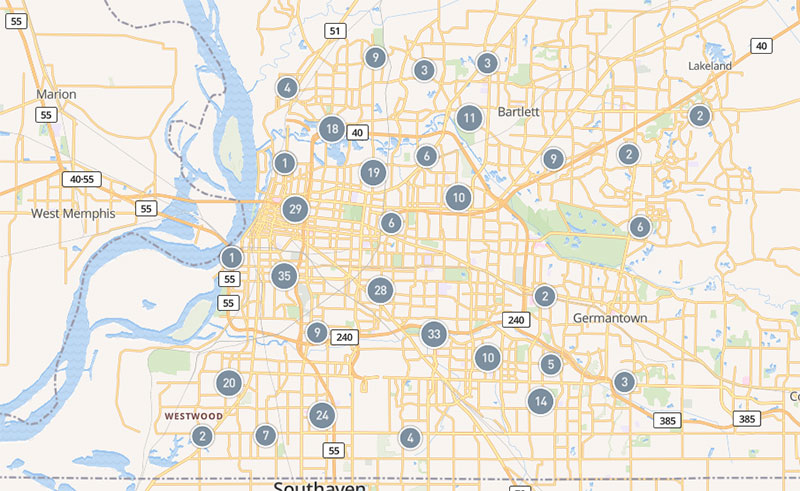 As of October 14, 2021 there have already been 238 homicides reported in Memphis, which is outpacing 2020, where 232 homicides were reported in the same time frame.
Other Crime Stats
While Memphis saw a record number of homicides in 2020, most other crime metrics including, robbery, assault, burglary and larceny decreased.
Motor vehicle theft increased by 6%.
Here's a breakdown of all the crimes in the city for 2020 compared to 2019
| | | | |
| --- | --- | --- | --- |
| | 2019 | 2020 | Percentage Change |
| Homicide | 191 | 334 | +74.86% |
| Robbery | 2,510 | 2,201 | -12.3% |
| Assault | 26,740 | 26,121 | -2.31% |
| Burglary | 1,604 | 1,194 | -25.56% |
| Larceny/Theft | 22,568 | 19,730 | -12.57% |
| Motor Vehicle Theft | 4,350 | 4,640 | +6.6% |
*All data is from the Memphis Data Hub**
Memphis vs The Most Dangerous Cities In The United States
Here's a list of the top 10 most dangerous cities in the United States ranked by violent crime rate in 2020. Memphis's ranked 1st with a violent crime rate of 2,418.24..
| | | | |
| --- | --- | --- | --- |
| City | Population | Number of violent crimes in 2020 | Rate per 100,000 people |
| Memphis | 633,104 | 15,310 | 2,418.24 |
| Detroit | 639,111 | 14,370 | 2,248.44 |
| Baltimore | 2,707,064 | 9,273 | 2,027.01 |
| St. Louis | 301,578 | 6,017 | 1,995.17 |
| Little Rock | 202,591 | 3,657 | 1,805.11 |
| South Bend | 103,453 | 1,765 | 1,706.09 |
| Cleveland | 372,624 | 6,281 | 1,685.61 |
| Milwaukee | 577,222 | 9,407 | 1,629.70 |
| Kansas City | 508,090 | 7,919 | 1,558.58 |
| Lansing | 112,644 | 1,699 | 1,508.29 |
| Springfield | 169,176 | 2,545 | 1,504.35 |
The Most Dangerous Neighborhoods in Memphis
The map now is color coordinated to describe the safety of the areas. Green = Good, Purple = Good, Yellow = Precede with caution, Orange = Bad..but not the worst, and Red = Bad and worst.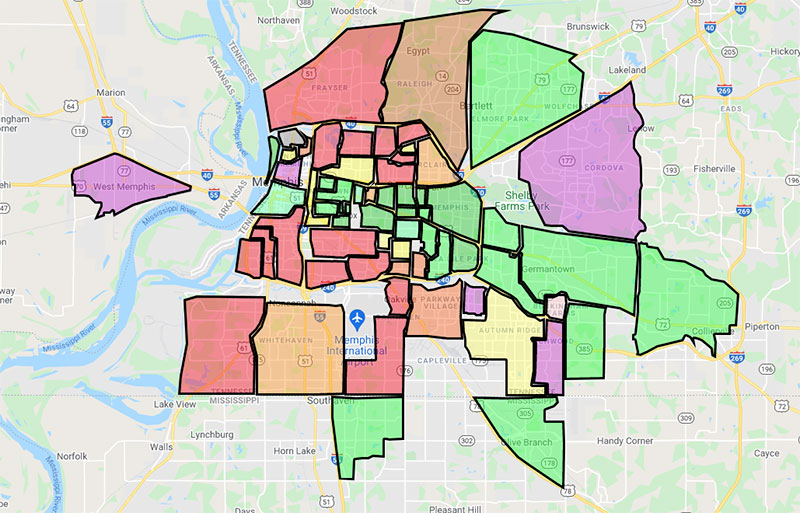 North Memphis
South Memphis
Frayser
Raleigh
Orange Mound
Binghampton
Parkway Village
Whitehaven
Hickory Hill,
Hickory Ridge
Oakville
Oakhaven
Bethel Grove
Vollintine
Washington Heights
New Chicago
Safest neighborhoods in Memphis
East Memphis
Downton
Midtown
Harbortown
Bartlett
Cordova
Collierville
Germantown
Cooper-Young
Overton Square
Crosstown
Highland Strip
Is Downtown Memphis safe?
Downtown Memphis is a relatively safe area to visit during the day. There is a good police presence, as well as additional security from the Blue Suede Brigade. Late at night the situation might change when there is not a lot of people around.
The biggest problem you might encounter while visiting downtown are homeless people and aggressive panhandlers, but for the most part they are harmless.
We recommend that you stay in the main areas of downtown and do not wander outside of that area, as it can get desolate and sketchy.
Here are what some residents think about the safety of Downtown Memphis
"Downtown is pretty safe. If you look at the crime statistics from the MPD, it's one of the safest zip codes in the city. Midtown is hella safe too."
"Downtown is fine during the daytime. It seems like all the bad stuff happens after 12am and as long as you're not out that late, you will be fine."
"I have lived in downtown for the last 3 years and have never felt in danger. The Beale/Main/Union areas, the nightlife area, is one of the safest parts of the city."
"Your biggest problem while visiting Downtown would be a loud panhandler or homeless person."
"Downtown is objectively one of the safest places you can be in the city."
"There are a lot of homeless in downtown and they be pretty persistent but you shouldn't worry about them. Just say "no" and keep walking. "
What do residents of Memphis say about its safety
"As bad as it is, it's not THAT bad. Stay out of the hood and you will be fine."
Everyone that I know that lives in Memphis has been robbed at gun point at one time or another. I have friends who have been carjacked in East Memphis and some in downtown. One friend was shot in killed. I lived in Harbortown, arguably one of the safest neighborhoods in Memphis and my neighbor was robbed and shot dead. Crime in Memphis is significantly worse than in other cities. It seems that crime here isn't isolated to just a few areas. You can be a victim almost anywhere. Although you will have a higher chance of being a victim if you are in Orange Mound or Frayser."
When the city's Chamber of Commerce President gets murdered while walking home in a random shooting, you know things are bad around here."
"A lot of the residents will say that crime is isolated and that you won't be victim of crime if you are just aware of your surrounding and don't be stupid, but a hospital nurse almost got carjacked 2 days ago while leaving work and then got shot in the head. She wasn't a gang banger and she was not being "an idiot".
"Yes it's bad."
"It is hard to make blanket statements about certain areas, because Memphis has good streets and bad streets, where one street will be an affluent neighborhood and next street will be a sketchy area. You don't want to get lost in Memphis."
"I think it's fair to say that large swaths of the city are filled with rough neighborhoods. There is a lot of violence and crime in these neighborhoods."
"I've lived in Memphis for the last 12 years and to be honest, it is more dangerous than other cities that I have lived."
"North and South Memphis are probably the worst areas of Memphis in terms of crime. The worst neighborhoods in North Memphis are Frayser and Raleigh and Hickory Hill, which has the nickname of 'Hickory Hood.'"
"The east side of the city is the safest part of Memphis and is a completely different experience. It's jarring to drive just right down the road and feel like you are in a completely different region."
" If you're not involved with gangs or drugs, you'll avoid a vast majority of the crime that's represented in the crime statistics."
"If you stick to the popular areas like midtown, Cooper Young, Beale Street, Main Street, you will most likely be fine. But always be aware of your surroundings."
"Keep in mind is Memphis is like 12 miles x 12 miles. It's not a huge city. You can practically drive around the city in around 30 mins. While crime is concentrated to certain areas, those areas border "good" areas. So even if you have 4-5 "safer" suburbs, you have twice as many bad pockets right next to them. Crime happens everywhere in Memphis."
"Many residents will downplay the crime in Memphis, but I think everyone should be told up front that Memphis is not a joke and not somewhere you can come and be flippant in regards to your safety."
"You should be fine visiting the touristy parts of town. The violent crime for the most part happens in the North and South of the city, where you wouldn't want to go anyways."
Is Memphis safe at night?
Memphis is not entirely safe at night, especially for a visitor that is unfamiliar with the layout of the city. It can be a safer place to visit at night if you learn which parts of the city you should avoid.
Is it safe to visit alone?
Memphis can be a safer place to visit alone if you learn the layout of the city and learn which areas are safer and which areas you should avoid. You should also take special precaution as a solo traveler as you are more vulnerable to becoming a victim of crime.
Tips to stay safe in Memphis
Don't go wandering in an unknown area. Stick to the popular/touristy spots. Especially at night.
Don't act like a tourist. Be confident in where you're going or what you're doing. Act like you know where you are and don't be constantly looking lost or out of place.
When you park your car make sure NOTHING can be seen inside the windows. Ive had friends get broken into because they left a few quarters in the cup holder or had some books in the backseat.
If you're walking around the city, study and plan your route beforehand so you don't end up in a part of the city you shouldn't be in.
Don't go wandering, Memphis is patchy and can turn from relatively safe to super sketchy in the blink of an eye.
Always keep situational awareness. Know who is around you and what is happening around you.
You really need to be on alert in public. Don't keep your head down. You have to keep your head on a swivel and always been checking your surroundings.
Don't talk on the phone so much you don't notice your surroundings.
Know where you're going and at what time. Some areas of the city you can visit during the day time with no problems, but at night time that changes.
Don't stop at gas stations with a bunch of people loitering outside.
If it looks like you shouldn't be there, leave. And when I say leave I mean in your car, quickly.
Is Memphis Safe To Visit?
Looking at the statistics and taking into accounts the opinions of the residents, Memphis is not a safe place to visit. The violent crime and the property crime rate is among the highest in the nation. And even many residents of the city agree that they don't feel safe living in Memphis.
The tricky thing about Memphis is that the city is very block by block, meaning one street is nice and the next street over is crime-ridden. Unless you know the layout of the city you can easily end up in one these sketchy neighborhoods.
Our recommendation when visiting Memphis is to learn exactly which areas of the city are safe and which are not. Also following the safety tips posted above will help you mitigate your chances of becoming a victim.
Other Cities You Might Be Interested In: