Chicago is known for a lot of things- especially its bustling downtown!
With so much to explore in the Windy City, how do you know where to start?
When you travel to Chicago, you want to experience the very best that the city has to offer. That's why we've put together this list of both local secrets and world-renowned events.
Enjoy your stay and knock as much off this bucket list as you can cram into your schedule!
1. Chicago Architecture Tour
Chicago is famous for its architecture, whether it be the city's towering skyscrapers, elegant hotels, or historic houses.
You can take an architecture tour and be led by an expert on foot, by train, bus, or boat to learn the tales behind the buildings.
Some highly-recommended tours include:
Must-See Chicago

Chicago Architecture: A Walk Through Time

Chicago Icons: Connecting Past and Present

Chicago's First Skyscrapers

Frank Lloyd Wright in Oak Park

Elevated Architecture: Downtown "L" Train
2. Museum of Science and Industry
(photo by Daderot)
Chicago's Museum of Science and Industry is the largest science center in the Western Hemisphere!
There are around 40 exhibits, including:
Dark Universe Giant Dome Theater

Dissect an Eye

Dream It, Design It, Fab It!

Flight and Motion Simulators

Numbers in Nature: A Mirror Maze
You need to reserve your tickets ahead of time, but sometimes spots are still open day-of. Just don't count on it!
5700 DuSable Lake Shore Dr, Chicago, IL 60637
3. Shedd Aquarium
At the Shedd Aquarium you can see many impressive and awe-inspiring animals, such as:
Giant Pacific Octopus

Belugas

Sharks

Otters

Penguins

And more!
Unlock your inner child and immerse yourself in an underwater oasis full of exploration and discovery.
Through the Shedd Aquarium, you can also buy a CityPASS that lets you see the best attractions in Chicago, all with one ticket.
1200 S Lake Shore Dr, Chicago, IL 60605
4. Field Museum
(Photo by Lisa Andres)
The Field Museum has incredible exhibitions and is absolutely a must-see if you're passing through Chicago!
Their exhibition Wild Color is an immersive experience where you walk through different rooms, each one a different color of the rainbow. Each color is showcased through the vibrancy of nature.
A Natural Talent: The Taxidermy of Carl Cotton highlights an extremely talented African American taxidermy master. His taxidermy can be found all over the Field Museum. This exhibit gives you an inside look into his life via letters, photos, and more.
Those are just two of the many exhibits available at the Field Museum. Whether you're a nerd or the average Joe, you will be blown away by this museum.
1400 S Lake Shore Dr, Chicago, IL 60605
5. Hancock Building- 360 CHICAGO
The 360 CHICAGO Observation Deck provides mind-blowing panoramic views of Chicago- North, West, South, and East!
1,000 feet above the Magnificent Mile, TILT is a thrilling experience that will extend you over the skyline and give you a downward facing view!
One review glows: "The TILT is a MUST DO! WOW, our hands were sweating but the experience was AMAZING!"
875 N Michigan Ave 94th floor, Chicago, IL 60611
6. Millennium Park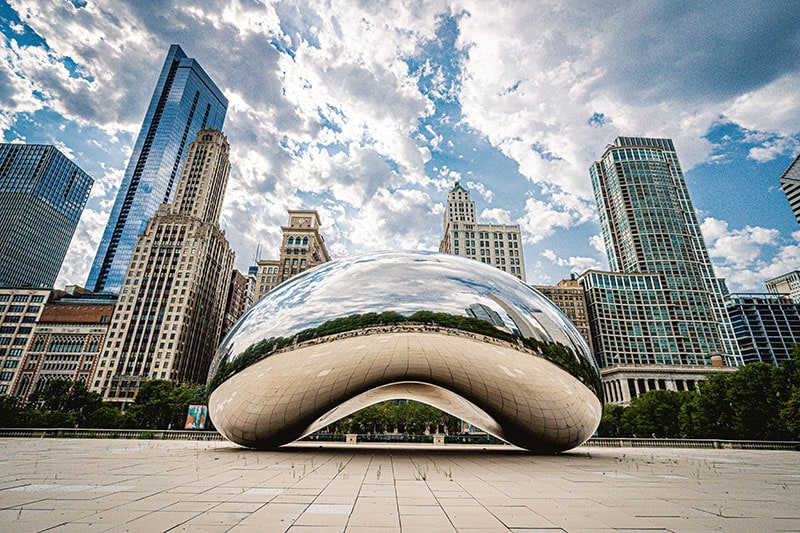 Millenium Park is home to one of Chicago's most famous attractions: The Bean.
There's plenty to do at this bustling city hub. Stroll through Lurie Garden to get a taste of urban nature or try your hand (well, feet!) at the McCormick Tribune Ice Rink in the winter.
If you like to people watch, Millennium Park is the place to be!
201 E Randolph St, Chicago, IL 60602
7. Art Institute
The Chicago Art Institute advertises itself as "Downtown Chicago's #1 Museum" and you know what, they might just be right.
Their exhibits range from The Golden Age of Kabuki Prints, highlighting 18th-century Edo (now Tokyo)- to Subscribe: Artists and Alternative Magazines, 1970-1995.
They also have a plethora of events and programs to enhance your experience.
Buy tickets ahead of time, because the days fill up fast!
111 S Michigan Ave, Chicago, IL 60603
8. See a play in the theatre district
Chicago Plays is your one-stop-shop to help you find a play in the theatre district.
Check out the gripping Fireflies, exploring the love and loss between Rev. Charles Grace and Olivia in the Civil Rights Movement.
Or if comedy is more your speed, The Play That Goes Wrong is a murder-mystery-comedy that you won't forget.
The Theatre District is located in Chicago neighborhood The Loop and plays a vital role in the heart of the city.
9. The Second City Improv
The Second City Improv is where stars like Stephen Colbert and Tina Fey started out, and you have the chance to experience the magic yourself.
Taking a class or viewing a show with The Second City Improv is an experience you'll never forget!
Join "The World's Premier School of Comedy" for one of their improv classes. "Yes, and…" your way through the course and you'll leave more confident than you walked in.
Or view a show for some laughter therapy!
10. Lincoln Park Zoo
The Lincoln Park Zoo has over 200 species, ranging from critically endangered to animals that were thought to be extinct!
You can go on one of their tours such as their:
Must-See Highlights Tour

Big & Furry Tour

Weird & Wonderful Tour

Green & Leafy Tour

Little Explorers Tour
They also house over 1,200 plant species that create the perfect oasis for native birds, fish, turtles, insects, and more.
Check out their Conservation & Science Gardens and take a Second Saturday Garden Tour to learn all about their conservation and rehabilitation efforts all while taking a welcomed escape from city life.
2001 N Clark St, Chicago, IL 60614
11. The Skydeck at the Willis Tower
(photo by Bari D)
The SkyDeck at Willis Tower will get your heart beating!
It is the third tallest building in the Western Hemisphere. You can walk on a glass box that extends over 4 feet from the tower!
They have a new, interactive video experience that walks you through Chicago's history before you visit the 103rd floor. This gives you an added appreciation of what you're viewing.
Reserving tickets in advance is recommended.
233 S Wacker Dr, Chicago, IL 60606
12. Visit the Stony Island Arts Bank
Originally a place for savings and loans, the Stony Island Arts Bank is a restored "space for innovation in contemporary art and archival practice" on the South Side of Chicago.
One of their programs, Arts Bank Cinema, is a weekly free screening and discussion of films by, and centering, black people.
There are also archival collections including:
Glass Lantern Slides- over 60,000 glass lantern slides

Johnson Publishing Company- books ranging from the 1940s to the present

Frankie Knuckles Collection- Knuckles' personal vinyl collection

Edward J. Williams Collection- 4,000 offensive images of black people taken out of circulation and shown here to remember a bitter history
6760 S Stony Is Ave, Chicago, IL 60649
13. Eat at Johnnie's Beef in Elmwood Park
Johnnie's Beef is a famous hotdog stand in Elmwood Park known for their Italian beef sandwich and Italian ice.
You can get a beef sandwich, fries, and large Italian ice for just $11. Cheap and delicious is hard to come by!
It's not uncommon to go back for seconds after scarfing down your meal. This is a classic, must-visit Chicago staple.
15. Take a free tour of the Newberry Library
The Newberry Library was built in 1893 and is one of the world's leading research institutions.
Free tours happen every Thursday at 1pm and Saturday and 10:30am. You don't need to register in advance.
However, if you have a group of ten or more you can book a private tour at least two weeks in advance.
On the tour you will learn about the incredible architectural feats of the building and the secrets behind the research conducted there.
Unlock your curious side and let yourself be awe-struck!
60 W Walton St, Chicago, IL 60610
16. Drink at the Metropolitan Brewing
Metropolitan Brewing has been brewing up German-style lagers for Chicago for over a decade.
They are family and dog friendly, with proof of age required in order to drink.
Additionally, they have gluten-free drinks and nonalcoholic beers to cater to everybody's needs.
Metropolitan Brewing always has tacos from their neighbors at the Arigato Market, but you're also welcome to bring your own food or order it to be delivered to the tap room.
3057 N Rockwell St, Chicago, IL 60618
17. Atrium in Harold Washington Library
The atrium on the 9th floor of the Harold Washington Library is the "architectural centerpiece" of the building.
Located in the Winter Garden, it has a marble and terrazzo floor surrounded by a glass-paneled dome.
Perfect for some down time, intimate discussions, or personal contemplation, bask in the natural light beaming through the glass roof and enjoy the peace of this magical atrium.
400 S State St, Chicago, IL 60605
18. Catch a Bulls game
The Chicago Bulls are known for winning six NBA championships led by Hall of Famer Michael Jordan.
Although Jordan has been retired since '94, the Bulls still consistently reign as one of the best teams of the NBA.
Be sure to get your tickets in a bunch so you can sit with your friends, and don't forget to wear your Bulls hoodie!
19. Time Out Market Chicago
The Time Out Market has 18 eateries ranging from burger joints to restaurants with Michelin stars. It's a combination of Time Out exclusives and existing Chicago classics.
Time Out Market is highly curated with Chicago's best and finest. It's 50,000 feet packed full of amazing dish after amazing dish.
There are also shows and events ranging from yoga to DJs to Bocce League Night.
If you want to experience Chicago's best chefs, Time Out Market is the place to be.
916 W Fulton Market, Chicago, IL 60607
20. Grab a Chicago hot dog at Portillo's
Portillo's describes itself as being "Unrivaled Chicago Street Food Since 1963."
The first Portillo's hot dog stand was opened in 1963, called The Dog House. Now, the brand is attached to Chicago at the hip. Locals say that if you didn't get a hot dog at Portillo's, then you didn't really come to Chicago.
They slow-roast their Italian beef for four hours, slice it thinly, and serve it on fresh French bread. Next, they dip it in hot gravy with their homemade seasoning that's taken 50 years to perfect.
Grab Italian beef or a Chicago-style hot dog and you'll be hooked!
21. Deep Dish Pizza at Giordano's
Giordano's has been around since 1974 and has brought Chicago's deep dish pizza all around the country. They are one of the most famous pizzerias in Chicago.
The stuffed pizza has a bottom and top crust with cheese in between. You can add toppings in the middle like Italian sausage, pepperoni, or spinach. Sauce and parmesan cheese are added onto the top of the crust.
They only use Wisconsin cheese and Northern Californian tomatoes, prized for being some of the best in the world.
223 W Jackson Blvd, Chicago IL 60606