If you're looking for a place to be yourself- fully yourself- in nature, Hippie Hollow is worth a stop!
Hippie Hollow is a clothing-optional public park in Austin, Texas.
It's an LGBTQ-friendly, welcoming, fun crowd of people. You can either go off on your own to sunbathe or paddle your float out to a boat and party!
No matter what you're looking for, Hippie Hollow will make you happy.
What is Hippie Hollow? Is it a nude beach?
(photo: LoneStarMike | CC BY 3.0)
Hippie Hollow is the only legally clothing-optional public park in Texas.
Although it's colloquially referred to as a beach, the park is actually on a steep slope overlooking Lake Travis. It has rugged limestone steps and you may have to do some rock climbing to reach the water (depending on how high or low it is).
Clocking in at 109 acres, there's plenty of space at the park to sunbathe or read a book if you don't want to swim.
History of Hippie Hollow
Because of how remote Hippie Hollow is, it's been used as a spot to go swimming in the nude for decades.
It became a popular destination in the 1960s because of the era's cultural shifts, and earned its nickname of "Hippie Hollow" after Woodstock happened.
In the 70s, complaints started rolling in from adjacent landowners, but the sheriff of the county thought that law enforcement should focus on more serious offenses. His decision to let the nudity go unrestricted is probably the main reason the park is still clothing-optional today.
In October of 1985, Hippie Hollow Park officially opened to the public. A decade later, the park became 18+.
Where is Hippie Hollow located?
Hippie Hollow Park is located about half an hour from downtown Austin, in the basin of Lake Travis, nestled in the Hill Country of central Texas.
(Related: Barton Springs Pool In Austin)
How old do you have to be to enter? Do they check ID?
You have to be at least 18 to enter Hippie Hollow and your ID will be checked.
Do you have to be naked?
You don't have to be naked at Hippie Hollow. Clothing is optional.
Some people go nude, some stay fully clothed, and others fall somewhere in between. Everything is accepted!
Is it open year-round?
Hippie Hollow is open every day, year-round, from 9 am to 6 pm.
The park closes to new entries at 5:30 pm (half an hour before closing).
It stays open rain or shine, but closures are posted in the rare case of a weather emergency.
Do you need reservations?
You can't make reservations for Hippie Hollow.
The park usually reaches its maximum capacity on holiday weekends, so come early if you want a guaranteed spot.
When capacity is reached, the park is closed for the rest of the day to all traffic (including pedestrians).
Is there an entry fee for Hippie Hollow?
There is an entry fee for Hippie Hollow. Only cash is accepted at the entrance booth.
18+ : $8/ person
Seniors: $3/person
Disabled veterans: Free
What is there to do?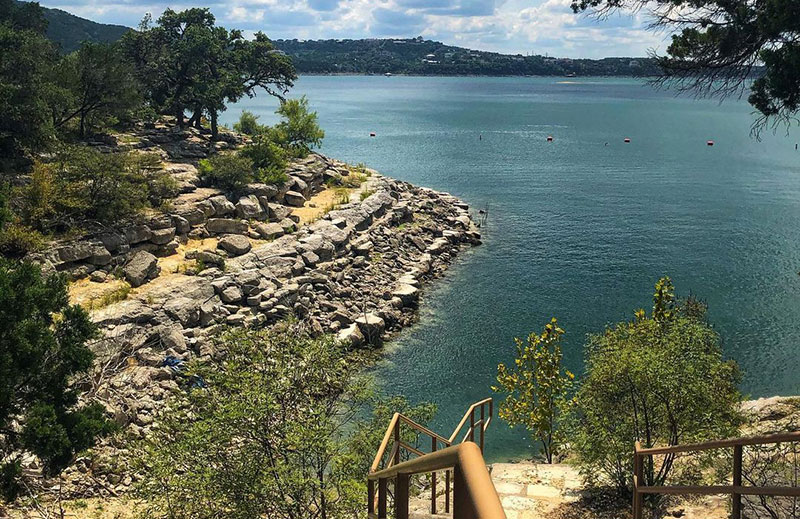 Hippie Hollow generally isn't a place for people watching, and is moreso somewhere to relax and go sunbathing or skinny dipping during the week. It is more lively on the weekends.
There are 109 acres to the park with a designated swimming area, hiking trails, and paved multi-use trails.
How deep is Hippie Hollow?
It's unclear how deep the swimming area of Hippie Hollow is, but the maximum depth of Lake Travis is 210 feet.
What is the temperature of the water?
Here is the average temperature of the water, by month:
January: 63 degrees F
February: 62 degrees F
March: 64 degrees F
April: 68 degrees F
May: 74 degrees F
June: 79 degrees F
July: 83 degrees F
August: 84 degrees F
September: 83 degrees F
October: 77 degrees F
November: 71 degrees F
December: 66 degrees F
Is there a lifeguard?
There are no lifeguards on duty at Hippie Hollow.
Can you bring dogs?
You can't bring any dogs to Hippie Hollow, with the exception of service animals.
What to bring
Here is a list of things to bring to Hippie Hollow:
Gym shoes or Tevas to climb over the rocks

Something to sit or lay on like a towel, chair, or yoga mat

A raft or a float

Drinks and snacks (you can refill water bottles near the bathroom)

Waterproof phone case

Sunscreen
Here is of list of what not to bring:
Pets or children

Glass bottles

Your camera

Your purse or wallet

Anything you don't want to leave alone while you swim
Hippie Hollow rules
The following are prohibited at Hippie Hollow:
Tobacco products

Public display of consumption of alcohol

Pets

Lewd behavior

Ground fires

Glass

Fireworks

Camping
When is the best time to visit Hippie Hollow?
The best time to visit Hippie Hollow is on a weekday when the weather is warm.
But there is a decent amount of partying on weekends, so keep that in mind when deciding when to visit!
Is it crowded?
The park almost always reaches capacity on holiday weekends.
But during the week and early on the weekends, the park isn't all that crowded.
Where do you park at Hippie Hollow?
The address to park at Hippie Hollow is:
7000 Comanche Trail
Austin, Tx 78732
What do visitors say about Hippie Hollow?
A lot of people passing through Austin visit Hippie Hollow, if nothing else but for the novelty of it.
It has a 4.6 star rating on Google.
People comment on how clear and beautiful the water is, as well as how warm it is year-round.
Visitors almost always feel comfortable in their bodies while at Hippie Hollow because everyone is so welcoming.
The term "beach" can be misleading because there's no sand, and the rocks are tricky to navigate.
Lastly, the staff is friendly, and with the park being so big there's plenty of room for privacy.
Tips for visiting Hippie Hollow and proper etiquette
There are a lot of unspoken rules around Hippie Hollow. Here are some insider tips, observations, and dispelled rumors!
Hippie Hollow is about 70% men, but not all of them are old. Couples tend to congregate in the western half of the park.
It's very safe for single women because it's heavily patrolled. You just have to be as cautious as you would be at any other park.
You will see all different body types, ages, genders, and colors. It is a non judgemental space to just exist in your body. Seeing other people will help you feel better in your own skin.
Hippie Hollow is very LGBTQ friendly and is heavily frequented by gay men.
But the biggest question is, how do you drink for free on a boat?
First off, you need a float. Boats anchor just outside of the swimming area. They're there to party and have coolers full of beer ready for people to come drink.
Paddle out to the line of boats and say hi to people. You'll be able to tell pretty quickly if they're interested in spending time with you or not. Ask if you can tie up your float, and you might be offered a drink or invited onto the boat.
Feel free to float down the line of boats as you see fit and you'll make plenty of friends along the way!