Montana is extremely well known for Yellowstone National Park. But the state has so much more to offer, even though Yellowstone alone is worth the trip!
Anyone looking for a good road trip needs to have Montana on the top of their list.
Venture through Montana with us as we explore National Parks, gemstones, sandwiches, and more!
1. The diversity of landscape
Montana has some of the most diverse landscapes in the United States: huge mountains with gushing streams, vast plains, large meandering rivers, and more.
Pryor Mountain showcases the most diverse landscapes in the entire state. While they may seem like mere hills when compared to other mountains in the state, they are anything but.
The Pryors consist of two high ridges, with the highest points over 7,000 feet.
Ice caves can be found on the southern part of the Pryor Mountain National Wild Horse Range, while a huge plunge leads you into the desert. High desert and sub-alpine terrain coexist in short distance to each other.
If this doesn't demonstrate how diverse Montana can be, nothing will!
2. Yellowstone National Park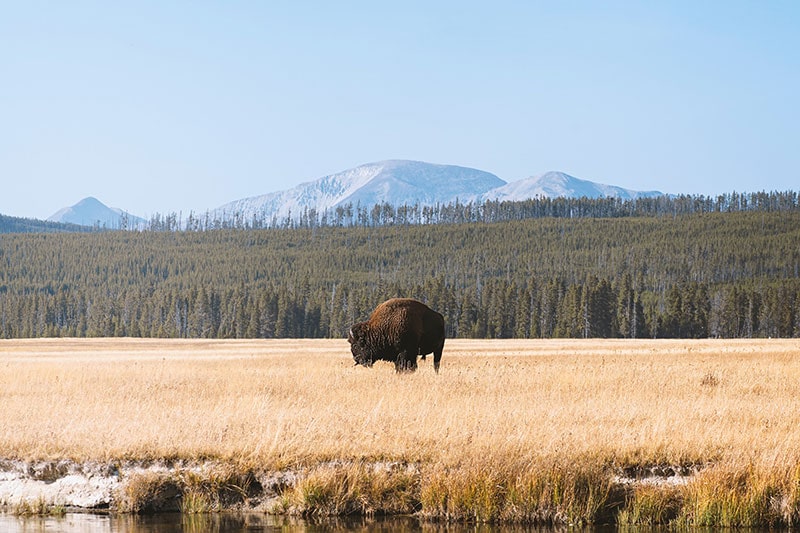 Yellowstone National Park is world-renowned, and chances are you have a general idea of what the park offers. So let's go over some fun facts!
Yellowstone is larger than Delaware and Rhode Island combined, topping out at 3,472 square miles.

There are over 10,000 hydrothermal features in the park. The four types are fumaroles, mud pots, hot springs, and geysers.

Yellowstone encompasses over half of the geysers in the entire world!

Yellowstone Lake is the biggest high elevation lake on the continent.

There are almost 300 waterfalls in Yellowstone.

Roughly 1,000 miles of hiking trails are waiting for you to hike them!
3. Glacier National Park
Glacier National Park has stunning lakes, rugged mountains, alpine meadows, and perfectly preserved forests.
It is the holy grail for hikers, containing over 700 miles of trail. It's perfect if you want solitude and wilderness.
If you visit in the off-season, you will be greeted by the stunning changing leaves of larch and Aspen.
4. Wildlife
Montana is full to the brim with wildlife, largely thanks to their TEN national parks.
Some of Montana's wildlife includes:
Grizzly bears

Black bears

Mountain goats

Moose

Marmots

Porcupines

Beaver

Elk

Deer

Bobcats

Mountain lions

Bisons

And more!
5. Flathead Lake
(photo by Always Shooting)
Flathead Lake is the biggest natural freshwater lake to the west of the Mississippi. It has more than 200 square miles of water and over 180 miles of shoreline.
Flathead Lake activities include (but are not limited to):
Camping

Picnicking

Fishing

Swimming

Waterskiing

Power boating

Salining
Come in the summer for roadside stands full of fresh plums, apples, and cherries!
6. Treasure State
Montana isn't known as the Treasure State for no reason.
It has a plethora of rich deposits of minerals such as zinc, copper, silver, and gold. It also has an abundance of coal and oil.
The capital of Montana, Helena, produced $3.6 billion worth of gold (translated into today's dollars).
At the end of the 1800s, the mines in Montana made the city home to more millionaires than any other city in the world!
7. Sapphires
Yogo Sapphire from Montana is the only North American gemstone in Britain's collection of Crown Jewels.
Yoga Sapphires are the most precious sapphires found on the continent, and are considered to be among the elite in the sapphire world.
They only come from Yogo Gulch, located in the Little Belt Mountains. They were first found accidentally in the 1880s by gold prospectors, but quickly became the main focus of the area's mining operations.
Now, Yogo Sapphires are mined in an environmentally friendly way, with no chemicals or waste water released from the mine.
8. Jeanette Rankin
Jeanette Rankin, born in 1880, was the first woman to hold federal office in the country, and was elected to do so before women were even allowed to vote!
Her most famous quote is, "I want to be remembered as the only woman who ever voted to give women the right to vote."
9. Battle of the Little Bighorn
The Battle of the Little Bighorn was fought in 1876 near the Little Bighorn River in Montana Territory.
It was a battle between troops led by Lieutenant Colonel Custer against Lakota Sioux and Cheyenne warriors.
When gold was discovered on Native American lands, tensions rose between the two groups. When a group of tribes missed a deadline to relocate to reservations, Custer was dispatched to confront them.
However, Custer had no idea how many Native Americans were fighting for Sitting Bull, and became quickly outnumbered.
10. Rocky Mountain Oysters
Rocky Mountain Oysters are known by many names: calf fries, swinging beef, cowboy caviar, Montana tendergroins, and prairie oysters. They are one of the main delicacies of the West.
These "oysters" are the testicles of bulls that are cut off when calves are branded. They get thrown into a bucket of water, peeled, washed off, and prepared.
They can be cooked in many different ways, including being marinated, thinly sliced, cut into bread, or deep fried whole.
Cowboys and ranch hands used to throw the oysters on a hot iron stove, and knew they were done cooking when they exploded!
Rowdy festivals in the spring and fall honor the Rocky Mountain Oysters. But if you're not the festival type, you can find this delicacy year-round at many restaurants and bars.
11. Huckleberries
Huckleberries are highly sought after by thousands of people each year, whether to sell or to eat on their own. Native Americans were the first people to harvest huckleberries, using them for medicinal purposes and drying them to store over winter.
Huckleberries are widely available in a lot of the state parks of Western Montana, next to hiking trails and ski slopes, and even in campgrounds.
Some great huckleberry picking spots include:
While some people use rakes, it's looked down upon because they can damage unripe berries. Unless you have a veteran picker show you how to use a rake properly, you should pick by hand.
Harvest season ranges from mid-July to mid-September, but shoot for the early side of the season so others don't reach the bushes before you do!
Remember to never over-harvest and always leave enough for the next person.
12. Pork Chop Sandwich
John's Pork Chop sandwich was developed in the 1920s by John Burklund. He sold the sandwiches from a wagon at the intersection of Main Street and Mercury Street in Butte, Montana.
In 1832 he opened a store on 8 W. Mercury Street. The restaurant is still there to this day, with a walk up window, 10 stools, and a counter.
13. Pekin Noodle Parlor in Butte, Montana
Pekin Noodle Parlor was founded by immigrants in 1911 and is the oldest continuously operating Chinese food restaurant in the US.
Found in Uptown Butte's historic Main Street, with a neon sign exclaiming "CHOP SUEY", the Pekin Noodle Parlor welcomes you with a set of stairs leading to a narrow yet cozy dining area.
On the first floor, which used to be an herbal medicine dispensary and gambling hall, you can find relics like old bottles of soy sauce or tin containers full of tea.
Pekin Noodle Parlor is a family business, and the menu has stayed nearly the same for over a century.
14. Triple Divide
Triple Divide Peak is a 8,025 foot peak in the Rocky Mountains, located in Glacier National Park.
The summit is known as a triple divide or triple watershed, which is where three drainage basins meet. It is the only one on the continent. It is also where two continental divides in North America meet.
Water that falls onto the summit can flow to the Arctic, Atlantic, or Pacific oceans.
The Lewis Range, where the Triple Divide Peak resides, was formed around 170 million years ago.
15. Ranching
Ranching has always been front and center to Montana's economy and culture.
It was one of the first industries to develop in Montana, as cattlemen appeared in the 1860s to provide the mining towns with meat. These ranchers practiced "open range" ranching, where herds grazed huge plots of unsettled meadows.
Open range operations took a hit after the Homestead Act of 1862 and its 1909 expansion. These acts handed out hundreds of acres of land to people who could improve the land via agriculture. At first the young dewy-eyed ranchers continued with open range ranching, but more intensive management styles became popular in the 19th century.
Now there are partnerships between ranchers and public and federal agencies to implement sustainable practices for the wellbeing of the land, cattle, ranchers, and consumers.
Fun facts: land mass, population, and more!
Montana falls behind just Alaska, Texas, and California in land mass, topping out as the fourth largest state!
However, it averages a mere six people per mile as one of the least densely populated states in the country.
Its average elevation is just above 3,000 feet, which is the lowest of the Rocky Mountain states.
It became a state on November 8, 1889.