The city of Norco, California, which also goes by the name "Horsetown USA," is best known for its animal-keeping, equestrian oriented community.
The community, located in Riverside County, CA, prides itself on being a horse community. It features hitching posts, corrals, horse trails, and even city ordinances that require developments to infuse a low-profile, rustic, Western aesthetic.
With a population size of around 26,000, it has a quaint energy that sets it apart from your typical California city, and make no mistake, this is intentional.
Developer Rex Clark had a vision that Norco would be a settlement of independent farmers. Referred to as the "The Vale of Dreams Come True," in 1923, it was intended that farmers would reap the rewards of their hard work on small farms and ranches.
Clark saw it as a refuge for city dwellers – no commute, no boss, no tiny apartment.
This intention rings true today, as Norco boasts a large horse community and rural, family-oriented culture like an echo from the past.
Rather than sidewalks, the community features horse trails, and riders can ride to town and tie their horses at one of the many hitching rails and corrals near the businesses.
Now that you've learned a bit more about Norco, California, it's time to plan your visit.
While the equestrian lifestyle is a prominent feature, it isn't the only thing. In fact, there is an extensive list of activities to choose from.
Below, we've rounded up 15 things to do when you are in Norco.
1. SilverLakes Equestrian and Sports Park
See why Norco maintains the namesake "Horsetown USA" when you visit SilverLakes Equestrian and Sports Park.
The venue is home to a wide variety of programming and events, including performances by well-known country musicians, sports games, equestrian arenas, a restaurant, and café.
SilverLakes is also near to other forms of entertainment and accommodations, making it a convenient choice for your next item or tournament.
The massive property brings family fun and entertainment of many kinds together in one place, offering an unforgettable experience to all who visit.
2. Hidden Valley Golf Club
"FORE" your next sport outing, hit the green at Hidden Valley Golf Club. Located in beautiful Riverside County, the course caters to golfers of all skills, and features unique layouts that strive to preserve the natural vegetation known to Southern California.
Featuring 18 holes, magnificent scenic views of the hills of Norco, Hidden Valley is a hidden gem for an expansive experience of Norco.
The property features practice facilities, a driving range, a pro shop, and restaurant to cover all your golf and dining needs.
Their website features convenient online booking and a video tour of each hole, so you can scope out the course before tee time.
3. Pumpkin Rock
(photo)
Highly rated on the AllTrails app, Pumpkin Rock Trail is a popular 1.7 mile loop near Norco. Considered to be moderately challenging with an elevation gain of 380 feet, the terrain of this trail is suitable for horseback riding, birding, and hiking.
While there are several steep points, the views make it all worthwhile. The route type is loop-style, so you won't have to worry about significant detours or getting lost!
Depending on your method of travel, completion time may vary, but it often takes visitors around 50 minutes to complete.
Next time you have an hour to kill or are looking for a change of scenery, consider checking out Pumpkin Rock!
4. Sky Zone Trampoline Park
Looking for the perfect party place for kids, teens, or adults? Take your family fun to new heights at Sky Zone Trampoline Park.
You can bounce over to nearby Riverside, CA for the massive wall-to-wall trampoline space.
You can take the aerial action to the next level with ultimate dodgeball, the "ninja warrior" obstacle course, or get your game on with the sky slam and air court basketball setups.
Group events are a no-brainer with a facility that has all this to offer – and more!
The wide variety of attractions guarantees your next family outing or celebration will be out of this world.
5. Castle Park
When you visit Castle Park, you can feel like royalty. From the arcade and mini golf course to its several roller coasters and Kiddieland, there is something exciting for every generation!
Castle Park's attractions include a vast selection of carnival games, retail shops, and performances by "Anthony the Magic as well.
And of course, who could forget food? After all of that play, you will want a bite to eat. Take advantage of The Big Top Restaurant or Plaza Café for casual meals, or look to the Snack Bar and The Fry Factory for a sweet treat or snack.
6. Scramblers Café
With a name like Scramblers, you can be sure that breakfast fare will be some of the best in town.
Famous for their Banana Macadamia Nut pancakes with coconut syrup, their menu has a wide range of options.
Featuring cuisine with cultural inspiration from around the globe, the broad array of offerings includes Japanese fried rice omelettes, Korean Kalbi ribs, French crepes, along with classic American favorites like eggs benedict.
Their menu also features lunch plates which are served after 11 AM. No matter what you're in the mood for, Scramblers Café has a dish that will suit your fancy.
7. SC Village Paintball and Airsoft Park
Paintball and airsoft enthusiasts should take advantage of SC Village Paintball and Airsoft Park.
The park features admission for airsoft and paintball courses where you can eliminate opponents with spherical projectiles, either with paintball or airsoft equipment.
It includes a whopping 25 action-packed outdoor fields and emulates terrain from various locations around the globe. SC Village offers group packages, ideal for large groups of up to ten.
Whether you have your own equipment or need to rent, SC Village has an option that will suit your needs. You can also visit their website ahead of time to scope out the 100-acre property.
8. Mike Raahauge Shooting Enterprises
(photo)
Raahauge's is a shotgun, pistol, and rifle range for gun enthusiasts who already own equipment.
After signing a waiver, you can visit the range to practice using equipment or obtain education on gun stewardship and hunting.
Raahauge's understands that learning a new skill can be challenging, so they offer instruction from experienced professional coaches.
Whether you are using their pistol and rifle bays or practicing your craft with sporting clays, Raahauge's guarantees a safe and satisfactory experience for shooters of all experience levels.
Be sure that everyone, whether shooting or not, signs the waiver for a seamless experience.
9. GreyWolf Brewing Co.
Like a grey wolf brings balances nature, GreyWolf Brewing offers craft beer that brings balance to your glass.
Starting with the freshest and finest ingredients, GreyWolf brewers have made their home-brewing hobby into award-winning craft beer.
Owned by a husband-and-wife team, the brewing company is familiar with the rural, family-oriented style of Norco, and it shows in their atmosphere.
The GreyWolf tap list is updated frequently with variety of beers, including IPAs, lagers, stouts, and more.
Beer connoisseurs of all kinds can enjoy the broad selection of rotating drafts along with live music and occasional food truck appearances on weekends.
(Related: The 9 Best Breweries In Riverside In 2022)
10. Santa Ana River Regional Park
Santa Ana River Regional Park is a gorgeous site for nature-lovers. Providing high-quality recreational opportunities, its array of lakes, parks, creeks, and horse trails boast beautiful sights and spaces to connect with nature.
Santa Ana River Trail is a multi-use trail complex that connects several counties. It is currently 60% complete, with the goal of running 110 miles connecting San Bernardino, Riverside, and Orange counties. Once fully complete, it will be a great be emblematic of connection, not only bringing together many communities but offering an opportunity to connect with nature through recreational opportunities.
11. Planes of Fame Air Museum
(photo: Tomás Del Coro)
Plane enthusiasts will soar to new heights at the Planes of Fame Air Museum.
The museum hosts a huge variety of flying aircrafts, along with an aviation discovery that walks visitors through the history of the industry.
With a mission of protecting aviation history, the museum aims to preserve, education, and inspire appreciation of the industry.
The extensive collection showcases a variety of makes and models spanning decades of innovation.
Its offerings for visitors include guided tours and special programming presentations, all intended to educate and entertain visitors. Be sure to peruse their events calendar to find a tour and ride that appeals to you.
12. Bowlero Norco
(photo)
Bowlero Norco offers a one-of-a-kind atmosphere that all guests are bound to enjoy. The bowling alley + arcade is a great fit for kids parties, corporate parties, and social events of all kinds.
The state of the art arcade and 40-lane bowling alley offer a spacious and hip environment to kick back and have a great time.
Bowlero Norco also features specials and themes according to the day of the week, so no two days will be exactly the same.
If you're looking to make it a regular affair, you can also join one of their leagues. Next time you're looking to mix it up, head to Bowlero!
13. Galleria at Tyler
Shopping enthusiasts will love visiting the Galleria at Tyler. One glimpse at their directory, and you'll see that there are dozens of lovable vendors, ranging from small businesses to mall staples we've all come to know and love.
The location also features a movie theatre, so if shopping isn't your thing, there are great alternatives. In either case, you make work up an appetite.
Take advantage of the free parking and stay longer to enjoy one of their many fine dining or fast casual options. Galleria at Tyler is a surefire choice for finding that 'something new' that appeals to you.
14. World Museum of Natural History
Insatiable appetite for knowledge? The World Museum of Natural History is the place to be.
Its collections offer sculpture, taxidermy animals, and other systematic displays that represent the natural environment.
Located in Cossentine Hall at La Sierra, the tours are a free service of the university.
The displays include amphibians and reptiles, birds, mammals, mineral spheres, gems and minerals, trees, and petrified wood.
Put together, the entire collection creates an immersive experience for those who appreciate the history of nature and the animals that inhabit it.
15. Badlands BBQ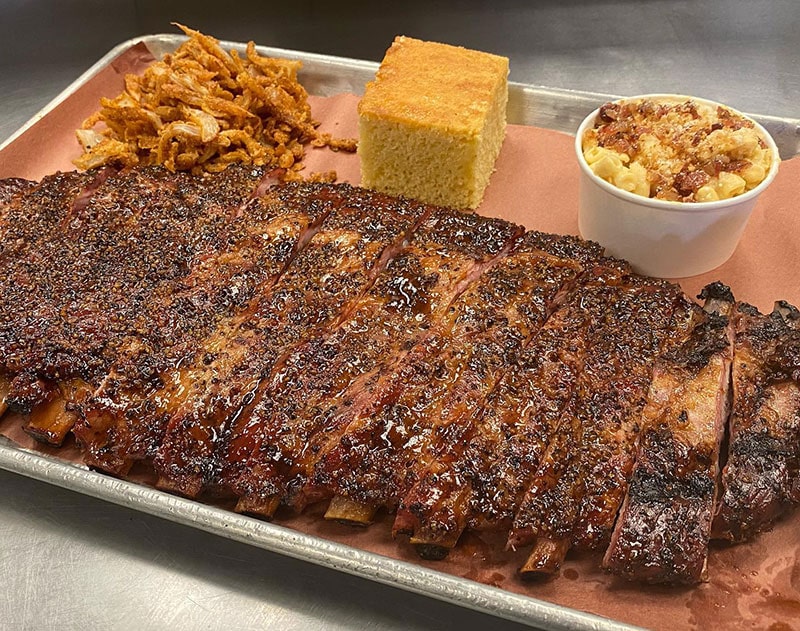 Last but not least, Badlands BBQ is a Norco favorite for tasty pulled pork and smoked beef dishes.
Their enticing menu options range from savory smokehouse salads to beef brisket with cornbread and tangy coleslaw.
The broad menu has a little something for every BBQ lover and is sure to nourish your appetite.
Between the good food and friendly, attentive service, Badlands BBQ is a standout that compares to the BBQ giants like Memphis, Austin, and Kansas City.
The Carolina Pulled Pork is a top-rated dish that keeps customers coming back time and time again.