Silverado came to be in 1878. During the late 1800s and early 1900s it was mined for silver, and some mines are still operating throughout the area to this day. Timber was also harvested to build railroads.
The area had a boom in the 1940s as a vacation destination because of its hot springs, and restaurants and hotels did very well. A bunch of weekend cabins were built to accommodate all the travelers.
Now lots of craftsmen and artists call Silverado home.
Visit this unique unincorporated community if you're a fan of nature- its canyons and mountains will blow you away. Be sure to bring your hiking boots!
Where exactly is Silverado, CA? How far is it from major cities?
Silverado is in Silverado Canyon, in the Santa Ana Mountains of California.
It takes over seven hours to drive from Silverado to San Francisco via I-5 N.

It takes an hour and a half to drive from Silverado to San Diego via I-5 S.

It takes about an hour to drive from Silverado to Los Angeles via I-5 N.
How many people live there?
About 2,000 people live in Silverado.
What county is Silverado in?
Silverado is in eastern Orange County.
Things to do in Silverado, CA
1. Silverado Cafe
Silverado Cafe is the best place to get food after you go up Santiago Peak. Sit outside and enjoy the weather when it's nice!
It's the local cafe, so if you want to meet some locals, this is the place to go! The staff is friendly and the food is always delicious. In fact, the staff may just be the best part of visiting!
Order a cinnamon roll as an appetizer and you'll be blown away! It's said that they're made fresh every morning. Even if you're not typically a fan, give this one a try.
The coffee will be your typical cup of joe, but is bound to hit the spot during breakfast with your eggs and bacon.
28272 Silverado Canyon Rd, Silverado, CA 92676
2. Orange County Polo Club
Take some lessons at the Orange County Polo Club!
You can choose either private or group polo lessons regardless of skill level, and you'll be instructed by USPA Certified Instructors. The lessons are tailored to your individual goals and will be adjusted to your skill level.
The focus will be on game strategy, hitting technique, and riding skills, with the goal of creating a safe and well rounded player who has a newfound passion for polo!
You can also get a one hour lesson to learn how to control a horse and develop a strong riding foundation.
Be sure to wear shoes or boots that have a slight heel- hiking boots work. Wear comfortable attire and jeans. Remember that it gets cooler when the sun goes down!
27271 Silverado Canyon Rd, Silverado, CA 92676
3. Silverado Community Center
The Silverado Community Center is fairly hidden, even from residents! You need to take Chapman road all the way down and follow the arrows that bring you to the park. But the drive is worth it!
If you're outdoorsy, this has to be on your to-do list. Just be careful! There are snakes and even mountain lions. Bring water and snacks, too.
The Silverado Community Center is unexpected in the middle of the desert, yet it is full to the brim with a playground, grassy area, basketball courts, barbeque pits, and well-cared-for restrooms.
27641 Silverado Canyon Rd, Silverado, CA 92676
4. Black Star Canyon Falls Trail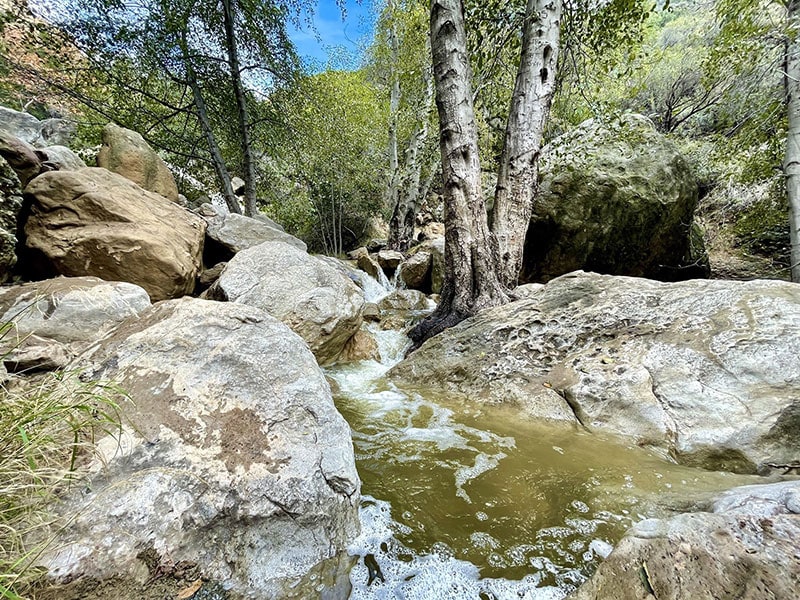 (photo)
Black Star Canyon is a nearly 7 mile, challenging, out-and-back trail that takes about three hours to complete. It's well populated with hikers and mountain bikers, so expect to see others when you're out and about!
The trail is open all year and is beautiful no matter what the season. Dogs are welcome, and are even allowed off the leash in some areas!
This hike is an expedition in the Cleveland National Forest leading to Black Star Canyon Falls via streams and rocky terrain. Your scrambling skills will certainly come in handy!
But it's not all sunshine and rainbows here. Hundreds of Native Americans were slaughtered on these lands and surrounding areas, leaving an eerie feel and encouraging ghost stories.
If that's not enough, it was also a meeting ground for a Satanic cult in the 80s. Yikes!
11893-, 12247 Black Star Canyon Rd, Silverado, CA 92676
5. Bedford Peak Trail
(photo)
Bedford Peak Trail is a challenging, 7-ish mile trail that takes about four hours to complete, or two and a half at a brisk pace. You won't be alone on the trail, so be ready to run into hikers, mountain bikers, and trail runners! April through October are prime time for this hike. Feel free to bring your pup, but keep him on a leash!
Beware of the sun- there aren't any trees to protect you! Wear light long-sleeve shirts and pants, as well as a sun hat, to protect your skin. If not, sunscreen is your best friend!
Expect fog, and even light snow, in early April. Wild flowers start to appear around mid March! And the 360 view waiting for you at the top is priceless.
31330 Silverado Canyon Rd, Silverado, CA 92676
6. Arden Helena Modjeska House
(photo: MaraLight18)
The Arden Helena Modjeska House can be found within an oak grove in Modjeska Canyon. It's a 100 year old home of the world-famous actress Madame Helena Modjeska. It's named after the Forest of Arden from Shakespeare and is a National Historic Landmark.
You can get a tour of the historic gardens and home at 10am Wednesdays and Saturdays. The tour will explore the years Modjeska lived in her home, and through the pathways that she referred to as the Forest of Arden. Be sure to register in advance! There are also self-guided tours Wednesday-Saturday from 10am to 2pm.
29042 Modjeska Canyon Rd, Silverado, CA 92676
7. Oak Canyon Park
Oak Canyon Park is a 17-acre recreational gem.
Its lush grass and flora are perfect for picnicking, along with its lake where you can boat and fish, a mini golf course, carnival attractions, fields for sports, lots of shade, and enough parking for everyone!
The park is nestled into beautiful oak trees in the Santa Ana Mountains.
5305 E Santiago Canyon Rd, Silverado, CA 92676
8. Limestone Canyon Regional Park
Limestone Canyon Regional Park is a whopping 4,000 acres! It's a section of the Irvine Ranch Open Space- preserved natural landmarks in SoCal.
It neighbors the Cleveland National Forest, right outside Irvine and Lake Forest.
The park is well-known for its limestone cliffs and the oaks that fill up the floor of the canyon. The locals call it The Sinks and people go so far as to call it a "mini Grand Canyon". It's heavily used by mountain bikers and hikers.
Silverado, CA 92676
9. Tucker Wildlife Sanctuary
The Tucker Wildlife Sanctuary is a wildlife sanctuary 12 acres large situated in the Modjeska Canyon. It consists of a bird observation deck, a natural history museum, and hiking trails.
It's the perfect place for some quiet observation and to reconnect with nature.
The Environmental Nature Center, which Tucker Wildlife Sanctuary is part of, sells local and native plants all year. These plants attract birds, butterflies, and pollinators. You also won't need as many pesticides, fertilizers, or as much water to grow them!
29322 Modjeska Canyon Rd, Silverado, CA 92676