Who doesn't love a good bargain? Las Vegas is one of the country's prime locations for swap meets and flea markets. If you're looking for just about anything, you'll be able to find it at one of the swap meets on our list.
Related:
The 11 Best Swap Meets And Flea Markets In Los Angeles In 2022
1. Market In the Alley
Market In the Alley is an artisan crafts market with the mission of supporting small businesses. Every weekend there's live music and food trucks to go along with your shopping!
You'll be able to find vintage clothing, unique jewelry, stickers, art, postcards, handmade crafts, and more. It's truly a place for makers to thrive and connect with the community- and buyers!
Furry friends are welcome. This is a great place to hand out- the vibe is immaculate. Some people claim it's the coolest place in Vegas!
Wednesday-Sunday: 11am-5pm
Monday-Tuesday: Closed
1031 E Fremont St, Las Vegas, NV 89101
2. Broadacres Marketplace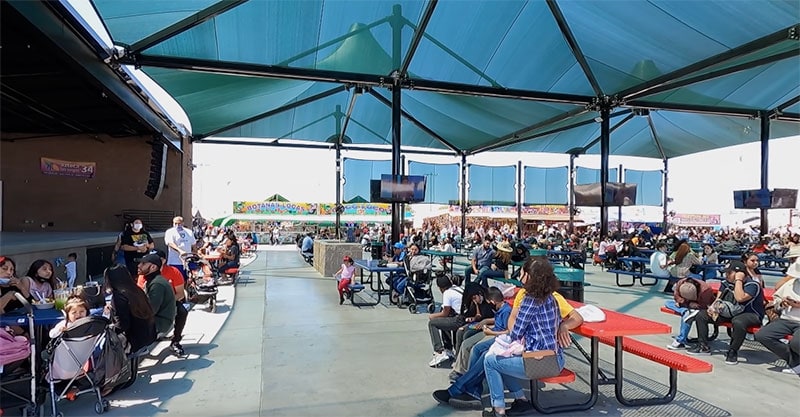 Established in 1977, Broadacres has everything you need.
Affordable and family oriented, they care deeply about both their shoppers and their vendors.
Expect over 1,000 booths- good luck getting to them all in one day! Find antiques, crafts, collectibles, tools, appliances, and, best of all, coconuts!
This market never disappoints. There's a large stage and seating area for live bands every weekend, including 10 huge HD screens to display sports and shows when you need a break from shopping!
Don't worry about parking- there's both a private parking lot and bike parking.
Monday-Thursday: Closed
Friday: 4pm-11pm
Saturday-Sunday: 6am-5pm
2930 N Las Vegas Blvd, North Las Vegas, NV 89030
3. Fantastic Indoor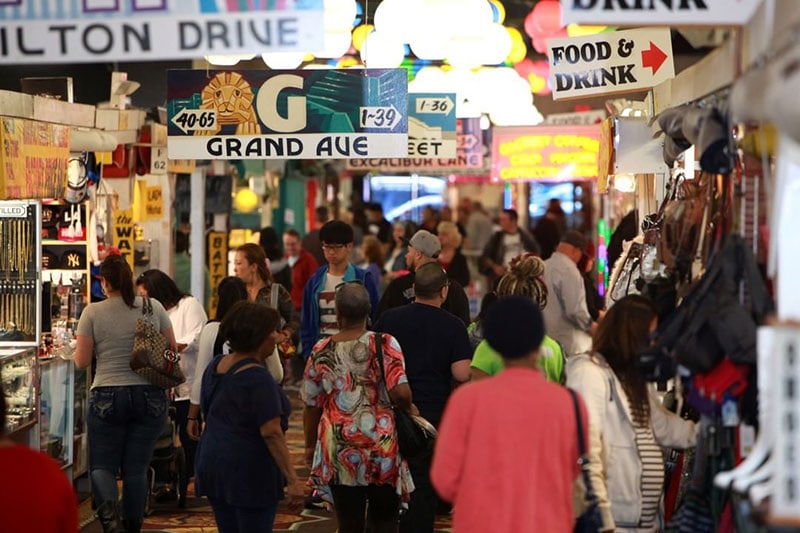 The Fantastic Indoor Swap Meet sees thousands of shoppers each week due to their unique and unusual goods.
You'll never forget this trip. Rows and rows of exciting products will keep you on your toes as you search for the best goods.
You can find just about anything you'll ever think of. The best part of Fantastic Indoor is its oddities. You never know what's around the corner! Clowns, old dolls, antique furniture, and more will have you on the edge of your seat. Come for the trip, stay for the weird!
Feel free to bargain as much as you'd like. There are great Mexican food booths, too, so no worries if you get hungry!
With lots of parking, this is a great place to spend a couple hours. Although you might walk in looking for a gift for someone else, expect to walk out with lots of goodies for yourself!
They accept credit cards but not Android Pay.
Monday-Thursday: Closed
Friday-Sunday: 10am – 6pm
1717 S Decatur Blvd, Las Vegas, NV, 89102 (corner of Decatur and Oakey)
4. Boulder Highway Swap Meet
Just two brothers own the Boulder Highway Swap Meet and they are great people. The vendors are always friendly and eager to help, too.
This 5 acre venue is packed full with over 250 vendors and is the second largest permanent outdoor swap meet in Las Vegas!
Do you need some old Troll dolls? What about Mid Century furniture? Are you looking for some old postcards to put on your fridge? Boulder Highway Swap Meet is the place to find it all!
This swap meet is impeccably clean no matter where you look- you're bound to be impressed!
Bring cash- they don't accept credit cards.
Monday-Thursday: Closed
Friday-Sunday: 7am-3pm
4700 Boulder Highway, Las Vegas, NV
5. Eastern Indoor Swap Meet
The Eastern Indoor Swapmeet is an indoor flea market full of local merchants. It has one of the largest selections of merchandise and incredibly affordable price points.
Their mission is to create a safe place for families to enjoy affordable shopping.
Their vision is to reimagine conventional business practices through encouraging a purposeful drive behind profit. They imagine a partnership with local organizations that organizes and mobilizes participants in the surrounding LA area to empower and educate themselves to make smart decisions that will improve their economic and social positions.
Not bad for a simple swap meet!
Eastern Indoor Swap Meet reminds us that swap meets are about more than just shopping and finding the best deals and goods.
They accept credit cards but not Apple Pay.
Wednesday-Monday: 10am-6:45pm
Tuesday: Closed
1560 N Eastern Ave, Las Vegas, NV 89101
6. Charleston Indoor Swap Meet
Charleston Indoor Swap Meet is just 10 minutes away from the Las Vegas Strip! Talk about a prime location.
There are 50 booths in the 6,500 square foot off-road swap meet. Prices are moderate, so you won't get the cheapest deals out there, but you'll sure find some cool stuff!
Look for the antique cameras for a unique gift. You can also find things for kids, luggage, old gold jewelry, vintage video games, and furniture.
This swap meet is unique because you can get your ears and nose pierced or get your TV repaired too! You can even find tattooing supplies.
They accept credit cards and Apple Pay, but not Android Pay.
Wednesday-Monday: 10am-6:45pm
Tuesday: Closed
4530 E Charleston Blvd, Las Vegas, NV 89104
7. Las Palmas Indoor Swap Meet
This swap meet has been around for decades. No matter what you need, they have it. For many, it's their only place that they shop!
Makeup? Video games? Phone accessories? Shoes? Clothes? Hair products? What about farm to table fruits and veggies, exported meats and cheese, non GMO grains and nuts, fresh artisanal bread…you get the idea!
If you're into the mystical, this is a great place for you. They have lots of herbs, infusions, crystals, and spiritual books.
Look to the staff if you have any questions. They are well known for being incredibly helpful and kind.
Tuesday-Sunday: 10am-6:45pm
Monday: Closed
3115 Las Vegas Blvd N, Las Vegas, NV 89115
8. Charleston Antique Mall
The Charleston Antique Mall was voted the best antique store in Las Vegas for 4 years!
There are over 75 dealers who bring merchandise in from all over the country and sell it here at unbeatable prices. Close to the Las Vegas strip, they have plenty of free parking.
Looking for rings? 1930's bakeware? Betty Boop coffee cups? Jade dinner plates? Old tarot cards? Mining documents? Figurines? Perfume bottles?
It can all be found here!
Check their events before visiting! For example, their Vintage Bazaar is an outdoor event that has music and food trucks.
Daily: 10am-6pm
560 S Decatur Blvd, Las Vegas, NV 89107