It can be a little overwhelming to traverse the Arizona desert if you don't know exactly where you're going. However, there's a quaint town tourists would be well advised to make a pit stop at called Bagdad, in central Arizona.
Bagdad doesn't get the same acclaim as some of the other cities in the state, but it epitomizes the spirit of a blue collar town, whose residents have established a strong commercial foundation in.
The area not only provides beautiful weather year-round, but an educational opportunity for curious travelers to broaden their horizons.
(photo: Martinoulis)
History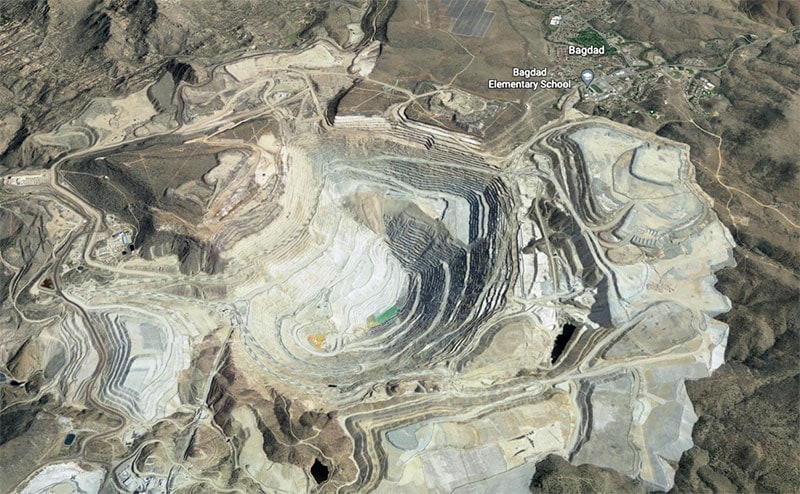 While the first copper claims in Bagdad were made in 1886, the profitability and effectiveness of the mining did not start to take root until the 1920's. There were a few different major players who took a stab at mining them for its plentiful supply.
The Arizona-Bagdad Company attempted to go with a leaching solution, which essentially entails pouring chemicals into the mine to help extract only the desired minerals from the sediment. The uncertainty of the experiment, plus a lack of funding ended up short-circuiting the project's success.
The Bagdad Copper corporation had a longer run than its predecessor, but got off to a slow start in its efforts to top what the Arizona-Bagdad Company had done.
Bagdad Copper took over in 1927, not too much before the stock market crash and eventual Great Depression, and had to make difficult business decisions.
They dialed back their efforts in the 1930's and made a profit of just over a thousand dollars, which was not quite what they had hoped for.
In the mid 1940's, a breakthrough in methodology was made that allowed the process to become much more effective.
Open pit mining was introduced, and a conveyor belt of sorts was used to transfer ore from the pits to the mill once the former had been crushed sufficiently.
Bagadad's Claim To Fame
Freeport McMoRan is one of the most accomplished mining companies in the world. They're based in Phoenix, but have a prevalent presence in Bagdad. The area also has an extraction solution that has been in operation since 1970, which is one of the longest running in the country. The Bagdad mine is the third largest in the country, and plans to operate until the year 2101.
At its fully functioning peak, the ore could produce around 250 million pounds of copper. According to prior reports, Freeport McMoRan employed about 900 people in Bagdad for its operation in 2017.
Where exactly is Bagdad, Arizona?
The town of Bagdad, Arizona can be found in Yavapai County. It is about an hour away from the Prescott National Forest, which has 100,000 acres of beauty to behold. Bagdad is just over a two hour drive from Phoenix, and nearly four hours from Tucson. It is around a six hour car ride to Los Angeles. Bagdad is most closely situated to the US-93 N highway for driving purposes. The city also has a publicly owned airport.
Why is it called Bagdad?
Many individuals might hear the name of the charming Arizona town and associate it with the city in Iraq. It's an understandable, surface-level connection to make, but Bagdad, Arizona does not have any affiliation with its counterpart(spelled with an additional "h") in Asia.
The town got its name from a copper claim that was made in 1882. The claimants, W.J Pace and J.M Murphy, discovered the valuable minerals in the area at that time.
There's also a legend that a father and son were one of the first to mine the land, and that the little man would ask his Dad for a bag to fill with ore(saying "bag, Dad?"), as another possible origin of the town's name.
Bagdad's Population and Real Estate Information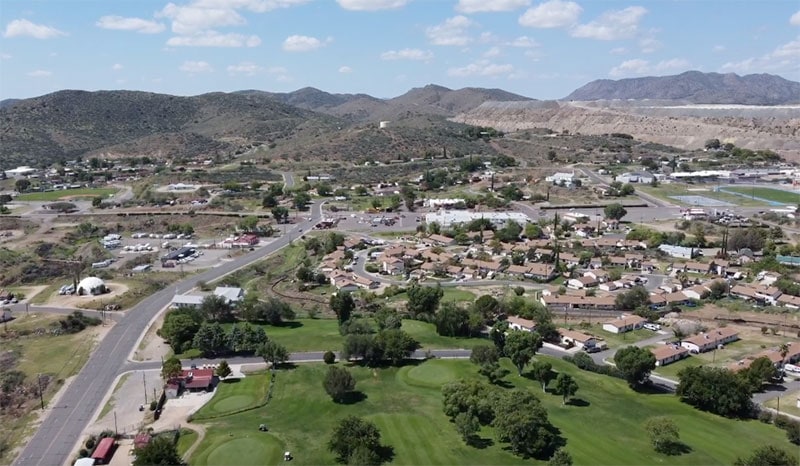 According to its website, the community has around 2,500 homes. Projections of the United States census has the population of Bagdad at slightly under 2,000 residents.
The town administration provides a rental rate table on its website that lends itself as extremely affordable. For example, a studio is priced at $225 per month, while a 2008 4 x 2 1900 square foot townsite is priced at $545 per month.
There is a relatively extensive housing waitlist provided on the website as well, with pending applications dating back to March 2021. It would seem like this is the primary avenue to become a resident of the town, as a Zillow search does not return any homes for sale or rent in Bagdad.
Recreational Tips For Bagdad, Arizona
While lessons about American history are certainly enriching, a well rounded vacation also includes sampling the local cuisine, and relaxing in a manner that may not be available to travelers at home.
Copper Country Bar and Grill is a notable eatery in Bagdad. Their website has a very catchy phrase appropriate for its location; "food worth mining for."
It has a variety of sandwich, burger and entrée options, and offers tasty appetizers and side dishes as well. It has actually been a staple of the town for over 40 years, with some starts and stops in between.
It opened in 1973 primarily as a place for mining contractors to unwind. However, due to a dip in the value of copper in the 1980's, it had to reinvent itself on a few occasions to stay afloat.
From the mid 1980's to the early 2000's, it exclusively served pizza. In 2006, it reopened as a steakhouse. By 2016, it was rebranded under new ownership, and has shown itself to be as tough as the residents who frequent it for a good meal.
The Diner on Main is another establishment tourists might decide to stop into. It has a retro interior, reminiscent of a diner from the 1950's. Tourists would be well served visiting the Diner on Main for breakfast or lunch, as information about its hours indicate that it closes at 2pm each day.
Of course, it wouldn't be a true vacation in Arizona without an opportunity to break out the golf clubs.
Regardless of what time of the year you visit Bagdad, the Mesa View Golf Course is open, weather permitting. The course is just over 30 years old, and is a par 30, fittingly enough. A cart can be rented for $5 to get players to the next hole, or they can bring their own cart. Be sure to schedule a tee-time in advance of arrival, as they are required for all players.
The Bagdad Aquatic Center is another place for exercise-inclined visitors to stretch their legs and break a sweat. It has a plethora of available choices of pool related activities via inclusive classes.
Aqua biking, Tai Chi, water aerobics and an aqua walk are all available at the facility. They also offer a more well rounded "all in one" aqua fitness program as well.
The Bagdad community website features six churches which are pillars for support, including but not limited to healthcare, childcare, food and clothing.
A few of these houses of worship include the Bagdad Southern Baptist Church, the Church of Jesus Christ of Latter-Day Saints, United Pentecostal Church and St. Francis of Assisi Catholic Church.