Newberry Springs, California is a hidden gem offering a stunning amount of natural beauty. It is situated at the western part of the Mojave Desert, but don't let images of a super-dry terrain scare you away.
Refreshing lakes and nearby mountains are also within reach, which makes Newberry Springs an incredibly versatile destination regardless of what a traveler might be looking for.
History
It would be surprising for many to hear that the original moniker for Newberry Springs in the 1850's was "Water".
Despite its location, the city provided water to wagon trains and eventually railroads which passed through in order to power steam locomotives. Natural springs provided the hard to find resource, and helped give Newberry Springs a jumpstart into commercial sustenance.
There are a couple of different stories regarding how Newberry Springs would eventually get its name. One narrative involves two brothers who were pioneers of irrigation in the area, who had the surname Newberry.
The second is focused on Dr. J.S. Newberry, who was a doctor to Lieutenant Joseph Christmas Ives in the late 1850's.
Claim To Fame-It's The Perfect Setting For A Movie
The funny thing about Newberry Springs is, many people will likely say they've never been to the California city. However, it is a popular setting for cinematic scenes, so it is very possible that a TV or movie buff could have been transported to the desert town without even knowing it.
According to IMDB, there are at least 26 different productions who have filmed in Newberry Springs over the years.
The most prominent films that shot there were Bagdad Café (1987), Sky (2015) and Drowning on Dry Land (1999). Whether you're a hotel guest in the Bagdad Café looking for a brand new adventure, or riding in a taxi with a one way destination to the desert, Newberry Springs has been home to its fair share of movie plotlines.
Being a desired filming site has proved prosperous for the city and for the county as a whole. San Bernardino County raked in over $23 million in 2009 in cinematography related revenue, the majority of which was attributed to desert scenes.
The nearby Bureau of Land Management in Barstow, California has been known to be accommodating to film crews and their shooting needs, which makes sense given the level of traffic they've seen in the last 30 years or so.
Roughout Ranch in Newberry Springs has also become a popular backdrop for movies. The 80 acre property was developed by the Lynch family over 50 years ago, and has since been purchased by Amber Bradberry just over five years ago.
Even under new management, the ranch features old style saloons, dry lake beds, and accommodations for a crew of about 20 people to stay overnight.
Location, Distance and Proximity Details
Newberry Springs, California is located in San Bernardino County. It is right off of the fabled Route 66 highway, which connects Illinois with California.
Newberry Springs is also right off of Interstate 40, giving eager road trippers a couple of options to continue their journey in the Southwest United States. Other cities close to Newberry Springs include Barstow, Daggett and Nebo Center.
Los Angeles is just over two hours away from Newberry Springs, while San Diego is just over a three hour drive. To the northeast, Las Vegas can be reached in just under three hours by car.
Population and Real Estate Information
(photo)
The residential population of Newberry Springs is just under 3,000 people. If one was interested in buying a home there for their family or multiple dwellers, it is relatively affordable.
There are several three bedroom homes priced at under $300,000. There does not appear to be a vibrant renting scene there, as Zillow does not return any results for the area in that capacity.
Recreational Tips for Newberry Springs, California
Bagdad Cafe
(photo: Pierre André)
Any responsible guide of Newberry Springs hotspots would probably need to start with the establishment sharing the name of perhaps the most famous flick ever shot there.
Watching "Bagdad Café" on TV, and then eating at the real café might be a pretty special double dip for folks.
It actually used to be called Sidewinder Café, but the movie led most people to refer to it by the name made famous by the movie.
While the cuisine offerings are not super varied, it does provide the basics like a burger with fries, which can keep a busy traveler going for a few hours.
The Volcano House
(photo)
There's a certain segment of the population that likes to live on the edge. Then, there are people who like to live at the top of a volcano.
At the apex of an inactive volcano sits The Volcano House, which is a two bedroom, two bathroom dwelling.
It was designed by Harold Bissner in 1968. Lucille Ball is rumored to have stayed at the house once upon a time, and the spectacle is certainly a unique one.
The Buried House
Continuing on with the theme of unique homes, The Buried House may be another point of interest to visit while in Newberry springs.
The Mojave River would transport sand cleared manually by county maintenance crews and essentially relocate it in a different part of town.
Over time, this resulted in homes that were partially engulfed by sand banks. Less comically, this caused several complaints from homeowners dating back to the late 1990's, but have created some intriguing geological sites.
Lake Dolores Waterpark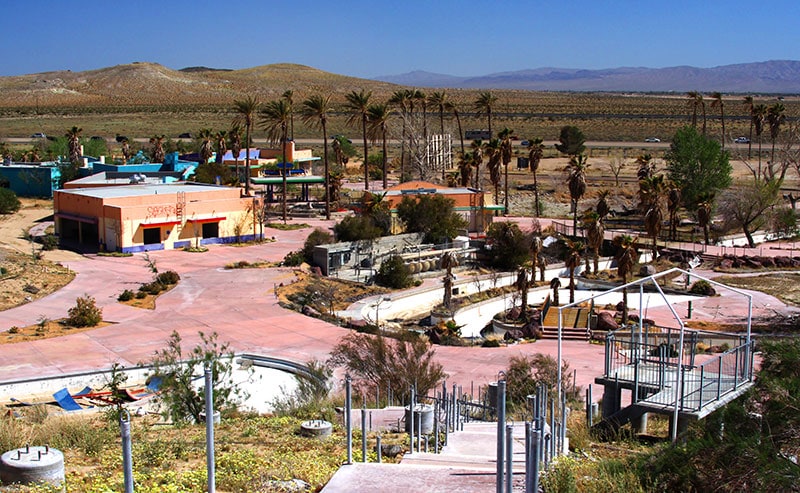 (photo: Dzealand)
Thought of by many as the first waterpark in the United States, some might be interested in checking out the remnants of a historical area.
Lake Dolores Waterpark was a welcome respite from the extreme heat of the desert, and provided a fun day out of the house for many years.
However, it has struggled to stay in business, and as of right now, it is abandoned. Many skateboarders and bikers have flocked to the area due to its natural layout as an extreme sports park. However, there have been some developers who have kicked the tires about buying the land, reportedly for as much as $11 million.
St. Antony Coptic Orthodox Monastery
The St. Antony Coptic Monastery has been a fixture in Newberry Springs since 1973. The Coptic Christian faith is often not immediately considered in the world of religion, and a stop at this place of worship can help piece together an interesting timeline of people who built up a presence in Southern California. St. Antony's is once again accepting visitors.
Rodman Mountains Wilderness Area
The Rodman Mountains provide an alternative setting to the desert land that largely defines Newberry Hills. Flanked by canyons, valleys and ridges, the gorgeous backdrop can allow for a rewarding day of hiking and picture snapping. Eagles and falcons are also commonly seen in the Rodman Mountains area.
Mule Canyon OHV Road
If you're looking for a more defined trail, then Mule Canyon might be the best bet. It is just under nine miles, and is usually completed in about four and a half hours by vehicle. This is a prime area for off road driving via an ATV or a dirt bike.