Do you love books? Are you looking for a fantastical adventure? The Last Bookstore is just what you need.
With stunning displays built out of books and long hallways leading to an old converted bank vault, The Last Bookstore is sure to quench your thirst for both the magical and the literary.
Their book displays are a genius business plan to bring young people to the store for Instagram photos, and leave with a book while they're at it!
Or maybe you're searching for that elusive book or record. The Last Bookstore probably has it.
Perhaps you want a personalized library to match your aesthetic and intellect! The Last Bookstore can help you curate that.
You'd be remiss to visit Los Angeles without heading to this iconic masterpiece of a bookstore!
What is The Last Bookstore?
The Last Bookstore is an independent bookstore in Downtown LA. It's California's biggest new and used bookstore.
Why is The Last Bookstore so famous?
(photo)
The Last Bookstore is so famous because of how large it is. It is also famous for its whimsical art displays made out of books. It's also one of the few still-standing bookstores in downtown LA.
The Last Bookstore puts on lots of events like performances, lectures, signings, and monthly book clubs in all genres imaginable.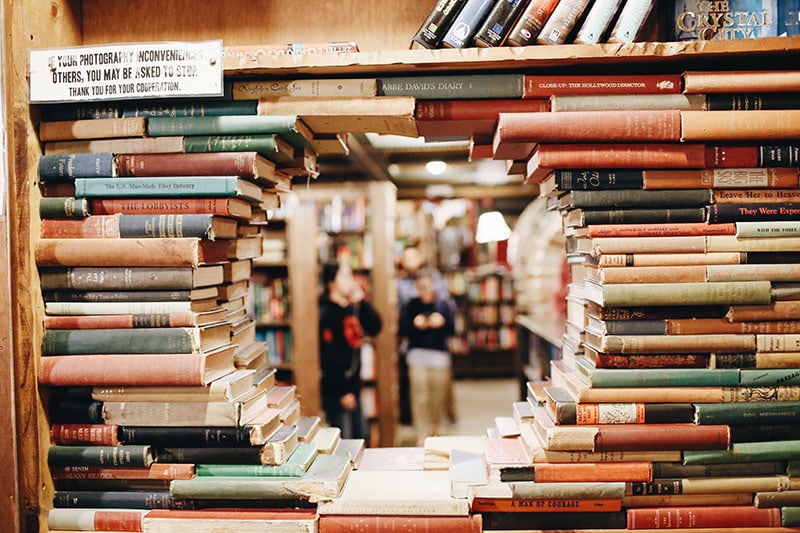 Where is The Last Bookstore located? What is it near? Is it near Skid Row?
The Last Bookstore is at 453 S Spring St, Downtown Los Angeles.
Some things it's near include:
Zero-4 Gallery

Six Taste

The Main Museum

Bernadette's Bar
Why is it called The Last Bookstore?
The Last Bookstore got its name in reference to how popular digital books have become. It's an ode to the dying out of physical bookstores.
History of The Last Bookstore
The Last Bookstore came to be in 2005. It started off in a loft, only selling things online- with other things alongside books. But then they decided to narrow their focus down to books and opened a small shop in 2009.
They moved to their current location in 2011, with a whopping 22,000 square feet of space! It's located in what used to be a bank with two levels of books (including the old vault!).
According to Vox, the store uses creative displays to attract Instagram visitors in the hopes of them buying books.
Who owns The Last Bookstore?
Josh Spencer is the owner of The Last Bookstore.
He's a father, husband, and parapalegic. He was very active before his injury but got hit by a car while riding a moped. He struggled to find his identity for years after becoming disabled and as he readjusted to his new life. He said it took about a decade to readjust.
His young daughter is named Eden. She loves to read and her parents want to instill a love of books in her, but don't want to force it on her if she doesn't want to be a bookworm.
Can you purchase and sell books at The Last Bookstore?
Donating is The Last Bookstore's preferred method of collecting books.
You can sell at their warehouse and they buy more books than anyone else in southern California! However, they're quite picky and need books to be in "very good or better condition".
If you have over 20 boxes, you need to request a Home Visit, with at least 10 photos in your email. They only buy books from smoke-free houses and buildings.
You don't need an appointment to sell books and you typically won't have to wait for over 20 minutes.
The Last Bookstore will make you a cash offer and a trade offer. The cash offer will be between 20 and 50% of what they can re-sell your books for, typically around $1-3. For special books such as collectibles, current textbooks, and more, they're willing to pay "quite a bit more".
Their trade offer is usually 50% more than their cash offer (books only).
The Last Bookstore is in multiple movies, including:
Gone Girl

Under the Silver Lake

Strangers

B.O.S.S – Bad Timing

Jellyfish

The Chainsmokers Feat. Great Good Fine OK: Let You Go
Is there an Art Gallery at The Last Bookstore?
The Spring Arts Collective is a special art gallery on the mezzanine level of The Last Bookstore.
It's right in the center of the downtown Los Angeles art scene and has artists such as Andrea Bogdan and Robin McGeough.
The gallery can be found at the entrance of the collective and holds shows comprised of artists both within and outside the collective. The hours are the same as those of The Last Bookstore, but the hours of each artist's studio varies.
If you want to visit, the best times are during the Downtown Los Angeles Artwalk, which is the 2nd Thursday of each month) between 7pm and 10pm; and when all the artists are present on Saturdays between 1pm and 5pm.
Do they sell anything besides books?
The Last Bookstore sells books, rare books, and vinyls.
They will also help you create a curated library. They explain the service: "Elevate and inspire your home library, office, lounge, or business to reflect your personal literary style."
Tips for visiting
Where to park
The Last Bookstore is a block away from Pershing Square metro station. They don't have their own parking lot, so you'll probably have to pay around $10 in one of the lots. However, it's cheaper during weekends and at night. There are plenty of parking meters, but they fill up quickly. And read the signs very carefully!
Are dogs allowed?
Dogs are allowed inside. Make sure to clean up after them if they have an accident and keep them from bothering other customers. If they're barking, you may be asked to leave.
Is there a bathroom?
There is a restroom for customers. You need to go to the buy counter or the register and leave your ID to get the key. One customer is allowed in at a time.
Is there a coffee shop?
There is no coffee shop inside The Last Bookstore, but you can buy a mug and take it to a nearby coffee shop!
Can you take pictures?
You can take pictures at The Last Bookstore! It's encouraged, as it draws a young Instagram crowd and helps bring people in and advertise at the same time.
Are there kid's books?
There's a pretty book kid's section with chairs and a small table. The whole bookstore itself is a great way to instill a love of reading in children as they wander the mystical halls!