Lawndale has come a long way from being a cattle-grazing farm town!
Head to Lawndale to experience a Los Angeles suburb and see how people in the metro area live. You'd be surprised how much there is to do outside of the city proper!
Suburbs are often overlooked while traveling, but with en
ough experience you come to learn that they're actually hidden gems- especially in metropolitan areas.
Lawndale will quench your thirst for fun and adventure, calm museum days, soaking up sun at the park, and amazing food- among other things.
So don't skip making a stop in Lawndale!
History
On December 28, 1959, Lawndale residents voted to incorporate Lawndale as a city to avoid being taken over by surrounding towns and cities.
Rancho Era
Between 1822 and 1846, Antonio Ignacio Avila was given 22,000 acres of land. It started out as cattle grazing pastures. The land was incredibly fertile, but needed settlers to use it agriculturally.
The Burnett-Freeman Era
A decade after Avila died, the land was bought by Robert Burnett (as the only bidder at the auction).
He essentially ended cattle grazing, instead choosing sheep. He also developed barley and orchards.
He leased the ranch to the Freemans, who planted thousands of eucalyptus, olive, almond, and citrus trees. A drought resulted in the loss of over half the sheep, so he upped his barley game instead.
Lawndale's Beginning
There was a boom in real estate in surrounding areas, so development in now-Lawndale started to take place thanks to a seaport, railroad, steam trains, and electric trolleys.
There were then commuter farmers, an oil boom (and subsequent bust), and the development of a Civic Association.
Finally, Lawndale incorporated!
What is it known for?
Lawndale is known for Roy Rogers, a famous singer and actor in Western movies, TV shows, and radio programs.
Where exactly is Lawndale? How far is it from major cities?
Lawndale is a suburb of Los Angeles.
It takes 40 minutes to drive from Lawndale to Los Angeles via I-110 N.

It takes six hours and 15 minutes to drive from Lawndale to San Francisco via I-5 N.

It takes two hours to drive from Lawndale to San Diego via I-405 S and I-5 S.
What county is Lawndale in?
Lawndale is in Los Angeles County.
How did Lawndale get its name?
Lawndale got its name from when it was mostly rural with lots of grass.
How many people live there?
Nearly 33,000 people lived in Lawndale as of the 2010 census.
Is Lawndale urban or suburban?
Lawndale has a mixed feel of both urban and suburban.
Is Lawndale a good area?
Lawndale is safer than 28% of cities in the United States.
What is there to do in Lawndale, CA?
1. Alondra Community Regional Park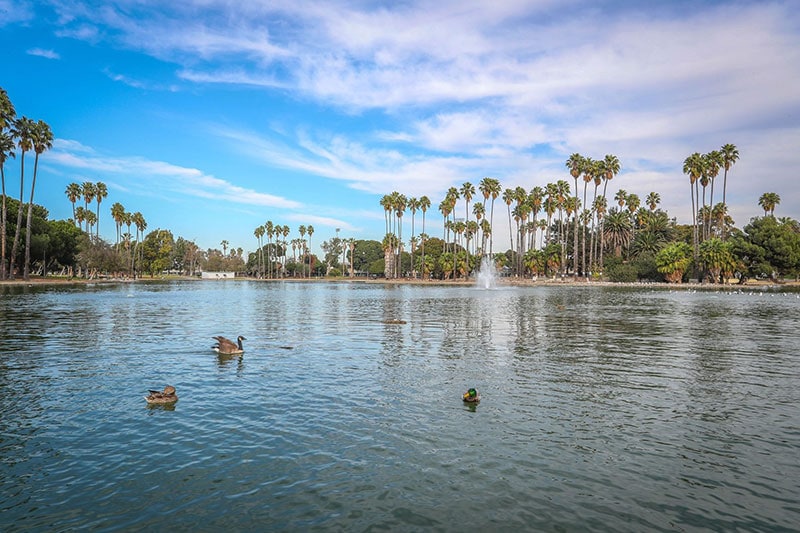 Alondra Community Regional Park is the biggest park that's close to the ocean as well as well-known beach cities like Redondo Beach, Hermosa Beach, and Manhattan Beach.
With 53 acres of rural, wooded landscape surrounding an urban lake, it's the perfect habitat for upland and wetland birds. The lake's island has a plant garden for California native plants to attract wild birds and native butterflies that migrate from the Palos Verdes Peninsula and Santa Catalina Island.
Nearly 240,000 residents are served by this beautiful park! You'll find baseball fields, picnic tables, restrooms, a skate park, barbecues, and lots for kids to do.
3850 Manhattan Beach Blvd, Lawndale, CA 90260
2. Alondra Golf Course
The Alondra Park Golf Course has 18 holes and is a regulation golf course. The championship tees have over 6,600 yards! It's beginner-friendly and nearly completely flat.
There's also a 2.250 yard 18 hole par 3 course that's incredibly challenging. The elevated and small greens create the perfect course for practicing your short game.
16400 Prairie Ave, Lawndale, CA 90260
3. The Roadium Open Air Market
The Roadium Open Air Market is South Bay's premiere swap meet! Open 7 days a week from 7am to 3pm, you have plenty of time to scour the market for the best finds and deals.
The 15-acre market is newly remodeled and lets L.A. area shoppers buy a plethora of merchandise all at crazy cheap deals. Look for collectibles, antiques, and bargains- you'll find them!
The only days The Roadium isn't open are Christmas and New Year's Day. You can expect about 500 sellers most weekend days, with 7,500 customers.
2500 W Redondo Beach Blvd, Torrance, CA 90504
4. Wonder of Dinosaurs
Wonder of Dinosaurs is the biggest display of dinosaurs on the west coast! Find them in Redondo Beach's South Bay Galleria Mall.
For adults, go to the second-floor museum! On the other hand, kids will love the third floor Activity Center.
South Bay Galleria, 1815 Hawthorne Boulevard, Redondo Beach, CA 90278
5. The Zimmerman Automobile Driving Museum
(photo: Daderot)
The Automobile Driving Museum is on a mission to "collect, preserve, exhibit, and ride in historic vehicles". They educate the public using their displays that show the evolution of automobiles throughout time.
Sunday Rides: Every Sunday from 10am to 3:30pm. Call the museum on Thursday for the Ride List! It's first-come, first-served. You can also call anytime to schedule a private rides tour.
Special Events: The ADM is always putting on special events. From a Mother's Day Ride to a Corvette Car Show, there's something for everyone.
610 Lairport St, El Segundo, CA 90245
6. Flight Path Museum LAX
The Flight Path Museum was founded in the mid-90s as a nonprofit organization to pay homage to aviation pioneers and with the goal of recognizing the importance of aerospace and aviation in SoCal as well as encouraging youth to pursue careers and education in the field.
In 2002 the LA Board of Airport Commissioners let Flight Path open an educational museum in the LAX Imperial Terminal.
Flight Path has encountered thousands of LA residents and travelers while encouraging history, education, research, and community.
Chock full of memories from the golden years of aviation, this museum is certainly worth the visit!
6661 Imperial Hwy, Los Angeles, CA 90045
7. Polliwog Park
Polliwog Park is a full 18 acres, making it the largest park in the area. Its main attraction is its big pond next to a natural wildlife refuge which sees migratory birds as well as raccoons and possums passing through.
Polliwog Park is a beloved park for special events like weddings, performances, and concerts. Its amphitheater looks over the pond as geese and ducks float on by, creating the perfect backdrop scenery.
Relax inside one of the park's three gazebos for some seclusion and a break from the sun. From the Rose Garden you can reach beautiful historic beach cottages with a simple stroll. Visit the City's Historical Museum to learn something new!
You'll also find the Manhattan Beach Botanical Garden in the park. Top it all off with clean restrooms, an exercise course, benches, grass, and shade- and you've got yourself a perfect park!
1601 Manhattan Beach Blvd, Manhattan Beach, CA 90266
8. K1 Speed- Indoor Go Karts
Get your adrenaline pumping with K1 Speed!
Over the past 10 years, electric karting has taken over the US. K1 is the company that introduced the sport to America! Most of us have heard of indoor karting but have probably never done it. Now is your chance!
K1 uses zero-emission, high-performance karts from Europe. Expect to be pushed into your seat with the intense acceleration! The G-force is impressive and you'll be able to feel it. It's very similar to driving a real race car! Handling, braking, and acceleration are all dialed in to create the perfect racing experience.
Their track is designed professionally to meet specific racing standards, and have Protex barriers to protect racers in case an accident takes place. Don't worry about safety- these karts have roll bars and seatbelts, which are hard to find in the racing world.
19038 S Vermont Ave, Gardena, CA 90248
9. Saigon Dish Vietnamese Restaurant
Saigon Dish is designed to bring the many unique flavors and dishes of Vietnam to the South Bay. The owner didn't feel satisfied with any of the restaurants in the area- they wanted to bring their friends to restaurants to introduce them to the food, but none of them were up to par. Hence opening Saigon Dish in 2003!
The meals are delivered as they're ready to serve, so some people may have their meal while others are still waiting- standard in Vietnamese culture. The staff will happily help you choose a dish and explain what's in each option on the menu.
There's both indoor and outdoor seating so you can eat to your liking!
Don't be afraid to get multiple appetizers to share- or to eat by yourself.
There are lots of delicious things on the menu, but if you're looking to cozy up with a bowl of soup, this is the place to go!
It's always packed, which is how you know it's good.
15725 Hawthorne Blvd Suite 108, Lawndale, CA 90260
10. Zacatecas Restaurant
People make great claims about Zacatecas, even going so far as to say it's the best Mexican restaurant in Los Angeles- or better than some in Mexico itself! If you want to support a family-owned business and have amazingly authentic food while you're at it, visit Zacatecas.
You'll leave full. The portions are huge! Don't make the mistake of filling up on the unlimited complimentary fresh chips and salsa.
You'll feel right at home and it's always evident how much the staff loves, and takes pride in, Zacatecas.
13737 S Inglewood Ave, Hawthorne, CA 90250
11. Chicken Maison
Chicken Maison has been family owned and operated since 2005. In 2021 they won "South Bay's best Mediterranean, best healthy, best Greek, and best rotisserie restaurant".
And the people agree- the consensus is that this is the best Mediterranean place in the South Bay! Popular orders include the rotisserie chicken combo, kabob family feast, veggie variety plate, and the spicy gyro. Yum!
15900 Crenshaw Blvd, Gardena, CA 90249