Everybody loves a good ghost story, and ghost towns that had originally boomed in the wild west are full of them.
But what about the towns that seem devoid of life even if they have it? There are plenty of locations that have continued on through the years with a very small population and limited connections to the outside world.
One such pocket is Darwin, California. Some may think it's a ghost town, but the residents there haven't given up hope yet.
(photo: Stammberger1973)
History of Darwin, CA
Like many towns in the area, Darwin, CA sprang into being along with the striking of gold. The valuable resource was first discovered in the 1840s, a time when Spain and then Mexico still held the land.
The town of Darwin was first established by white settlers in 1874, named after the prospector who brought settlers to the land: Dr. Erasmus Darwin French.
From that time, it quickly boomed to thousands of residents. Within one year of settlement, Darwin had a toll road and waterworks.
Like all boom towns, though, Darwin eventually had its decline thanks to other locations striking it big and relocating treasure hunters to mine new territory.
Attempts at mining other resources such as lead and tungsten were kept up 'til the middle of the 20th century.
Throughout its history, it has been home to a number of people, even warranting a school house, stores, and hotels at a certain time.
Today, however, it no longer offers any of these amenities. Not even a supermarket or gas station. Residents turn over regularly. Some choose to move away to start over, some lose homes to fire.
What is Darwin, CA famous for?
Darwin is famous in its own right for its history in the gold rushes of California and its subsequent decline – but not ruin.
The hardy town has remained home to a small population for over a century and a half. It has been known for its reclusive nature and inspiring backdrop.
Many artists, authors, photographers, and artisans have called it home. Arguably one of Darwin's most famous residents was Gordon Newell, a sculptor who first moved to Darwin in the '70s.
After his death in 2001, his son kept his legacy alive by adding more sculptures to his father's work. Today, Darwin is still graced by artistic presence.
Where is Darwin, CA? How far is it from major cities?
In the Great Basin of the west, Darwin is tucked on the edge of the Mojave Desert, on the eastern side of the Sierra Nevada mountains.
It is equidistant between the highest and lowest points in the contiguous lower 48: Mount Whitney and Badwater, Death Valley, respectively.
To get to Darwin, you have to drive down a five-mile long dirt road. Its location is sprinkled with Joshua trees throughout. Some argue that it's in Death Valley, but that's a bit of a stretch. The nearest town is 40 miles away.
To get to Los Angeles, you would need to drive 220 miles to the south, a three to four hour drive.
What county is Darwin in?
Darwin is in Inyo County, home to the inspiring Sierra Nevada, White Mountains, and Panamint Range. Inyo County is also home to Methuselah, one of the oldest living trees on Earth.
Does anyone live in Darwin, CA?
Darwin is not a ghost town, though they are on the verge of it. The road side demarcating the town reads "Pop. 50 or so."
As of the 2020 census, 36 people are residents of Darwin. That's an average class size in an inner city school room.
There is no school in Darwin, though, which explains why most of its residents are older. The age of residents ranges from 15 to 88 years old, the majority of the residents being above retirement age.
Many of the Darwin residents chose to live in this place, so far removed from society, because they wanted to be removed from society.
That's why, whenever people flock in from out of town, interested in the scenery or movie-making potential in this desolate space, residents close the curtains to shut out the gawkers.
Not all residents, though. Sculptor Jim Hunolt lives in Darwin and owns a small folk art store at his home which greets visitors with a sign of welcome, proclaiming Darwin as a "community of amazing artists, writers, musicians and philosophers."
Despite some resident's aversion to exposure, documentaries have been made about Darwin. About a year ago, Real Stories made an hour-long documentary about Darwin that you can watch on Youtube.
There was also a feature-length documentary called "Darwin" made in 2011 that won some international awards.
How much does it cost to live in Darwin, CA?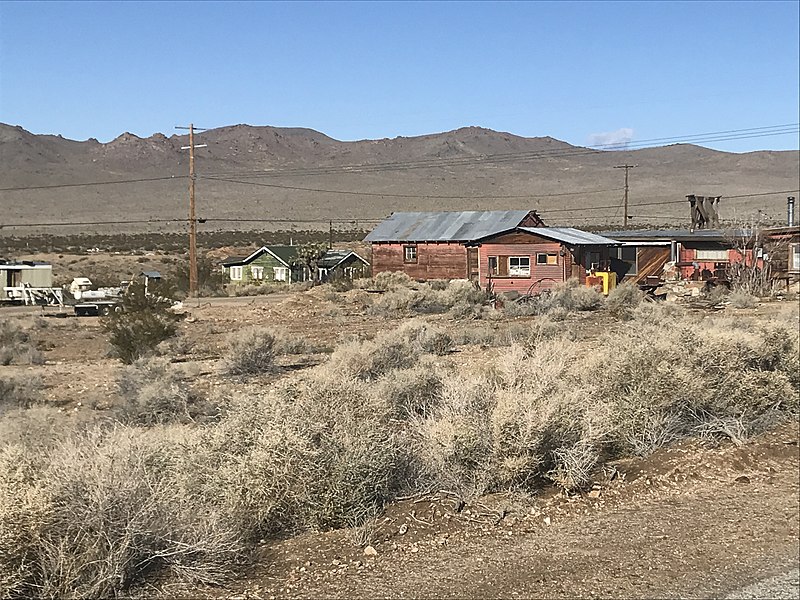 (photo: Thomas Farley)
There are approximately 48 housing units, although only 28 households. All of the buildings in Darwin are private property and many different buildings can be owned by one person.
In 1992, author Kathy Goss bought a house that inspired her novel about Darwin, CA for $18,500.
Prices haven't skyrocketed since, despite usual trends elsewhere. According to one website, the most recent sale in Darwin was February 2022 when a property sold for $42,000.
In 2021, a couple of properties sold for between $45,000 and $135,000.
How hot and cold does it get?
As Darwin is more or less in Death Valley, you can imagine it gets swelteringly hot in the summer. It's not uncommon for temperatures to spike over 100º Fahrenheit – even 115º.
Despite its extreme summer temperatures, Darwin does still have meteorological winter. From November through May, even snow is possible.
Does Darwin have utilities?
Running water is a modern luxury residents of Darwin are able to enjoy in their remote town, though it is limited.
Their source is actually on Navy land, so the town needed to reach an agreement with the military to be able to maintain this utility through a joint effort.
There are no public services, shops, or restrooms in Darwin because the water is that limited – just enough to provide for the residents who call this desert town home.
Cell phone service is spotty at best in Darwin, like many natural areas. Residents advise against relying on it.
Unfortunately, the only pay phone that was in Darwin has been removed. And while Darwin is connected into the internet, they still rely on dial-up.
In fact, Darwin wasn't provided with electricity until the '60s. They have never had TV or even radio connection.
For the time being, they have a post office, but it is threatened with closure due to funding. There are no emergency services.
Are there any restaurants in Darwin? How do people get food?
(photo: LHOON)
There are no businesses in Darwin. Though you could argue a couple artists who call it home sell their wares there, there is no formal commercial activity: no restaurants, no supermarkets. Nada.
To go grocery shopping, residents need to drive 75 miles round trip to Lone Pine to stock up on supplies.
The nearest Home Depot is 90 miles away, an hour and 25 minute drive.
What is there to do and see in Darwin?
Darwin Open Air Art Museum
There is no formal museum in Darwin. The town itself is a testament to the history, culture, and art of the area over the centuries.
However, visiting it can feel like an Open Air Museum experience. The settlement is dotted throughout with sculptures made by artists who have called Darwin home over the decades.
Structures by Gordon Newell and his son Hal still stand. Current resident and sculptor Jim Hunolt also displays his works out in the wilderness.
A simply visit to Darwin would offer you access to view all of these works of art and more.
Darwin Dancehall
Originally the Miners Union Hall and a separate restaurant, these two joint buildings were turned into one: the Darwin Dancehall.
Before its current name, it was a sprawling bar in the '50s called Crossin's Corner, named after owners Alice and Bill Crossin.
Between the bar and the dancehall, the yellow-faced building was also home to a pool hall.
Today, they dancehall is privately owned by a Darwin family who also live in it. It acts a private place for social gatherings, parties, dances, and more for the town.
Darwin Falls
Darwin Falls can be accessed by hiking a trail that starts from the settlement of Darwin. It's almost a full 10 miles to the falls and would take just over three hours to get there.
Many would consider the trek worth it, though, as it ends in the highest waterfall in Death Valley, measuring 80 feet in height. The trail ends at a dramatic and lush oasis.
Alternatively, if you aren't too excited to spend that time hiking there (let alone the walk back!), you can actually drive to the Darwin Falls Trail Head, a 35 minute drive from Darwin into Death Valley National Park. From there it's a mere 19 minutes.
Panamint Springs Resort
Just down the road from the more accessible Darwin Falls trailhead is the Panamint Springs Resort.
Inside the borders of Death Valley National Park, it's an ideal place to stay if you want to explore both Darwin and the natural wonders of the National Park.
You can choose between camping in a tent or RV or renting a cabin room. They also have a gas station – one of the closest to Darwin.
While you'll feel like you're in the middle of no where, there's still the option to dine out thanks to the Panamint Springs restaurant and bar serving homemade food.
Star Wars Canyon
Along the same road as Panamint Springs, half way between it and Darwin, is a historical marker site that isn't as sci-fi oriented as it sounds.
Though the scenery is sure to make one think that some shots of Star Wars must have been filmed here, none have.
The name of the canyon comes from the technical maneuvers practiced in the canyon, making pilots feel as if they're in the movies.
The site is a training area for military aircraft where pilots practice maneuvers and navigating at low altitudes at high speed – their equivalent of the Kessel Run.
Father Crowley Vista
At the trailhead leading to the Star Wars Canyon sits the Father Crowley Overlook. It's an easy-access point (just drive up and step out of your car) to enjoy the grand views. The overlook looks onto the dark lava flows and cinders that give way to Rainbow Canyon.
Sometimes you can catch sight of the military jets practicing their flights from here, if you don't want to hike the half mile out to the historical market site.
The vita is named for a catholic priest who called the area home in the 1930s and would often stop to admire the view from the overlook.