Skid Row is a neighborhood in downtown Los Angeles that is often described by some as reminiscent of a zombie apocalypse, the seediest place in America, a third world country, "one of the densest concentrations of human suffering on the planet," etc.
It's generally accepted as a lawless tent city, a den of druggies, addicts, and people suffering mental health emergencies.
It is located to the east of the Downtown Historic Core and the Bunker Hill district. Its officially recognized span is from 3rd Street down to 7th Street north to south, and Main Street to Alameda Street west to east.
It's borders are rather clearly defined due to the enduring neighborhoods bordering Skid Row, such as Little Tokyo to its north and a heavy industrial complex to its east.
Why is it called Skid Row?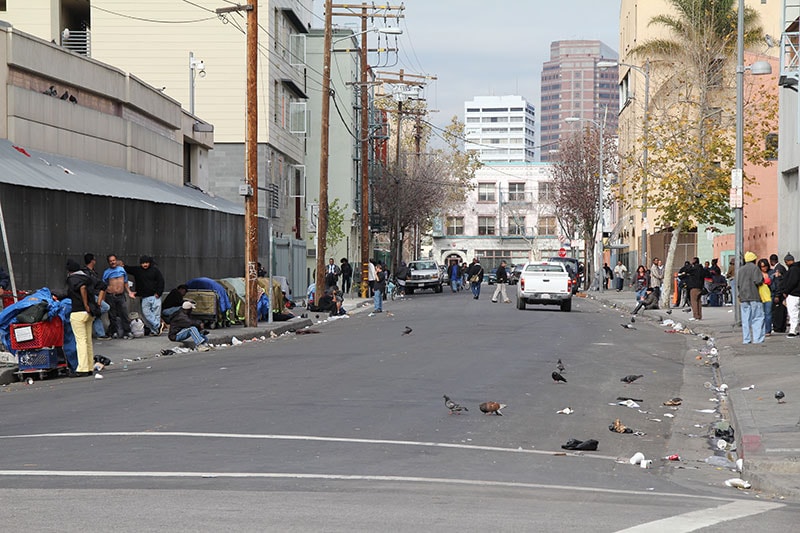 (photo: The Erica Chang)
The term "Skid Row" dates back to the mid 1800s. With the expansion of the western railroads, roads made from logs to make up for the muddy, unpaved streets were used to transport logs harvested for the construction of railroad tracks.
These log roads were called skid roads. As neighborhoods of seasonal workers, immigrant laborers, and primarily single men looking for jobs cropped up along the skid roads, the term morphed into skid rows, to describe the neighborhoods themselves.
Arguably, the longest-lasting and most famous is Skid Row in Los Angeles.
The history of Skid Row
Skid Row as an area was first developed in the 1860s, when the railroads turned downtown Los Angeles into a major hub. Some time between the mid 1960s and early '70s, Skid Row as we know it today came into being.
From its inception in the 19th century, small hotels were common around Skid Row, which through both world wars and the Great Depression was a regular stopping point for jobseekers and soldiers about to ship off.
This transient population, made up primarily of young men, inspired a rise in bars, adult bookstores, and theaters to open up.
In the middle of the last century, plans to demolish Skid Row along with its low-rent hotels and ever-declining living standards came about.
However, with the return of more war veterans from Vietnam in the '70s, there was a push to redevelop single-occupancy hotels and social agencies to accommodate the ex-military.
How many homeless people reside in Skid Row?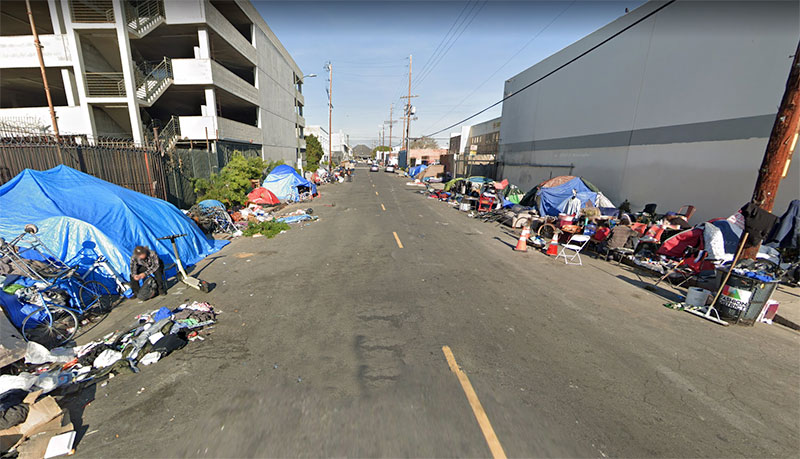 In 2020, the L.A. Homeless Service Authority (LAHSA)'s Greater Los Angeles Homeless Count tallied up 4,662 homeless people on Skid Row. This number is split almost in half between sheltered and unsheltered persons.
At the same time, LAHSA counted 41,290 homeless people in the city of L.A. This makes the homeless population of Skid Row a small portion of the city's homeless population, about 11%.
Does L.A. have the most homeless people in the U.S.? In the world?
The homeless population in L.A. constitutes 70% of the homeless population in the county. As of 2022, there are approximately 552,830 people experiencing homelessness in the United States. The state of California is in the top 5 areas with the most homelessness, coming in 5th behind D.C., New York, Hawaii, and Oregon.
While this means that L.A. does not have the largest population of homeless people in the U.S., California does make up almost half the population (47%) of unsheltered homeless people throughout the entire country. The largest homeless populations are in Boston, New York, and D.C.
Is Skid Row dangerous? Is it safe to visit during the day? At night?
Skid Row is dangerous if you get distracted by it. If you have a reason to pass through, don't act like a dumbstruck tourist, gaping at the destitution. It's recommended to keep your head down, your wits about you, and not linger longer than you need to.
Many agree that during the day, the worst that could happen is that someone may try to scam you out of money or your belongings or try to sell you drugs.
At night, you shouldn't go. You especially shouldn't park and leave your car there overnight. People have reported their cars being broken into, even finding homeless people sleeping in their car.
Is it safe to drive through Skid Row?
Skid Row has a bad reputation, although its residents seem to do the most harm to themselves. Driving through during the day isn't a problem.
At night, it shouldn't be either, but many people say they're willing to run red lights because being there gives them the creeps. The best bet, if you need to drive through, is to lock your car doors and keep your windows shut.
What goes on on Skid Row?
Because of the high homeless population, there is a substantial amount of drug use on Skid Row. Being down-and-out tends to go hand-in-hand with heroin and crack.
Another stereotypical but serious association with homelessness is mental health issues. Many of the residents are freshly released from prison, suffer severe psychotic disorders, or have PTSD and do not have access to or do not seek out mental health help.
Without access to the counseling or medications that could help them, Skid Row residents do not act according to societal norms.
Why does the city of L.A. allow Skid Row to go on? Why don't they clean it up?
Homelessness isn't a problem that can be solved overnight. Skid Row has been an area of homelessness for over 100 years. If it could have been cleaned up by now, it would have been.
But what would the city do with all the homeless people? There are many charities and housing associations focused on Skid Row. Taking away these support systems wouldn't relocate the homeless people.
Plus, it's generally accepted across homeless charities that decentralizing the social services in one area would not help solve homelessness or spread it more evenly across the city. If the help leave, the residents of Skid Row would still remain.
In 2021, it came close. A judge had ordered all of the Skid Row homeless to be housed due to it being caused by structural racism.
However, a federal court of appeals overturned the injunction because the judge "did not have authority to issue the preliminary injunction order." It was a close attempt to holding the city responsible for the homelessness crisis on Skid Row.
What assistance, if any, do homeless people on Skid Row get from the state?
On a federal level, the government issues grants to specific communities that then administer the funds appropriately at the local level.
California does the same on the state level. In 2021-2022, the state provided $7.2 billion in its budget to 30 homelessness-related programs.
While the government at both levels provides lots of money to the homeless cause, it is seen going into effect at the local level through charities, leading some to falsely believe that it's solely the charities helping the homeless, without any governmental help.
A direct contact for those in need in California is the Department of Public Social Services which offers Homeless Programs that help direct homeless people or those at risk of becoming homeless avenues to financial help and accommodation, or the California Department of Social Services.
Directly for Skid Row, the L.A. County Homeless Initiative is funded thanks to Measure H which passed in 2017, providing more funding to tackle the state of emergency due to homelessness in the county.
Are there other places called Skid Row in the U.S.?
Kensington, Philadelphia, PA
Historically, Kensington is a neighborhood that experience a lot of immigration from the early days of America.
An influx of immigrants created working class communities that often fell on hard times, from which crime syndicates and homelessness were birthed.
Kensington was the longtime site of a camp of homeless residents, spanning from North 2nd Street to Kensington Avenue. The city cleared out large swathes of these camps, but homeless resident still remain.
Tenderloin, San Fransisco, CA
Worlds apart from its famous neighbor Nob Hill, the Tenderloin is a skid row neighborhood encompassing 50 blocks in a triangle shape.
The appellation "Tenderloin" first appeared on San Fransisco maps in the 1930s. By this point, it already had a dubious reputation thanks to the past decade.
Speakeasies, billiard halls, theaters, and more cropped up. The notorious neighborhood became home of the famous, hardened detective Sam Spade in The Maltese Falcon.
The Tenderloin's history is steeped in jazz music, organized crime, prostitution, and homelessness. Since the '70s, housing programs have been in place to try to help residents.
Documenting the residents of Skid Row – Soft White Underbelly
Soft White Underbelly is an independent streaming service by artist Mark Laita. It is a library of "interviews and portraits of the human condition."
Videos range from 10 minutes to an hour an interview a range of people from across the country, including residents of Skid Row.
The studio where he works and makes his films is located in Skid Row itself, allowing him to get up close and personal with the residents.
He pays the residents for their time. These videos offer a reprieve from the usual Hollywood streaming services, offering up content worlds apart, filmed mere miles away from each other.