Aliso Viejo is a sleepy suburb nestled in comfortably in southern Orange County. At first glance, you would think the food culture here consists of only chain restaurants and although there is a smidgen of truth to it, if you dig a little deeper, you will find a treasure trove of restaurants that buck all your expectations of suburb.
Here are the 10 best restaurants that Aliso Viejo has to offer.
Check out our other Orange County Guides:
The 14 Best Restaurants In Orange County In 2022
The 7 Best Swap Meets in Orange County
The 8 Best Breweries In Orange County In 2022
The 6 Best Breakfast Burritos In Orange County For 2022
11 Best Cheap Eats Restaurants In Orange County That Cost Less Than $10
The 10 Best Bars In Orange County For 2022
13 Best Restaurants In Fountain Valley In 2022
Teds Place
Teds is a classic American diner that's been serving up breakfast, lunch and dinner classics for over 30 years.
Whether you are in the mood for a hearty breakfast burrito in the morning or savoring for spaghetti and meatballs, they have you covered.
Im a huge fan of their breakfast wherein I usually opt for the breakfast burrito or eggs with sausage and hash browns.
I have yet to encounter anything here that has disappointed me or has prevented me from clearing my plate.
23990 Aliso Creek Rd, Laguna Niguel, CA 92677
Board And Brew
Board and Brew is a California style sandwich shop where you can grab a delicious sandwich and beer and watch some sports on the tv. It's a sandwich/sports bar hybrid.
All their sandwiches are delicious and you can't go wrong with their chicken club which comes with chicken breast, bacon & melted jack cheese on a toasted French baguette.
Lets not forget to mentioin the secret sauce, which compliments all their sandwiches beautifully.
To top if off, all their items, including their beer are super reasonably priced.
27000 Alicia Pkwy B, Laguna Niguel, CA 92677
The Original Pancake House
When the cravings for pancakes or waffles hits, Pancake House is where you want to go to satiate your breakfast inclinations.
You can get pancakes and waffles every which way here. Pecan, blueberry, Swedish, Hawaiian, coconut, its all here.
They have two signature dishes: the apple pancake, which is a large pancake smothered with sautéed apples and cinnamon sugar and the Dutch Baby, which is a hybrid of a a pancake, a crepe, and a popover.
They also have omelettes too, if you are looking for something more savory.
26951 Moulton Pkwy, Aliso Viejo, CA 92656
Franco's Famous Mexican Kitchen & Cocktails
Francos just opened in Aliso and has already made a name for itself in offering the best Mexican food in town.
They offer classic Mexican fare including carnitas, enchiladas, fajitas, tacos and burritos.
They start you off with fresh chips and salsa and you should definitely opt for one of their margaritas, one of the best alcoholic concoctions in town.
The portions here are also big and the prices are very reasonable. Bring your appetite.
26538 Moulton Pkwy, Laguna Hills, CA 92653
i20 Ramen
Located in the Aliso Viejo Town Center among the row of restaurants next to the movie theater, i20 Ramen serves up hearty bowls of delicious ramen. While Orange County has its share of vaunted ramen joints, i20 dominates the 15 mile radius around it.
Their broths are labored on for hours and hours until it reaches the perfect level of richness, which is perfectly complimented by their noodles and their tender, fall-apart pork.
It is impossible to leave dissatisfied after eating here.
26705 Aliso Creek Rd ste f, Aliso Viejo, CA 92656
Sattva Indian
Treat your taste buds to some exotic Indian flavors at Sattva. Located in the Aliso Viejo Town Center, Sattva's extensive menu boasts favorites like tandori chicken, chicken tikka masala, curries, samosas and anything that you get will not disappoint.
And to top it off they have a great selection of beer from India.
They used to have a wonderful lunch time buffet where you could get a taste of everything, however due to the pandemic, they had to shut it down. We are hoping they bring it back.
26705 Aliso Creek Rd Ste C Aliso Viejo, CA 92656
Plumeria Cafe
From the people that brought you Stacks Pancakes comes Plumeria, a quaint breakfast spot that lives up to the reputation paved by its sister restaurants.
Plumeria is a hidden jewel tucked away in Aliso's furniture gallery. It is a breakfast aficionados dream come true.
While all the usual breakfast classic like breakfast burritos, omelettes, eggs benedict and pancakes are superb, what sets them apart is when their sugary creativity is left to run wild.
Peanut Butter and Banana Captain Crunch Mac Nut French Toast, Waffle Nutella Lava, Waffle Oreo Cookie N Cream are some of the wildly imaginative creations that will satiate any sweet tooth.
23811 Aliso Creek Rd STE 122, Laguna Niguel, CA 92677
Fish District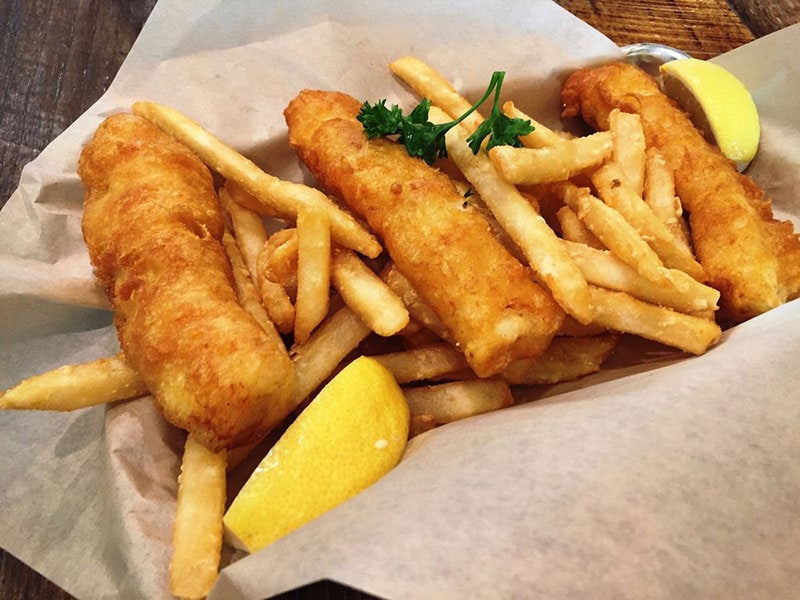 You don't have to travel near the ocean to catch some incredibly fresh tasting fish and seafood. Fish District's tenet has always been about sourcing the freshest and the highest quality ingredients for their food and they absolutely deliver on that front.
Their menu is full of classics – fish and chips, poke, chowder, ceviche and of course many varieties of grilled fish.
You can't go wrong with the Catch of the Day plate, which comes with 2 sides and a grilled ciabatta bread.
26541 Aliso Creek Rd, Aliso Viejo, CA 92656
Inka Mamas
Inka Mama's has been around since 2007 and has been doing an excellent job of providing the community with authentic Peruvian cuisine.
Located in the Aliso Viejo Town Center, Inka Mamas serves up all the Peruvian hits, including ceviche, causas, paella, lomo saltado and empanadas.
If you want to introduce your taste buds to some South American flair, this is the spot!
26731 Aliso Creek Rd Ste A Ste A, Aliso Viejo, CA 92656
Mangia Bene Cucina
For well over a three decades, Mangia Bene Cucina has been serving some of the best old-school Italian dishes in the city.
The love and care the team puts into their dishes is palpable. They serves traditional Italain dishes with all the flavor and none of the fuss
It's hard for us not to recommend everything, but the Lasagna Bolognese, Lobster Ravioloi and Margherita Pizza keeps us coming back,
The cannoli is a crowd-pleasing way to end your dinner.
27281 La Paz Rd ste i, Laguna Niguel, CA 92677
Deemers
Deemers is a modern take on the roadside diner that serves up classic American fare. Their menu is filled with morning favorites and diner staples.
They serve everything from pancakes and waffles to burgers, tuna melts and chili.
You can't go wrong with one of their burgers, which is customizable in every which way.
27221 La Paz Rd, Laguna Niguel, CA 92677
Urban Plates
At its core Urban Plates is California cuisine, where the focus is on the integrity of their ingredients.
No antibiotics in any of their ingredients. Grass-fed beef. Sustainable salmon and pasture raised animals.
Chimichurri Grass Fed Steak and Grilled Cage Free Chicken are some of the many ethically sourced options avaiable to your tastebuds.
You can eat well here and walk away with a clear conscious. It's located in the Aliso Viejo Town Center next to Chipotle and the movie theater.
26661 Aliso Creek Rd B, Aliso Viejo, CA 92656