With the glitz and the glamor often associated with L.A., it's hard to imagine going shopping anywhere without spending your life savings. Not everything you buy there needs to be new or designer, though.
There are plenty of ways to complement your wardrobe or your home that's chic and stylish, but also affordable. Better yet, good for the planet. Have a penchant for vintage styles? Flea markets are ideal places to go shopping to give an old item new life.
Here are the best flea markets in Los Angeles:
Rose Bowl Flea Market
Founded in 1968, the Rose Bowl Flea Market has been a vintage trendsetter for over 50 years. While it's the perfect outing for everyday people, celebrities like Angelina Jolie and Christian Louboutin have been spotted browsing it!
Help the second Sunday every month, the Rose Bowl (also known as the "Flea Market of the Stars") happens come rain or come shine. It is home to more than 2,500 vendors that set up at the Rose Bowl Stadium.
Yes, if you didn't figure it out by now, the Rose Bowl Flea Market is held in the very same Rose Bowl Game stadium. Inside, this grandaddy of them all is such a large flea market, it's split into seven different zones.
Their designations include "new merchandise," arts and crafts, antiques, and vintage merchandise.
Entry costs $12 and usually comes with an entry time – they need to space out the 20,000+ visitors, so everyone doesn't show up all at once!
If you really want to try and catch a deal, you can buy a VIP ticket for $20 that lets you enter from 5-9am, well before the usual crowd.
Melrose Trading Post
The Melrose Trading Post is a hot take on the local farmer's market. It takes place every Sunday, but unlike your usual farmer's market, there are goods for sale rather than fresh produce.
It's hosted at Fairfax High School and tickets cost $5 for entry, but the money helps support art, education, and enterprise. Part of the money goes towards providing jobs for students, funding their field trips, and further supporting the school.
The Trading Post gathers local artists, craftsmen, curators, designers, and collectors from the area. They also host live music on their Garden Stage – three different artists and groups throughout the day – and invite several food trucks to set up shop in the purple zone.
In between munching and dancing, you can shop home decor, plants, antiques, art, homemade beauty products, jewelry, and more.
Melrose Trading Post makes shopping a wholesome experience as you get to treat yourself (or family and friends) while also contributing back to the community.
Pasadena City College Flea Market
Another educationally-based flea, the PCC Flea Market gets its name from its venue: Pasadena City College. It's a monthly affair, usually held the first Sunday of every month (freeing up the following Sunday to swing by Melrose!).
On a relatively smaller scale, PCC houses 400 vendors at its monthly market over three of its parking lots. What they seem to lack in size, they make up for in perks: free entry!
PCC makes its money off the vendors' fees, which are in turn used to support scholarships and activities for the school. However, parking will cost you $2. (And make sure you park in the right place, i.e. not where a vendor sets up their stall!)
PCC Flea Market is best known for antiques and collectibles, but don't think that means top dollar deals. Products range from rummage sale affordability to high-end antiques.
More specifically, PCC is specially known for being the best record marketplace in Southern California.
It's home to more than 50 record vendors selling old and new music in old and new formats, from records (obviously) to CDs.
Silverlake Flea
Compared to Melrose Trading Post for its convenient access and stellar selection, Silverlake Flea is yet a considerably smaller affair.
Located in Echo Park, it's held in the lot behind the renown Taix French Restaurant. Its small size allows it to be open more often, though.
You can go every single Saturday and/or Sunday. You better wake up early, though, as it shuts down at 3:30pm, limiting any late afternoon shopping.
It's free entry to the flea, giving you unlimited access to this very manageably-sized market. Go Saturday and Sunday!
Silverlake's stands have an Etsy vibe as they are all occupied by handmade and vintage vendors that make and sell clothing, home furnishings and decor, crafts, art, and antiques.
Take one look at their blog and you'll see it's an especially good spot to pick up some new old threads.
They also invite rotating guest food trucks to set up and shop and sate your hunger each week, but you can almost always count on a coffee truck being on site.
Artists and Fleas
A short stroll away from the beach, Artists and Fleas should go on the top of your Saturday To Do list.
In the heart of Venice, this micro flea is hosted at the Westminister Avenue Elementary School every single Saturday from 11 am to 5 pm.
An incredibly small flea market compared to others on the list, Artists and Fleas houses 50 vendors.
The perks of being such a small affair means that they can actually list every single one of the vendors on their website.
Fall in love with a small business and don't know where to buy them? Check out if they have a stand at this market. Artists and Fleas is also well-connected to the community they're based in.
They have neighborhood recommendations for coffee shops, sites to see, cocktail lounges, and restaurants nearby.
It's free to enter, so it's easy to make a day of wandering around Venice, with a requisite stop at Artists and Fleas.
Topanga Vintage Market
Once dubbed California's "absolute coolest flea market," the Topanga Vintage Market is "one of L.A.'s top sources for vintage."
Just above the eponymous State Park, Topanga Vintage Market was the first flea in the Valley, founded in 2012. It takes place the fourth Sunday of every month.
It's an early affair for your usual flea, opening at 7 am and running until 2 pm. If you're particularly a morning person, they claim they won't turn away early birds, either.
Entry to the flea is an easy $5 and gives you access to 200 vendors. Topanga is special as they focus on having local vendors, being home to over 30 "Topanga only" artisans from nearby.
The organizers work hard to curate their vendors, making sure to host a variety of high-quality products.
They also go above and beyond to connect with their customers, having funny slogans on their tickets and running competitions like their "instavintage" photo contest. It's junkalicious!
Santa Fe Springs Swap Meet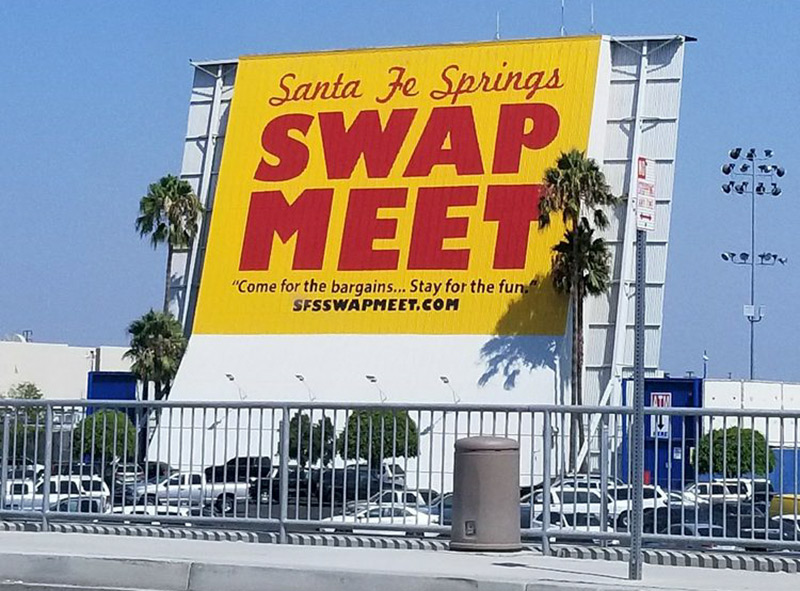 A brick and mortar affair, the Santa Fe Springs Swap Meet is a permanent market set up in eastern L.A. Open six days a week, Monday is their day of rest.
Otherwise you can go shop in one of two Swap Meet experiences: Tuesday to Thursday is the Parking Lot Swap, hosted outside from 7 am to 2:30 pm.
Entry these days is free and all parking is always free. Friday through Sunday, the Swap Meet moves inside and costs between $2 and $3.50.
You can get your retail therapy on after work as the Meet's open late on Fridays, from 4 pm – 11 pm, or you can spend all day on the weekend browsing their 600+ vendors.
That's right, they have more than 600 vendors on site every. single. day. (Except Mondays.)
Santa Fe Springs has live music on the weekends, permanent food vendors, and even a beer bar. Anyone who doesn't like shopping will have a hard time not enjoying themselves.
Odd Market
The Odd Market started as the Los Feliz Flea, a market that is home to almost 200 vendors that set up shop at John Marshall High School, practically in the shadow of Griffith Park.
The flea is open every single Saturday, come rain or come shine, from 11 am to 5 pm. They boast many perks compared to other fleas.
Aside from actively working to curate the vendors they host, Los Feliz Flea has virtually unlimited free parking, plenty of shaded seating areas, gourmet food trucks, and welcomes pets!
Recently, the Odd Market expanded to Nights at the Autry. Not quite as flea-centric, but well worth the mention, this event is hosted at the Autry Museum.
Open 5 pm – 10 pm, admission costs $5 but gives you access to 18 food trucks, inflatables (fun for the whole family!), and live music.
There are also some stalls selling work by local crafters. Plus, you get exclusive gallery access to the museum. What's not to love?
Long Beach Antique Flea Market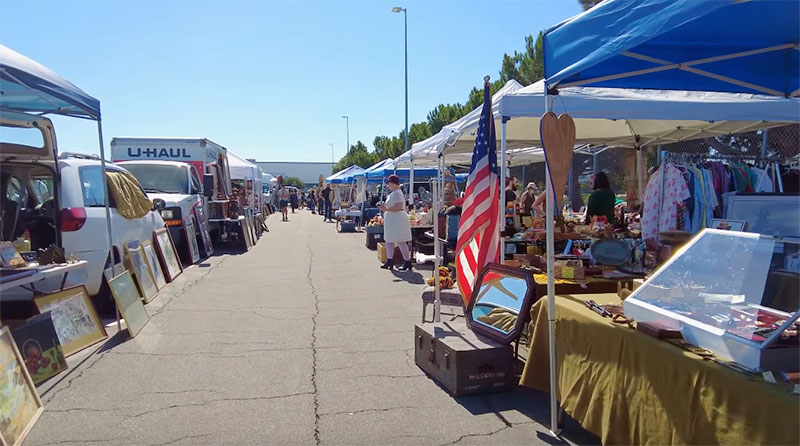 (photo)
Across the street from the airport, the Long Beach Antique Flea Market can be summed up in three words: chic, cheap, and unique.
Since 1982 they have covered over 20 acres of land with their 800+ vendors. It's so well known, there are frequent celebrity sightings and even a warning on their website that filming and photography are often going on, so you may be caught on camera!
Though there are some clothing, jewelry, and other bits and bobs to be found, the Long Beach Antique Flea Market specializes in furniture and home decor.
Bought a house? Shop your heart out for antique and vintage rungs, ottomans, posters, mirrors, armchairs, and more. It's one of the pricier admissions, costing $10 to get in, but parking is free.
It's the ideal place to go if you love vintage design, are looking to repurpose furniture, or want to add to a collection. Long Beach Antique Flea Market is open the third Sunday of every month. Keep an eye out for their special sale dates.
Santa Monica Airport Antique & Vintage Market
(photo)
Another airport flea, this one is actually hosted at the airport itself! The Santa Monica Airport Antique & Vintage Market is open every 1st and 4th Sunday of the month from 7 am to 3 pm.
Just look for the white tents. It costs $5 to enter, but they offer free parking. The market is a place that touts the ability to furnish a house in a day, thanks to the products its vendors offer.
It's an ideal hotspot for collectors and treasure seekers. Find a hand-embroidered jacket, a felt hat, turquoise jewelry, vintage cowboy boots, a unique garden sculpture, vintage motorcycle magazine, and so much more you never knew existed.
Many vendors are even known by name, their wares are so sought-after.
The Roadium
The final flea to make our list is the South Bay's premier open air market. The Roadium is a swap meet of 450+ vendors, spread over 15 acres, open every day.
They have special them days, designating Antique Mondays and Vintage Thursdays, so you know exactly what to look for on those days of the week.
Alongside these bargain treasures, there are also vendors selling fresh flowers and produce. Weekday admission is a mere $1, going up to only $4 on the weekend.
Originally, the market actually began in the 1960s as a drive-in movie theater, adding the open air market to the venue in the '70s.
Today, the drive-in still exists! You can shop by day and attend the drive-in at night. Movies start after sunset (so you can see the screen, of course), which is around 8:15 pm, but the gates open at 7.
Hollywood is just around the corner, after all, so the Roadium plays hometown classics like Jurassic Park and Grease.