The second largest city in Indiana, after Indianapolis, Fort Wayne began as a pioneer trading post shortly after the American Revolution.
As the railroad came into being and slowly crawled its way across America, connecting people together, industry boomed.
Today, one great industry that's flourishing in Fort Wayne is the brewing trade. In the past decade alone, tens of new breweries have popped up across town.
Here are the best breweries in Fort Wayne:
Hop River Brewing Company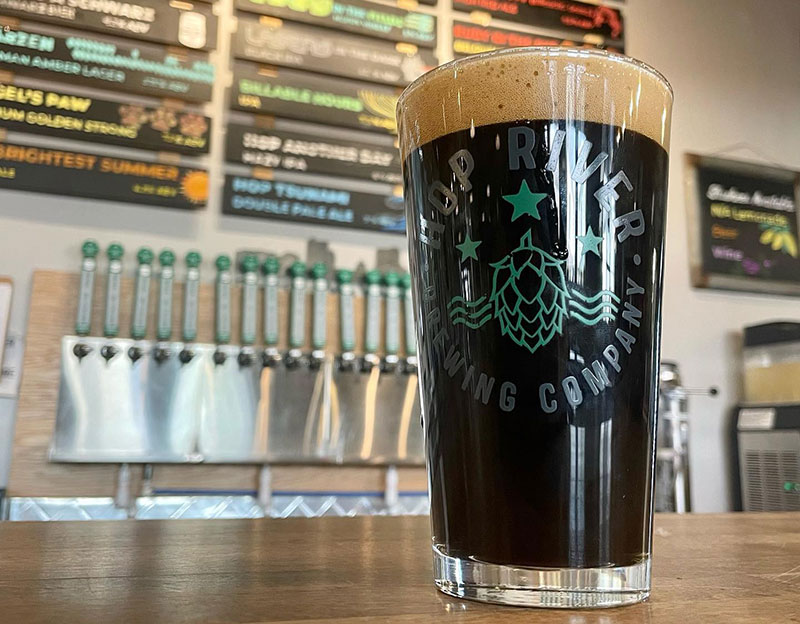 Hop River is a brewery that was founded by the convergence of two friends whose path blended into one great idea: a co-owned craft brewery.
Still very much in a micro production, Hop River has managed to snag some awards for their small batch brews despite their size. Their drink line-up covers every style imaginable, including their own house made non-alcoholic sodas.
Their taproom is a traditional, German-style beer hall which also offers outdoor seating – even fire pits.
The space goes beyond casual drinks with friends, as you can amp up the competition by way of board games and pinball tables. Hop River is all about Fort Wayne.
They partner with other local breweries and wineries and base their food menu off local, seasonally available ingredients.
Beer to try: Raddlersnake 4% Radler
2 Toms
2Toms is the place to drink if you want something out of your usual craft beer set-up. They're dedicated to creative innovative beer for the adventurous spirit.
They craft each beer with a specific flavor experience in mind, attempting to break the mold of the same old same old.
Their curiosity extends so far as to merit their very own Barrel Room, specially dedicated to aging ales.
Their taproom is housed in an open and airy warehouse that has views onto their steel-plated brew deck.
Once you've gotten over the shine of their fermentation tanks, order one of the 14 beers they have on draft.
You can relax inside and out and indulge in all their brews thanks to a beer flight.
Beer to try: Selleck IPA 7% NEIPA
Summit City Brewerks
Summit City probably takes the cake when it comes to brewery/taprooms. Like many other craft breweries, they make all of the beers they serve on site.
Unlike others, they offer 30 different taps to choose from. It's almost impossible to not find something you like.
There's also plenty to do when you visit the Brewerks. You can enjoy a drink with friends and simply chat the night away, or have fun playing pinball, pool, darts, board games, and more.
There's plenty of pub space to accommodate everyone, including on the patio.
Beer to try: Toast & Jam 5.7% Amber Ale with Coffee & Strawberries
Dot & Line Brewing Company
New kid on the block, Dot & Line have been brewing in Fort Wayne for just over a year now. Despite their youth, they're hardly short of experience.
They are already busy with limited can releases of their distinct beers. If it's a possible flavor combination, Dot & Line have probably made it a beer, from orange creamsicle to sugar cookie to peppermint mocha.
Their taproom has plenty of room to drink in, especially when you consider their massive patio space that allows for some pretty large events including live music.
They regularly have guest food trucks lined up from Thursday through the weekend. Check their Instagram for updates.
Beer to try: Fruit Shooter: Blackberry Mango 4.5% Berliner Weisse
Fortlandia Brew
The first nano brewery in town, Fortlandia brings delicious, small batch beer packed with big flavor to Fort Wayne. Their goal is to bring both variety and quality to their brews, ranging from super light, pale beers to dark, heavy-hitters. A collaboration between a group of friends, Fortlandia is small but powerful.
The taproom at their brewery is what you'd expect from a nano brewery: small! But it's not short on flavor.
Originally a pizzeria, the team converted the small take out space to a comfortable taproom where you can drink in, enjoying one of their ten taps of beers brewed in house. Or, take in the sun on their nano curbside biergarten!
Beer to try: Double Dragonfruit 6.5% Sour
Mad Anthony's
The original micro brew house, Mad Anthony's is the longest-running brewery on the list. It's also named after the general who gave his name to the city "Mad" Anthony Wayne!
They make their beer from two brew kits: their production kit that keeps their regular line-up always in stock, and their pilot kit for testing new brews.
A mere 7 barrels in size (just over 200 gallons), this kit was the one that the business started on.
Set up by a couple of friends in 1999, Mad Anthony's now boasts four different locations across Indiana.
They also go beyond brewing. Each of Mad Anthony's locations is a brewpub, offering their delicious signature tastes from their kitchen fare, all made with local Indiana produce.
Beer to try: Mosaic Moon 8% Single Hop APA
Junk Ditch Brewing Company
Junk Ditch came to life thanks to a successful hospitality group that has already brought delicious food to Fort Wayne in the form of Affine Food Truck and GK Baked Goods.
Since 2015, they've also brought delicious beer to town. Across the board, with all their businesses, the team believes in making everything from scratch. Their passion for hospitality helps make their hand-crafted beers absolutely mouth-watering.
The dining experience at this brewery is a step above the rest. Junk Ditch is open for lunch, dinner, and brunch, offering refined dishes that go beyond your usual bar fare.
Alongside their 12 house draft beers, Junk Ditch also offer guest brews to complement their menu and bring in a wide range of flavors to pick from.
Plus, you can create a beer flight of any size – you pay per pour rather than by the set. Want to taste three? Five? Ten? You can!
Beer to try: Low Key Rye 6.9% Rye Pale Ale
Trubble Brewing
Trubble likes to shake things up (just not the beer cans, please), creating the perfect home for rebels and troublemakers. But on a small scale.
This nanobrewery makes their beer on equipment even smaller than Mad Anthony's test kit! They have plans to expand, though, so there'll never be a shortage of their range of IPAs.
Trubble now has three locations to drink at, starting with the original taproom and brewery on Broadway.
This centrally-located spot is ideal for enjoying the outdoors, live music, and drinking of course.
Pair one of their beers with their hearty comfort food. Pizza, chicken and waffles, ramen, and loaded fries are a few examples of their delicious food. What are you waiting for?
Beer to try: Penguin Speed 6.3% White Coffee Stout