With the almost endless amount of San Dimas restaurants that show up when you search for something to eat in the area, it can feel like an overwhelming task to find the right restaurant to satisfy your cravings.
But have no fear, we are going to make your life a little bit easier. Our local guide has handpicked the 14 best restaurants that San Dimas has to offer.
The 12 Best San Dimas Restaurants
Papas Best Sandwiches & More
Papas Best is serving up the best sandwiches in town and is one of my favorite San Dimas restaurants.
Every sandwich I have ever order has always been phenomenal. I have yet to order anything that I have disliked and the problem when I go here is that I get stuck trying to figure out what to order. Everything is just so good.
However time and time again I find myself going back to the Italiano. The sandwich is loaded with ham, capicola, pepperoni, salami, provolone and this garlic aioli that just ties everything together so wonderfully.
To top it off the prices are super reasonable!
1034 W Arrow Hwy Ste B San Dimas, CA 91773
Pho & Grill
Your search for the best Vietnamese restaurant in San Dimas can start and end at Pho & Grill. You can ask anyone in San Dimas and the surrounding areas where they can get the best bowl and pho and 9/10 people will point you here.
The broth is labored over for many hours and the result is something rich and flavorful and something that will nourish your soul.
If you are not in the mood for Pho they have a vast selection of other Vietnamese favorites including banh-mi, vermicelli, broken rice, egg rolls and much more.
Pho & Grill easily places on our list of best restaurants in San Dimas.
873 W Arrow Hwy San Dimas, CA 91773
Twisted Sage Cafe & Catering
Start your day at one of the best restaurants for breakfast in San Dimas. Located in an old Spanish style building, Twisted Sage is serving up some good ol' American food and is definitely a crowd-pleaser.
Some highlights of their menu include the breakfast burrito, french toast plate, croissant sandwich and the turkey avocado sandwich.
However, when I come here I find myself always coming back to the breakfast burger. They take an English muffin and stuff it with an angus burger and layer it with a hash brown, bacon, cheddar and jack cheese and of course a fried egg. It's wonderfully decadent and it is making my mouth water, just thinking about it.
433 E Foothill Blvd, San Dimas, CA 91773
Ocean House Fish Grill
When that craving for seafood hits, there's only place in town where you can reliably satiate those oceanic yearnings. Ocean House Fish Grill.
They have a huge variety of items ranging from coconut shrimp and lobster bisque to fish and chips to grilled mahi-mahi.
When I'm on a healthy kick, I usually order the salmon plate with Cajun seasoning and brown rice and kale slaw. It hits the spot and leaves me with a clear conscious. When I'm feel less than healthy, I'm all about the fish and chips. The fish is fresh and flaky and the tartar sauce that comes with it is quite lovely.
Ocean House is serving up some of the best food in San Dimas and we are hooked!
559 W Arrow Hwy, San Dimas, CA 91773
Lucky Elephant Thai Cuisine
Lucky Elephant Thai Cuisine is the best Thai restaurant in San Dimas and second is not even close. The food here is authentic as can be and is absolutely phenomenal.
You can put this restaurant up against and restaurant in Los Angeles' Thai Town and it could absolutely hold its own there.
If you are having a hard time navigating there huge menu, may I suggest the BBQ Pork Spare Ribs, the Pad Prik Khing, the Roasted Duck Curry and the Papaya Salad. I could keep naming things, but it would never end! There's no wrong order here. I'm sure after your first visit, you'll be back for more.
531 W Arrow Hwy San Dimas, CA 91773
Pozzetto Italian Dining
Pozzetto has firmly established itself as the best Italian restaurant in San Dimas and most locals will gladly back up that statement.
Here's a recipe on how to have a spectacular meal at Pozzetto. Wet your appetite with the minestrone soup, garlic cheese bread or the fried calamari. When you are ready for the main course, spring for the chicken tequila or the spaghetti with meatballs, two of the most popular dishes, which are brimming with flavor and goodness. Make sure you leave some room for dessert because you need to try their cannoli or tiramisu, two dessert that will blow your socks off and end your meal properly.
114 W Bonita Ave, San Dimas, CA 91773
Show Sushi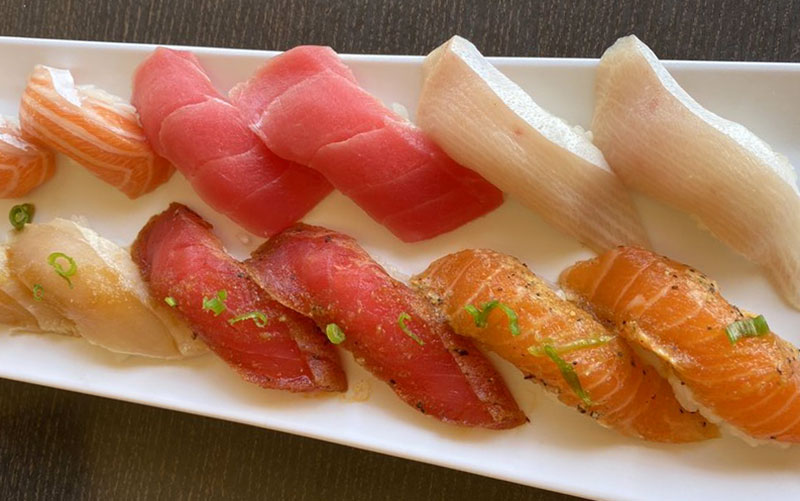 Show Sushi is one of the best sushi restaurants in San Dimas and it's obvious that everyone else agrees, because we've never been here when its not filled with happy patrons.
Come with an empty stomach because this place is all-you-can-eat. While many ayce restaurant substitutes quality with quantity, the quality of the fish at Show Sushi is very fresh and very good.
The ayce menu is immense and includes: sushi rolls, hand rolls, baked rolls, tempura rolls, soups, salads, tempura, appetizers, carpaccio and of course sushi. You are not going to get bored with the selection here. There is just too much good stuff to order.
957 W Arrow Hwy San Dimas, CA 91773
Las Palmas Mexican Food
When you're in the mood for some flavorful and authentic Mexican food, Las Palmas is your place. They are undoubtedly one of the best Mexican restaurants in San Dimas.
Their menu offers delicious options for breakfast, lunch and dinner. For breakfast you can't go wrong with their breakfast burrito which is stuffed with eggs, potatoes, four different cheeses and your choice of ham, bacon or chorizo.
For lunch or dinner, the chile relleno, enchiladas and the chile verde are solid options, as well as the head turning fajita platter or the carnitas plate. Whatever you order, just know that you are going to be served something super delicious and made with sincerity and love for the food.
662 W Arrow Hwy San Dimas, CA 91773
Rail Side Cafe
Rail Side is one of the best restaurants in San Dimas for a quick and tasty breakfast.
They not only serves up some of the best coffee and espresso in town but also some of the best breakfast as well.
On their menu you will find smoothies, pastries, bagela, sandwiches, waffles, croissants, wraps, bowls, paninis, soups and salads and lots more.
Order an invigorating latte and order their hearty 'Locomotive', which is a croissant that is stuffed with bacon, sausage patty, 2 scrambled eggs and slathered in country gravy. It's the perfect way to start the day!
322 S San Dimas Ave, San Dimas, CA 91773
Himalayan Cafe
One restaurant we ALL agreed had to be on our guide to the best San Dimas restaurants is Himalayan Cafe.
Nepalese and Tibetan food is severely underrepresented in Los Angeles county and I can only name you a couple off the top of my head and it's a shame because the food is so freaking delicious. If you never had it, its very similar to Indian food with some Chinese influence in it.
If you are not sure what to order from here, come for the buffet. They put out a nice selection of entrees, soups, salads and appetizers, so you can try everything. One thing I suggest you do is to get the garlic naan bread and dip it the tikka masala, it's just bliss!
This is also a very vegetarian friendly restaurant and they have many wonderful options without meat.
133 E Bonita Ave, San Dimas, CA 91773
Butter Cafe and Bakery
Butter Cafe has been around since 2015 and has firmly established itself as the best breakfast and brunch restaurant in San Dimas.
Their menu contains all your breakfast favorites including avocado toast, french toast, chicken fried steak, huevos rancheros and much more.
Our favorite is the breakfast burrito which comes stuffed with eggs, tater tots, cheddar cheese, beans tomato, jalapeno, avocado and your choice of meat. Its quite possibly the best breakfast burrito in San Dimas and it's a hearty way to start the day and you might want to consider getting a shot of espresso or coffee with it.
671 E. Bonita Ave. San Dimas, CA 91773
Map of The Best Restaurants In San Dimas