With the almost endless amount of El Segundo restaurants that show up when you search for something to eat in the area, it can feel like an overwhelming task to find the right restaurant to satisfy your cravings.
But have no fear, we are going to make your life a little bit easier. Our local guide has handpicked the 12 best restaurants that El Segundo has to offer.
The 12 Best El Segundo Restaurants
Kagura
If you are looking for the best tonkatsu in Los Angeles, look no further than Kagura, one of the best Japanese restaurants in El Segundo.
This place has captured the hearts, mouths and stomachs of everyone that has had the pleasure of eating their food and Kogi's Roy Choi even featured it his food vlog.
If it's your first time coming here, you definitely need to get their deep fried Kurobuta tonkatsu gozen. It comes out with the perfect crust and the meat is tender and juicy. It is ridiculously good and a great way to be introduced to Kagura.
Besides the tonkatsu, they have an extensive menu which includes sushi, sashimi, udon and soba noodles. Something for everybody, even the pickiest of eaters.
403 Main St, El Segundo, CA 90245
Caló Kitchen + Tequila
We couldn't write a guide to the best restaurants in El Segundo without including, Caló Kitchen, who is known for their amazing modern take on Mexican food.
Get their chips, guacamole and one of their signature margarita, there is no better way to start a meal and to awaken your taste buds for the things to come.
When you are ready for the main course, the short rib enchiladas, crispy carnitas or their rib-eye tacos can't be beat.
Don't forget to save room for dessert— the churros are absolutely amazing!
Jame Enoteca
It's not hard to argue that Jame Enoteca is one of the best Italian restaurants in El Segundo and anyone that's ever been here can back up that statement.
Everything here is absolutely incredible. You can blindly pick anything off the menu and be confident that it will tasty as hell.
While everything is fantastic, I always seem to come back towards the impeccable Paccheri, which comes with spicy pork sausage sugo, fennel, sage and pecorino.
They have an awesome lunch special too which comes with a drink, a starter and a pasta for around $21.
241 Main St, El Segundo, CA 90245
Little Sister
Located inside The Point shopping mall, Little Sister is serving up some really tasty modern Vietnamese food in an upscale eatery.
You can't go wrong with the shaky shaky beef, cubes of super tender beef that marinated and seasoned to perfection and served with a super flavorful rice.
The banh xeo is another highlight of the menu and comes out crispy and harmoniously unites with the prawns, pork belly and bean sprouts and herbs.
830 S Pacific Coast Hwy The Point El Segundo, CA 90245
Ali'i Fish Company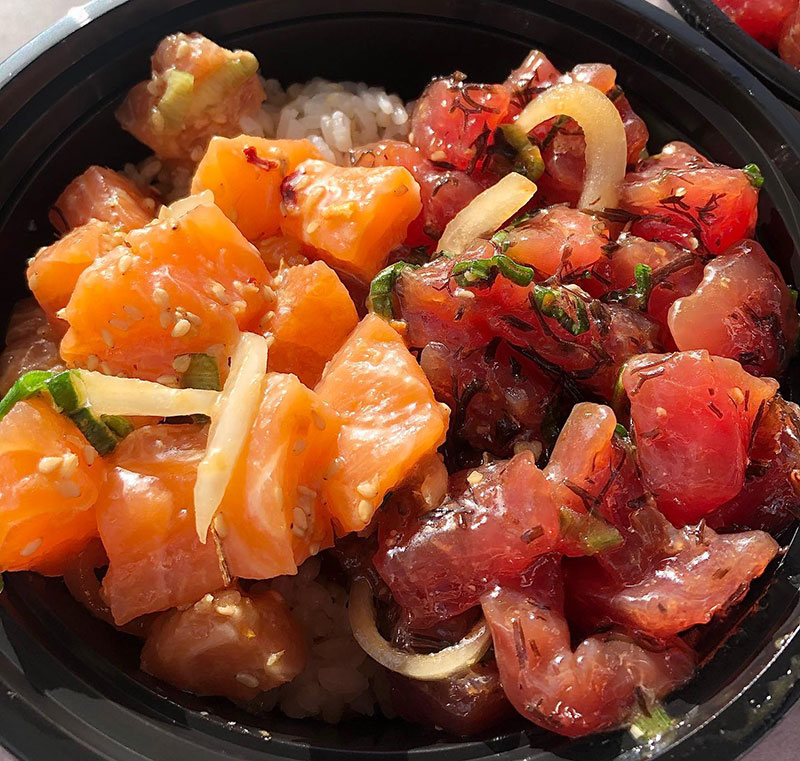 Ali'i Fish Company is one of our favorite El Segundo restaurants and they serve up the best poke bowl in town and second is not even close.
They are committed to providing their customers with a quality product and that is why all their fish is sourced and delivered fresh from Hawaii everday.
Once you dig into their poke bowl you will immediately noticed the difference. The fish is incredibly fresh and flavorful and the taste will make you think you are in Hilo, Hawaii eating at a fish market.
409 E Grand Ave El Segundo, CA 90245\
Fogo de Chão
Vegetarians and Vegans should skip to the next restaurant, Fogo de Chao is a meat eaters paradise.
It's a Brazilian churrascaria where servers bring around different types meats and serve you straight from the table.
They also have a great salad bar where you can load up on a lot of tasty sides. You might want to fast for at least 12 -16 hours before eating here, because you will be consuming a dizzying amount of food.
Fogo de Chão is definitely one of the best places to eat in El Segundo.
2121 Rosecrans Ave Suite 1399, El Segundo, CA 90245
North Italia
One of the most well-known and frequented Italian restaurants in El Segundo, North Italia is located in the thriving The Point shopping center and has been serving up some of the best Italian cuisine in town.
North Italia's extensive menu is filled with incredible offerings and some highlights of their menu include their signature meatball sandwich, bolognese pasta and their Margherita pizza.
They also have a great bar program with incredible craft cocktails and an extensive wine list.
With is trendy interior and ambiance, North Italia makes an excellent choice for a special occasion or date night.
840 CA-1 #110, El Segundo, CA 90245
SAUSAL
It's not hard to argue that SAUSAL is one the best modern Mexican restaurants in El Segundo. They have incredibly tasty food and drinks, an attentive wait staff and a super welcoming dining environment.
When you come here you should awaken your taste buds with some chips and their freshly made guacamole or their Ceviche Mixto, which comes with shrimp, calamari and fresh fish.
When you are ready for the main course, the Arroz con Pollo, the Pork Chili Verde or the Chicken Enchiladas with cashew mole are a few of the standout entrees that have patrons coming back time and time again.
Save some room for dessert because that sticky date cake is the perfect way to end the meal here.
219 Main Street  El Segundo, California 90245
Marmalade Cafe
If you're asking around for the best breakfast and brunch restaurants in El Segundo, Marmalade Cafe will inevitably come up in the majority of the answers.
Their sizable menu is nicely balanced with a variety of all your breakfast favorites and some more creative offerings including, chicken and waffles, dark chocolate macadamia nut pancakes, breakfast burritos and crispy short rib has.
If you aren't in the mood for breakfast they also serve lunch and dinner, where you can get soups, salads, sandwiches burger, steaks, pot roast and much much more. There is something for everybody here.
Marmalade Cafe is definitely one of our favorite El Segundo restaurants that we frequent at least once a week.
2014 Park Pl El Segundo, CA 90245
True Food Kitchen
If you are looking for something healthy and that will not make you hate yourself afterwards and will leave you with a clear conscious, True Food Kitchen is the restaurant for you.
Located inside The Point, True Food is serving up healthy foods, salads, vegan and vegetarian options, with a seasonally driven menu that focuses on using only fresh and quality ingredients.
If its your first time here, you can't go wrong with the roasted brussell sprouts, the ancient grain bowl, the butternut squash pizza or their vegan double cheeseburger.
True Food Kitchen easily places on our list of best El Segundo Restaurants.
860 Pacific Coast Hwy Suite 100, El Segundo, CA 90245
Britt's BBQ
Britt's BBQ planted its roots in 2009 and has firmly established itself as the best barbecue restaurant in El Segundo
They offer a wide range of juicy meats to choose from including St. Louis ribs, pulled pork, brisket, trip tip and smoked fried chicken, which is juicy, full of flavor and has become my favorite thing to order here.
They also have plenty of great sides to go with your meats, but you definitely need to try the cornbread, it is out of this world delicious!
408 Main St, El Segundo, CA 90245
Hopdoddy Burger Bar
Located in The Point, Hopdoddy is the perfect restaurant when you just want a good burger and a beer.
Their menu has something for everybody and offers options for beef, turkey, vegan, bison, tuna or chicken burgers.
Hopdoddy takes a traditional burger to another level. Take for instance, their Bacon Jam burger, which comes with 2 beef patties topped with white and yellow American cheeses and house-made tomato bacon jam.
Their El Diablo burger comes with Tillamook pepper jack cheese, roasted habaneros & serranos, caramelized onions, salsa roja and chipotle aioli sauce.
They also have a nice selection of fries, ranging from sweet potato to truffle to bbq ranch.
830 South Pacific Coast Highway Boulevard, #116, El Segundo, CA 90245
Map of the Best Restaurants in El Segundo