Leslie Bega became well known in the late 1980s and early 1990s for her roles in various television shows, especially Head of the Class. But what has she been up to since then? Is she still acting?
Read on to get all your answers to the question, "whatever happened to Leslie Bega from Head of the Class?"
Early Days
Leslie Bega was born Leslie Rae Bega in Los Angeles, California. Growing up near Hollywood, where she would eventually make her name, Leslie had a Sephardi Jewish father and Russian Jewish mother, giving her Jewish heritage.
Leslie's grandparents came to the U.S. from Spain, and her parents tried to instill a sense of multiculturalism in her. She attended the Lycée Français de Los Angeles ("French High School of Los Angeles") and graduated valedictorian, giving her the grades needed to attend the University of Southern California.
At USC, Leslie majored in cinema with a minor in drama. During her childhood and undergraduate studies, she worked on honing her acting skills, landing roles in a variety of TV movies and TV series, including a role as a dancer in Breakin' 2: Electric Boogaloo and a small part as a girl in a Twilight Zone episode ("Dead Woman's Shoes").
In 1986, at nineteen years old, Leslie got her biggest break yet with the sitcom Head of the Class.
Head of the Class
Head of the Class ran from 1986 to 1991 on ABC. The series followed a group of promising students in the Honors Program at Millard Fillmore High School (a made-up school) in Manhattan. The lead actor was Howard Hesseman in the role of history teacher Charlie Moore.
Leslie Bega played the role of Maria Borges, a student exceedingly passionate about getting good grades. This must have been an easy role for Leslie, as she became valedictorian of her own high school around this time. In the pilot episode, Leslie is so upset about getting a "B" that she even grounds herself.
Many well-known actors appeared on the show, including Ke Huy Quan of Goonies and Indiana Jones fame. Leslie even starred opposite a then-unknown Brad Pitt in one episode.
After Head of the Class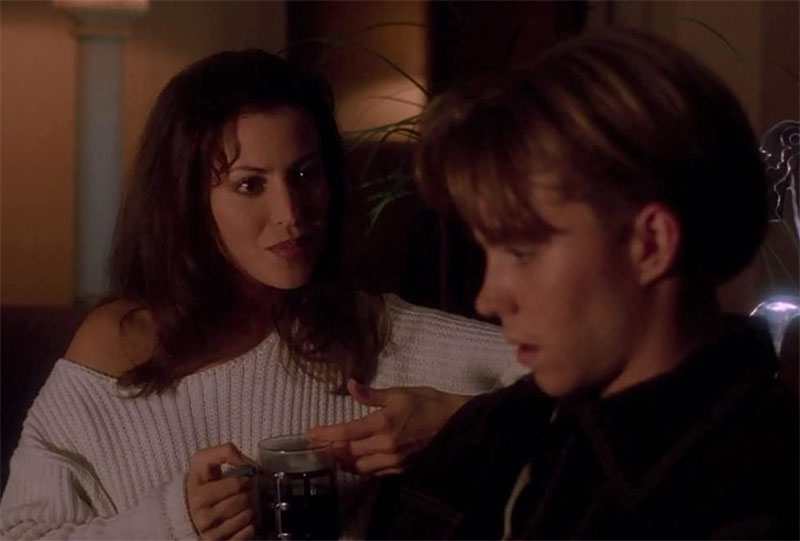 Although she was busy attending USC during her time on Head of the Class, this didn't stop Leslie from pursuing acting as much as possible. After Head of the Class's cancellation, she appeared in TV shows such as Beverley Hills, 90210 and 21 Jump Street, meaning she acted aside actors such as Brian Austin Green, Richard Grieco, and Johnny Depp.
After a few years of not receiving any acting credits (1992-1994), Leslie returned with an appearance in an episode of SeaQuest 2032 and the film Get Shorty, starring Danny DeVito, John Travolta, Rene Russo, and Gene Hackman.
Leslie would continue to work with big names in Hollywood. For example, in 1997 she appeared in David Lynch's Lost Highway. She got another big break in the early 2000s with recurring roles in CSI: Crime Scene Investigation and The Sopranos, in which she played Leah and Valentina La Paz, respectively.
The Sopranos
On The Sopranos, Leslie appeared in 7 episodes as Valentina La Paz. Initially Ralph Cifaretto's girlfriend, Valentina meets Tony Soprano and they have an immediate spark. After they get intimate, Tony says he doesn't want to see her anymore due to her relationship with Ralph. After marital troubles, Tony ends up dating Valentina. She ends up getting badly burned in a cooking accident, however, and this spells the end of their relationship (and Leslie's guest role on the show).
She had a few other guest roles on TV shows in the 2000s, including CSI: NY, Nip/Tuck, and American Dad. Her last acting credits came in 2011, although she also made a cameo in Quentin Tarantino's Once Upon a Time in Hollywood (2019).
What Is Leslie Bega Doing Now?
Thanks to her early start in Hollywood and consistent work for about two decades, Leslie has had the chance to travel the world and try different things. She studied the culinary arts at the Cordon Bleu and also became licensed in homeopathic medicine.
After working with Peak Finance in Beverly Hills, she established a second career in commercial and residential real estate. She has worked for Sotheby's International Realty, one of the biggest realtors in the world. She was featured on Bravo's Million Dollar Listing as well as HGTV's Selling LA.
In the early 1990s, Leslie met Jon Farriss, the drummer of the Australian rock band, INXS. They married in 1992 and divorced in 1999.
Leslie is passionate about yoga and has a variety of headshots and yoga pictures on her website.