Madeline Zima is a film and television actress who has worked steadily since she was a child and is known for her role as Grace Sheffield on The Nanny and later as Mia Lewis on Californication.
She was born on September 16th, 1985, in New Haven, Connecticut to Dennis and Marie Zima.
Her mother Marie studied acting in school and was a dancer. She would own her own dance studio and teach dance lessons and would often act in the local theaters.
Madeline Zima, for a time, lived in Santa Clarita, California, and was home-schooled through the Laurel Springs Home School Program.
Acting Career
Madeline got her start in the entertainment industry when she was two and half years old. She got booked for a Downey commercial after her mom took her to an audition
"But anyway, my mom just randomly took me. She grew up super poor. She was the oldest of seven kids, and they were fighting for food in her house. And she was just trying to set I mean, it was a fluke. She took me on an open call and I booked it. And it was like, back in the day, you could make close to 100 grand on a national commercial."
And she mentioned that she landed the commercial, because she was the only baby that wasn't crying.
Madeline and her sister Vanessa may have had a small, un-credited role in Woody Allen's Alice (1990) as children. Still, there is no record of this on IMDB.
The first official role in her filmography was the 1992 film The Hand that Rocks the Cradle, which had its title taken from an 1865 poem by William Ross Wallace. The movie was a box office hit and it propelled Madelina into the Hollywood spotlight.
Following the movie, Madeline Zima would appear in a 1993 episode of Law & Order and then, from there, would land her most significant role on a popular sitcom, The Nanny (1993).
The Nanny
The Nanny was a significant role for young Madeline Zima. She took on the part of Grace Sheffield while simultaneously filling in on other TV shows and movie projects.
The Nanny would air from 1993 to 1999, and Madeline Zima would appear in all 145 episodes of the show. The character of Grace was the youngest child of the Sheffield family and had a strong bond with Fran Fine, her nanny, played by Fran Descher. She would also costar along with Nicholle Tom, who played her sister Maggie.
Madeline Zima would continue to make notable appearances in other film and television projects, including the Hilary Duff romantic comedy A Cinderella Story (2004) and in shows like King of the Hill in 2001, 7th Heaven in 2003, and Grey's Anatomy in 2007.
Californication
Madeline Zima would land two substantial roles in the late 2000s. In the first, she played Mia Lewis in the television series Californication from 2007 to 2011.
She would appear in 28 episodes of this drama series starring David Duchovny.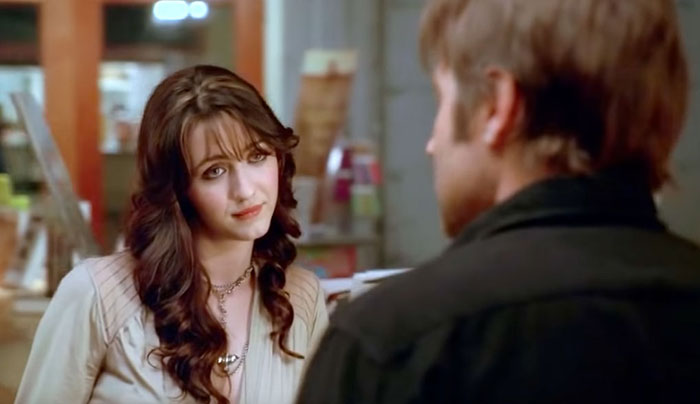 Her character would steal the book idea from main character Hank Moody and continually hang their forbidden sexual encounter over his head.
Many fans of the show praised her portrayl of the character. One fan said "she is a brilliantly written and acted character, most of all she is completely human."
Heroes
She would also make an important appearance across ten episodes of the superhero drama Heroes as Gretchen Berg, from 2009 to 2010.
She would play the roommate of series lead Hayden Panettiere.
Twin Peaks
She would also appear in the first two episodes of the critically acclaimed continuation Twin Peaks: The Return (2017).
What is Madeline Zima doing now?
Madeline Zima is still regularly acting in film and television. She most recently appeared in the television series Perry Mason (2020), NCIS: Hawaii (2021), and Hacks (2021).
As far as her film career goes, she has recently been seen in Bombshell (2019), Bliss (2021), and Insight (2021).
She is currently in production of the series Grendel, playing the character Liz Sparks. This series will be based on the Dark Horse comic.
On September 23, 2022, Madelina shared on Instagram that she will be playing the part of Casey Brinke on the new season of the HBO show Doom Patrol.
Madeline mentioned on a podcast that she loves acting and being on the set and couldn't imagine doing anything else for work.
I still love it. I was just going to be on a set a couple of weeks back during the quarantine times, and I just love it. There's nothing like just getting to sit with people that you would otherwise never meet, hear about their lives, hear about their stories, ask them questions. Like, I love humans, and I love connecting with humans, and there's something about a set environment that is just my sweet spot, and I want to do that the rest of my life. When I think about doing anything else, it makes me incredibly broken hearted. And it's like being in love with somebody who will never really love you back.
Beyond her acting work, Madeline is known to sing and play guitar. She also learned to play the violin for a role. She also is known to go on horseback rides and enjoy snowboarding. She also writes screenplays.
Personal Life
(photo)
Madeline Zima is a very private person, so her relationship history is unknown. She does not seem to be dating anyone, and we would have no way of knowing if she has dated anyone.
There were rumors she had a relationship with Heroes co-star Hayden Panettiere, but that was denied, though Zima acknowledged their on-screen chemistry.
There is no indication that Madeline Zima is married, nor is there a record of her dating history.
As Madeline Zima is private about her life and relationships to a large degree, there is no evidence that she has had any children.
Siblings
(Vanessa and Yvonne Zima)
Madeline Zima has two siblings who are both actresses. Yvonne Zima was born January 16, 1989, in Phillipsburg, New Jersey, and is known for Iron Man 3 (2013), The Nice Guys (2016), and The Long Kiss Goodnight (1996).
Vanessa Zima was born December 17th, 1986, in Phillipsburg, New Jersey, and is best known for Ulee's Gold (1997), Zoe (2001), and The Baby-Sitters Club (1995). Given their respective dates of birth, Madeline Zima is the eldest of the siblings.
Madeline Zima has two official social media accounts. She has an Instagram account where she posts photos of her work and the things she experiences.
She also has a Twitter account which she tends to update more frequently than her Instagram account.