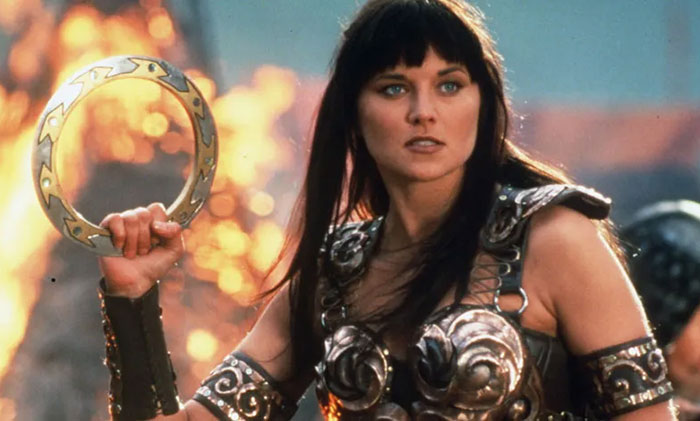 We all love a great fantasy show to take us away from reality. One series that dominated the genre in the 90s was Xena: Warrior Princess. 
The amazingly strong lead female left us with an iconic character that legions of fans look up to still today. But what has Lucy Lawless been up to since she last threw her chakram?
Background info
On March 29th, 1968, in Mount Albert, Auckland, New Zealand, the powerhouse that is Lucille Francis Ryan made her debut.
Known to fans as Lucy Lawless, she was born to parents Julie (Haynes) Ryan, a teacher, and Frank Ryan, a banker and Mayor of the city of Mount Albert, as the fifth of six children in the family.
Lucy first found her love of performing at ten years old when she acted in her school's musical, and she's never stopped.
Lawless went to Marist College in Auckland before going on to Auckland University to graduate with a Degree in Languages.
Acting Career
Lawless got her start on screen in the comedy sketch series Funny Business in 1989.
The early 90s saw Lucy in films like A Bitter Song and The End of the Golden Weather, and in guest appearances on shows like Shark in the Park and For the Love of Mike and in TV movies like The Rainbow Warrior and Typhon's People.
Hercules
In 1994 Lawless snagged a spot in the TV movie Hercules and the Amazon Women, which would serve as the pilot for the then upcoming Hercules show.
Lucy appeared in two episodes of that show, which was titled Hercules: The Legendary Journeys.
That's when things started to really take off for her. She initially played the character Lysia for one episode, then played Lyla for two episodes, but then played the role of Xena for six.
Thanks to her time on Hercules she was able to grab the title role in the spin-off Xena: Warrior Princess.
Xena Warrior Princess
Lucy's time to shine was as the strong female lead in Xena: Warrior Princess. Seeing how well-liked her character was on Hercules, a spin-off show was immediately put in the works.
Along with her sidekick Gabrielle, played by Renee O'Connor, Xena tried to correct her dark past that was seen while on Hercules by completing missions that would bring good to the world.
But just because Lawless played Xena in Hercules didn't guarantee her the role in the spin-off. The part was initially for Weird Science (the TV show) leading lady Vanessa Angel.
Due to an illness, Angel wasn't able to do the show, so they went to the next in line – which was actress Kim Delaney.
Once she passed on the part and things started to look dire, they finally thought of Lawless.
So, at only in her late 20s, Lucy Lawless "filled in" and was put front and center for 134 episodes across six seasons as the warrior princess.
Citing ratings – yet the final two seasons ranked #2, so, nice try – the show was canceled and Lawless donned the boots for the last time in 2001.
But that doesn't mean the memory of Xena has died. She lives on, especially in the lesbian community.
Due to Xena and Gabrielle's relationship on the show, they have been solidified as queer rights icons, and are still huge role models. Lawless and O'Conner didn't think about or notice it happening in the moment, but are proud to be such powerful gay icons.
What did she do after Xena?
Lucy kept the momentum going after Xena, appearing in two episodes of The X-Files in 2001.
Lucy found a seven-episode home on the show Tarzan in 2003, starring Travis Fimmel, where she played Kathleen Clayton. She then appeared in horror movies like feature film Boogeyman in 2005, and TV horror movies Locusts and Vampire Bats, where she portrayed Maddy Rierdon in both films.
Lawless gained another mass following when she appeared in the series Battlestar Galactica from 2005 until 2009.
She had a reoccurring role of the Humanoid Cylon Model Number Three, also known informally as D'Anna Biers. For 16 episodes Lawless joined the cast of the militaristic sci-fi series in the battle for humanity.
Other TV appearances for Lucy included episodes on shows like Veronica Mars, Burn Notice, Curb your Enthusiasm, CSI: Miami, and The L Word. 
On the feature film side, Lawless made a fun cameo appearance in the 2002 Spider-Man movie as a punk rock girl.
She also was in the 2004 teen comedy EuroTrip, lent her voice to the animated film Dragonlance: Dragons of Autumn Twilight, and voiced Wonder Woman for the 2008 animated movie Justice League: The New Frontier.
In 2010 Lucy had a main role as Lucretia in Spartacus: Blood and Sand and reprised her role for the 2011 prequel series Spartacus: Gods of the Arena. Lucy came back again for the second season of Spartacus: Vengeance in 2012.
On the funnier side, Lawless flexed those comedic chops for 10 episodes of Parks and Recreation from 2012 until 2014.
She also had a reoccurring role on the horror series Salem for 15 episodes from 2015 until 2017, and in the critically acclaimed and award-winning comedy/horror series Ash vs. Evil Dead from 2015 until 2018.
What is Lucy Lawless doing now?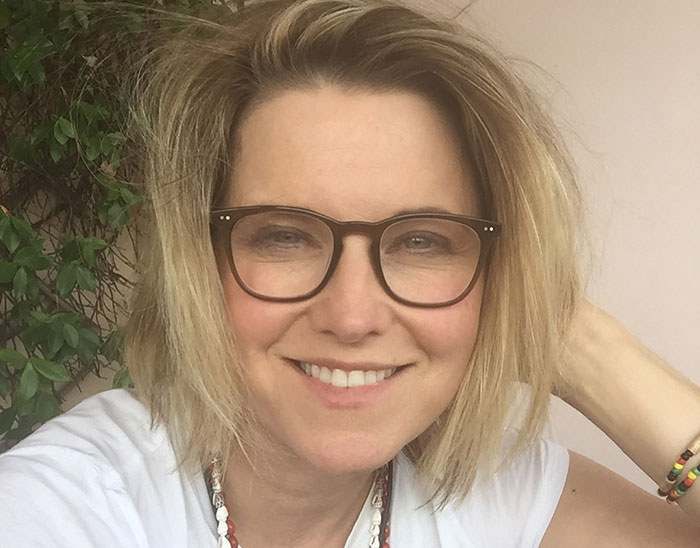 Even though Lucy could have retired from fame by now, she is still acting. She just voiced Nun-chuck in Minions: The Rise of Gru in 2022 and is currently working on season three of the show My Life is Murder, where she plays main character Alexa Crowe.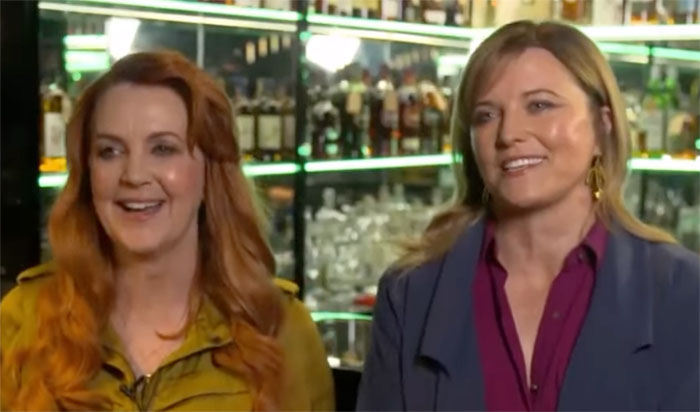 Lawless had a little Xena reunion with Renee O'Connor who had a guest appearance in season one of the show.
Lucy also likes to have fun at work in other ways and has been a guest judge on RuPaul's Drag Race a few times.
Return to Xena?
How does Lucy feel about a possible return to her iconic role? Though she will always appreciate what the character did for her, Lucy doesn't think stepping back into the Greek god's boots will ever happen.
It's a physically demanding role that Lawless doesn't feel she could do anymore – unless they want to turn it into a comedy. But the star doesn't think they'll ever find that magic formula that made the original so special.
If you ever wondered if Hercules, played by actor Kevin Sorbo, and Xena were friends in real life – the answer is no.
The pair have a decades-long fiery feud that has been lit as recently as the 2021 January attacks on the White House where the two had a back-and-forth Twitter exchange that wasn't so friendly.
Though Lucy doesn't have any warm feelings towards Sorbo, he takes every chance he gets to dig at the Xena goddess.
In any free time she has left, Lucy makes appearances in the courtroom regularly. Like all of us, she is fascinated with court drama and trials and will go sit in the courtroom as a regular member of the public to watch things unfold.
She even was there in the room during the bail hearing for Jeffrey Epstein. Hey, we get it and would do the same thing if we had the time.
Personal Life
Lucy's first big relationship came in the form of Garth Lawless. The pair were working in the Australian outback, fell in love, and got married in 1988.
Returning to New Zealand, the couple had a daughter, Daisy Lawless, who was born that same year. Unfortunately, the whirlwind didn't last, and the pair divorced in 1995.
But Lucy gave love another shot in 1998 when she married Robert G. "Rob" Tapert, who was an Executive Producer on Xena and Pacifica Renaissance Pictures CEO.
They have two sons, Julius Robert Bay Tapert, and Judah Miro Tapert, who were born in 1999 and 2002.
Their first son was actually written into the show. Well, while he was still in his mom's belly, as Lawless was pregnant with her and Tapert's first child while filming the fifth season.
Even though it was a little awkward, as Xena had no love interest on the show, both Lucy and Xena gave birth to healthy children that year.
While we may not see Lucy swing Xena's sword again, we can always rewatch the show whenever we want.
But it looks like Lucy Lawless will still give us great performances in other genres for years to come, and we can't wait to watch.