Colombe Jacobsen-Derstine is an actress and chef, best known for her role as the goalie, Julie Gaffney, in the Mighty Ducks franchise.
Colombe was born in Chicago on December 21, 1977. While she spent her childhood working as a teen actress, she also found the time to attend and graduate from the renown Sarah Lawrence College in Yonkers, New York.
Acting Career
Rookie of the Year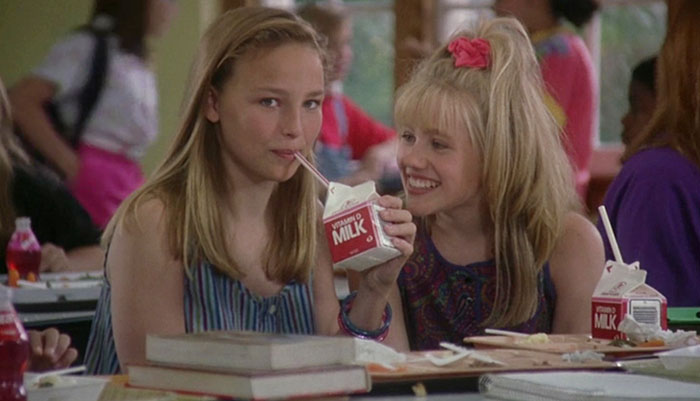 Colombe's first acting role was at the tender age of 16, when she played Becky Fraker in the 1993 sports comedy Rookie of the Year.
The Mighty Ducks Franchise
The role that actually put Colombe on every millennial's radar was in her following sports movie as Julie "the Cat" Gaffney, the goalie for the famously nostalgic ice hockey team, the Mighty Ducks.
During filming for the movie, Colombe was taught how to actually ice skate for her part, a skill she maintains to this day.
While the original Mighty Ducks movie, as well as the two sequels (D2: The Mighty Ducks and D3: The Mighty Ducks) all got terrible reviews by critics, they live strong in millennials' hearts.
Colombe is regularly recognized on the streets of New York for her teen role.
Men in Black 2
In the sequel to one of the funniest films
from the early '00s, Colombe plays Hailey, a video store clerk in Men in Black 2. A minor role, it helped support her while going to school.
Moonlight Mile
The same year, she played Patty (another minor role) in the movie Moonlight Mile, a movie based on the true story of an actress' murder by an obsessed fan.
Colombe got to act on set with big stars like Jake Gyllenhaal, Dustin Hoffman, and Susan Sarandon.
The Living Wake
Her last acting credit was a 2007 movie called The Living Wake. In it, Colombe goes out-of-character and plays, of all things, a prostitute. She described the role as "very comedic."
What did she do after acting?
As an adult, Colombe enrolled herself in the Natural Gourmet Cooking School in New York City. She worked for Slow Food New York City and Sabra Mediterranean Foods, focusing on recipe development. She is now a successful chef.
While she didn't start really cooking until her last year of college, Colombe was inspired by her mother who was into a macrobiotic diet, which focuses on whole grains and vegetables.
Another inspiration she cites in her love for cooking is the Vietnamese cuisine scene in Minneapolis, where she worked shooting Mighty Ducks.
The Next Food Network Star
Around 2007, a student suggested Colombe audition for The Next Food Network Star. It was a great opportunity to marry her two passions – cooking and acting – and spread her healthy eating knowledge.
However, reality shows were unknown to Colombe in her career and she admits she didn't realize what she was getting into.
In an interview, she admits, "If I had known, I probably wouldn't have submitted a tape!" Her penchant for healthy cooking garnered her the moniker of "crunchy granola" on the show. She won the first challenge on the show and became a finalist.
Colombe has brought her passion for cooking to the community. She teaches in Harlem elementary schools, teaching the kids how to garden and educating them about different cooking ingredients.
Colombe also started a food blog, called Colombe du Jour, which has a catalogue of recipes as well as a list of her upcoming classes and events.
You can contact her for bespoke catering, tailored cooking classes, or product consultation.
Though she doesn't take up acting jobs anymore, Colombe did appear in Jon Favreau's 2014 movie Chef, where she played an uncredited role as Lisa.
What is Colombe Jacobsen-Derstine doing now?
While her face is no longer on our tv screens, Colombe still does some voiceover work for Oxygen Network in between meals. It's hard to tear her away from the kitchen, though.
She admits that the six weeks her kitchen was being renovated were some of the hardest to live through, as she had to eat out and couldn't cook!
On top of her occasional acting spots and when she's not helping her local community, Colombe also teaches core-fusion classes, blending yoga and pilates, at the Exhale Spa.
Mighty Ducks Reunion
In 2021, the old crew finally pulled together a Mighty Ducks Reunion, to the joy of many fans. It was a difficult feat, given the Covid pandemic.
The team had to quarantine for two weeks and then work on a two week-long shoot. A month-long commitment meant that Colombe didn't make the reunion. Neither did Joshua Jackson, Kenan Thompson, and several others.
Personal Life
Colombe lives in New York City with her husband, Jeffrey Lefleur. The couple have two children: a son, Xander, and a daughter, Delphine.