Quick Facts
Age: Madelyn is 22, Caleb is 24
Van type: Toyota Hiace Super Custom
Miles: 215,000 km
Time spent in van: Seven months full time living in the van, a year since we bought the van.
Birthplace:  Both born in Texas.
Relationship status:  Engaged
Occupation: Self-Employed
Average monthly expenses: $1200
Go-to van meal: Linguine, Parmesan, and chicken sausage.
Favorite parking spot: Anywhere with nice weather, but we especially love the beachside cliffs.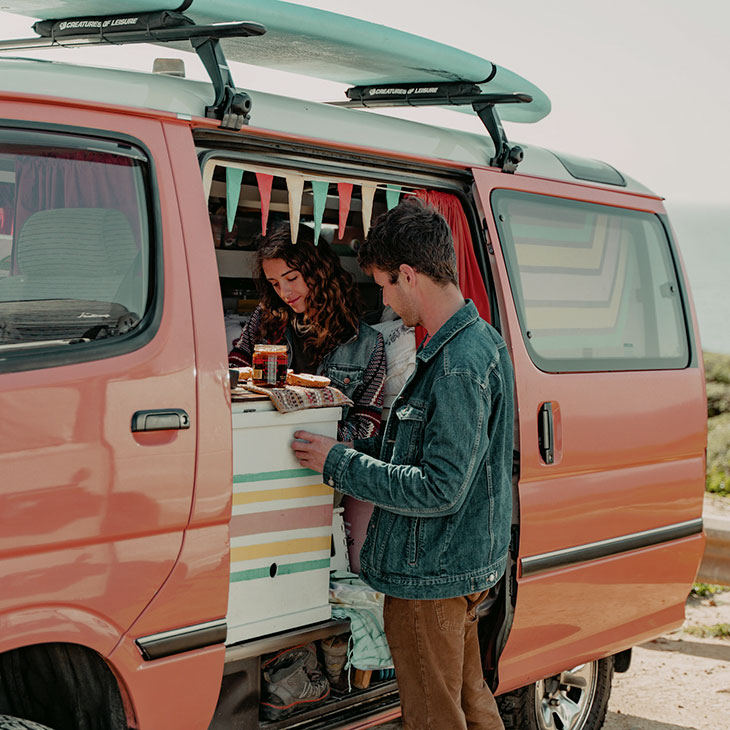 What were you doing before living in a van? 
Before the van, we lived in a small apartment. We quit our jobs to work fully for ourselves and start to build our brand. In those days, we would pack up our Fiat and drive across the country with a tent just to have some adventure.
Why did you get started in Van Life?
For us, van life was the best living conditions we could choose for the adventures we wanted to take. It made more financial sense for us to eliminate the bills from the apartment and stationary living. 
What's the best feature about your van?
The best feature of our van is easily the 4wd capability. It's allowed us to take this vintage beast into some rugged, wild places.
How do you make money?
We consider ourselves to be digital nomads. All of our income comes through the internet and that enables us to be location independent. The majority of that includes branding, marketing, and advertising work.
What are some challenges you face on the road?
For the most part, the challenges we face involve finding proper places to do the simple tasks. Every day is a routine of locating bathrooms, parking spots, places to cook, places to sleep, etc. It can feel overwhelming being on the move so much, but we counter that by spending quality time outside.
What has surprised you most about this lifestyle?
We've been most surprised by the wonderful community that exists among vandwellers. We thought van life would be a lonely road until meeting so many amazing people living this same lifestyle. Until you get out there and start your trek, you'll never see the others who are on that path. It was unexpected, but we found lifelong friends through our fellow nomads.
It's raining and you're stuck in your van for a full day. What do you do?
Since we wake up so early most days, rainy days seem to be the time to sleep in a little later. With the van being so tiny, we like to get out and stretch our legs. We would hit up a coffee shop and maybe hang out at the library. For us, the weather is a huge determining factor for our day and activities.
Do you have any tips, tricks or hacks for van life?
We've found that the best tips and tricks are found by the locals. If you start exploring a city and finding the heart of it, you'll run into people who are dying to share amazing advice about the area and region you're visiting. Countless times we've gone on amazing adventures from the advice of locals and even made new friends through the process.
What is the most essential item in your vehicle?
Our most essential item in the van would be our phones. We not only use them to find new adventures, but we work and share our journey through these devices!
If anything, how would you improve your vehicle?
If anything could be changed, we would probably choose to have a high top ceiling. With a tiny van, things already feel tight so that extra head space would make a huge difference.
What is the most rewarding thing about Van Life?
The most rewarding thing about van life is the new possibilities and experiences it opens up. We have made countless memories that would've never been possible without the freedom vehicle that is our van.
What kind of advice would you give to couples pursuing the van life?
For couples interested in pursuing van life together, the greatest advice we can share is to start camping first. Get the two of you adventuring and dealing with inconvenient situations and see how you handle the tiny living space (tent or vehicle). The quicker you figure out how to work together through the hectic parts of a nomadic life, the smoother you'll find your transition into van life.
What advice would you give to someone starting or thinking about starting Van Life?
For someone interested in getting into van life, we suggest going as minimal as possible! The less stuff you have weighing you down, the easier it'll be for you to travel and experience life. For us, van life wasn't about the van. It was about getting OUT of the van and into nature or the world around us. Finding comfort being outside of your van and exploring can make the lifestyle so much more fulfilling.
Follow Caleb And Madelyn on their van life journey here