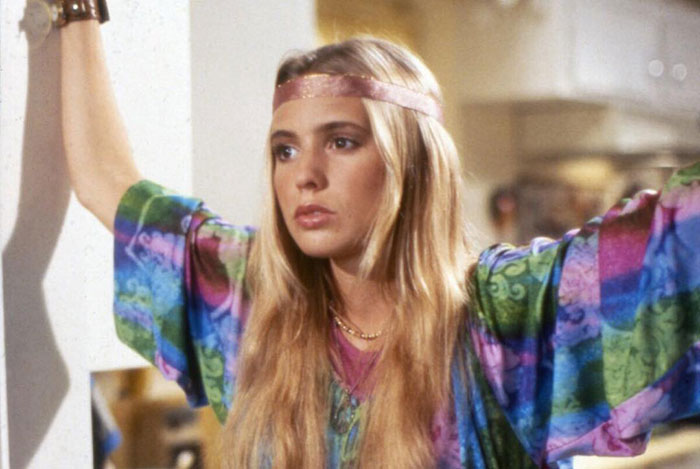 Olivia Jane d'Abo is an British actress who is best known for her roles in Conan the Destroyer and The Wonder Years.
She was born in London, England, on January 22nd, 1969 and is the daughter of Maggie London, a model and actress, and Mike d'Abo, a singer and songwriter from the musical group Manfred Mann.
Mike d'Abo was also a host for BBC Radio Bristol for a time. She has an older brother named Ben, two half-brothers, Bruno and Louis, and a half-sister, Ella.
She is also a cousin of Maryam d'Abo, a Bond girl from The Living Daylights (1987). The two lived together in a house when Olivia was 19 years old.
Her family relocated to the United States in the 1980s, and she and her brother Ben attended Los Feliz Hills High School in Los Angeles. Before that, she attended Pacoima Junior High School.
Acting Career
Conan the Destroyer
One of Olivia d'Abo's most notable roles was also her very first. At the age of 15, She appeared in the 1984 adventure film Conan the Destroyer in the role of Princess Jehnna.
The film was a box office hit starring Arnold Schwarzenegger as Conan and featuring Grace Jones, Wilt Chamberlain, and Mako.
Though d'Abo's role was a supporting role, it was enough to get her noticed. That same year she would appear in Bolero, a romantic comedy starring Bo Derek and George Kennedy. She would play the character of Paloma.
In 1986 she played the lead opposite future star Keanu Reeves in the film Teenage Dream.
The film was a form of after-school special dealing with a teen in crisis; in this film, the teen was a gymnast played by d'Abo injured in a car accident.
She would also begin appearing in television shows in Growing Pains in 1985 and 1986. She would have a steady stream of television appearances throughout her career.
The Wonder Years
In 1988 she was cast as Karen Arnold in the coming-of-age comedy The Wonder Years and would appear in 93 episodes from 1988 to 1993.
Karen would be involved with the hippie movement and themes reflected in the era of the show.
Star Trek: The Next Generation
d'Abo would also make a memorable appearance in a sixth season episode of Star Trek: The Next Generation in the episode "True Q." In this 1992 episode, her ensign character, Amanda Rogers, is suggested to be a Q, when the series' primary Q (John de Lancie) appears aboard The Enterprise.
Olivia d'Abo would continue to appear in film and television roles but would also begin a notable chapter of her career as a voice actress.
In 1994 she would voice act as Koharu in the American dub of Studio Ghibli's Pom Poko. That same year she would voice acting for more minor roles in Asterix in America.
Another early 1990s film she is mainly known for is Point of No Return (1993). She would play the character of Angela in the thriller starring Bridget Fonda, Gabriel Byrne, and Dermot Mulroney.
In the 2000s, she would guest star as a criminal mastermind named Nicole Wallace across five episodes of Law & Order: Criminal Intent.
What is Olivia d'Abo doing now?
Olivia d'Abo is still working and has over 110 credited roles on her IMDB entry. She seems to focus on smaller-scale or animated voice-acting projects.
Her most significant role was a brief voice cameo of Jedi Master Luminara Unduli in Star Wars: Episode IX – The Rise of Skywalker (2019).
She has voiced multiple animated projects and video games as well. She may be best known these days for her voice acting work in Star Wars and Batman animated projects.
Her most recent films include Traveling Light (2021), Staycation (2022), and Bandit (2022).
Olivia d'Abo is also a frequent convention guest due to her career associated with many comic and sci-fi adjacent properties.
She is also often invited to 90's centric conventions due to the height of her work being in the 1990s.
She was recently seen in Monroe, Alabama, and Las Vegas, Nevada. The latter was a Star Trek-specific convention.
Another way d'Abo continues to entertain fans is by making video greetings for them on Cameo. She can be hired to do birthday and holiday videos by fans of her science fiction and fantasy characters.
Olivia d'Abo, a musician, was featured on a podcast with Dan Miles called Every Friday with Dan and Olivia, but it seems to be on a hiatus after 130 episodes.
As for her music career, d'Abo had explored singing for a long time for films and soundtracks but has also released her work.
She has performed in clubs in Los Angeles and New York. She is also known for singing with Jon Bon Jovi and Julian Lennon.
Personal Life
Olivia d'Abo has been married once. It is unknown if she is currently dating.
She married songwriter, performer, and producer Patrick Leonard from August 2002 to 2012. Leonard, born in 1956, was best known for producing work with Madonna but has worked with a wide range of artists, including Elton John, Leonard Cohen, Michael Jackson, and Bryan Adams.
Olivia d'Abo was engaged to Julian Lennon, son of Beatle John Lenon, but their engagement ended in 1992.
She also was engaged to actor Thomas Jane in 1998 after the production of The Velocity of Gary (1998) but called off their engagement in 2001.
Oliva d'Abo has one child named Oliver d'Abo-Hurwitz, born in November 1995. He earned a BA in Philosophy at UCLA in 2018 and has cofounded, Logos, a decentralized news platform.