When the final episode of "Modern Family" aired in April 2020, fans were left wondering what the next chapter would hold for the talented cast, particularly Ariel Winter, who played the smart and quirky Alex Dunphy.
As one of the standout stars of the show, Winter's journey post-"Modern Family" has been one of exploration, growth, and continued success.
From taking on diverse acting roles to engaging in philanthropic endeavors, Ariel has proven that her talents extend far beyond the confines of the Dunphy household.
In this article, we will delve into the multifaceted career of Ariel Winter, shedding light on her artistic pursuits, personal development, and the inspiring path she has carved for herself since leaving the beloved sitcom that made her a household name.
Background Information
Born Ariel Winter Workman, Winter grew up with Greek and German parents who had long been involved in the film industry.
Her birthday is January 28th, 1998. Her older siblings, Jimmy Workman and Shanelle Workman are both actors as well.
Because of her family's connections to the big screen, she first appeared on television at the young age of four when she received a part in a Cool Whip commercial. By age seven, she was ready to tackle bigger projects.
Acting Career
In 2005, Winter began taking roles in earnest. Her first film credit is Kiss Kiss Bang Bang, in which she played Young Harmony Faith Lane.
Winter was only seven at the time but must have impressed those in the field because she soon had parts in a variety of television shows. Including Listen Up!, Tickle-U, and Freddie.
Eventually progressing to mainstream series like Monk, Nip/Tuck, Criminal Minds, Ghost Whisperer, and ER.
Modern Family
By the seasoned age of eleven, Winter had won her first recurring role. She received the part of Alexandra Anastasia "Alex" Dunphy on ABC's American family sitcom Modern Family.
Her character, Alex, was the middle child of Phil and Claire Dunphy. She is the "smart one" who is accomplished, high achieving, and a bit high-strung.
She is high achieving in school and tends to be very self-reliant, but she still enjoys messing with her family from time to time.
Her character is portrayed as nerdy but popular with the academic kids at her school.
She also has a few relationships throughout the series, growing up from an eleven-year-old to a twenty-two-year-old over the course of the show's eleven-year run.
Unfortunately, as Winter aged in front of fans' eyes, she occasionally received criticism. At one point, she was fat-shamed by fans.
Her body and style changed as she got older, and Winter alleges that for wearing a dress with cutouts at age thirteen, she was called a "fat slut".
She admits it was a rough time in her life, leading to her being put on antidepressants which caused her to gain thirty pounds.
Her chest size has long been a point of contention for her and her fans. In 2015, when she was twenty, she had a breast reduction, taking her from a size 32F to a 32D.
She only told a select few family and friends. Still, she stated that women in her family have a history of the surgery.
Winter only confided in Modern Family's Julie Bowen, who plays Claire Dunphy, even though she underwent surgery while still appearing in the television show.
She said Bowen was incredibly supportive. Since the reduction, Winter states that she has less pain and more confidence.
Voice Roles
Modern Family came to an end in 2020. Winter had been working in various other roles during the series and after. Notably voice acting roles.
Winter lent her voice to Jake and the Neverland Pirates for fifteen episodes. Then, she received the main role of Sofia on the kid's series Sofia the First, which was later made into a movie. She is credited with 109 episodes of the show.
Other voice roles include Milo Murphy's Law, Robot Chicken, Elena of Avalor, and a handful of video games.
Films featuring her voice include Scooby-Doo! Stage Fright, Tad, The Lost Explorer, and Mr. Peabody & Sherman.
What is Ariel Winter Doing Now?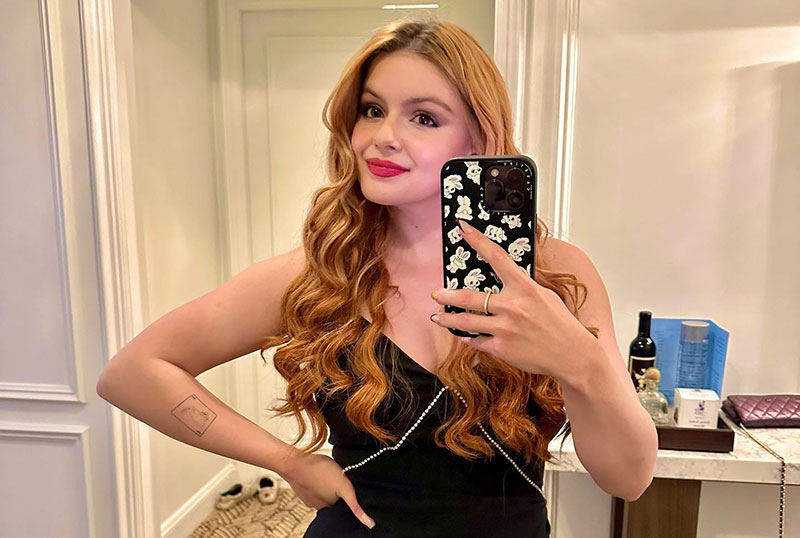 Ariel Winter has continued voice acting and on-screen roles in recent years. She provided the voice of Delaney in the animated comedy Pools and will voice Annie in the upcoming Don't Log Off.
Winter appeared as Teddy in the 2021 series Hungry, and has done voice work as Cole in the 2022 short Bully.
She also voiced the character Abigail Blyg in the 2022 video game The Quarry.
Also in 2023, Winter particpated in the reality competition "Stars on Mars," a series that premiered on Fox on June 5, 2023.
The show features celebrities living together in a base camp in Coober Pedy, Australia, designed to simulate life on Mars.
Winter also revealed that she had to leave Los Angeles due to the constant attention from paparazzi. She sold her LA home, claiming she was tired of having her space invaded by the paparazzi and sought a quieter life.
She purchased a new home in Nashville, Tennessee and She shares the home with her boyfriend, actor Luke Benward.
Benward is best known for his role in the movie Cloud 9 and was in a handful of other Disney productions. Together, Winter and Benward attended Modern Family co-star Sarah Hyland's wedding.
They are also proclaimed "dog parents" to five "fur kids," who she regularly posts about on her Instagram.
Family Issues
Winter's character Alex Dunphy had a happy home life in Modern Family. Unfortunately, in real life, the actress didn't have such an amicable relationship with her relatives. In 2017, she was emancipated from her parents. Specifically her mother, Chrisoula Workman.
It was alleged that Winter's mother sexualized her at a young age and abused her both physically and emotionally.
Winter still has a close relationship with her older sister, Shanelle Gray, who she said helped raise her in her mother's absence.
Winter moved in with Shanelle when she was just fourteen years old. Today, Winter and her mother are still estranged.