We all remember the iconic scene: a young girl, hair flowing in the Alabama breeze, urging her friend to escape the bullies: "Run, Forrest, run!" That girl, young Jenny Curran, was brought to life by the talented Hanna Hall in the 1994 blockbuster "Forrest Gump."
As the years passed and the spotlight shifted, many began to wonder: Whatever happened to Hanna Hall? In this article, we delve into the life and career of this talented actress, tracing her journey from the sun-dappled streets of Greenbow, Alabama, to her endeavors in Hollywood and beyond.
Early Days
Hanna Hall sounds like a stage name, but it's not! Born July 9, 1984, as Hanna Rose Hall, Hanna grew up in the mountains of Colorado until she graduated high school. After that, she lived in Hawaii and Los Angeles before attending the Vancouver Film School (in British Columbia, Canada),
This early period was when Hanna got her start in film. She was only seven years old when she went to an open casting call for Forrest Gump. After a few callbacks, Hanna was cast as "Young Jenny Curran." By the time the film came out in 1994, Hanna had only just turned ten years old.
This early start in acting would set the stage for future roles and a lifelong career in cinema, which we'll cover below. First, though, let's take a deeper look at Forrest Gump, Hanna's earliest, and arguably biggest, role.
Forrest Gump
Fresh off of A League of Their Own (1992) and Philadelphia (1993), the latter of which saw him win an Oscar, Tom Hanks kept the hits coming. Forrest Gump was released in the summer of 1994, and Major League Baseball went on strike that August, perhaps boosting ticket sales.
Known for its many iconic lines—e.g. "Life is like a box of chocolates. You never know what you're gonna get"—Forrest Gump won six Oscars, including Best Picture (beating out Shawshank Redemption and Pulp Fiction), Best Director, and Best Actor, netting Hanks a 2nd consecutive Oscar win. On a budget of $55 million, it grossed nearly $680 million at the box office, becoming a bona fide hit.
While Tom Hanks plays the titular character, Forrest, there are many other important roles. One of the most significant is Jenny Curran (played by Robin Wright), who serves as Forrest's childhood (and lifelong) love. We won't spoil the film, but she has a tragic part in the film. Hanna Hall was given the part of the young Jenny Curran, which was an intense role for a child. Her counterpart, the young Forrest, was played by Haley Joel Osment, who would go on to more big roles (like Sixth Sense).
At only nine years old, Hanna was awarded the Young Actors Award for her performance in Forrest Gump. The film was based on a novel of the same name by Winston Groom and became one of Robert Zemeckis' biggest hits (along with Back to the Future). Groom actually wrote a sequel called Gump & Co., though it has never been made into a film (nor has any other sequel been made).
You can find Forrest Gump on Netflix, while other streaming platforms make it available to rent or purchase.
After Forrest Gump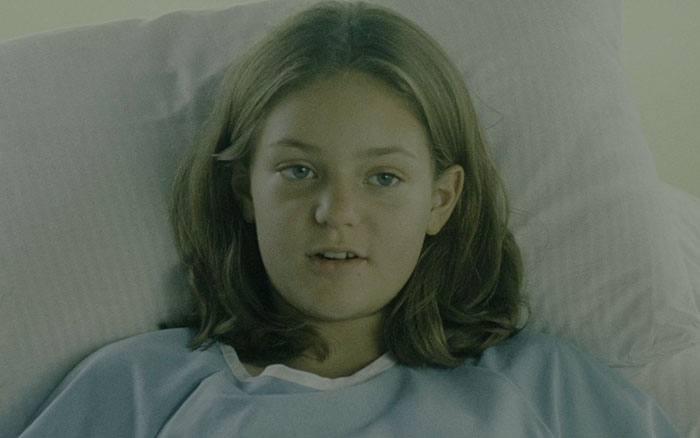 After Forrest Gump, her first role, Hanna continued acting. She appeared as Goldi in an adaptation of Goldilocks and the Three Bears, as well as some small roles in TV movies. She had another big break with her role in Sofia Coppola's The Virgin Suicides (1999), which was critically acclaimed, despite being nowhere near the box-office smash that Forrest Gump was.
Following this, Hanna continued acting sporadically, without landing any big roles until the Halloween remake in 2007, where she played Judith Myers. She was quite taken with director Rob Zombie, saying "he's one of my favorite directors I've ever worked with."
What Is Hanna Hall Doing Now?
Hanna has continued to act here and there, while also becoming a highly sought-after intimacy coordinator.
In addition to taking small film and TV roles, Hanna has appeared as a guest star in three notable TV series: Criminal Minds in 2012, Masters of Sex in 2015, and The Purge in 2019.
Most recently, Hanna has stayed in Hollywood while shifting roles to assistant and intimacy coordinator. In case you're unfamiliar with the term, an intimacy coordinator oversees scenes of a sexual nature to ensure that everyone feels safe, comfortable, and respected.
Hanna herself has been in several intimate scenes, from Rob Zombie's Halloween to her guest-starring role on Masters of Sex, which doubt prepared her well for her current role.
She has served as an intimacy coordinator on many popular series, including Queer as Folk (2022). She's staying busy, with five upcoming gigs as intimacy coordinator listed on IMDB for 2023 and beyond.
Personal Life
Not much is known about Hanna's personal life. Her astrological sign is Cancer since she was born on July 9th.