It's hard to believe it's been over 30 years since a young Tatyana Ali first appeared on our screens as Ashley Banks on the hit 90s sitcom The Fresh Prince of Bel-Air. Alongside Will Smith, Ali quickly became a fan favorite playing the cute and sassy younger sister in the Banks family. But where has she been since the show ended in 1996?
Background info
Tatyana Marisol Ali was born and raised in North Bellmore, New York, on January 24, 1979. Her mother, Sonia, a nurse, is from Panama, and her father, Sheriff, a retired police officer, is from Trinidad. She is the oldest child and has two younger sisters, Kimberly and Anastasia. Her little sister Anastasia is also an actress and a television producer.
Tatyana attended Marymount High School in Los Angeles, graduating in 1997 before getting her degree from Harvard in 2002 with a Bachelor of Arts in Afro-American History and Government.
Tatyana knew she wanted to be an actor when she was just a tiny tot on the playground. She had her mother take her to audition for Sesame Street before she was even five years old. She appeared on various episodes of the children's television show from 1984 all the way until 1997. Ali was also the Junior Vocalist Champion for the 1987 season of Star Search.
Early career
Tatyana's first big television credit was as Eddie's sister in the 1987 stand-up comedy movie Eddie Murphy Raw. She had parts in other TV movies like Wow, You're a Cartoonist!, Wally and the Valentines, Kidz in the Wood, and Fall Into Darkness in the late 1980s. Ali popped up in one episode of A Man Called Hawk and The Cosby Show in 1989.
The Fresh Prince of Bel-Air
In 1990, Tatyana Ali won the child actor lottery when she joined the cast on a little family sitcom called The Fresh Prince of Bel-Air. The show gave the world a good first look at Will Smith and gave us a theme song we'll never get out of our heads. The series followed the Banks family, made of Uncle Phil and Aunt Viv, their kids, a snarky and hilarious butler, and the adjustments everyone had to make when their nephew/cousin came to live with them.
While Will Smith, James Avery, DJ Jazzy Jeff, and Alfonso Ribeiro were the dominant men on the show, the female presence was strong, like in a young Tatyana Ali, who played the youngest of the Banks' daughters. Ashley and Will had one of the closest relationships on the show, where she looked up to him as a big brother.
The show incorporated Tatyana's personal talents, and Ashley had a brief musical career in season five. As her character got older, she started to view Will in more of a second-dad role, and their bond loosened a little bit.
For 147 episodes across all six seasons, Ali portrayed Ashley from 1990 until the show ended in 1996. Tatyana's Ashley crossed over to the series In the House for one episode in 1995.
What did Tatyana do after The Fresh Prince?
Now, if you have a minute, just sit right there, because Tatyana's career has been strong and steady since her days on The Fresh Prince ended. Appearing in films and on television, Ali's credits are too many to list, so highlights will have to do.
On TV, Ali was on shows like Are You Afraid of the Dark?, Living Single, and Half & Half. Ali had a nice little run on the soap opera The Young and the Restless as Roxanne from 2007 until 2013 for a total of 53 episodes.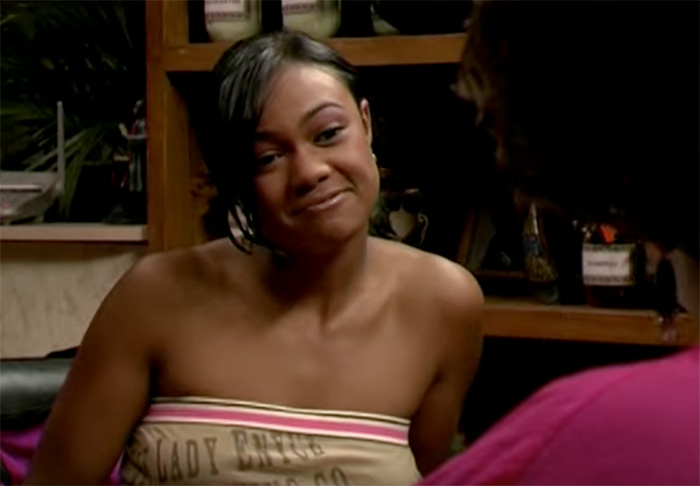 From 2010 until 2014, Ali portrayed Tyana on the series Love That Girl!, and in 2013 had a 10-episode run on the show Second Generation Wayans, starring the nephews of the original Wayans Brothers.
Tatyana saw no shortage of film roles, either. She had a part in Kiss the Girls in 1997, Jawbreaker in 1999, The Brothers in 2001, Back in the Day in 2005, Glory Road in 2006, Mother and Child in 2009, Home Again in 2012, and Comeback Dad in 2014, to name a short handful of her roles.
Around 2013 Tatyana discovered the lucrative world of the Christmas television movie and has been a staple in them ever since. Television movies in general seem to be a favorite of Ali's, as she has acted in them more than anything else in her career.
Outside of chillin' out, maxin', relaxin', all cool, Tatyana also had a music career. In 1998 she put out her album Kiss The Sky, which spawned hits like "Daydreamin'" and "Boy You Knock Me Out" with The Fresh Prince himself, Will Smith. Smith returned the favor, and Tatyana sang vocals on the song "Who I Am" off of his Willennium album.
What is Tatyana Ali doing now?
Ali's latest movie roles were the Christmas TV film A Picture Perfect Holiday in 2021, where she played Gaby, the thriller Vanished: Searching for My Sister in 2022, where she portrayed twins Jada and Kayla, and as the title role in the TV movie Giving Hope: The Ni'cola Mitchell Story in 2023.
For a fun fact, Ali went back to The Fresh Prince's kingdom in the reboot, titled Bel-Air, to play Ashley's English Lit teacher Mrs. Hughes in season two in 2023.
Ali has two upcoming projects on the horizon. She will play Sonny in the romantic holiday film The Holiday Proposal Plan and Emma in the family holiday movie Christmas Kennel.
Though she doesn't really do conventions (she did one a few years ago), Tatyana does post on her personal Instagram account frequently.
Personal life
Tatyana's first public celebrity relationship was with the late Jonathan Brandis (The NeverEnding Story II, Ladybugs) for three years in the late 90s.
In 2014, Ali met Doctor Vaughn Rasberry on the online dating site eHarmony. Tatyana and the Stanford University Assistant Professor of English became engaged in early 2016, and married that summer. The couple share two sons, Edward Aszard, born in September 2016, and Alejandro Vaughn, born in August 2019.
While the younger princess of Bel-Air seems to have found a new home in the world of television movies, we'll always remember her for her time on The Fresh Prince. Our favorite episode will always be the pilot, and that dance sequence with Will and Ashley will always live in our heads rent-free forever. We'll have to wait and see if she and the rest of the cast whistle for a cab and roll up to the 30th reunion of when the Banks family last entered our living rooms.