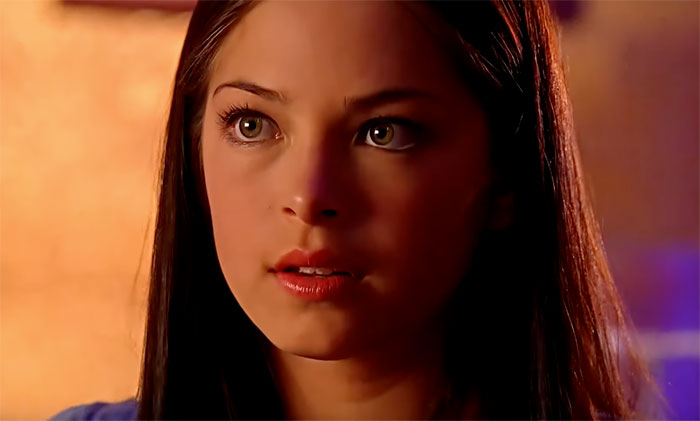 Kristin Kreuk is an actress who is best know for her role as 'Lana Lang' on the television show Smallville.
She was born on December 30, 1982, in Vancouver, British Columbia, Canada, to Deanna Che and Peter Kreuk, both landscape architects.
Kreuk's mother is of Chinese descent, while her father is of Dutch descent. The actress has a younger sister, Justine Kreuk.
Early Career
While in high school, Kreuk trained at the national level in gymnastics and karate but had to quit in her junior year due to scoliosis.
Kreuk anticipated studying at Simon Fraser University in psychology or forensic science but was contacted by a casting director for Edgemont, a CBC television series.
Acting Career
Snow White: The Fairest of Them All
In 2001, Kreuk played Snow White in the television film Snow White: The Fairest of Them All. The fantasy adventure movie was initially released in European theaters and then aired on ABC as part of The Wonderful World of Disney.
The film was based on the traditional 1812 Snow White folktale but revolved around Snow White escaping her stepmother and later befriending one of the seven dwarfs, and together they plan to overthrow the monarch.
EuroTrip
In the actress' first significant film role, Kreuk played Fiona in the 2004 comedy EuroTrip. The movie centers around an American teenager who travels across Europe looking for his German pen pal.
Kreuk plays the ex-girlfriend of the main character, Scott "Scotty" Thomas, who she dumps at the beginning of the movie. The movie grossed $20.8 million worldwide against a budget of $25 million.
Edgemont
One of Kreuk's first roles was as Laurel Yeung in the Canadian television series Edgemont. The actress was in the main cast and appeared in 70 episodes between 2001-2005.
The series followed a group of teenagers living in Vancouver, British Columbia, and showcased traditional issues adolescents face, including romance, jealousy, and various social problems. The show was moderately successful and lasted four seasons.
Smallville
One of Kreuk's best-known roles is as Lana Lang in the American superhero television series Smallville. The actress appeared in 154 episodes as Lang, a neighborhood girl who had a complex romance with the show's leading man, Clark Kent.
In addition, her character is the ex-wife of Lex Luther, Clark's nemesis. While Clark and Lana attempt to have a relationship numerous times, Clark does not want to disclose to her his secret identity.
Why did she leave Smallville?
Kreuk left Smallville because she did not have time to work on other projects, and while she wasn't bored with her character, she wanted to explore new roles.
The actress initially signed on for eight episodes, but even as ratings dropped, the show continued for several additional seasons. She said, "I love the people, and it's a wonderful show to work on, but I realized there were things I couldn't do due to the schedule on Smallville."
How was she written off the show?
Since Kreuk made her exit on Smallville before the series was over, creators had Lana send Clark a video telling him their relationship was over. While the actress appeared in five episodes during season eight, it was to wrap up her storyline, and she was no longer a main character.
Viewers later learn that Lana ended things with Clark because Lex forced her to, but season eight ended with Lana and Clark reuniting; however, audiences would not see Lana again.
Fans of the show seem divided about Kreuk, with some thinking she is a pleasant actress, but her character wasn't given a solid role as seasons went by. Others were turned off by her acting and weren't heartbroken when she left the series.
Street Fighter: The Legend of Chun-Li
Following her exit from Smallville, Kreuk played Chun-Li in the 2009 adventure film Street Fighter: The Legend of Chun-Li, an unaffiliated spin-off of Street Fighter IV.
Kreuk's character is a street fighter, and the film follows Chun-Li on her journey and quest for justice. Unfortunately for Kreuk, the film is considered one of the worst video game movies of all time and Fox canceled potential sequels due to the negative reviews.
Chuck
In 2010, Kreuk appeared in four episodes of the NBC television series playing Hannah in season three.
The action-comedy/spy-drama television series follows Chuck Bartowski (Zachary Levi), an average computer expert, who receives an encoded email from a former college buddy who now works at the CIA, which embeds the United States' greatest secrets into Chuck's brain.
The series ran for five seasons and received decent ratings throughout its run.
Beauty and the Beast
From 2012-2016, Kreuk had a recurring role as Catherine Chandler on the Canadian-American series Beauty and the Beast. The actress appeared in 70 episodes of the series, which was loosely based on the 1987 CBS series of the same name. The series follows Catherine after her mother's murder and what or who saved her that day from the same demise.
Space Milkshake
In 2012, Kreuk played Tilda in the Canadian science-fiction film Space Milkshake. The movie revolves around a mutant rubber ducky that terrorizes four stranded workers aboard a sanitation space station. Kreuk also was an executive producer on the film.
What is Kristin Kreuk doing now?
These days Kristin Kreuk is doing her usual floating between before taking on another lead role, as seems to be her pattern. While she would show up for small guest spots here and there, notably in the AppleTV+ original Ghostwriter, a remake of the 90s Nickelodeon series, as well as Reacher alongside Alan Ritchson, yet another iteration of the daring secret agent played by actors like Tom Cruise in years past.
With nothing on the horizon as of yet and no news about any other work, the actress has noted on Instagram that she's still in the game, even getting professional headshots done for the first time since she was a new actor at 19. Her role in Reacher is still open for a return in upcoming seasons, though nothing has been set in stone as of yet. In the meantime, the actress still keeps up a karate routine as well as other hobbies and frequently updates her Insta with fun selfies, pictures of her cats, or just general life updates and inspiration.
Producing
Kreuk served as a producer on Beauty and the Beast and Burden of Proof. In addition, she was the executive producer of the film Phoolan, a documentary about an Indian village girl fighting for justice and dignity.
The actress started a production company, Parvati Creative Inc., along with Rosena Bhura, whom she met on the set of Partition.
Fan Conventions
(photo: Mulderville)
Kreuk has appeared at several fan conventions, including the Fan Expo in Boston and St. Louis. In addition, she has attended international conventions, like La Mole Convención he Cómics and Paris Manga & Sci-Fi Show 30.
Smallville Reunion
For the 20th anniversary of Smallville, Entertainment Tonight got Kreuk and fellow co-stars together via Zoom to discuss some of the most significant moments from the series. You can watch it here.
NXIVM
NXIVM was a multi-level marketing organization that targeted influential people, including Kreuk. The actress said she joined the group, along with Smallville co-star Allison Mack, to help with her shyness.
However, the organization, founded by Keith Raniere, was also a cult, and he was later arrested for sex trafficking and forced labor.
Allegedly, Kreuk helped lure women to the group; however, she denies the claim and said it was her understanding it was a self-help/personal growth course.
In 2018, the actress said in a statement, "During my time, I never experienced any illegal or nefarious activity. I am horrified and disgusted by what has come out about DOS."
However, Allison Mack received a three-year sentence for participating in the organization, including manipulating "women into becoming sex slaves for the group's spiritual leader."
Personal Life
Kreuk is not married and does not have children. Fans of the actress can follow her on Instagram and Twitter.