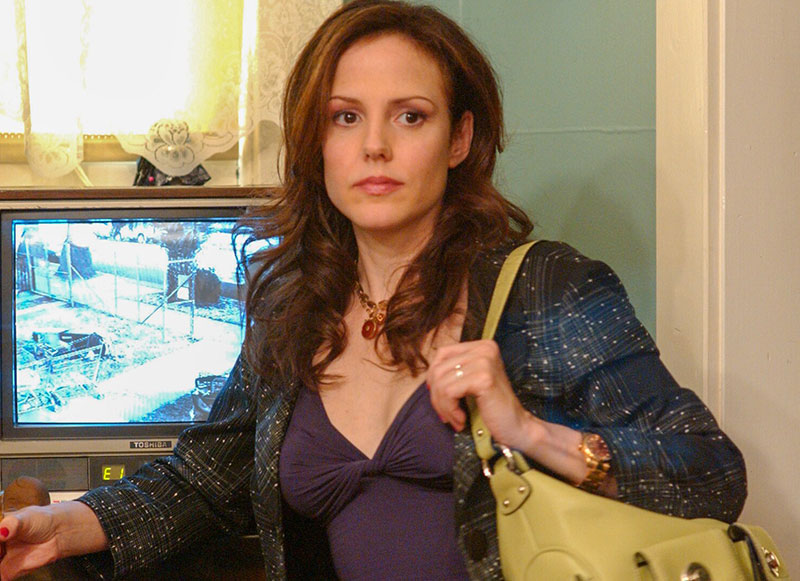 What has Mary-Louise Parker been up to since her suburban mom turned local drug dealer days ended? Let's see what she's been up to since the head of the Botwin family seemed to retire.
Background info
This Southern belle was born in South Carolina on August 2nd, 1964, to Caroline Louise Morell and Judge John Morgan Parker.
The youngest of four children, Mary-Louise Parker's family traveled from South Carolina to Texas to France, Germany, and Thailand due to her dad's career.
For high school, she attended Marcos de Niza High School in Arizona, then went on to graduate from the University of North Carolina School of the Arts in 1986 with a Drama Degree.
Her steady acting career started only a few years after finishing college, and Parker has been on screen ever since.
Acting career
A young Mary-Louise made her TV debut on the soap opera Ryan's Hope back in 1975. But the start of her decades-long career came with the 1988 TV movie Too Young the Hero, where she played Pearl Spencer. Parker's first feature film was in the 1989 movie Signs of Life with Beau Bridges and Kathy Bates.
But Mary-Louise didn't stop there. She is also an award-nominated Broadway star. Making her stage debut in 1989 in The Art of Success, she stepped into Rita's shoes in 1990 for the Broadway play Prelude to a Kiss, where she earned her first Tony nomination.
But we have to say some of our favorite roles of Parker's came in the 90s. We especially loved her as Ruth Jamison in Fried Green Tomatoes in 1991, as Dianne Sway in 1994's The Client, and in Bullets Over Broadway with John Cusack and Tracey Ullman, where Parker played Ellen is always a classic watch.
If you love a darker side to Mary-Louise's acting, the 2002 thriller Red Dragon, which is a prequel to the 1991 movie The Silence of the Lambs, stacks an amazing cast of Parker, Edward Norton, Ralph Fiennes, Sir Anthony Hopkins, and the late Philip Seymour Hoffman for a great adrenaline rush.
But the 2004 black comedy Saved! where Parker played Lillian Cummings demands a watch if you haven't seen it.
The West Wing
The West Wing walked so that every other political drama could run. Mary-Louise secured herself a spot on the hit series playing Amy Gardner for 23 episodes.
Her character had a few jobs in her time on the show, ranging from a campaign consultant, Chief of Staff to the First Lady, to White House Director of Legislative Affairs, among others.
Mary-Louise turned the supposed to be an only one-episode character into a reoccurring role that earned her an Emmy nomination in 2002.
Weeds
The dark dramedy TV show Weeds is where Parker has received the majority of her recognition.
The show centers around a single, widowed mom who turns to selling weed as a way to support her two sons.
Mary-Louise played main character Nancy Botwin in all 102 episodes across all eight seasons of the show.
Her portrayal of the mother-turned-drug-dealer to keep up with the upper-middle-class lifestyle she was used to thanks to her late husband's money brought the show, and Parker, dozens of award nominations.
Mary-Louise won multiple awards herself for her role as Nancy, including a Golden Globe in 2006.
What did she do after Weeds?
You would think Mary-Louise would want a break after the seven-year run of Weeds, but no.
She appeared on Broadway and Off-Broadway productions while on the series, as well as acting in six feature films during it all.
So, it should be no surprise that after Weeds wrapped Parker immediately went to find her next role.
In 2013 she starred in two movies, R.I.P.D., the supernatural comedy action film with Ryan Reynolds and Jeff Bridges, and the sequel to the 2010 comedy action movie Red, simply titled Red 2. 
Parker briefly joined the cast of The Blacklist in 2014 for four episodes while also appearing in two movies that year, Behaving Badly, a teen comedy with Selena Gomez, and Jamesy Boy, a film about real-life ex-convict James Burns.
In 2017 Mary-Louise was busy popping up for a handful of episodes on shows like When We Rise with Guy Pearce, the hit drama Billions, and Mr. Mercedes, a crime thriller based on a Stephen King novel.
She also made a steady return to Broadway, starring as Georgie Burns in Heisenburg from 2015 until 2016 and as Bella Baird in The Sound Inside from 2018 until 2020.
Mary-Louise Parker the author
Being a star on stage and screen wasn't enough for Mary-Louise, and in 2016 she added author to her resume.
Her book, Dear Mr. You, first published in 2015, is a literary memoir from the actress, where she tells the story of a woman by writing letters to all of the men that have in some way made her the person she is today.
What is Mary-Louise Parker doing now?
Of course, Mary-Louise is still acting, with no signs of slowing down. Entering her fifth decade of consistent work, she started things off in 2021 with the film The Same Storm, where she played Roxy in the COVID-inspired story alongside Sandra Oh.
Parker's next project in 2021 was in the series about how Colin Kaepernick came to be the activist he is today. She played Teresa Kaepernick in 2021s Colin in Black & White.
Mary-Louise has a couple of projects in production as well.
The upcoming film Face based on Justine Bateman's book Face: One Square Foot of Skin, with Bateman writing and producing the flick, stars Parker and Carrie-Anne Moss (Trinity from The Matrix movies). Production for the film started in the fall of 2022.
Parker will also be seen in the movie Seneca: On the Creation of Earthquakes, a drama about Roman Emperor Nero and philosopher Seneca, which will also star John Malkovich. The film is in post-production and should be out in 2023.
In 2022 Mary-Louise reprised her Broadway role as Li'l Bit in the play How I Learned to Drive. 
She first starred in the play in 1997 where she won an Obie for her work, but it was her 2022 revival performance that snagged her another Tony Award nomination for Best Actress in a Play.
Weeds sequel in the works
Every streaming service and network is looking back at its biggest hits for a reboot or remake opportunity.
For Mary-Louise Parker, that comes in the form of a Weeds sequel, titled Weeds 4.20. Now that marijuana is legal in a lot of states, the show will follow her character Nancy as the boss lady of a now-legal business.
Personal Life
Mary-Louise's personal life isn't without a bit of drama itself. She started dating fellow actor Billy Crudup in 1996, but in 2003, at seven months pregnant with his child, he left her for actress Claire Danes.
But their son, William Atticus Parker, came out okay in the end, as his godmother is none other than goddess Susan Sarandon.
She had a short-term engagement to actor Jeffrey Dean Morgan, whom she began dating in 2006.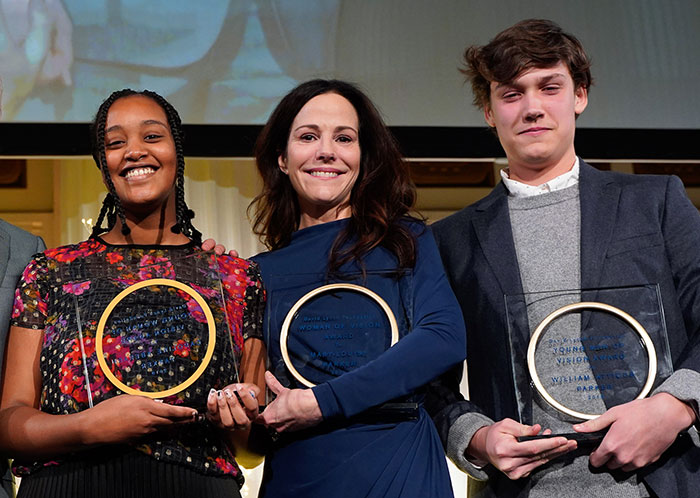 (Mary-Louise Parker and her 2 children)
The pair became engaged in early 2008 but had broken up by early 2009. During that relationship, Parker become a mother for the second time when she adopted Caroline Aberash Parker from Ethiopia in 2007.
Known for the ironic humor she brings to her roles, we hope Mary-Louise gives us performances for decades to come.
By the looks of things, we won't have to wait long to see her on screen again, and that makes us one happy customer.