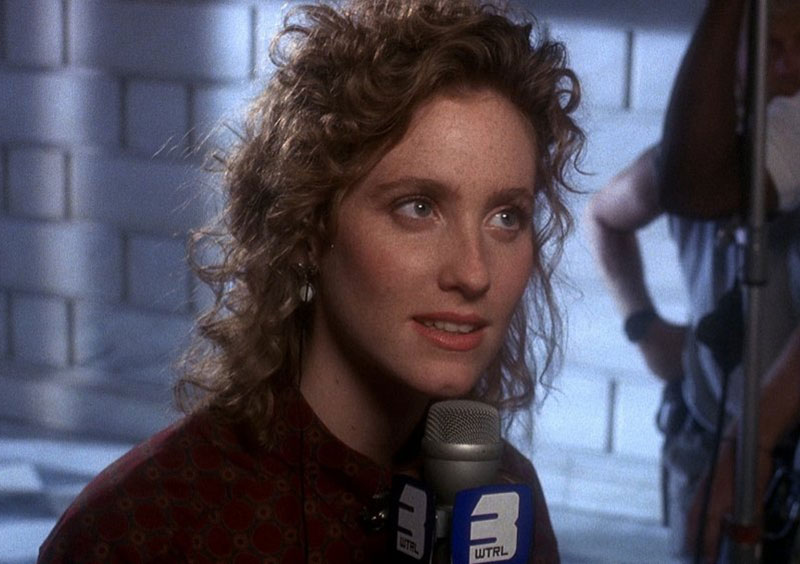 Judith Hoag is an American actress whose impressive resume has spanned across three decades in both television and film. She is best known for playing April O'Neil in the original Teenage Mutant Ninja Turtles movie that was released in 1990. While her most memorable role came early in her career, Hoag has acted steadily ever since.
So, what has Hoag been up to post working with the "Heroes in a Half Shell?" Let's find out!
Hoag was born on June 29, 1963 in Newburyport, Massachusetts. She attended Walnut Hill School, where she focused on acting before graduating in 1981.
Acting Career
Five years after she graduated, Hoag got her first acting credit as "Kevin's friend" on an episode of the PBS series American Playhouse. From there she worked consistently and eventually amassed almost one-hundred total acting credits.
Before she got her big break starring in the Teenage Mutant Ninja movies, she had roles on TV shows including Loving, Spenser: For Hire, CBS Summer Playhouse, and Wolf.
Hoag also starred in the comedy film A Matter of Degrees where she played Kate Blum. The film premiered at the 1990 Sundance Film Festival and was given limited release in American theaters the following year.
Teenage Mutant Ninja Turtles
In 1990, audiences everywhere shouted "Cowabunga!" when Teenage Mutant Ninja Turtles, a live-action adaptation of the popular comic book and cartoon serieses, hit the theaters.
Hoag played April O'Neil, an investigative news reporter in New York City who correctly hypothesizes that a crime wave is the work of the clandestine Foot Clan led by the infamous Shredder. Although her supervisor and the NYPD dismiss her, April meets and befriends the Ninja Turtles, teaming up to take down the nefarious Shredder and his minions.
The film was a gigantic box office success eventually, grossing over $200 million worldwide against a $13.5 million budget. Playing April would become Hoag's most memorable role, so fans were understandably disappointed when she did not reprise her role in the sequel, Teenage Mutant Ninja Turtles II: The Secret of the Ooze.
Why Wasn't She in the Teenage Mutant Ninja Turtles Sequel?
Variety spoke with Hoag during an interview, asking why she was not a part of the Teenage Mutant Ninja Turtles sequel. Hoag cited several problems, including her hairstyle. She remarked that the movie gave her a "horrible perm" to replicate O'Neil's curls, but "it never cooperated."
The hairstyling was the least of Hoag's concerns, however, as she called into question the safety of the stunt performers on set. "They had all these stunt people who came in from Hong Kong," Hoag said, "who had no union protections. They were getting hurt. As soon as they were injured, they were shipped out of there. It was not the safest set to be on. That's a little distressing."
Allegedly, between Hoag's concerns with the stunt performers' safety and the harsh six-day shoots, Hoag gained a reputation for being difficult to work with. This ultimately led to April O'Neil being recast with Paige Turco taking the role.
Roles After TMNT
Between 1990 and 1999, Hoag had roles in four movies: Cadillac Man, Here Dies Another Day, Armageddon, and Bad City Blues. In the same time period, Hoag had a staggering thirty-four roles in television series, appearing on popular serieses such as Roseanne, Melrose Place, The Nanny, Nash Bridges, and the X-Files.
Hoag's career showed no signs of slowing down in the 2000s. She continued to act on television in a variety of shows spanning different genres, including the police drama NYPD Blue, the medical drama Grey's Anatomy, the sitcom The Middle, and the sci-fi series The Magicians.
Hoag also made an appearence in the 2016 Teenage Mutant Ninja Turtles movie, where she would be in a scene with the new April O'Neil, played by Megan Fox. However the scene was ultimated cut from the final fim.
What is Judith Hoag Doing Now?
Hoag is still active as an actress. Although her last role was in 2021 for the movie, Finding You, Hoag has a role in an upcoming movie Roll with It. The film is about a small-town waitress forced to enter a karaoke competition in order to save her house from foreclosure.
Hoag also isn't shying away from the spotlight as she regularly participates in fan conventions throughout the United States. Between October and December of 2022, Hoag made appearances at four conventions, and is slated to appear at El Paso Comic Con in April of 2023.
Hoag continues to embrace fans with the use of technology too. She is active on Cameo, where she sends personalized video messages to her loyal fans. While she has acted in countless films and television shows, her fans still recognize her as the original April O'Neil all of these years later.
Speaking to Variety, Hoag said, "I didn't know it at the time. It's amazing to me that people still treasure the movie like they do. I have workers in my house now doing construction, and one of them came back and said, 'You're April O'Neil!' This happens every day. It happens at airports and at supermarkets. People loved this movie."
Personal Life
Hoag married fellow actor Vince Grant in 1988. They had two children together before getting a divorce in 2016.
On February 13, 2021, Hoag remarried to Phillip Stone.