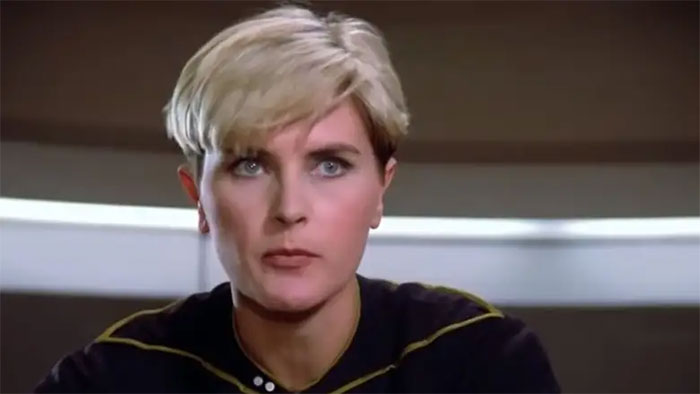 Denise Crosby is an American actress and model known for playing Security Chief Tasha Yar in season one of Star Trek: The Next Generation and subsequently Yar's daughter Sela in later seasons. She has been featured in a number of movies and TV shows, and additionally starred in and produced documentary Trekkies.
Early Life
Crosby was born on November 24, 1957 in Hollywood, California to mother Marilyn Scott and father Dennis Crosby, a famous singer and actor for whom she was named after. The two were unwed at the time and engaged in legal proceedings, as Denise's father did not want to pay child support.
The whole ordeal was disgraceful in the eyes of famous actor and Denise's grandfather, Bing Crosby, who would never meet Denise despite her being 19 at the time of his death.
Denise attended Hollywood High School and graduated in 1975, moving on to Cabrillo College to study theater. Crosby, however, dropped out after an interview with a local paper involved a discussion of her famous family and a member of the faculty used her as an example of Hollywood's superficiality.
Playboy
In 1979, Crosby posed nude for Playboy for their March issue as a "rebellion" of sorts, seeking to both empower herself through the act as well as tarnish the image of her father and grandfather. It was her way of saying "screw you" to them.
Acting Career
1979 would also mark the beginning of Denise Crosby's acting career with her first role in the film 10 starring Dudley Moore, Bo Derek, and Julie Andrews. Crosby was an extra, an uncredited party guest, but it was her first official role in the industry.
Thereafter, Crosby appeared on three episodes of TV soap opera Days of Our Lives in 1980.
48 Hrs
In 1982, Crosby made her first film appearance in 48 Hrs. alongside cop Nick Nolte and paroled convict Eddie Murphy as the two teamed up to take down two criminals, one of whom was romantically attached to Crosby's character.
While Crosby's role was minor, 48 Hrs. was a critical success, regarded as one of the best films in 1982 and possibly the first instance of the now popular "buddy cop" subgenre of action-comedy films.
Miracle Mile
In 1988, Crosby featured in the apocalyptic thriller Miracle Mile with Anthony Edwards and Mare Winningham. The film's reception was generally positive and it was nominated for four awards at the time, winning only one for Best Special Effects at the 1989 Sitges-Catalan International Film Festival. It would eventually receive a Saturn Award in 2016 for Best Classic Film DVD Release.
Star Trek: The Next Generation

In 1987, Crosby was cast for Star Trek: The Next Generation as Security Chief Tasha Yar. Crosby was elated and initially equated her character's role as "Uhura-like" and an integral focal point. Y
ar's character did get some shining moments with heavy features in episodes like "The Naked Now", but she gradually became less prominent as the series progressed.
Yar's staggered character development and decreasing prevalence combined with Crosby's personal frustration and she requested Roddenberry release her from her contract. The request was granted, and Crosby was set to leave the show after only 22 episodes in the first season.
To account for Yar's absence, the showrunners chose to kill her character in episode "Skin of Evil". The death is sudden, as Yar loses patience while dealing with a dangerous alien creature, Armus, and is killed. Fans found the sequence to be strange, surprising, and underwhelming.
Rumors circulated following Crosby's departure that her 1979 appearance in Playboy, an appearance that Playboy featured again in 1988 without Crosby's prior knowledge, was the cause of her "being fired." The rumors, of course, were false, as Crosby left the show by her own volition.
Return to Star Trek
Crosby had no regrets about leaving during season one of Star Trek: The Next Generation due to her limited role, but pitched an idea to bring her character back in season three in 1990.
The showrunners made this possible on an episode called "Yesterday's Enterprise", in which a USS Enterprise from an alternate dimension traveled forward in time to evade their destruction. Of course, the time travel preceded Yar's death and the character elected to stay with the main Enterprise crew at the end of the episode.
Crosby would also appear as Yar's daughter Sela, a half-Romulan Commander, on a handful of episodes. In total, Crosby appeared in 9 additional episodes for a grand total of 31 episodes of Star Trek: The Next Generation.
What did Denise Crosby do after Star Trek?
Crosby's acting career continued to flourish after Star Trek: The Next Generation.
Pet Sematary
Crosby's big film break came in 1989 in Stephen King's Pet Sematary, the big screen adaptation of his best-selling novel. Crosby starred alongside Dale Midkiff in this classic supernatural horror film, which grossed nearly $90 million in box office sales against a conservative $11.5 million budget.
Key West
Crosby would go on to star in Fox's comedy-drama Key West in 1993 alongside Fisher Stevens, Jennifer Tilly, and Brian Thompson. However, the show suffered from low ratings and was canceled after its 13-episode run.
Red Shoe Diaries
Crosby would also be featured in two episodes of Showtime's Red Shoe Diaries, an erotica drama series distributed by Playboy, in 1992 and again in 1994. In each appearance, Crosby played a different character, first appearing as an officer and then portraying a psychiatrist.
Trekkies
In 1999, Crosby worked as a producer alongside director Roger Nygard to create a documentary about the phenomenon that was Star Trek and its supremely dedicated fan base, the Trekkies. The documentary was aptly called Trekkies and performed well despite being released on the same date as Star Wars: Episode I – The Phantom Menace.
In 2004, a sequel was released, Trekkies 2, which was received similarly. As of 2016, Crosby has hinted at her openness to produce a Trekkies 3, but it has not been released as of 2022.
TV Shows
Crosby appeared on numerous acclaimed TV shows as a guest actor, sometimes for multiple episodes. In 2001, Crosby appeared on two episodes of The X-Files as Dr. Mary Speake.
In 2008, Crosby portrayed Gertie on two episodes of AMC's Mad Men. Between 2009 and 2010, Crosby would appear three times as Susan Salinger on NBC's crime drama Southland. In 2014, Crosby would play a cannibal on AMC's The Walking Dead.
In 2013, Crosby was cast for a recurring role on the Showtime drama series Ray Donovan, appearing in 15 episodes as Deb Goldman between 2013 and 2017.
What is Denise Crosby doing now?
Crosby remains active as an actress. She has most recently appeared on a 2022 episode of NCIS, as well as appearing in 10 episodes of USA's legal drama Suits as the recurring character Faye Richardson in Season 9. In 2019 she also starred in the horror film Itsy Bitsy alongside Bruce Davison, Elizabeth Roberts, Eileen Dietz, and Matty Cardarople.
Although they would not confirm in what fashion we will see Tasha Yar, rumors of her appearing on Season 3 of Star Trek: Picard have been confirmed at a 2022 convention. Crosby will join the ranks of many other Trek actors that reprise their roles for the newest Star Trek series.
Star Trek Conventions
(photo: Lex Con)
Along with a number of her Star Trek castmates, Crosby regularly attends Star Trek conventions to engage with the fans.
In 2022, she attended the 56-Year Mission Las Vegas convention, the Days of the Dead convention in Indianapolis, the Comic Con Revolution in Ontario and the Yellow City Comic Con.
Star Trek Cruise
Denise Crosby, alongside fellow Star Trek actors and Enterprise crew-mates Jonathan Frakes, Brent Spiner, Marina Sirtis, and many, many more from the Trekverse, is scheduled to appear on Royal Caribbean's Navigator of the Seas for a cruise experience like no other.
Departing from Los Angeles, guests will spend 7 days among their favorite Star Trek characters for themed nights, Trek-inspired accommodations, and excursions in Cabo San Lucas, Mazatlan, and Puerto Vallarta.
It's an "un-conventional" voyage, indeed, and next plans to sail in early 2023.
Cameo
Denise Crosby is also available on Cameo, the platform which allows fans to purchase personalized messages from their favorite celebrities. Starting at $150, you can get a personalized message from Security Chief Tasha Yar or any of her many other characters.
Relationships and Family Life
Between 1983 and 1990, Denise Crosby was married to Geoffrey Edwards, son of director Blake Edwards who featured Crosby in a number of his films.
In 1995, Crosby married fellow actor Ken Syllk and the two had one child, a son, in 1998.
Her son, August "Augie" Syllk played college baseball at the USC and was drafted by the Kansas City Royals in the 2019 MLB Draft as a pitcher.