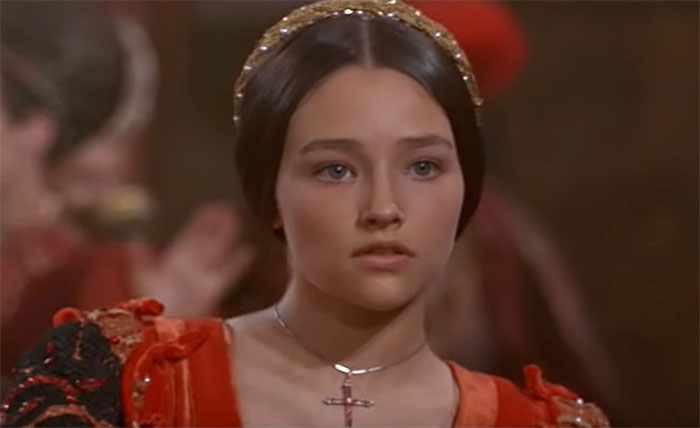 Olivia Hussey, born Olivia Osuna is an Argentine-British actress. She gained international fame for her role as Juliet in Franco Zeffirelli's 1968 film adaptation of William Shakespeare's "Romeo and Juliet."
Background Info
Olivia was born in Buenos Aires, Argentina, on April 17th, 1951. She was the first child of Argentine opera singer Andrés Osuna, who himself performed under the stage identity of Osvaldo Ribó.
Her mother was Joy Hussey, a legal secretary who was from England. Her parents were Roman Catholics and Olivia would be raised in the faith.
However, her parents divorced by the time she was two. By seven, she moved, with her mother and younger brother, to London, England, where she would be raised.
Olivia took an interest in acting at a young age, often pretending to be a nun. Joy Hussey would enroll Olivia in the Italia Conti Academy drama school for five years.
At 13, Olivia began acting on the stage professionally.
Early Career
Olivia Hussey's career would begin on the stage, but she would quickly transition to film and television. Hussey's first role was on the London Stage in a West End production of The Prime of Miss Jean Brodie.
Romeo and Juliet
She would play the role of Jenny opposite Vanessa Redgrave. Italian director Franco Zeffirelli noticed her during this run would cast her as Juliet in the 1968 adaptation of Romeo and Juliet, opposite Leonard Whiting.
The movie would be an iconic but controversial role due to her appearing topless at 15.
Before Romeo and Juliet would release, she would appear in an episode of Drama 61-67, and the films Cup Fever and The Battle of the Villa Fiorita in 1965.
Following these projects, she would continue to appear in projects through the 1960s and early 1970s before landing her subsequent iconic roles.
Acting Career
Olivia Hussey is known for several iconic roles of the 1970s. One of the first was as the character of Jess in the 1974 Bob Clark horror film Black Christmas. Olivia Hussey would be considered the "final girl" of the proto-slasher film. She starred in the film alongside Keir Dullea.
She would later play Mary, the mother of Jesus, in an iconic 1977 production of Jesus of Nazareth, which again teamed her with director Franco Zeffirelli. She appeared in all four parts of the mini-series.
The following year she would take on four projects. Still, the most notable was Death on the Nile (1978), an adaptation of an Agatha Christie mystery featuring her detective Hercule Poirot.
ussey would play Rosalie Otterbourne. On set, she had a clash with actress Bette Davis over the music volume, and the two did not talk for the entirety of the remaining shoot.
Olivia Hussey would appear in several iconic projects in the 1980s, including a Japanese post-apocalyptic film called Virus: The End (1980) and later appear in the TV mini-series The Last Days of Pompeii (1984).
No stranger to horror, in 1990, she would appear in Psycho IV: The Beginning, and the It miniseries, adapted from Stephen King's novel.
Five years later she would appear in the cult horror film Ice Cream Man (1995).
In 1996, a new career chapter would begin as she took on a voice acting role. She would play "The Voice of the Ancients" in the fantasy adventure film, The Lord Protector.
She would leverage voice acting experience into other roles, including a substantial number of Star Wars projects. However, one of her most iconic voice-acting roles was as Talia al Ghul in the Batman franchise.
Where is Olivia Hussey Today?
(photo)
Hussey would retire from acting in 2015 following her final film, Social Suicide.
Interestingly, she had initially retired in 1968 after the release of Romeo and Juliet as she struggled with agoraphobia. She would return to acting within two years.
Since her retirement in 2015, she has written and published her memoir, The Girl on the Balcony: Olivia Hussey Finds Life after Romeo and Juliet, which would become a popular memoir in 2018.
Her memoirs were particularly revealing about personal tragedies the young actress faced, including violence from then-boyfriend Christopher Jones and her proximity to the murder of Sharon Tate, whom she intended to live with for a time as friends.
Her recollections of a sexual assault in the infamous home were even more alarming.
She also spends her time as an animal rights activist, which she has done for years.
Are Olivia Hussey and Leonard Whiting still friends?
Hussey and her Romeo and Juliet co-star, Leonard Whiting, were attracted to and dated briefly. However, the relationship would not last long.
They remain friends even to this day, exchanging texts and talking several times a month. They also appeared together in 2016 for a Q&A session for the Shakespeare Lives event.
Personal Life
Olivia Hussey has had an active life regarding relationships and has been married three times. She is currently married.
Her first marriage would be to Dean Paul Martin from April 1971 to January 1979. Together they would have a child. Their marriage would end in divorce.
Dean Paul Martin was the son of Rat Pack member Dean Martin. He would tragically perish in a plane crash in March 1987.
Olivia Hussey would marry Akira Fuse in 1980, having met him in Japan on the set of Virus: The End (1980). They divorced in 1989. During this time, she would have her second child.
Her final marriage was to actor and singer David Glen Eisley. The two would marry in 1991 and have been together since. She would have her third child with him.
Olivia Hussey's first child is Alexander Martin, who was her son with Dean Paul Martin. He works as an actor and was born in 1973.
(left – Alex Martin, right Maximillian Fuse)
Her second son, Maximillian Fuse, was born in 1983. Maximilian's father is Akira Fuse.
Olivia Hussey's only daughter is India Joy Eisley, born in 1993. Her father is David Glen Eisley. She is a currently working actress.
All three of Olivia Hussey's children were born ten years apart.