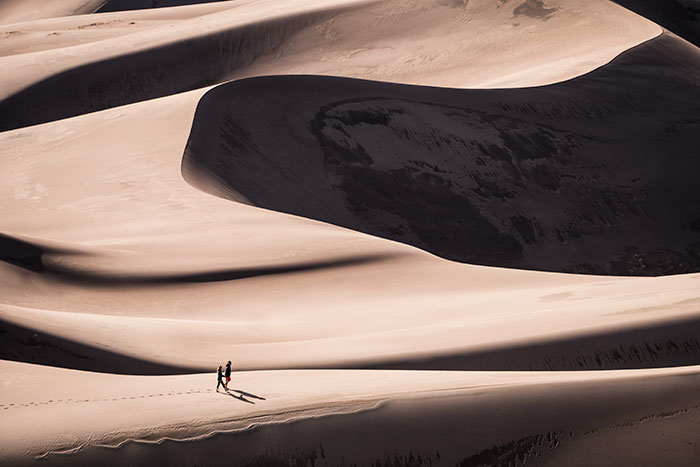 Great Sand Dunes National Park, located in south Colorado, attracts millions of visitors every year. Aside from hosting the tallest sand dunes in North America, the Great Sand Dunes provide plenty of opportunities for hiking, biking, sandboarding, photography, and night sky viewing.
Whether you want to spend your visit staying active in the Colorado heat or opting for more relaxing activities in the shade, you'll have the best of both worlds in this Colorado national park. Keep reading to find out how you can plan for the best possible trip to this wonder of the world.
Facts and History
The first pieces of evidence for human settlers found in the Great Sand Dunes was dated back about 11,000 years ago. The first people who entered this piece of land were the original nomadic hunters of North America. Fossils show that prehistoric creatures like mammoth and buffalo lived in these parts of the continent, so hunter-gatherers likely hunted these animals for food, and set up camp near the Dunes while they were at it. Archaeologists have even found the sharp points of stone and rock arrows, which the Stone Age people were known for using.
Fast forward to about 400 years ago, and the first Spanish settlers chose this land to establish their community. The modern Indians that we now know about, like the Navajo or Ute tribes, experienced great difficulty and tension with the European settlers who took this land from them. Artifacts from their early settlements have been preserved and visitors can view those at the Great Sand Dunes Visitors Center.
This national park was the centerpiece for many important turning points in American history. From the earliest Spanish explorers to the first propositions about Westward Expansion all the way to the Gold Rush of the 1800s and the early 1900s prairie dwellers, the Great Sand Dunes was there for it all. When you visit this park, you'll be visiting probably one of the most historically rich parts of the U.S.
In the 1920s, locals of south Colorado began to worry about the ever-growing gold mines and how they could potentially destroy the sand dunes someday. They also saw potential for the dunes to bring tourists during the summer months, which would boost their economy. These locals lobbied politicians, and successfully made the Great Sand Dunes a national monument 1932. It wasn't until the late 1990s that the Great Sand Dunes were adopted into the National Parks Service and were officially made a U.S. National Park.
What is Great Sand Dunes National Park Known For?
Aside from its historical value, this national park is known for having the tallest sand dunes in North America. Geologists believe that the sand dunes were formed over centuries of constantly shifting plates of the earth's surface, melting ice and snow, and strong winds which blew in leftover sediments. All of these working parts combined with strong volcanic activity gave birth to what we now see as giant mounds of sand.
Sand is basically very tiny pieces of rocks and minerals that have been beat against a hard surface by water for a very long time. Geologists believe that this happened to the extreme in south Colorado, due to the nearby mountain ranges, the San Juan Mountains and the Sangre de Cristos. The Great Sand Dunes technically lie in a giant valley between these two mountains called the San Luis Valley.
While many of the world's sand dunes tend to migrate gradually over time due to high winds, the Great Sand Dunes in Colorado are relatively stable, thanks to the thriving vegetation in the valley. There have been small fluctuations over time, but nothing dramatic. Rest assured, visitors will be able to enjoy these dunes for decades to come.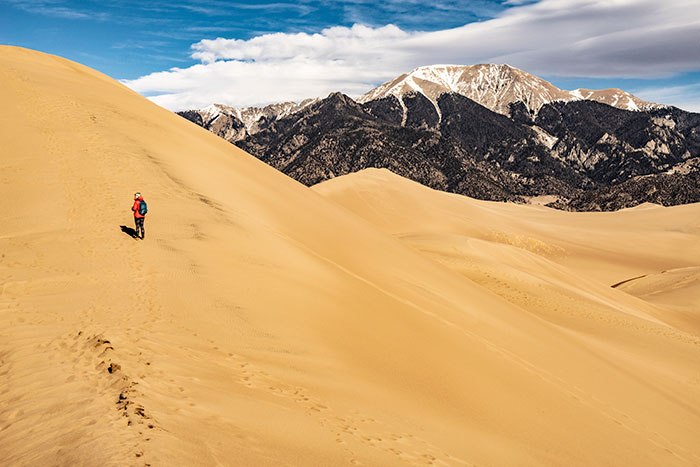 What Can You Do at Great Sand Dunes National Park?
At Great Sand Dunes, there is a wide range of activities for visitors; there's something for everyone.
Hiking is a very popular activity on the sand dunes, and is usually the reason avid hikers want to check out the natural phenomenon. If you think running on a beach is difficult, wait until you try to hike vertically up a mountain made of sand. If you're looking for a great workout, you'll get it by walking the dunes.
The "dunefields" range over 30 square miles, so there's plenty of area to explore. There are plenty of options for hiking, whether you want to walk the flat parts or check out the higher dunes and ridges. There are five dunes that reach above 700 feet; these are called the "High Dunes" and they can take the average hiker around 4 hours round trip to climb.
The tallest dune in Great Sand Dunes National Park is called Star Dune, and it can take the average hiker around 9 hours to climb this 750-foot tall beast. It's an 8-mile trek, but due to the difficulty of the hike, plan for an all-day workout if you're brave enough to attempt it.
You can find 3 forested nature trails in the national park too, if you'd like to stick to the woods. Some of these trails lead to Medano Lake and the Sand Creek Lakes, which can be a great opportunity to take a swim. These hikes are particularly beautiful in July, when the wildflowers are in full bloom and the water is at its warmest temperatures.
Sandboarding and sand sledding are also super fun options for visitors of all ages; just make sure you have all the proper equipment. Other activities include fat biking on the dunes (riding bikes with fatter tires for the sand), taking photo walks on the trails, swimming in the lakes, and experiencing the night sky. Great Sand Dunes National Park is one of the few places in the U.S. where you can clearly see the Milky Way, so be sure that you go back to the High Dunes after the sun has set to see billions of stars!
When is the Best Time to Visit?
In the summer months, sand temperatures can reach 150 degrees Fahrenheit, so if you're planning on sandboarding, be sure to plan your visit either early in the morning or late in the evening. For hikes, be sure you're wearing the proper shoes.
In the fall, winter, and spring, temperatures are usually moderate throughout the day with stronger winds.
(photo: NPS/Patrick Myers)
How Many Days Do You Need in Great Sand Dunes National Park?
The amount of time you'll need in Great Sand Dunes depends on the activities you're planning on doing. For example, visitors who live near the national park may find it beneficial to simply make a day trip out of their visit and hike one trail to one of the lakes. If you're coming from out of state, though, the maximum you'll need to get the full experience is about a week. In a week, you can enjoy camping in a nearby campground, hiking a High Dune, hiking a forested trail, swimming in one of the lakes, sandboarding, and checking out the night sky a few times.
Tips for Visiting Great Sand Dunes National Park:
Make sure you have the correct equipment for sandboarding; snowboards, skis, and snow sleds won't work because they're designed for wet surfaces like snow and ice. Since the sand is very dry, sandboards are coated with a special wax that helps you slide easier and faster down the sand dune. The National Park doesn't offer rental equipment, but plenty of businesses in the San Luis Valley offer all kinds of rental equipment for every activity in Great Sand Dunes.
Where Should I Stay When Visiting Great Sand Dunes National Park?
The Pinon Flats Campground, located within the national park, is the designated site for overnighters. You can reserve individual and group campsites online or over the phone. RVs and campers are more than welcome inside the campground, although keep in mind that there are no electrical, sewer, or water hookups. Some amenities include bathhouses, firewood, and food at the campground store.
Outside of the park, you'll find a wide range of motels, lodges, and cabins close to the entrance. Whether you want a more rustic experience or something more refined, San Luis offers plenty of options.
Is Great Sand Dunes National Park Safe?
The Great Sand Dunes National Park is very safe if you plan accordingly. Probably the biggest threat to your safety is the extreme temperatures of the sand in the summer. If you're hiking on the dunes all day, come prepared with plenty of water and hiking boots that won't allow the heat of the sand to burn your feet. For sandboarders, try to go early in the morning or late in the evening to avoid the sun's harsh heat.
Another safety precaution you should take is choosing your dune wisely. Don't choose sand dunes with hard surfaces at the bottom; if you're sandboarding and lose control, you could crash into the bottom with no way of stopping yourself. Stick to the larger, more popular areas for sandboarding because they have softer landing spots.
Plan Your Visit
The main things you should focus on when planning your visit to Great Sand Dunes National Park include where you'll stay (inside the park at the campground or in a hotel), the activities you plan on doing, and the equipment and supplies you'll need.
Keep in mind that this national park is quite remote, and there is usually no cell service and absolutely no wifi available inside the park. Be prepared to unplug while you're at Great Sand Dunes.
Pay attention to weather updates and come prepared, based on the season in which you'll be visiting. Always bring a lot of sunscreen and bug spray, and be ready for any sudden, dramatic wind storms.
Why Is Great Sand Dunes National Park Worth Visiting?
Great Sand Dunes National Park is worth visiting because of its dunes! No where else can you see a historically important piece of land and take part in multiple outdoor activities at the same time. Regardless of whether you want a challenging hike or a more relaxing experience, you have both options at this national park. Simply prepare well, and you'll have an experience that's hard to forget.