If you're comparing opposites, you may think to contrast Yellowstone National Park with Zion National Park. Though the two sit close to 500 miles apart from each other, they have more things in common than you'd think. With that in mind, how would someone choose between the two?
Land and Features
Yellowstone
Viewed as the first National Park on the planet, Yellowstone crosses over state borders, extending from the northwest corner of Wyoming into Montana and Idaho.
The Park covers over 2.2 million acres. It's a vast resource of some of the nation's greatest flora and fauna.
Hydrothermal features are a great attractor at Yellowstone. They're not only geysers. The National Park has over 10,000 fumaroles, geysers, hot springs, and mudpots.
Fifty percent of all the active geysers in the world are found within Yellowstone grounds, including the famous Old Faithful. There are seven thermal hotspots (pun intended) in Yellowstone.
Zion
Zion was the first National Park of Utah. It encapsulates a range of plateaus and canyons, through which weave the Virgin River and its tributaries.
The park's elevation varies 5,000 feet from top to bottom and is home to iconic prickly pear, among other famous wildlife.
The geological features of Zion include logic-defying natural stone arches. Double Pine, Crawford, and Kolob Arch are all naturally-formed archways made of the iconic Navajo Sandstone, though the entire park boasts dozens if not hundreds others.
There are also waterfalls, basalt lava flows, and the river to explore.
Activities/recreation
Yellowstone
In its vast swath of National Park, Yellowstone is an ideal place to hike. Through its wilderness lay 990 miles worth of trails at over 7,000 ft above sea level. Seasoned hikers can enjoy these paths in any weather. If you're short on time, single-day hikes are possible to each of the major attractions.
Cycling is encouraged in Yellowstone. Bikers are able to adventure through the park on public roads – no backcountry off-roading, unfortunately. There are over 30 hours' worth of bike trails scattered throughout the park. There are certain campgrounds designated for cyclists, too.
If two legs and two wheels aren't enough for you, how about four?
Guided and private trips on horseback are available to book. You can even bring your own horse to the Park, but must obtain the appropriate permit.
If you've got more time to relax, there are designated swimming areas in Yellowstone. Bring your swimsuit and don't forget to check updates – sometimes they have to close the Boiling River or Firehole Swim Area.
Like many other National Parks, you can also fish, boat, camp, and ski in Yellowstone. It's a Park with endless possibilities.
Zion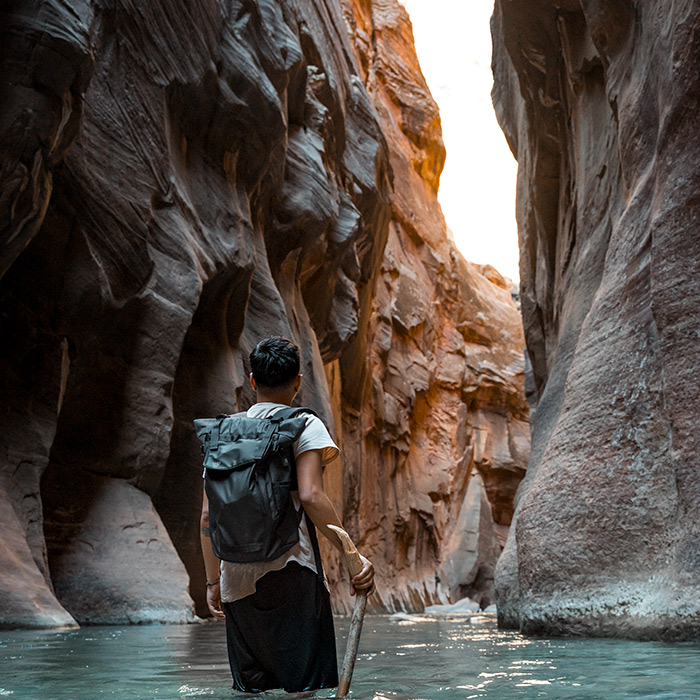 Zion is a National Park made for great adventures. Canyoneering and rock climbing may not seem like activities for the faint of heart, though. Aside from needing a permit to do them, you'll need your wits about you to navigate the inspiring Subway or Narrows.
It is important to follow the park's regulations on the two activities so you don't break any rules or risk any injuries. You can tie these adventures in with a backpacking permit and spend a couple nights camping in Zion.
You'll have to get to the canyons first, though. Zion has over 90 miles of hiking trails across its 124,406 acres of wilderness. Transportation is available to shuttle you between different parts of the park
Adventures in Zion don't have to be solely on foot. It's possible to plan river trips in a kayak or bring your bicycle and travel the Pa'rus Trail.
There are also plenty of trails to take your horse, mule, or burro on without a permit, unless you want to stay overnight.
Wildlife
Yellowstone
Some of the most exciting wildlife that draws in tourists are the majestic mammals native to Yellowstone. Visitors can spot bighorn sheep, badgers, beavers, bison, cougars, coyotes, elk, black bears, grizzly bears, moose, pronghorns, wolves – need we say more? – throughout the Park.
Yellowstone is also home to the national symbol, the bald eagle.
It's also home to five types of snake. While it's important to brush up on your bear safety, don't forget to review how to handle a snake encounter (hint: don't try to pet them).
Zion
Zion is home to mountain lions and bobcats, close to 300 species of birds including the California condor, rattlesnakes, porcupines, and desert tortoises, to name a few. The desert isn't the ideal place to watch for wildlife, though, as many creatures are nocturnal and spend the day hiding from the sun.
A couple animals living in Zion are considered threatened (not yet endangered, but on a watch-list). These include the Mexican spotted owl and the Mojave desert tortoises. The Southwestern willow flycatcher is actually endangered.
Most infamous of the park's inhabitants is the tarantula, and we're very grateful the Zion National Park website did not put photos on the "Insects/Spiders/Millipedes/Centipedes" page.
Accessibility
Yellowstone
As Yellowstone is a car-friendly Park, it's a highly accessible park. Wheelchairs and service animals are allowed wherever pedestrians are allowed.
Even motor scooters. While none of the wilderness trails are specifically made accessible, there are two campsites specially equipped for wheelchair users, the paths to which are considered manageable.
The Lone Star Geyser Trail and the Natural Bridge Trail are also considered accessible.
Zion
Zion is filled with locations easily accessible for wheelchair users. Aside from the obvious (the Visitor's Center), there's also The Human History Museum.
The Lodge and picnic areas are all accessible and the Watchman Campground has some slopes, but accessible toilets.
It's generally agreed that the Pa'rus Trail is as wheelchair friendly as a National Park trail can get, though there are some sections that can have considerable inclines.
The entire trail is in direct sunlight, so any breaks would not be in the shade.
Climate/Weather
Yellowstone
Being quite far north, it's no surprise that skiing and snowmobiling are possible in the winter months at Yellowstone.
Temperatures during these months rarely go above 20° and drop drastically at night. The average yearly snowfall is 150 inches a year, but could be more at higher elevations.
Fairweather frolickers can still enjoy the Park in summer without a worry. The Park usually enjoys a balmy 70° with cooler temperatures at night, though the summer is known for afternoon thunderstorms.
Zion
Zion is the epitome of the south: hot and arid. Its desertscape can sound warm and inviting, but it's important to be mindful of heatstroke and sunburn.
Monsoon season in the summer months can also lead to flash flooding.
While the winter is mild, averaging temperature around 50°, the nights can drop below zero.
Snow is common and sometimes lingers in the higher elevations through spring.
Time of year
Yellowstone
Yellowstone is known to be a year-round Park. There are plenty of activities to do in all four seasons – yes, even in the depths of winter.
However, opening times are limited in the colder months so it's important to plan accordingly.
You don't want to miss out on Old Faithful. There are also often road closures due to inclement weather.
The slowest seasons for the Park is undoubtably winter, but that doesn't mean it's a ghost town.
Winter activities just tend to be more specialized and harder to coordinate if you're going with the whole family.
The Park website has a breakdown of the highlighted activities suitable for each month, so it's not impossible to go year 'round.
Zion
Zion is open every single day of the year. Obviously there are periods that are more common for visitors which are, as always, the summer months.
Despite the high temperatures and possible side effects, tourists come flooding in at the same time as monsoon season – July through September.
January, February, and December are the least popular months, bringing in only 8% of the park's yearly visitors.
This isn't too surprising, as Zion's most popular activities aren't always fun or possible in the winter.
Which is best?
Both parks offer drive-in views, hiking, ranger-led programs, leashed pets in certain designated areas, lots of parking, campgrounds, wildlife safety concerns, and unbelievable views. But how do they compare head-to-head?
| | |
| --- | --- |
| Yellowstone | Zion |
| Winter sports | Warmer weather |
| Range of activities at different levels | Rock climbing and canyoneering are specialized sports. |
| Bears | Tarantulas |
| Permit needed for bringing your horse | Permit needed for backpacking, canyoneering, rock climbing, bringing your horse, overnight camping |
| 12 campgrounds | 3 campgrounds |
| Museum of the National Park Ranger | The Human History Museum |
| • 2.2 million acres to explore | 146,597 acres to explore |
Based on the facts at hand, it seems like Yellowstone is a more family-friendly National Park to visit than Zion, offering up a greater variety of activities and for a range of skillsets.
However, if you've got what it takes to explore Zion then there's not doubt that it's the better park for the thrill-seekers.
Final Thoughts
At the end of the day, it's hard for us to compare two places of wonder. National Parks are incredible resources. Both Yellowstone and Zion offer up unique experiences for a memorable vacation, but we think we know which one we'd choose. Do you?
Sources:
https://www.nps.gov/yell/index.htm
https://www.nps.gov/zion/index.htm