With the almost endless amount of restaurants that line the streets of Studio City, it can feel like an overwhelming task to find the right restaurant to satisfy your cravings. But have no fear! Our local guide has personally handpicked the 15 best restaurants that Studio City has to offer
Check out our other Los Angeles Guides:
15 Best Restaurants In Burbank In 2022
The 12 Best Restaurants in Toluca Lake In 2022
10 Best Restaurants in Compton, CA
12 Best Restaurants In Glendora, CA
The 15 Best Restaurants In Cerritos, CA In 2022
The 16 Best Restaurants In North Hollywood In 2022
15 Best Studio City Restaurants:
Katsu-Ya
Seeing as how you can't drive down Ventura Blvd without bumping into a sushi restaurant on each corner, this list wouldn't be complete without a few sushi restaurants in the mix.
Katsu-Ya is our first and most obvious choice for sushi. Katsu-Ya is the OG of sushi restaurants in Studio City. It laid down its root many decades ago and has influenced the entire sushi scene in LA and has spawned countless restaurants bearing its name.
It's also one of my favorite restaurants in the area and I can honestly say that I have never had a bad meal when I came here.
Everything is of the utmost quality and to top it off, very reasonably priced. Yep, it's not going to cost you an arm and a leg to get some sake, appetizers, sashimi and a few rolls.
There is usually a line during peak dining hours, but they take reservations. The parking situation is not great, but you can usually find some parking on the side streets with some effort.
11680 Ventura Blvd Studio City, CA 91604
Sattdown
Sattdown easily gets a spot on our list of best Studio City Restaurants!
Jamaican food is severely underrepresented in Los Angeles and I can probably only name you two restaurants off the top of my head. Lucky for the residents of Studio City, one of the best Jamaican restaurants in Los Angeles is in their backyard.
Sattdown is making the folks in Kingston proud with what they are bringing to the table. Everything here from the jerk chicken to the ackee and salt fish is super authentic and tasty as hell.
Sattdown is one of my go to spots for lunch. They have always been consistent with the quality and I have never order anything that I have disliked. Chef Tony is a super nice guy too.
11320 Ventura Blvd Studio City, CA 91604
Jinya Ramen
This is the first Jinya Ramen in the United States that set the standard for all other Jinyas that popped up over the last decade.
Much like a obscure band that skyrocketed into mainstream fandom, I like to gloat to other people about how I used to come here before it got all popular and started to get a line out the door.
Just to give you some reference to how good this restaurant is, my friend used to travel all the way from Santa Monica to eat here and if you know anything about the geography of Los Angeles, Santa Monica might as well be another world away.
So how's the food, you ask? Incredible! All the broths are incredibly rich and flavorful, even the vegan broth. The chasu rice bowls are amazing. All the appetizers are delicious. The best ramen restaurant in Studio City and the surrounding areas and easily in the top 10 in Los Angeles.
11239 Ventura Blvd, Studio City, CA 91604
Ohana BBQ
Ohana BBQ is a small mom and pop shop that is serving some of the best Hawaiian food in the Valley and is easily one of the best restaurants in Studio City.
While Hawaiian food is not known for being exceptionally healthy, Ohana does a good job of meeting the needs of many of their health conscious customers.
Ohana's food is not super oily like many chain Hawaiian restaurants. The food is clean, for lack of a better word. It doesn't make you feel like crap afterwards.
It has been one of my go to restaurants for ages and I can consistently count on it for a really tasty and filling meal.
My go to order is the bbq chicken plate with dark meat, macaroni salad and regular salad, with a side of hot sauce. The portions are large and I can usually eat the entire thing, but it leaves me quite full and needing a nap afterwards.
SunCafe Organic
If you are looking for the best plant-based restaurant in Studio City, look no further than Sun Cafe.
SunCafe is a restaurant you eat at when you want a tasty meal that leaves you with an absolutely clear conscious when it comes to your mind, body, healthy and the environment.
Everything here is 100% plant based, dairy free and made in-house, including the cheeses, chorizo, mayo and butter.
The extensive menu includes a variety of soups, salads, burgers, pizzas, tacos and much more.
Some highlights of the menu include the nachos, which consists of plant-based nacho cheese, guacamole, pico de gallo, jalapeño, green onion, cashew sour cream and jicama chips. The Fettuccine Alfredo is impeccable and uses a base of mung bean & edamame to craft their fettuccine pasta. It's absolutely delightful with the coconut & cauliflower Alfredo sauce.
They also have an extensive beer, wine and cocktail menu if you want to get your drink on.
10820 Ventura Blvd Studio City, CA 91604
8oz Poke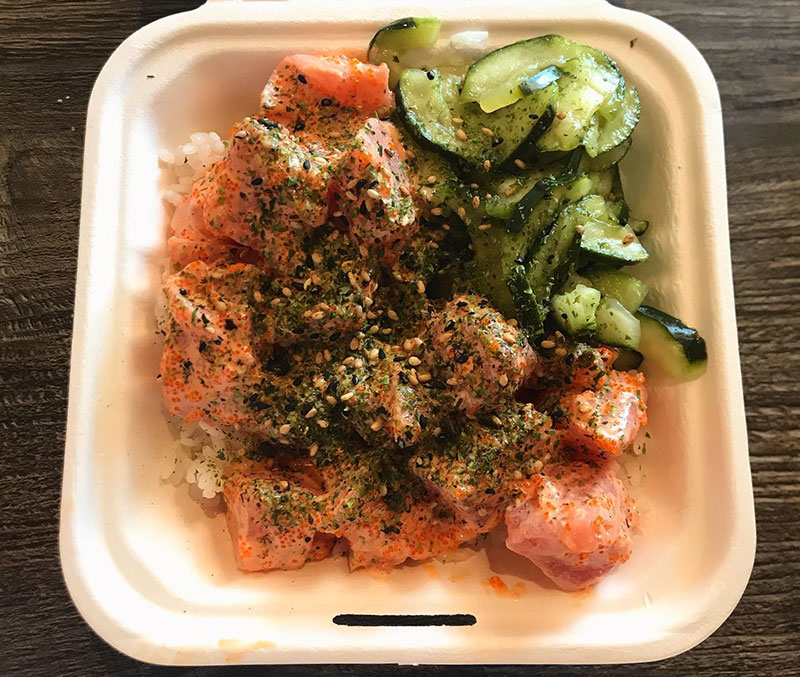 The poke craze of the last decade has ushered in a multitude of restaurants trying to quell the cravings of fresh fish lovers everywhere. And with this influx, it's hard to tell which poke restaurant stands head and shoulders above the rest.
Much like trying to figure out who has the best pizza in the city, poke is similar in the vein that you can get 10 different answers from 10 different people.
My case for 8oz poke is the freshens of the fish is top tier, the portions of the fish are large, and the toppings are excellent (onion rings!). I go here at least once a week and the people behind the counter are super nice and efficient.
11273 Ventura Blvd Studio City, CA 91604
Aroma Coffee & Tea
For the best breakfast and brunch in Studio City, head to Aroma.
On any given day and at any given hour, there's going to be a line protruding out the doors of Aroma. It's the kind of restaurant where you are bound to bump into someone you know, because everyone in town goes here.
Aroma used to be someone's private residence and was turned into a cafe/restaurant. When you walk into the main area to order, you literally feel like your are in somebody's living room.
They serve everything from breakfast to dinner and everything is really tasty. I usually go here for breakfast and get a latte and and a pastry or breakfast sadnwich.
The food and drinks here are great, the ambiance is superb. It's just an all around great place to grab a bite to eat and enjoy the moment by yourself or with a friend or two.
Stout
If you are a burgers and beer type of person, Stout is your dream come true!
Lets start with the beer selection which is vast and extensive. They have every type of beer that any beer connoisseur could hope for; lagers, ipas, golden ales, dark ales, sours, ciders, and even kombuchas!
When it comes to burgers, they have 15 creative varieties including chicken burgers and veggies burgers. The traditional burgers are ground in-house and served on a buttery brioche bun. My favorite is the Truffle Shuffle, which comes with brie, garlic sautéed mushrooms, & truffle aioli. It's packed with great flavors and the burger is just so damn juicy and when you pair it with a cold ipa, it's phenomenal.
11262 Ventura Blvd, Studio City, CA 91604
Khao Soi Thai
Khao Soi Thai is one of the best Thai restaurants in Studio City that is not located in the Thai towns in Hollywood or North Hollywood, although it would give many of those restaurants a run for their money.
Khao Soi Thai specializes in Northern Thai food and it goes without saying that the food here is as authentic as can be. There is no dumbing down of flavors to fit the western palate. It's a place where you can take your Thai grandma and she would give an approving nod as she continues to slurp down on her soup.
Everything is good here and I mean everything! But my favorites include the Khao So Curry, which is a curry noodle soup that is so wonderfully rich in flavor, umami and complexity. The Tom Yum noodle soup is also exceptionally delicious. The broth is flavorful and with each ladle of the spoon you get a hearty dose of bbq and ground pork.
12215 Ventura Blvd Unit 112 Studio City, CA 91604
Joe's Falafel
Joes Falafel is located in a non-descript strip mall on the outskirts of Studio City, but is serving some of the best Mediterranean food in Studio City and the surrounding areas.
It's one of my go to lunch and dinner spots and I always get the Chicken Shawarma plate, which is a heaping serving of delicious shawarma, served with hummus, pita bread, rice and salad. It's delicious, filling and healthy!
There is no wrong order here. The kabobs are great, the gyros are great, the falafels are great. There is nothing on this menu that is not delicious.
3535 Cahuenga Blvd W Ste 105 Los Angeles, CA 90068
Laurel Tavern
Lauren Tavern is the neighborhood bar where everyone in Studio City seems to converge after work. On any given weekday you will find a plethora of actors, screenwriters, directors, producers and anyone in the industry converging at this watering hole for strong libations and stellar tasting food.
The bar is the main attraction at Laurel Tavern with 15 California beers are on tap and a hefty menu of craft cocktails waiting for your summons.
Even though the bar is the star of the show, their food menu is pretty notable with selections such as pork belly skewers, the hot chicken sandwich and their signature Laure Burger, which is made with beef that is ground in-house.
They also have a great hour hour selection Monday through Friday, with cocktails, wine, beer and food at a great price. Lauren Tavern is, no doubt, one of the most popular restaurants to try in Studio City.
11938 Ventura Blvd, Studio City, CA 91604
Vivian's Millennium Cafe
Vivian's history dates back to 1964 when the then owners, Vivian and Walter converted their home into a restaurant, when Studio City was just a horse town.
Many decades later, Vivian's was turned over to its current owner George and Angelo, who have turned this humble restaurant into one of the best breakfast and brunch restaurants in Studio City.
They are serving up all your favorite breakfast classic here, including omelettes, french toast, chicken fried steak and pancakes. There is no wrong order here. Whatever you order is bound to be delicious.
The vibe in the outside seating area is very homey and it feels like you are sitting on someone's patio, which was probably true many years ago.
While there is no parking lot, there is plenty of street parking available and you can park across the street in the Ralph's parking structure, just be discreet about it around the security.
Granville
Granville is one of the best rated restaurants in Studio City and for good reason.
It is a uniquely contemporary restaurant that serves delicious versions of California inspired cuisine.
The menu has an excellent array of soups, salads, burgers, sandwiches, pasta, and fish and meat entrees. There are also a number of small plates that are perfect for sharing.
Some highlights of the menu include the chipotle chicken club, the thick cut pork chop and the Wagyu beef stroganoff.
They also have an impressive bar program with an extensive list of cocktails, wines and craft beer on draft.
Granville is the perfect place to bring a date or to enjoy the company of some friends over some exquisite food and drinks.
12345 Ventura Blvd Ste C Studio City, CA 91604
Asanebo
Don't let it's strip mall outwardly appearance fool you, anyone that knows anything about sushi knows that Asanebo has been often thrown into conversation regarding the best sushi restaurants in Studio City.
While they do offer all the usual suspects like rolls and cooked and raw dishes, their Omakase is the star attraction and is what made them what they are today. It's expensive but worth it.
11941 Ventura Blvd, Los Angeles CA 91604
The Six Chow House
The Six Chow House is a stylish neighborhood gastropub/bistro that has quickly become a favorite among locals to grab a drink and grub on some quality food.
The menu is seasonally driven, with emphasis placed on locally sourced and sustainable ingredients.
Start off with their Turkey Sloppy Joe Sliders or share a plate of their crispy brussel sprouts. When you are ready for something more substantial, get the Six Burger, the braised short ribs or the wild mushroom pizza.
If you manage to have some room left over for dessert, spring for the decadent banana pudding pie.
12650 Ventura Blvd, Studio City, CA 91604
Firefly
With its dim lighting, candlelit tables and intimate ambiance, Firefly is the perfect place to take your date and has even been named the most romantic restaurant in Studio City and maybe all of Los Angeles.
The American/French inspired menu is short but precise. Nibble on the bigeye tuna tartare or the artisanal cheese plate to start. Move on to the steak frittes or the bone-in pork chop when you are ready for something more substantial.
The sticky toffee cake and an espresso is the exclamation point on a great meal.
11720 Ventura Blvd, Studio City, CA 91604
Map Of The Best Studio City Restaurants: